SILENCE has been the theme of maison et objet's 2017 spring edition. with this in mind, paris-based interior designer elizabeth leriche has created the scenography for the 'inspirations space', taking an in-depth look at contemporary forms of 'silence' and aiming to provide a contrast to the urgency of contemporary exchanges. 'silence' is a space that invites to slow down the mind, to take a break providing time for meditation. it's a space that turns into a moment, a haven from the roaring crash of words and images that constantly keep our mind going fast. with its uncluttered overall look, full of lighter materials, geometric abstractions, transparency and ethereal hues, 'silence' allows us to contemplate and find some rest.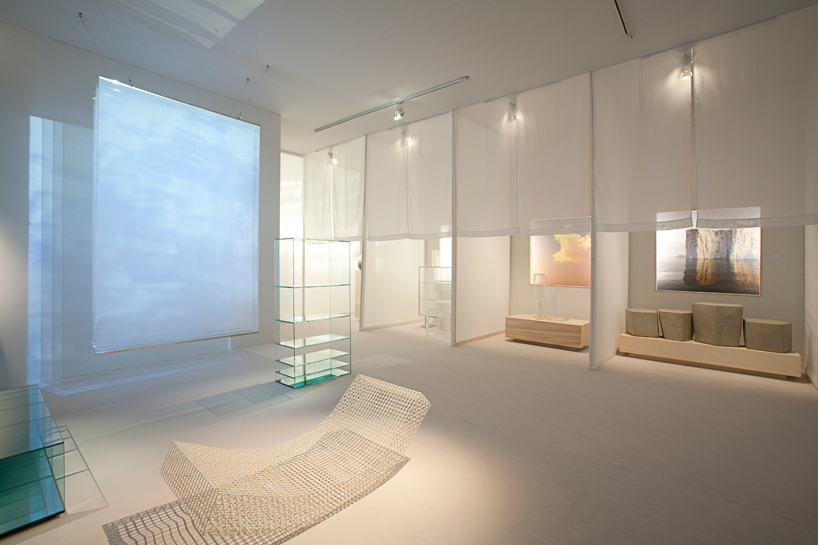 'deep sea' by nendo for glas italia (see more of this project on designboom here)
'wireS#' by muller van severen (see more of this project on designboom here)
image courtesy of glass italia
the journey through the exhibition at maison et objet begins with rupture as visual and aural chaos surrender to white noise while the word 'silence' on a blue scenery sets the tone. a new room opens, dressed with objets by artists and designers that explore the idea of isolation and protecting oneself. as the path continues, a lighter room with transparent objets, earthy materials like clay and pictures of nature sooth whoever passes by. objets become silent, encouraging a contemplative look. the circuit finishes in a black room, evoking the mysterious depths of silent meditation.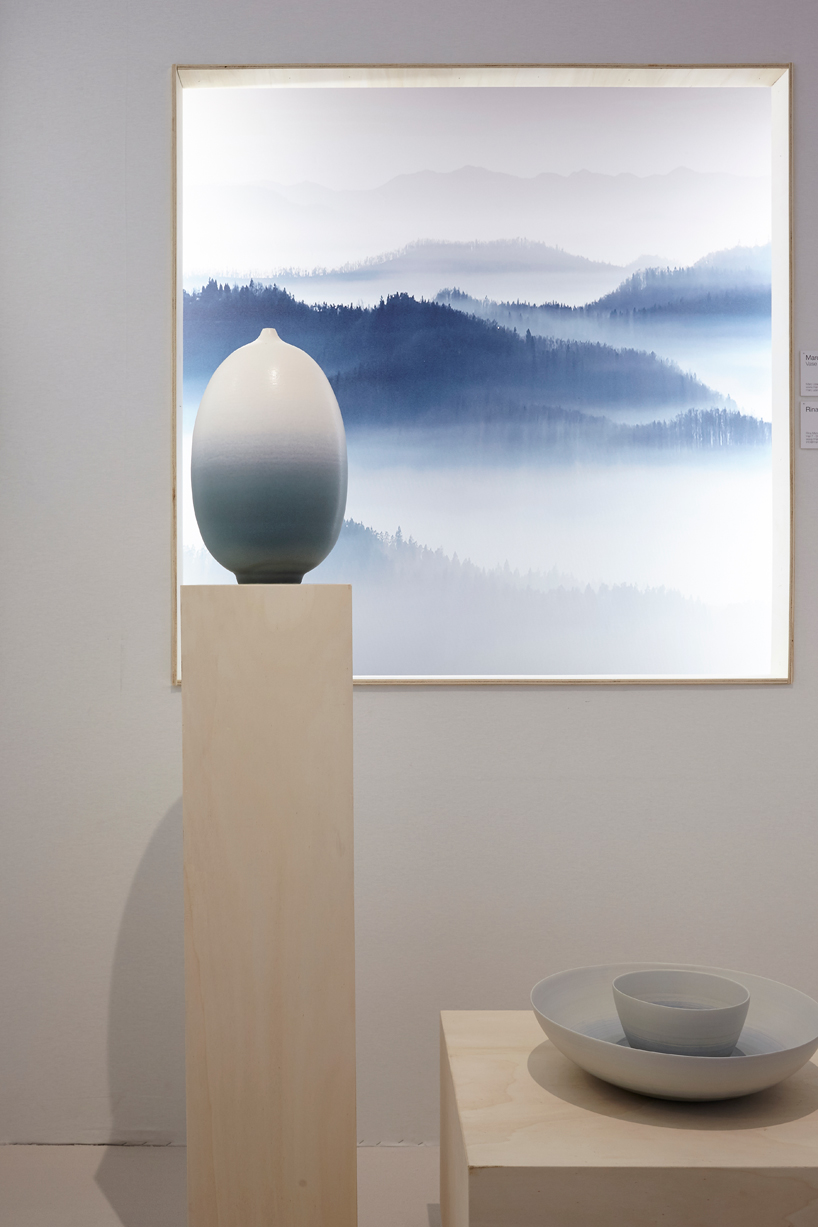 'vases' by rina menardi
image © fillioux&fillioux
how did silence come to be this season's theme?
elizabeth leriche: this new theme can come as a bit of a surprise: it is more closely related to societal challenges than other themes that the maison&objet observatory have usually chosen to explore. but it quickly became an obvious choice. in a society where the impact of images and connections is increasingly overwhelming, there is an indisputable need for a break from all of that. as it turns out, it is not easy to materialize it. this trend was already dormant, as evidenced by the rise of lighter materials and minimalism, which we have been noticing for the past few seasons. these trends were the early signals that heralded this vital need for simplicity and the resurgence of fundamental values, which now constitute true luxury of our paradoxical era. in order to delineate the contents of the theme, we have investigated this need: europeans say they increasingly seek silence.
in the early stages of our research, we read a lot of books on this topic, including for instance alain corbin's wonderful histoire du silence. 'silence is not merely the absence of noise', he writes. 'it is all but a forgotten notion nowadays. our auditory marks have been distorted, diminished, they are no longer sacred (…). the intimacy of a place – a bedroom and the objects that inhabit it, or a home – used to be defined by the silence that prevailed there.' it is time we loose our fear of silence!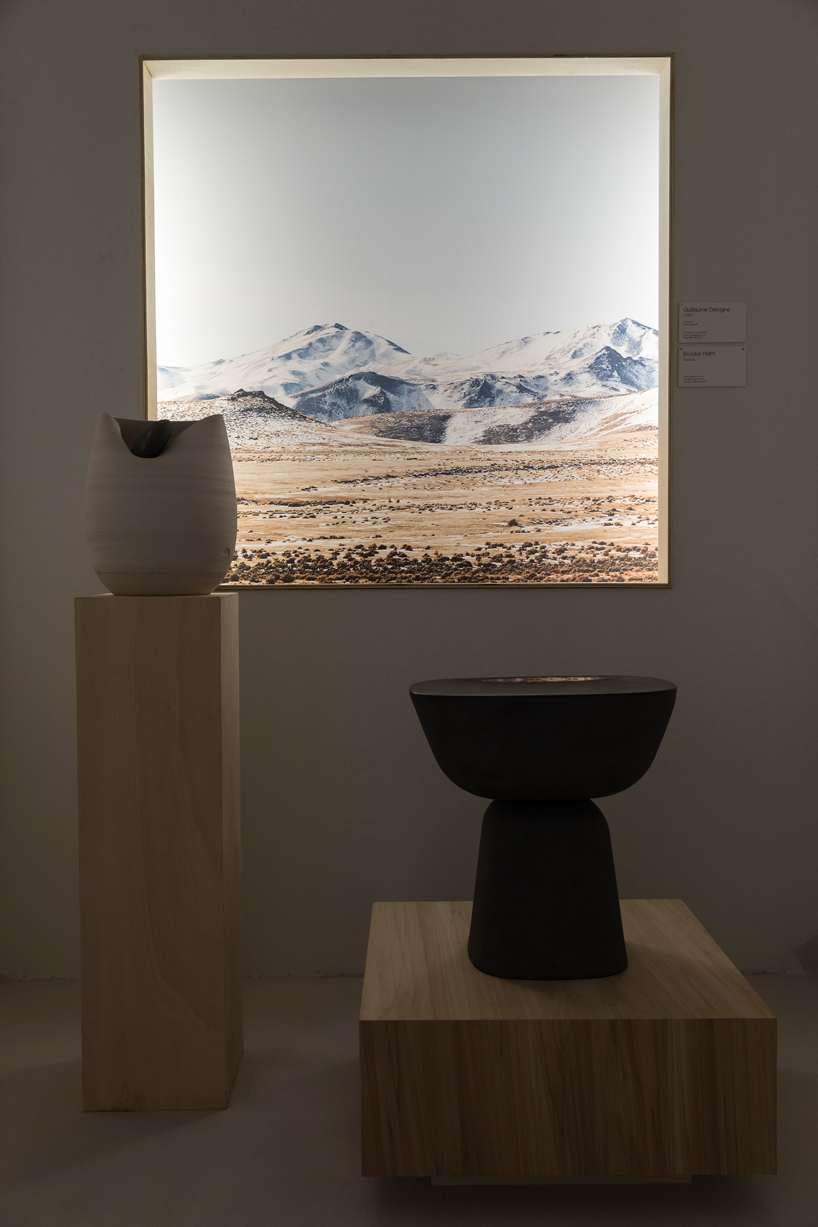 'vase with stone' by martín azúa (see more of this project on designboom here)
image © fillioux&fillioux
what did you choose to display to illustrate the theme of silence?
elizabeth leriche: in a bedroom, visitors will gaze at a painting by georges de la tour. they will watch a chiaroscuro video of a candle blazing in the dark played on an iPad, by korean designer heewon kim. this example combines historical and digital considerations. night calls for silence. but silence must not elicit fear, it should never be seen as a source of anxiety. on the contrary, visitors will find comfort in the silent contemplation of archetypal, smooth and simple objects carved from white marble: a perfect way of unwinding, of shedding off the woes of our everyday life. however, our intention here is not to sound the alarm; the message is a very positive one. quiet and balance are the products of solutions we devise for ourselves. silence is crucial, for the meditation it allows, the perspective we gain. the time we take for ourselves is the secret to our own balance. it is a state where two forces, sometimes contradictory forces, cancel each other out and we reach a point of harmony that we all yearn for, where we are at peace with ourselves.
rediscovering oneself while contemplating beauty is a comforting feeling. the installation we will present is an ode to wellness, a place of peace and serenity, a soothing journey to the happiness that balance and self-awareness bring us. a heaven unlocked by silence.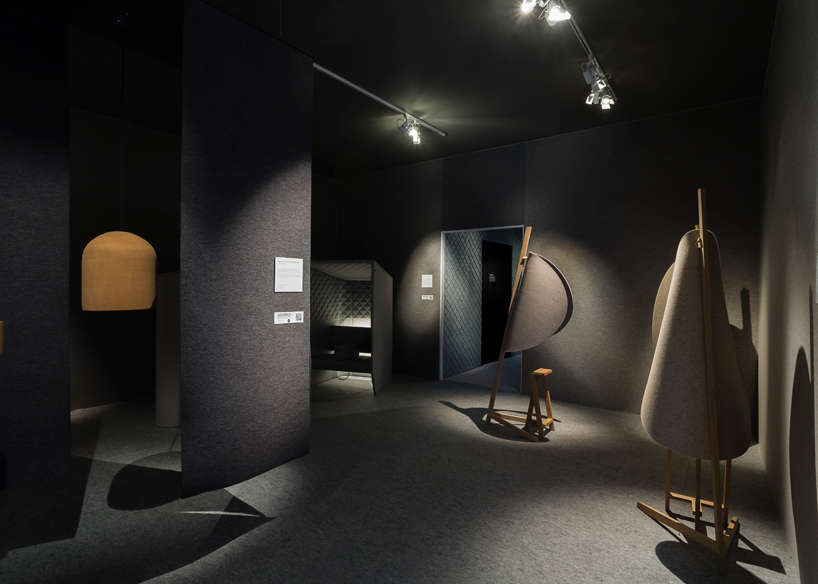 image © fillioux&fillioux
could you elaborate on the itinerary that you have imagined to illustrate the theme within this inspirations space?
elizabeth leriche: it seemed obvious to us that the beginning of our story would have to be a room that exemplified this feeling of being saturated with images. upon entering the room covered with video displays and television screens, visitors are immediately confronted with the formidable crash of sound, before they move on to be immersed in silence and find out how valuable it is. so, at the beginning, we are surrounded by sounds from all corners of the world, a clamor of car horns, an explosion of objects that collide with a thunderous roar. a chaotic mosaic that depicts the life we are increasingly subjected to every day; an almost unbearable existence.
visitors are then expelled through a corridor and escape to another room. before their eyes, the word silence – the e is missing the horizontal line – unfurls across the wall. to add the element of humor and anchor the installation, in reality, earplugs are made available to visitors. 'traumas', an installation by plastic artist dominique blais, explores a medical condition: tinnitus, an unpleasant ringing in one's ear, a pathology that manifests in silence. a succession of rooms and recesses helps visitors reach a state where they can daydream, engage in introspection and feel the luxury of silence, where they'll find an opportunity to listen to themselves.
the itinerary ends with the bookshop – the perfect example of a silent place –, filled with white books, each with a white object between its pages, all hand-made by master ceramicists.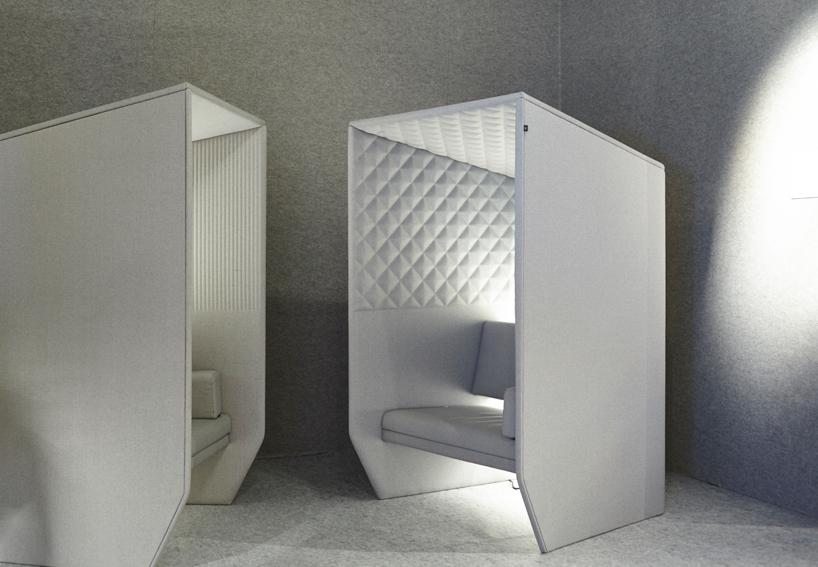 'buzzihub' by alain gilles for buzzispace
image © fillioux&fillioux
you celebrate silence. does silence have its own language?
elizabeth leriche: formal silence can manifest in different ways. in a room with walls covered with acoustic foam, visitors will discover a video by artist cécile le talec. it shows a mute pianist playing a piece of music, in perfect silence. the story is told through movement, with the camera focusing on the expressiveness of the hands, which speak their own silent language. then visitors move on to a room where they can put on headphones and listen to sounds we are no longer accustomed to hearing. silence also conveys the idea of serenity.
a video by danish artist grethe sørensen (maria wettergren gallery) immerses us into an inner world. the notion of time and our perception of slowness are questioned through a bookcase made from transparent, colored crystal – deep sea, by nendo for glas italia – which consists in stacked slabs of glass that create a gradation of blues. visitors will also find some mysterious objects, such as a selection of handblown glass vases.
the whole place is an invitation to pause and take stock of the scenography, to let oneself feel the passing of time. around the central space, eight recesses, each housing a piece, give visitors the chance to become intimate with the objects on display. the artist matteo gonet is a magician: he found a way to trap clouds. a traditional korean moon jar, designed for the sole pleasure of contemplation, brushes with perfection. another recess shows wooden utensils used for the traditional tea-making ceremony in japan. in yet another, a blurred halo evokes the idea of disappearance, snow and ice. the sensations brought on by silence are strong and deep; they find their roots in our innermost selves. they are quite simply put the gateway to serenity and happiness.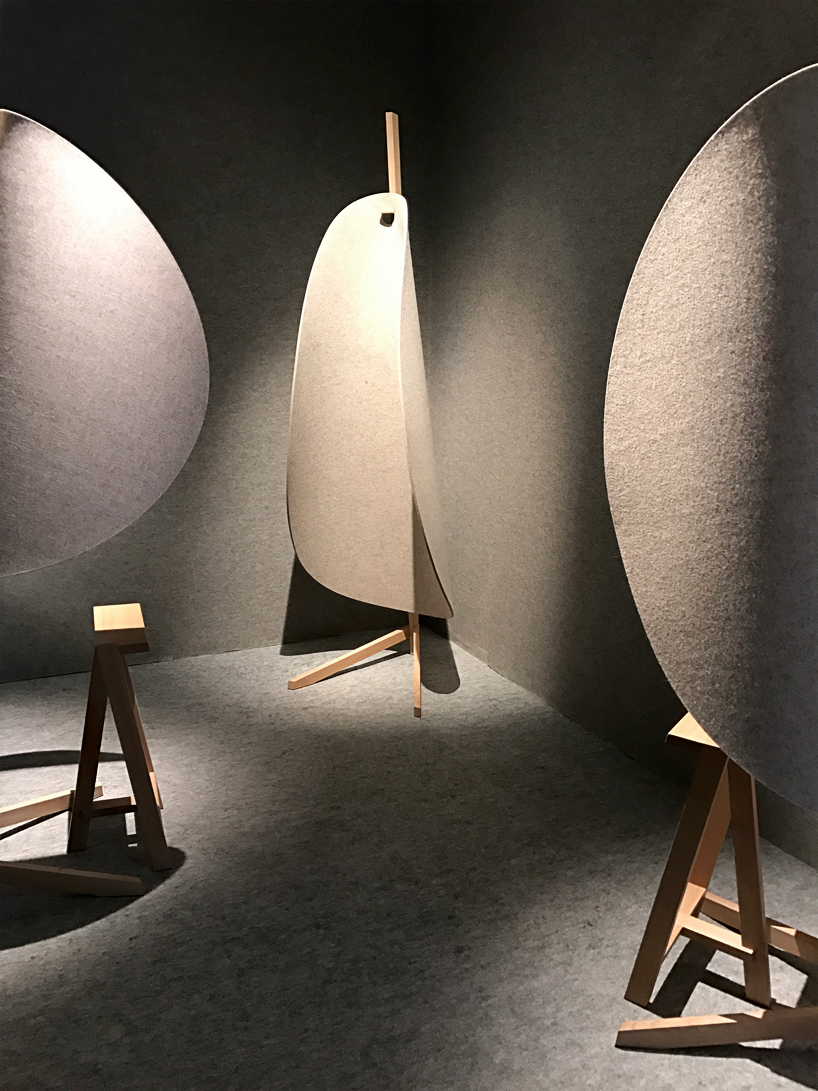 'nascondino' by pierre emmanuel vandeputte
image © designboom
from this journey through a land of silence, what objects should we keep in mind to improve our lives?
elizabeth leriche: the nascondino booth, by designer pierre-emmanuel vandeputte, a sort of light-colored wood structure with a stool, where users can sit, enveloped by a felt blanket. it is a wonderful solution to find some privacy inside your own home or around others. the same goes for the pieces alain gilles created for buzzispace. there is an abundance of insulation solutions available nowadays, most made from composite materials, for greater versatility.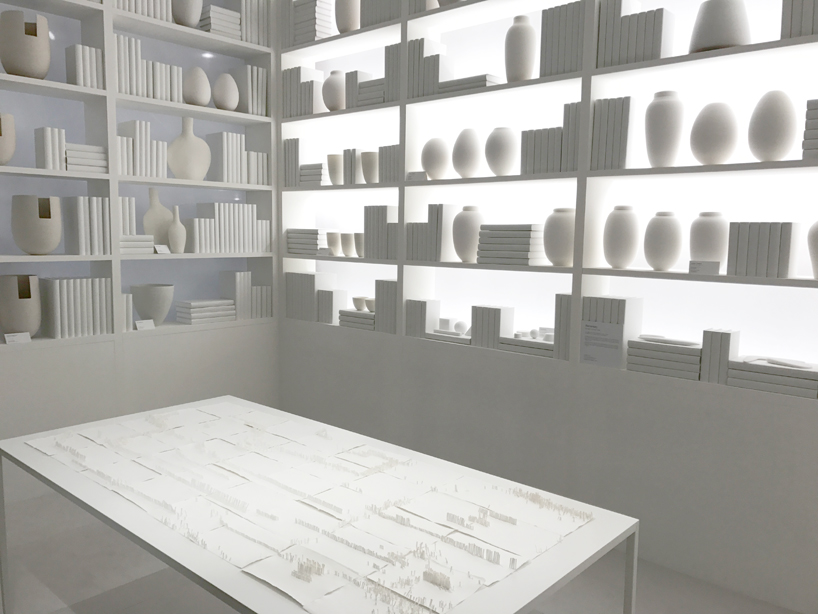 image © designboom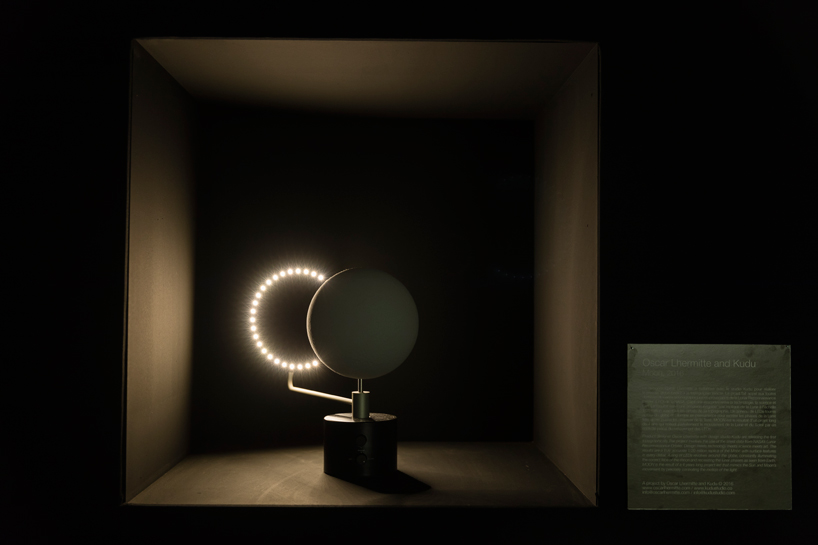 'moon' by oscar lhermitte + kudu (see more of this project on designboom here)
image © fillioux&fillioux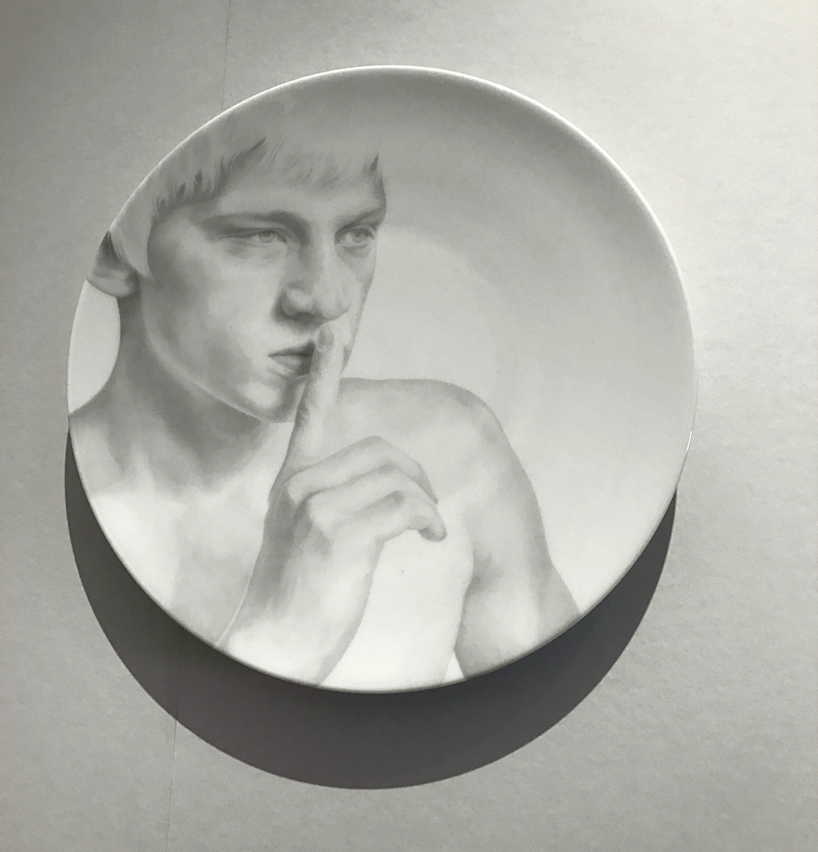 'secret', blanche service collection by jules julien and th manufacture
image © designboom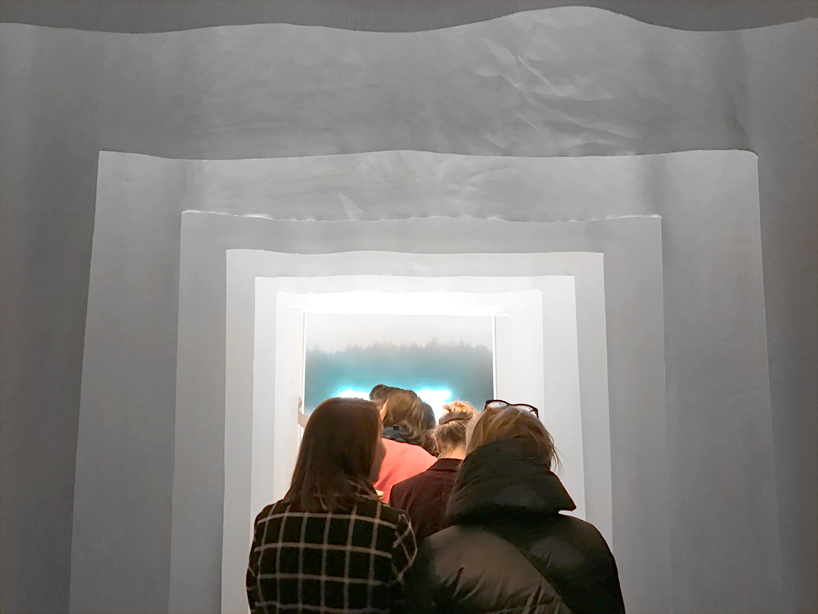 image © designboom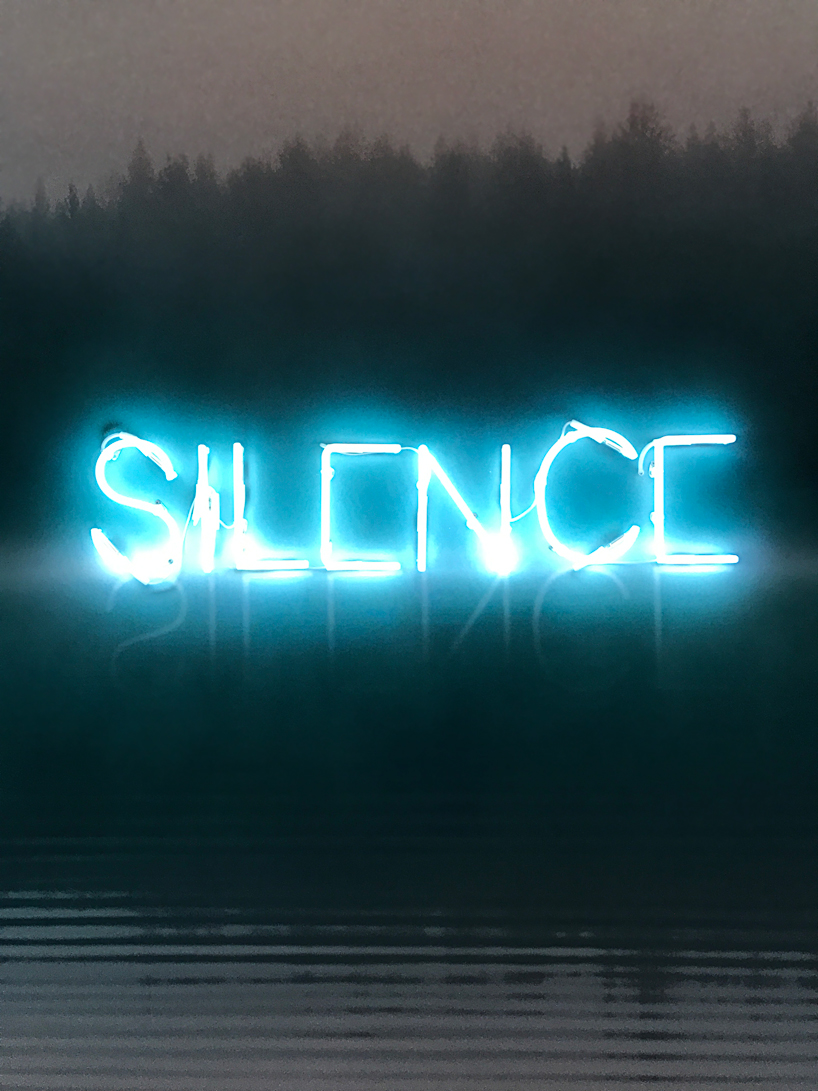 image © designboom
Save
Save
juliana neira
I designboom
jan 30, 2017
a diverse digital database that acts as a valuable guide in gaining insight and information about a product directly from the manufacturer, and serves as a rich reference point in developing a project or scheme.
designboom will always be there for you
milan, new york, beijing, tokyo

,
since 1999