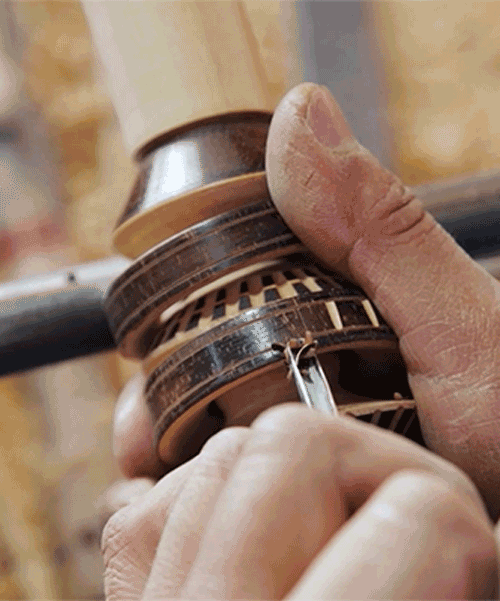 may 18, 2016
AD HOC revives mexican tools and craft at maison&objet americas
AD HOC revives mexican tools and craft at maison&objet americas
all images courtesy of AD HOC
in 2014, industrial designer juan josé nemer and architect mauricio álvarez founded AD HOC in their native mexico. while the studio's workshop engages in a variety of object and space-related design projects, its focus is on reestablishing the country's deep-rooted, yet diminishing legacy of craftsmanship, and reviving it for modern-day applications. working alongside artisans just outside of mexico city, AD HOC transform ordinary elements into functional furniture pieces, and interprets decorative features found in local crafts, natural materials and manual techniques with a practical and contemporary aesthetic.
at the second edition of maison&object americas 2016 held in miami from may 10-13, AD HOC has been named one of six 'rising talents' at this year's global showcase. hosted within a specially-curated space at the fair, the studio has presented an extended version of its 'antelmo' collection, comprising a series of furniture and lighting objects made in collaboration with a mexican artisan named antelmo.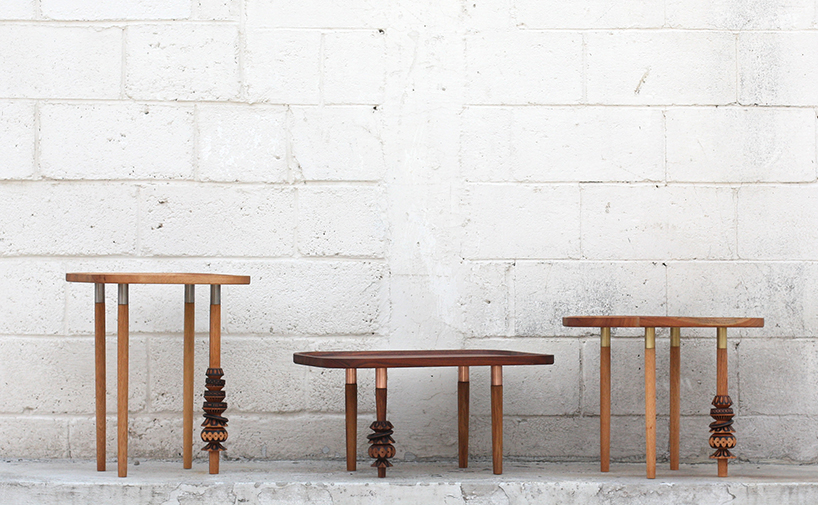 the 'antelmo' tables mix wood and metal
the three pieces include 'cantina special edition', 'alquisiras special edition', and 'antelmo coffee tables', each of which is carefully handmade in a workshop in mexico. forming an aesthetic thread that visually unites the collection, each of the pieces feature wooden details made using the technique of a 'molinillo' — a traditional mexican chocolate whisk used to foam hot chocolate. for the 'cantina' cabinet and the 'antelmo' tables, these elements are wrapped around a single leg of the unit; for the 'alquisiras' lights, the crafted pieces form a hanging pendant that suspend the luminaire. each object is turned out of one solid piece of wood and is carefully hand-carved, with darker areas achieved by meticulously burning parts of the material.
see images of 'cantina special edition', 'alquisiras special edition', and 'antelmo' coffee tables, and an in-depth video made by jorge manuel nemer on the process of creating the pieces, below.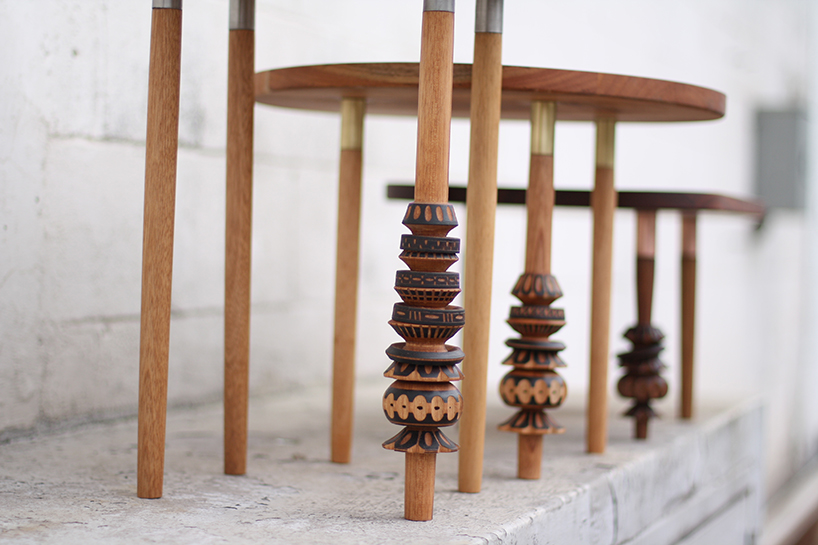 the set of three coffee tables are available in three different woods — banak, red cedar, and tzalam
back in april, designboom español spoke with AC HOC founders juan josé nemer and mauricio álvarez about how they met and started their studio, and the foundation of their creative practice. see a selection of replies below, and read the full interview in spanish on designboom español here.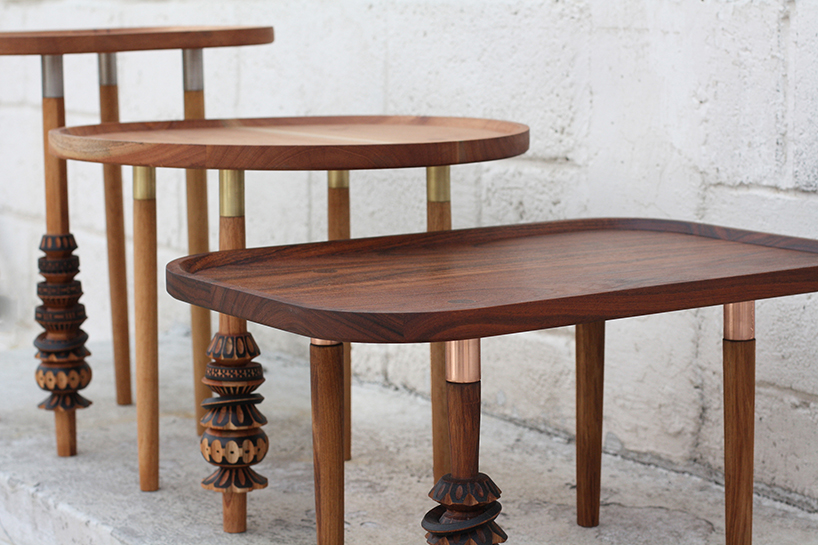 one leg from each table is carved like a mexican 'molinillo' — a traditional turned wood whisk
designboom: how did you meet and how did AD HOC begin?
AD HOC: we met in 2011 through a mutual friend at a party, but we started working together (by chance) almost 3 years ago in an architecture firm called local architecture. AD HOC was born two years ago when we decided to become independent.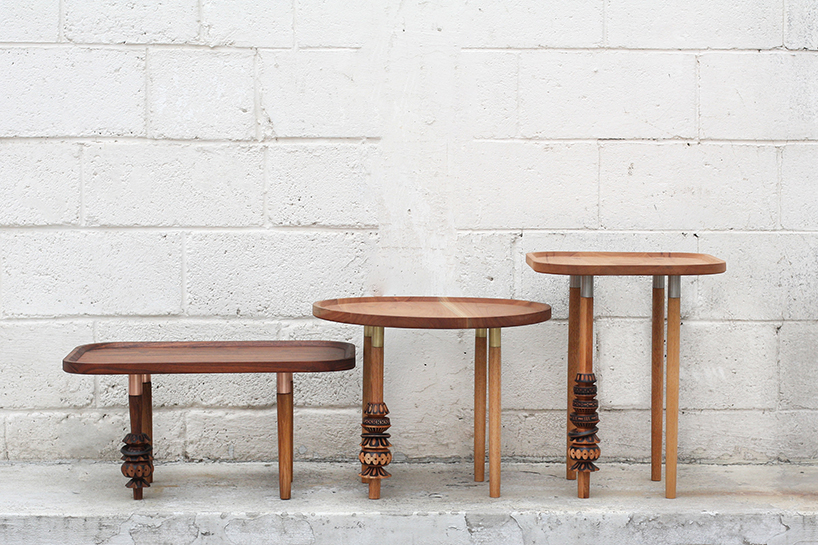 the studio's work seeks to recover mexico's legacy of handcraftmanship
DB: if you had to describe the values ​​of AD HOC in five words, what would they be?
AD HOC: amusing, spontaneous, craft, emotional, mexican.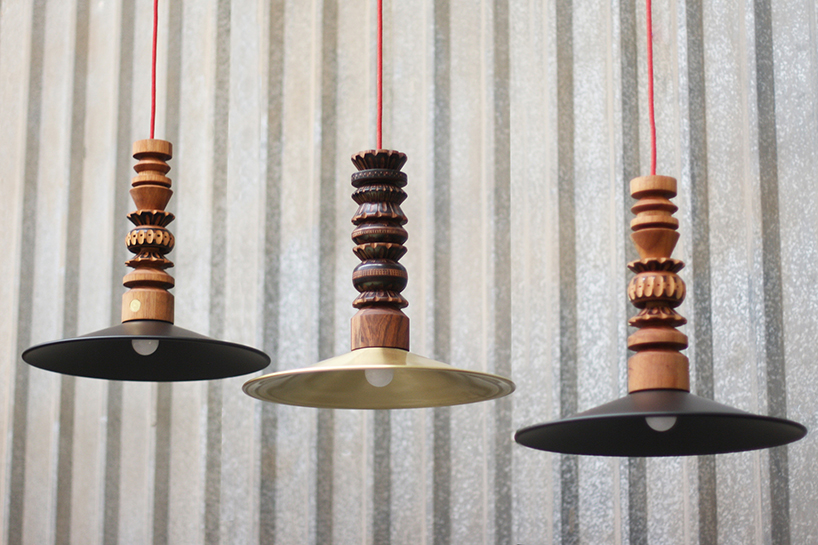 the series of 'alquisiras' lamps have been presented at maison et objet americas in miami
DB: what have been the highlights of your studio up until today?
AD HOC: our presentations at various fairs have opened the doors to many places, but mostly we have been able to connect to amazing people in this way.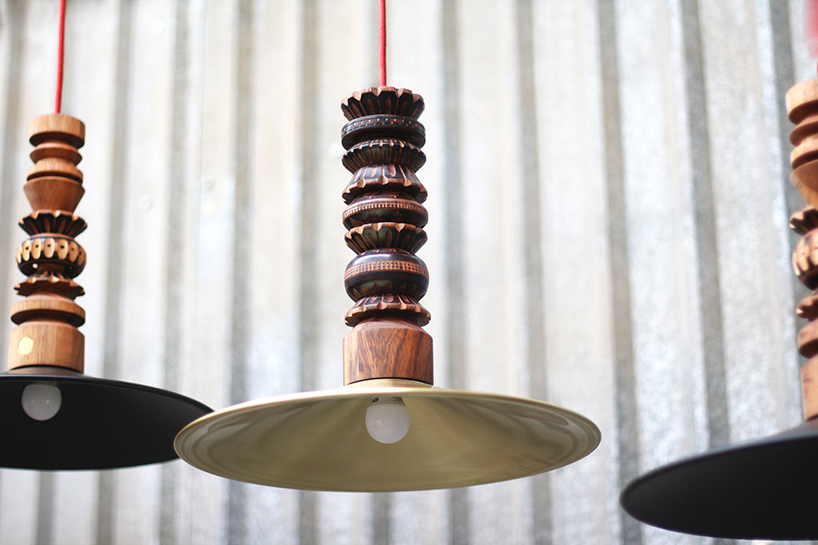 the set of three series of 'alquisiras' luminaries are handcrafted in mexico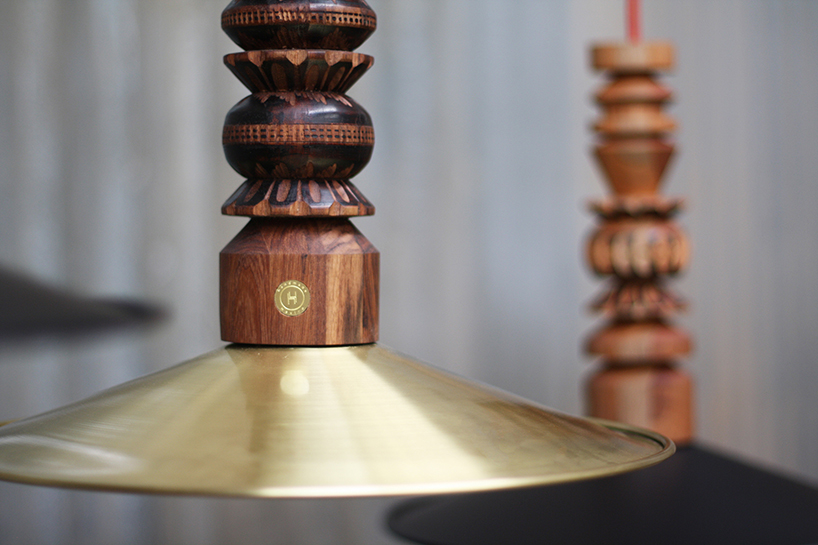 AD HOC transforms everyday materials into functional objects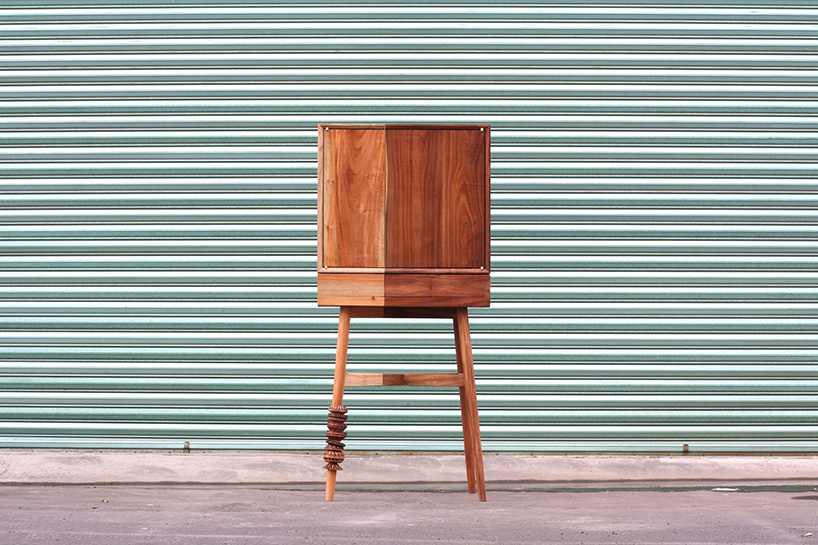 the 'cantina' cabinet features one wooden leg wrapped with handcrafted wooden design details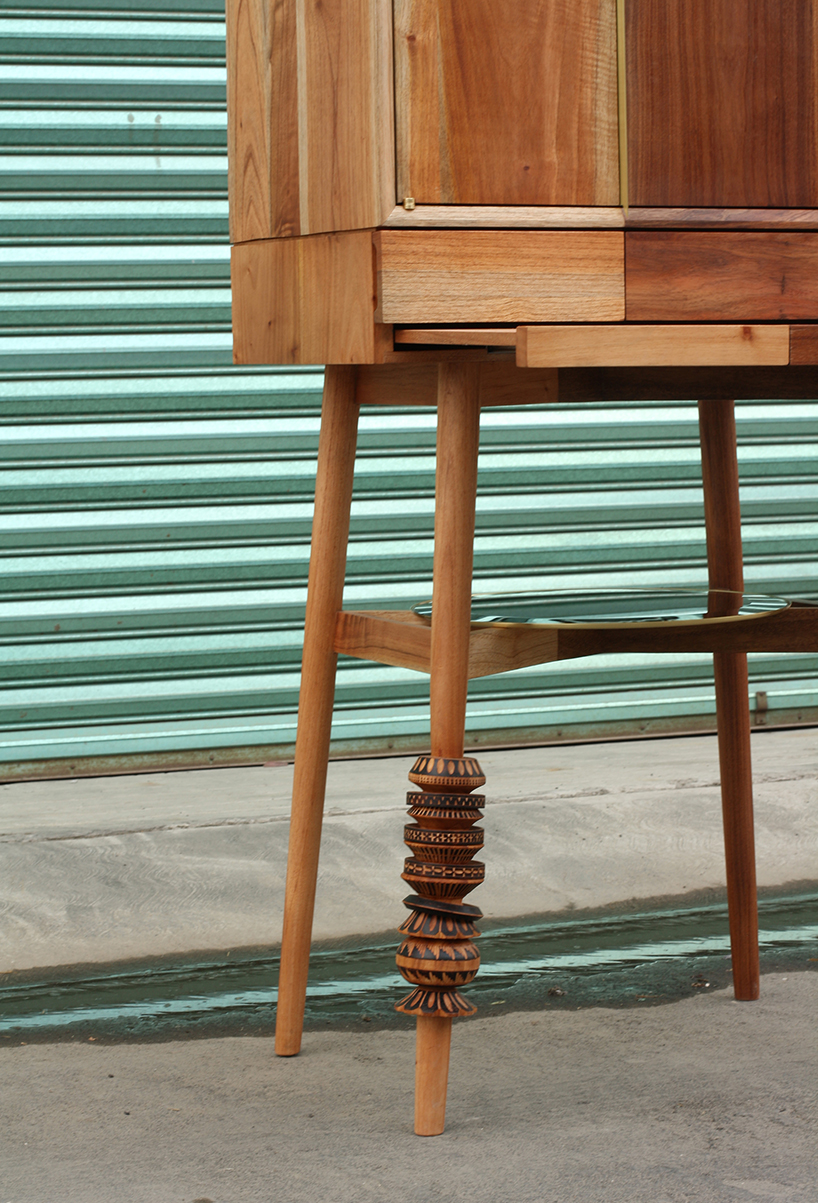 the unit is made in tzalam and red cedar wood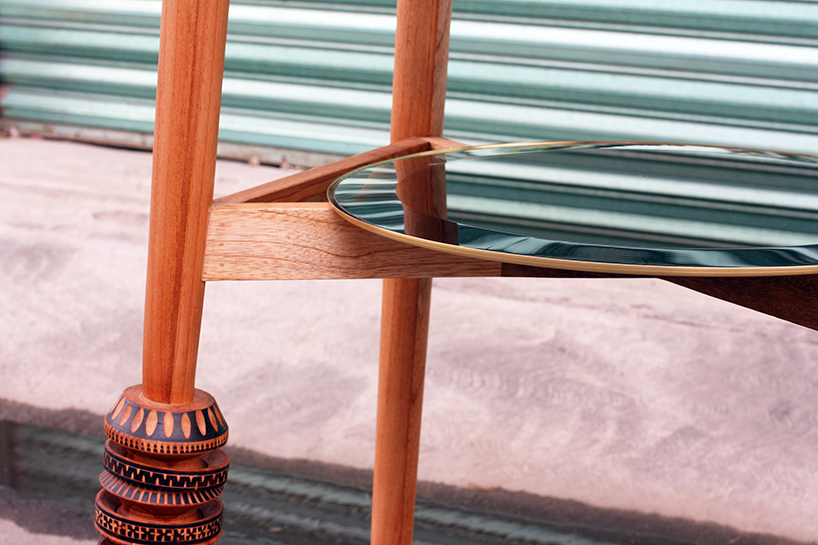 a grey mirror is fixed to the surface beneath the storage area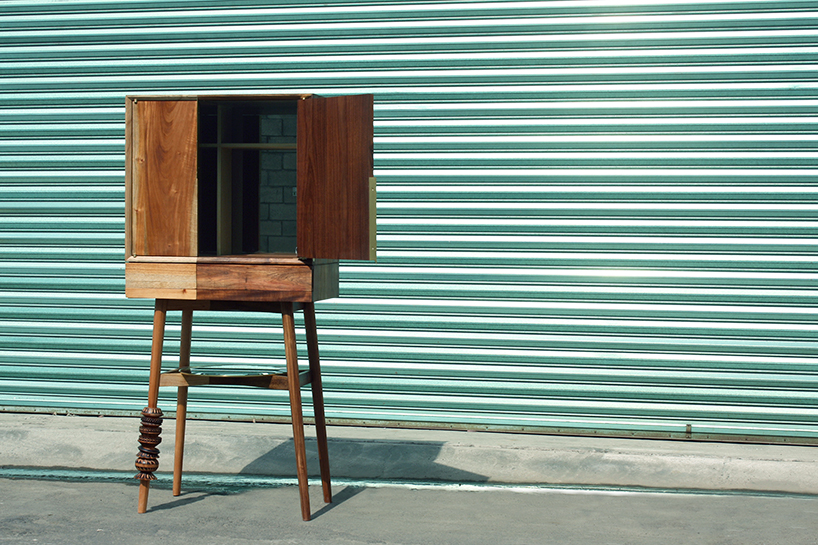 'cantina' formed part of AD HOC's presentation at maison et object americas 2016
a behind-the-scenes look at AD HOC pieces in-the-making
video © jorge manuel nemer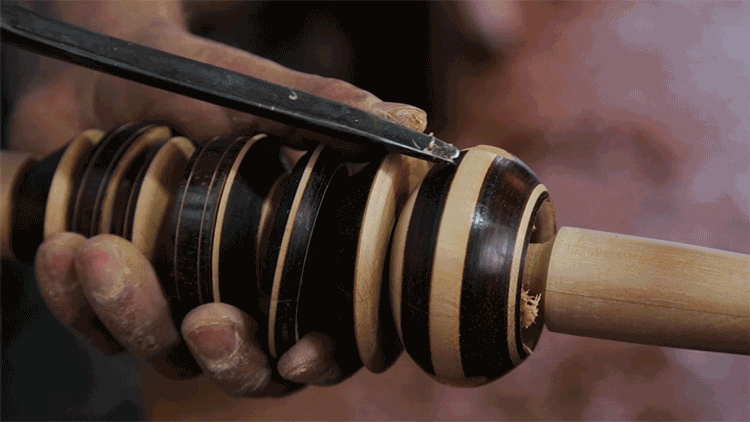 artisans carve away small areas of the wooden detail
video footage by jorge manuel nemer / gif by designboom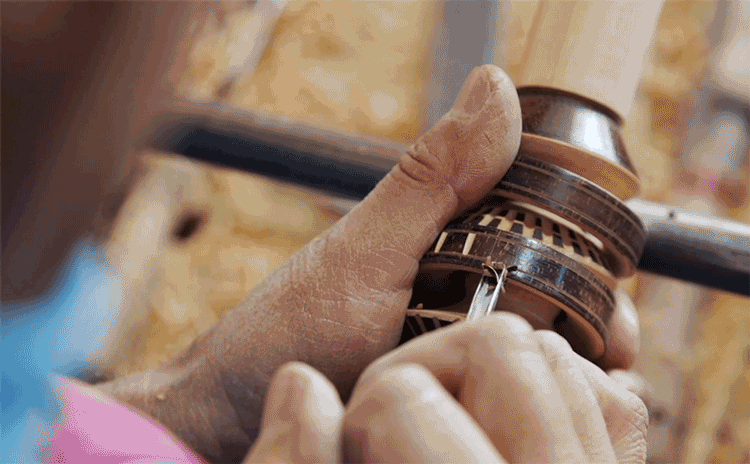 pieces of the wood are carefully chipped away to reveal a striped pattern
video footage by jorge manuel nemer / gif by designboom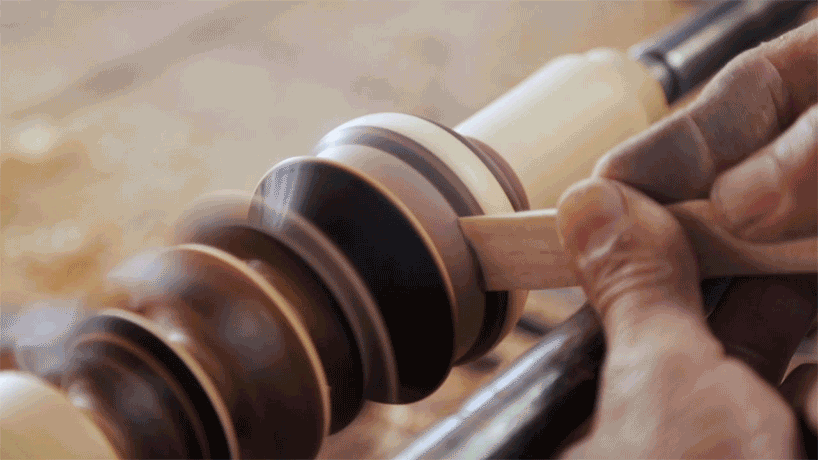 darker ares are achieved by carefully burning the wood in specific areas
video footage by jorge manuel nemer / gif by designboom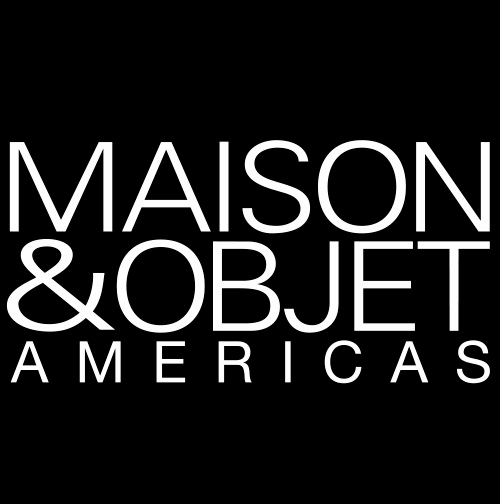 maison et objet americas 2016 runs from may 10 to may 13, 2016. the event brings the interior design and home decoration communities from north and south america to the vibrant city of miami. this second edition takes over two halls at the miami beach convention center, with an outreach of events, exhibitions and activities planned for across the city throughout the week.
may 21, 2016
may 21, 2016
may 14, 2016
may 14, 2016
may 11, 2016
may 11, 2016
may 10, 2016
may 10, 2016
apr 27, 2016
apr 27, 2016
dec 15, 2015
dec 15, 2015
a diverse digital database that acts as a valuable guide in gaining insight and information about a product directly from the manufacturer, and serves as a rich reference point in developing a project or scheme.