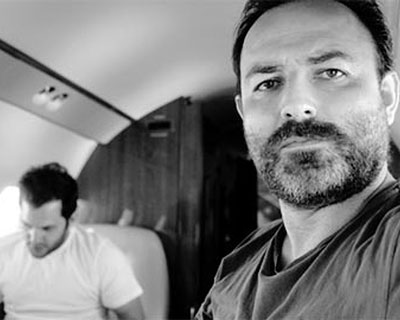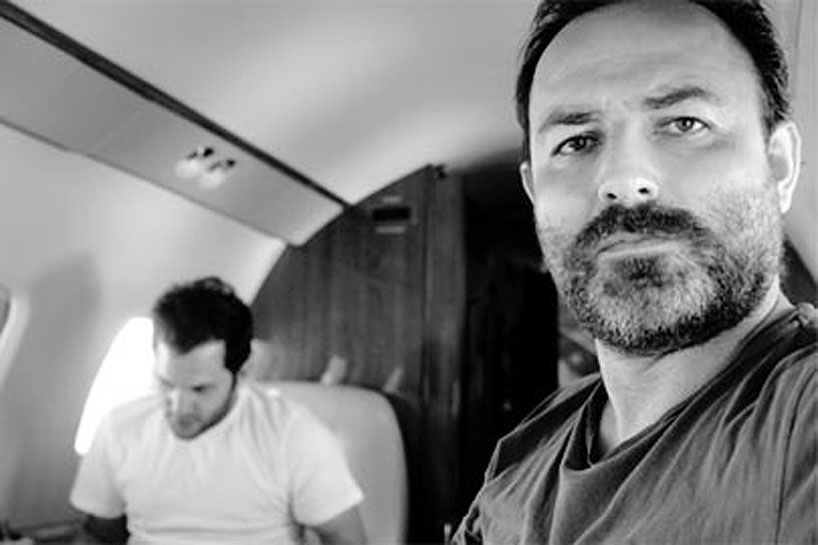 oct 04, 2006
marc atlan interview
marc atlan
designboom interviewed marc atlan on october 4th, 2006.
what is the best moment of the day?
first waking up alive. then, every moment related to the anticipation of what might be coming that day… anticipation can be very exciting.
what kind of music do you listen to at the moment?
I am very 'electronic cheesy pop' these days, everything that has a strong beat and doesn't take itself too seriously finds its way to my ears: sébastien tellier, ennio morricone, madonna, vitalic, andreas dorau, jacques lu cont… but I also appreciate silence sometimes…when I am working.

left: james perse spring summer 2006, designed by marc atlan
center: james perse fall winter 2006 – art direction & photography by marc atlan. atlan shot this ad campaign and designed a fashion catalogue without showing a single article of clothing.
right: james perse fall winter 2006 – art direction by marc atlan. store & window displays.
do you listen to the radio?
occasionally.
what books do you have on your bedside table?
lots of photography and art books: william eggleston's guide, american surfaces by stephen shore, the book of shrigley and some fiction: lunar park by bret easton ellis, a heartbreaking work of staggering genius by dave eggers, everyman by philip roth, dry and possible side effects by augusten burroughs… it's not a bedside table anymore, it's more like a paper monster! I have so many books that I am actually building a book library embedded in my headboard…
do you read design / architecture / fashion magazines?
I avoid reading design related magazines.

left: stereotype magazine 2006 – editorial homage to commemorate 50th anniversary of helvetica, designed by marc atlan.
right: poketo t-shirt 'type overload' 2006 designed by marc atlan.
where do you get news from?
newspapers. even though I live in los angeles, I get home delivery of the new york times, which is the only decent newspaper inthe u.s.a. I don't watch tv for the news. I'd rather get my online fix of cnn and the drudge report because I like to get to hear both sides, and internet is now more immediate than tv…
guess you notice how women are dressing.
do you have any preferences?
do I? I guess you're right then, I must notice. I look at men as much as women when it comes to clothing by the way… effortlessness is very sexy, when nothing appear to be forced or contrived, but flows elegantly… when I was living in europe it was one of my greatest pleasure, just observing passers-by, living now in los angeles, this pastime unfortunately became almost pointless…
what kind of clothes do you avoid wearing?
ahhh… you would have to torture me to get my confession…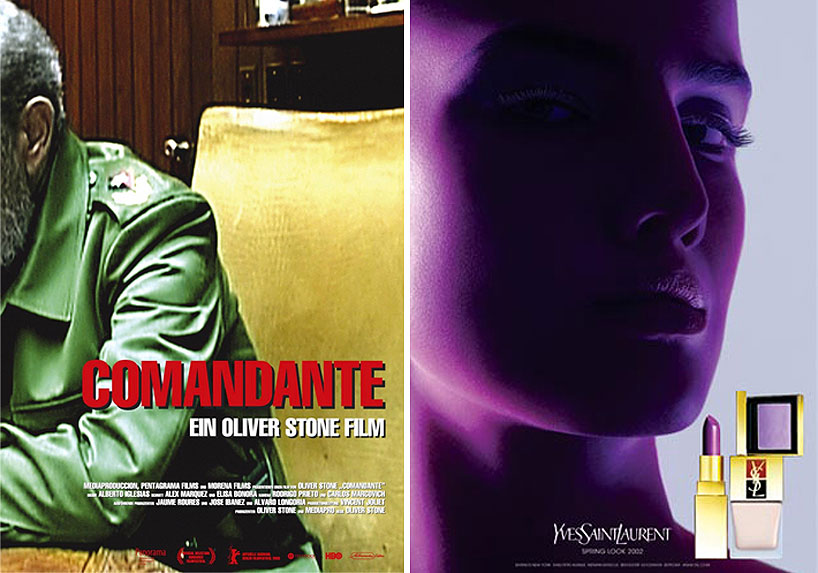 left: oliver stone 'comandante' movie poster 2003 – designed by marc atlan. the poster is a visual shifting of fidel castro's 'appearance / disappearance', mirroring oliver stone's complex task of pinning castro down.
right: tom ford for ysl beauty 2002 – ad campaign art directed by marc atlan, photo by david sims.
do you have any pets?
three cats: 'hobbes' was adopted from the local pound, 'mr. cute' was a rescued mangy stray, and 'fuji' was chosen by my kids. we definitely have to stop adopting these cats, it's getting out of control…
when you were a child,
did you want to become a designer?
frankly I am not sure I had any idea what a designer was… I recall at some point I wanted to become a doctor who would cure blindness. my paternal grandparents were both blind, and that may have affected my relationship to anything visual.
you define yourself 'art director for fashion and beauty',
your work includes photography, packaging and
advertising, how are the different fields connected?
actually you would also have to add to that list window displays, installations, t-shirt design, music, illustration, object design… I feel lucky to be commissioned and I rarely turn down projects of creating something I have never done before. the multiplication of creative fields is exciting, I need it to fend off boredom…

helmut lang parfums 2000 – ad campaign art directed by marc atlan
what is the 'hype' all about?
paul jasmin's photography.poketo t-shirts.gotscho's art.james perse clothing.a.p.c. and jean touitou's good vibes.house of poe's caskets and urns.
where do you work on your designs and projects?
designs are conceived in my studio which is at home, the art direction is mainly done on photo shoots, and I sometimes dream about photography in my sleep.
do you discuss your work with other designers?
I don't have much time to discuss my work with other designers. I'd rather ask my wife and my kids what they think about it.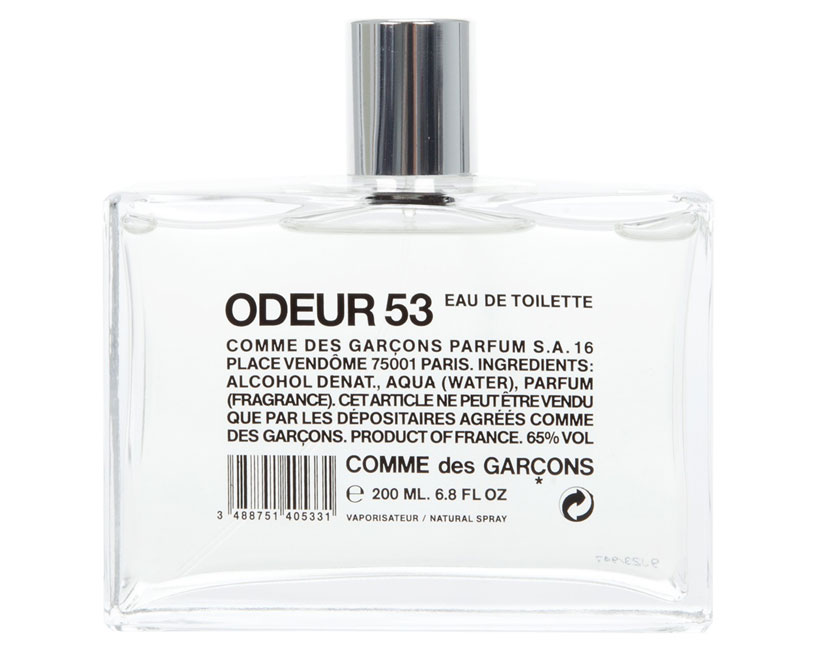 comme des garçons parfums 1993/1999 – packaging design by marc atlan
marketing, forecasting…
what are your creative constraints?
it really depends on the project, but most of the time theconstraints are self defined by the project.
describe your style, like a good friend of yours would
describe it.
a good friend would say that my work is elegant and sharp, a very good friend would say that my work is pertinent and intellectually arousing.(my style has been defined by artforum magazine as 'abstract, iconoclastic, minimal', 'chic conceptualism' and a 'blend of luxury and irony'.)
please describe an evolution in your work,
from your first projects to the present day.
I try not to look back too much at the past. first of all, it makes me very nostalgic and almost depressed. additionally, it's very hard for me to get the big picture on my work, I can only see the mistakes or the details that I should have designed otherwise.
what project has given you the most satisfaction?
the next project is always the most exciting.
who would you like to design something for?
I would love to design for a mass-market brand like target, but also to create for a very exclusive brand like chanel parfums. otherwise, I generally like to design for rich and peculiar clients, and I am quite fulfilled with what I am working on right now.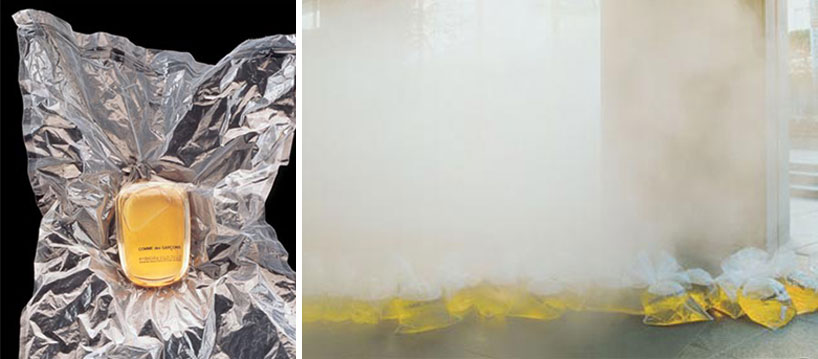 left: comme des garçons parfums 1993/1999 – packaging design by marc atlan
right: comme des garçons 1994 – perfume launching installation by marc atlan
is there any designer and/or architect from the past,
you appreciate a lot?
of course, there are designers but also many artists and photographers… shiro kuramata, yves klein, helmut newton,to mention a few.
and those still working?
hmm, the choice gets tighter… andrée putman, rei kawakubo, andrea branzi would have to lead the pack of my favorites.
what advice would you give to the young?
I don't like people who give advice, but if you really want some, it would be to infuse your work with more emotion.
what are you afraid of regarding the future?
fundamentalists, war, death… but mostly I am afraid of being afraid. fear in itself is the ultimate nightmare.

jan 29, 2014
jan 29, 2014
feb 19, 2011
feb 19, 2011
jul 04, 2010
jul 04, 2010
dec 08, 2009
dec 08, 2009
a diverse digital database that acts as a valuable guide in gaining insight and information about a product directly from the manufacturer, and serves as a rich reference point in developing a project or scheme.