widely acknowledged as the most influential industrial designer of his generation, and winner of 'designer of the year' at the design prize, marc newson has collaborated with louis vuitton in 'horizon' — a new collection of rolling suitcases. created for the 21st century traveler, the 4-wheeled check-in and cabin-size luggage features large interior capacity and lightness while reinterpreting the famous louis vuitton travel trunk.
the marc newson louis vuitton horizon campaign features the bag traveling  
horizon by marc newson for louis vuitton is the first four-wheeled case with a completely flat back shell achieved by relocating the extendable cane outside. this adds structure and strength while substantially increasing the all-important interior packing space, removing the awkward bumps and ridges found inside. just like louis vuitton's traditional hard trunks, the transversal side hinge has been built-in within the structure, allowing for 180 degree opening. the corners also honor history by being covered in natural cowhide leather, as well as the handles, offering maximum comfort.

the suitcases are exceptionally thin, lightweight and with elastic characteristics that can absorb shocks
'I think it's safe to say that we're striving to break new ground in terms of developing a product which is one of the lightest on the market, and from a technical perspective is one of the most rigorously designed and engineered,' comments marc newson on the design for louis vuitton. 'I'm obsessive about packing everything into a bag of a certain size which is why it was so important for me to design a product that could tick all of those boxes and be the kind of the perfect piece of luggage for a person like me that travels and won't travel with anything more than is absolutely necessary.'

the anodised aluminium extendable cane has been relocated outside

the internal volume saw a 15% percent increase

the trunk's corners are covered in natural cowhide leather

louis vuitton's emblematic monogram canvas has been expressly developed for the luggage

the development took 18 months

the trunk comes in two cabin sizes, 50 (50 x 35 x 20 cm) and 55 (55 x 39 x 21 cm)
oct 05, 2017
oct 05, 2017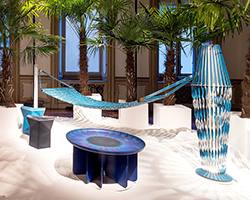 may 03, 2017
may 03, 2017
apr 24, 2017
apr 24, 2017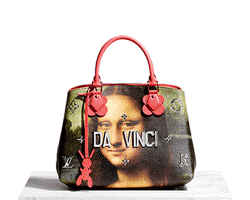 apr 11, 2017
apr 11, 2017
dec 20, 2016
dec 20, 2016
dec 01, 2016
dec 01, 2016
apr 17, 2017
apr 17, 2017
mar 13, 2017
mar 13, 2017
nov 21, 2016
nov 21, 2016