apr 30, 2010
marcel wanders: monster chair for moooi
'monster' image © designboom
'monster chair' is designer marcel wanders' contribution to the 2010 collection of dutch furniture manufacturing company moooi. the black leather quilted seat features the gnarly face of a monster on its chair back. the story behind the chair is derived from how wanders foresees his death, picturing it as a dramatic ending – a combination of some pain and wild music. but then, a long period of silence…
side view image © designboom
the setting wanders imagines himself sitting on a stool at the head of a large table, ready for an eternal dinner. seven dark leather chairs with ferocious faces surrounding the table covered with a white cloth, candle lit and elegantly set with silver cutlery, white porcelain plates and an abundance of white tulips. sparkling glasses will be filled with endless amounts of wine. callas and puccini would be sitting in the corner singing heavenly tunes, as he waits for his guests of seven muses – the most important women in his life, to dine eternally with him. all of the beauty that he has discovered and hoped throughout his life would suddenly be there for him eternally.
detail of 'monster' face image © designboom
butterflies muses are the true collection of wanders' life, collecting them as if they were butterflies, catching them without hurting them. his only intention is to treat them with kindness, caution and respect, never restricting one of them from flying. however, when they fly away, they magically double, so that he is able to take them with him whether he goes. however important, inevitable with death, he will lose not only his life, but his collection of muses.
'monster' chair rendering
the eternal party after his death, wanders will wait at the table for his muses to fly back to him for this eternal feast, hoping that his butterflies might choose to be with him again. hoping that he was able to provide them with enough respect, love, laughs and sparkling eyes. in return, he also hopes that they are able to forgive his stupidity, disloyalty and little lies. that he has fed them with enough flowers and sunshine, poetry and fantasies for them to desire a seat at his festive table, enjoying this time of reuniting, with wonderful food and drink. each of the muses will find a black leather embroidered chair that is specifically for her. her solitaire, soft and comfortable following the rules of a future contemporary style, while conflicting the rationales of history. each will display the frozen face of a monster, dragon, seemingly harmless. only once all of his muses are in attendance and seated will the festivities begin.
the monster inside amidst his excitement of being reunited with his muses, the crueler and more painful it becomes if not all seven arrive at the table. in this unfortunate event, he will understand his why he deserves his muses disloyalty. the frozen face of the monster in the unoccupied leather chair will come alive. it will step onto the table and reveal its fierce claws, spitting fire while its black leather skin will turn crimson like fire. long sharp needles will emerge from the monster's chest. with one swift movement, the monster will pierce the loyal muses that are in attendance. wanders will find himself sitting at the table alone. the wine will bloat his skull, sweets will make him obese, the stench of the cheese will make him want to cut off his nose…
but for now, he can still live to serve his muses. he must remember to feed them flowers and sunshine, poetry and fantasies in the hope that… eternity might last forever…
the chair has a quilted leather finish – this version does not feature the 'monster' face image © designboom
alternate view image © designboom
'boutique leather' sofa and 'monster' cushion image © designboom
in addition to the monster chair, a black leather version of his boutique sofa was presented. 'boutique leather' has a quilted back and the addition of a 'monster' cushion, again responding to the loyalty / disloyalty of wanders' muses…
installation in the moooi showroom during milan design week 2010 image © designboom
rendering of 'boutique leather'
'monster' cushion image © designboom
rendering of the 'monster' cushion
'monster' concept sketches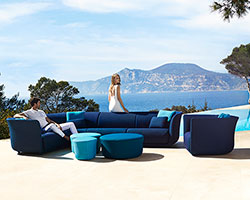 oct 28, 2019
oct 28, 2019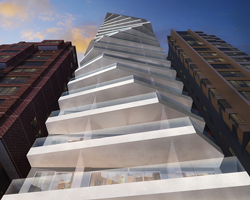 mar 01, 2017
mar 01, 2017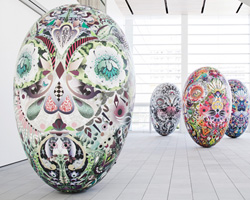 nov 15, 2016
nov 15, 2016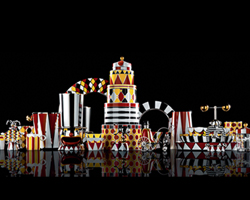 sep 02, 2016
sep 02, 2016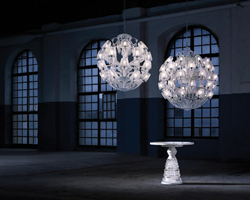 may 12, 2016
may 12, 2016
apr 13, 2016
apr 13, 2016
jun 01, 2010
jun 01, 2010
may 26, 2010
may 26, 2010
may 25, 2010
may 25, 2010
moooi
(14 articles)
may 02, 2016
may 02, 2016
apr 26, 2014
apr 26, 2014
may 12, 2013
may 12, 2013
a diverse digital database that acts as a valuable guide in gaining insight and information about a product directly from the manufacturer, and serves as a rich reference point in developing a project or scheme.