for its 2019 designer program, luxury quartz brand caesarstone collaborates with award-winning dutch designer marije vogelzang, a pioneer in the field of eating design. this year caesarstone investigates the relationship between design and food production and consumption, and how these combined elements can promote human connection. the first installation unveils at toronto's 2019 interior design show (IDS), thoughtfully highlighting a new sensorial experience of food-sharing and meal preparation. represented through the journey of the seed, the honeycomb-like exhibit stimulates each sensory receptor while eliminating external noise and disruption.
designboom interviewed marije vogelzang to learn more about the collaborative, conceptual approach with caesarstone, and the formalization of the exhibit.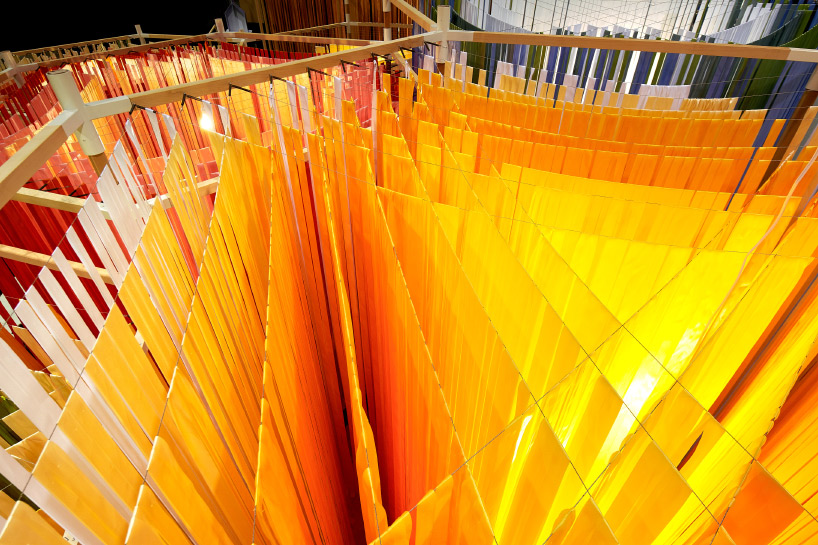 designboom (DB): what was the brief caesarstone presented you with for this project?
marije vogelzang (MV): we had a call and agreed quite quickly on the wish for a sensorial installation that links to the basics of life. it's a theme that occurs in my work more and more often and probably the reason why I was asked to make this installation. the brand was open to my creative input and process.
DB: for seeds, and across your work overall, what are the creative strategies you adopt when working?
MV: in my work I try to find the basic layer of human emotion. humans across the world are culturally very different but on a basic, sensorial level all the same. this is the level that deals with strong emotions of feeling human connection, understanding grief, feeling empathy and joy. by making low-tech designs, situations and performances that evoke the senses I am able to connect with the child within the human. when I make a project, I need to understand the core of the subject, in this case a simple seed talking to you from inside your belly. from there I expand on the idea and shape a world around that enhances the experience. to be able to work with caesarstone as a material gave me extra inspiration. as it is such a strong and heavy material it gave me joy to combine it with thousands of light and flexible ribbons to balance the rigidness with airiness.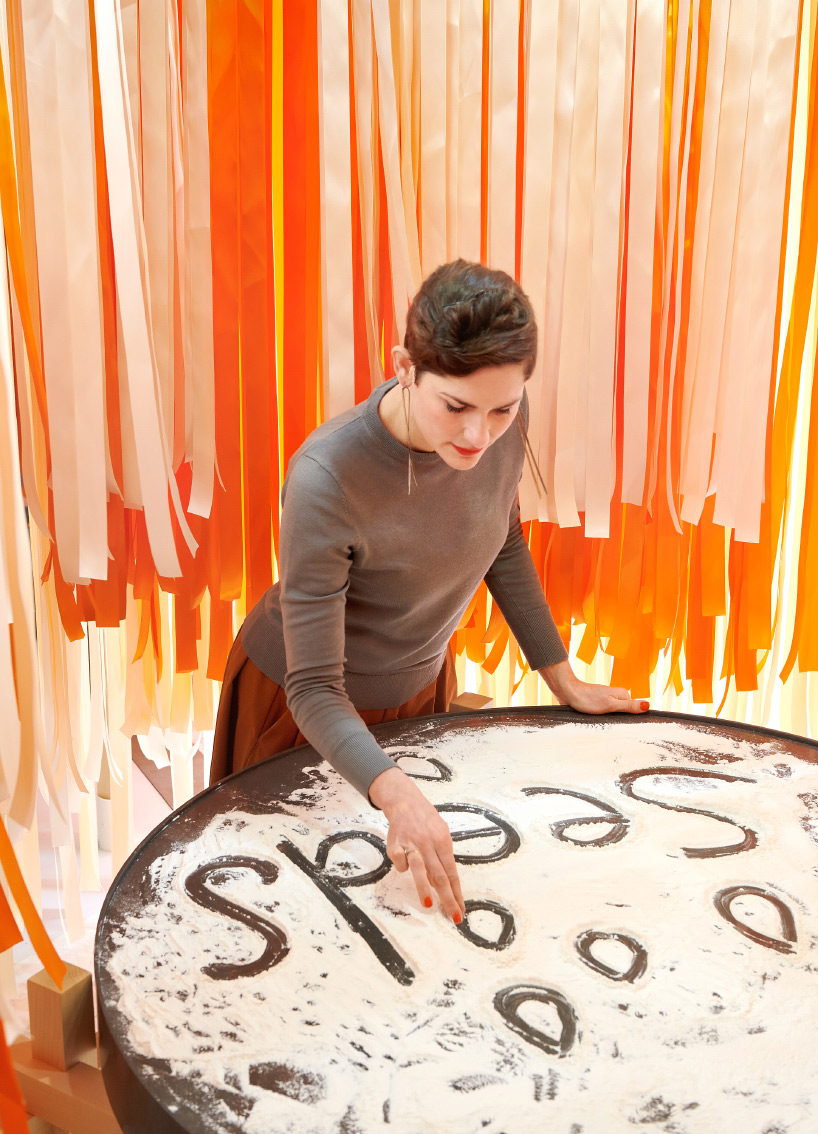 DB: what are some of the visual and sensorial references you drew from?
MV: I make a lot of ribbon installations because I feel we, as humans, do not get touched enough. ribbons forests create new spaces where things are hidden and things get revealed while visitors are being touched. I use scent and I use food to fully immerse in the design. the design literally enters the body. next to that I use audio and storytelling as a key to unlock imagination. especially at (design) fairs, we tend to forget who we are: playing children. I hope to entice visitors to forget about the business for a while and open up their sensorial wonder. while doing so I also reconnect them to what really matters. life, earth, human connection. we get so tied up in superficial things that we seem to forget sometimes and start to live a virtual life
DB: what did you find to be the most interesting aspect of the material as you started to work with it?
MV: I have never worked with caesarstone before so I wanted to see if we could make it more sensorial. I understood the material can be bent and this is quite amazing, so I used this a lot in the set up and creation of the installation.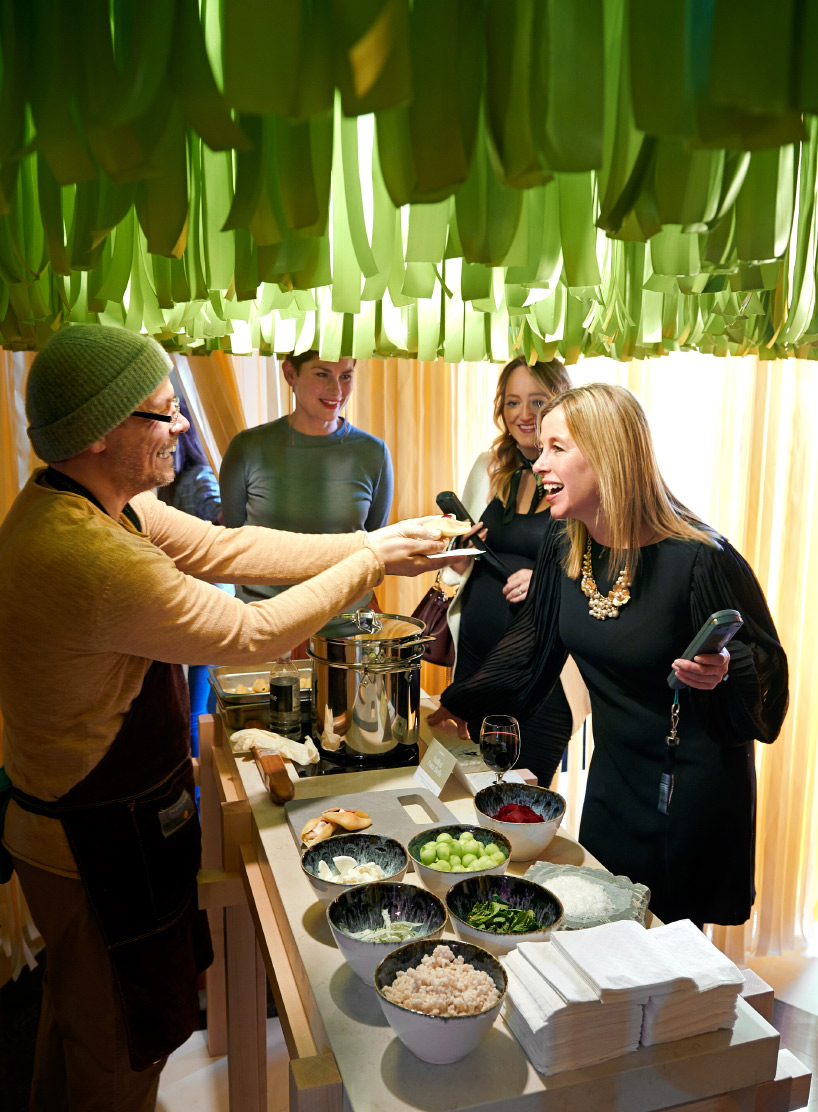 DB: what is the making process involved in a project like this?
MV: the making is making an installation but also a sensorial experience and also a scent and also a tasting experience and also a story and audio. it is a multi design and this is what I like to do most. it is a matter of testing and trying and we use a lot of 3D drawing. I can also draw from my previous experience with ribboned spaces, food experiences and audio stories so that does help.
DB: can you speak about the sensory experiences seeds offers viewers?
MV: it is a fully immersive experience where visitors choose a seed at the start. visitors hear the seed talking to them from within their bellies. the seed is a reference to the living world. as we surround ourselves with lifeless objects we sometimes tend to ignore the beauty of life. food, in particular is our guide to the living world as it grows and decays. it is what is closest to us as we need to eat to live. the seed takes us to understand water in a new way. it makes us grind other seeds (with caesarstone) to get freshly baked flatbread. it gives us 'inner haptics' trough a tasting experience and invites us to connect with our fellow human beings trough a small 'feeding- exercise' — all very low tech, simple things will happen but they will help you to gain a new look at the world.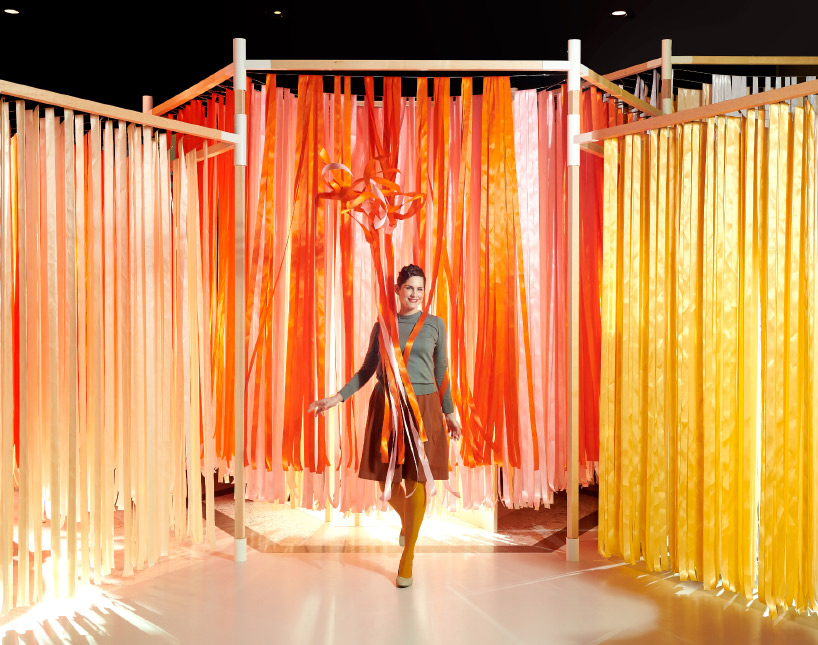 DB: what do you hope audiences take away from your work?
MV: I hope they will feel excited like a child, walking around in wonderland. I hope they will feel light and at the same time feel a deep connection to what matters to us as human beings.
DB: are there certain themes you hope the project provokes a discussion about?
MV: yes, as a designer, I wonder if designers need to be making more 'stuff'. I wonder if we as humans are truly understanding the value of food and I hope we will make more connection to other humans as we are very much dependent on each other.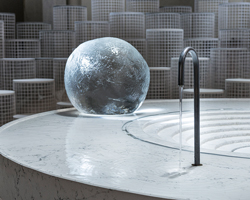 apr 18, 2018
apr 18, 2018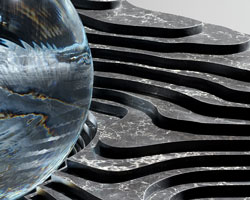 jan 21, 2018
jan 21, 2018
jun 16, 2017
jun 16, 2017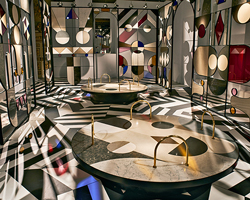 apr 05, 2017
apr 05, 2017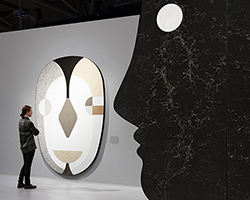 jan 21, 2017
jan 21, 2017
apr 12, 2016
apr 12, 2016
may 08, 2017
may 08, 2017
sep 13, 2015
sep 13, 2015
may 17, 2013
may 17, 2013
a diverse digital database that acts as a valuable guide in gaining insight and information about a product directly from the manufacturer, and serves as a rich reference point in developing a project or scheme.