maruni presents jasper morrison: during tokyo design week 2016, japanese furniture producer maruni has presented the exhibition 'chairs, baskets + books', curated by jasper morrison. 'it's all about making things' the british designer told designboom, 'these are craft objects from daily life and we wanted to show the beauty that lies within their practical utility.'

wall exhibition of beautiful photographs of everyday objects
in the center: the 'aramono' installation, in the background: jasper morrison's 'botan' bench and 'T' chair for maruni
image © designboom
designboom was invited for an exclusive preview of the show in tokyo. there were beautiful photographs of everyday objects, maruni's furniture designed by jasper morrison along with an installation of 'aramono', created by norihiko terayama of studio note (miscellaneous objects such as brooms, dustpans, … from matsunoya, a wholesaler of daily tools in japan). we sat down with jasper and were able to discuss a few things, meanwhile, design week folks were waiting outside for the doors to open.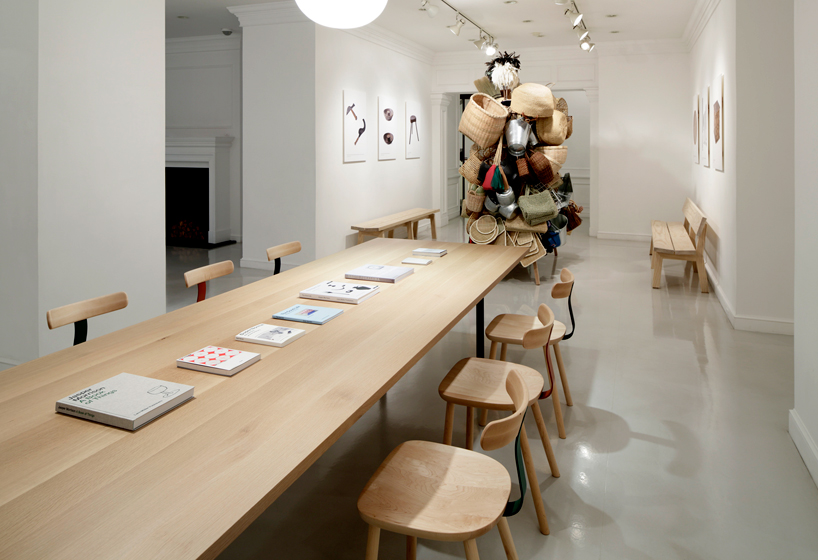 image © nacása & partners inc.
designboom: what idea did you have in mind when you arranged the exhibition space?
jasper morrison: I just thought it can be a nice to put some books, and some baskets and the furniture. maruni then asked me why? so I was thinking retrospectively… well, all these things have to do with quality and are examples of craftsmanship. with every company that I work for, I have a particular way of thinking about what to do and obviously with maruni it involves using the quality of their manufacturing.'

close-up on the 'aramono'
image © designboom
DB: how would you describe the levels of craftsmanship and quality that have gone into the design of maruni's products?
JM: world class. really extraordinary. it is a great advantage to design for a company like maruni which has that level of craft because they can do things that other companies can't.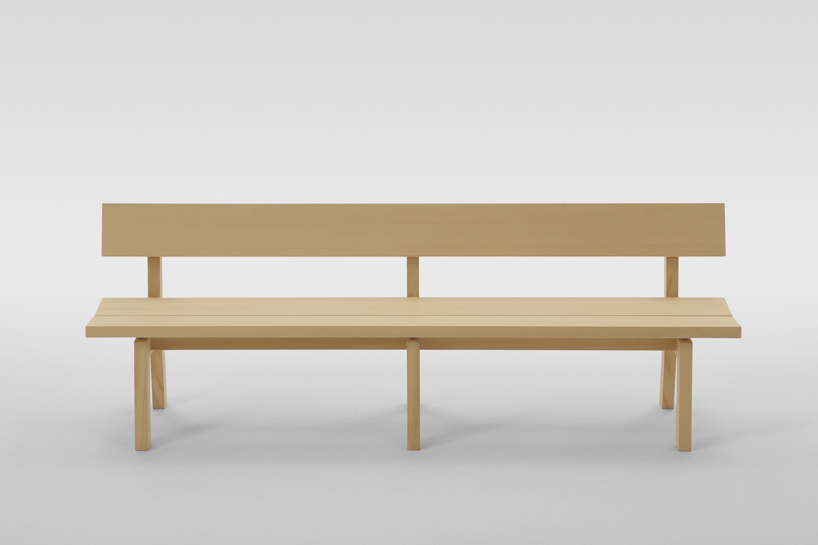 jasper morrison's 'botan' bench for maruni, originally conceived for his personal use on the terrace of his studio, read more here.
DB: the presented objects seek to 'create an atmosphere of comfort'. how can design help achieve mental comfort for its user, as well as physical comfort?
JM: I think it's all about atmosphere. when we design we have to think about both sides — we have to think about the physical comfort to make a comfortable chair, but also about the atmosphere that it gives to the space, and these two are sort of connected.  you need both and it also relates to this 'super normal' idea that objects should not be too much noticeable. they can be a bit quieter, and when they are quieter they are designed in a good way and create a good atmosphere. when you fill up a room with crazy design things you won't get such a result. I mean, for example, the danish knew about that very well.
they were very sensitive to the idea of combining quieter objects to create a rich atmosphere.

image © designboom
DB: what makes 'the hard life' different in comparison to your four previously launched books, which are also here at the exhibition?
JM: all my books are about design and are looking back. the main difference is that 'the hard life' is not about my own work or any known designers' work but about objects coming from portugal, mostly from the last century and made by local craftsmen. by what means did so much beauty and ingenuity appear in articles of everyday rural life? how did the shape of these objects balance necessity and formal perfection so skillfully?
this new book explores the effect that generations of trial and error, individual craftsmanship, and an instinct to carve out the essential with the slenderest of means brought to objects that made life both livable and meaningful to a pre-industrial society.

prune axe and pruning hook, chopping bowls,…
image © designboom
JM continues: when you see the collection, you will be amazed at the quality of the objects. not just because they are beautiful things but I think from a design point of view, there are a lot of interesting lessons in that book for design or designers. I don't want to give a lecture to anyone, I just want to suggest with the book that a lot of good design came without any design school training. it was just people making things — and that although this was 'outside of the design world', the quality is probably better than 'inside the design world'. so we should think about it.

a view into the exhibition
image © designboom

image © nacása & partners inc.

a view into the exhibition
image © designboom

'superloon' from FLOS, the latest lighting designed by jasper morrison
image © designboom
DB: does japanese culture influence your process of designing products in any way?
JM: for sure, japan probably more than most places. I don't think about it, I mean, it's not that when I work on a product I'm trying to do something japanese, but rather later on some people will say 'it looks japanese!' it happened to me recently when someone was commenting about the chair I designed for VITRA called 'APC' (all plastic chair), and I understood why: it indeed has a certain something, for example, if you look at the back, it's like the gate of a shrine.

jasper morrison's 'T' chair for maruni, the 'T' series consists of the T chair and bar stools available in two different heights.
see more info on maruni's collection of wood and steel furniture 
image © designboom

jasper morrison talks to designboom
image © designboom

the 'T' chair uses a bent metal support for flexibility and comfort, design by jasper morrison for maruni  

installation of 'aramono' from matsunoya by norihiko terayama (studio note)
image © designboom

also norihiko terayama proudly exhibits the designboom pin 🙂
image © designboom 

the 'O' stool by jasper morrison for maruni features an elongated hole on its seat pan that acts as a handle for carrying. 'O' stool comes in low, mid and high sizes 
on display and for sale were 'aramono' from matsunoya 
image © designboom 

chairs, baskets and books were on show,
among them dezain no rinkaku by naoto fukasawa, dezain no seitaigaku / the ecological approach to design by naoto fukasawa, masato sasaki and takes gotou
and morrison's books -super normal, -the good life, -a world without words, -a book of things and the new title 'the hard life', which will be available after mid december 2016.
image © designboom
book cover –  jasper morrison 'the hard life'
jasper morrison 'the hard life'
publisher: lars müller
design: jasper morrison and integral lars müller
year: 2016
format: 22 x 30 cm, 8 ½ x 11 ¾ in
features: hardcover, 230 illustrations, 208 pages
language: english 
ISBN: 978-3-03778-514-0
________________________________________________________________________________________
designboom rating:
(must read)
________________________________________________________________________________________
sep 20, 2017
sep 20, 2017
jul 27, 2017
jul 27, 2017
apr 10, 2017
apr 10, 2017
sep 14, 2016
sep 14, 2016
may 08, 2016
may 08, 2016
may 06, 2016
may 06, 2016
apr 01, 2016
apr 01, 2016
apr 04, 2014
apr 04, 2014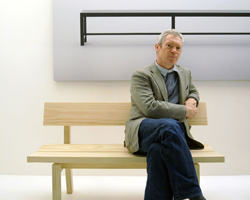 may 14, 2013
may 14, 2013
apr 17, 2013
apr 17, 2013
aug 31, 2011
aug 31, 2011
apr 12, 2011
apr 12, 2011
dec 15, 2016
dec 15, 2016
dec 05, 2016
dec 05, 2016
nov 23, 2016
nov 23, 2016
nov 14, 2016
nov 14, 2016
nov 12, 2016
nov 12, 2016
nov 02, 2016
nov 02, 2016