apr 01, 2016
naoto fukasawa + jasper morrison debut wood and steel furniture for maruni wood industry
naoto fukasawa + jasper morrison debut wood and steel furniture for maruni wood industry
(above) 'T' chair by jasper morrison 
image copyright maruni wood industry, all photography by yoneo kawabe
for salone del mobile 2016, maruni wood industry presents a collection of seating pieces by naoto fukasawa and jasper morrison that combine solid japanese wood, with steel elements. the 'hiroshima' stackable chair and stool by naoto fukasawa brings together a solid wood seat with slim polished stainless steel legs; while the 'T' chair and 'O' stool by jasper morrison blend colored steel and maple wood, conveying heavier proportions. while each designer's approach was different, the resulting furniture is balanced in form and functionality.

'T' chair by jasper morrison in its various versions
for both the 'T' chair and 'O' stool, jasper morrison utilized 3D wood machining. the chair, made from solid maple wood, connects the seat and backing with a painted strip of sprung steel which improves comfort. the colored metal provides a contrast with the wood and an element of freshness to a familiar typology.

'T' chair uses a bended metal support for flexibility and comfort

'O' stool by jasper morrison 
the mid and high versions of the  'O' stool have painted steel tube footrests, and also include an elongated hole machine through the centre of the seat shaped for maximum comfort and carrying. 

'O' stool features an elongated hole on its seat pan that acts as a handle for carrying 

updated 'hiroshima' chair by naoto fukasawa 
naoto fukasawa used the lines from the arm to the back of the 'hiroshima' chair to distinctively emphasize the solid wood he has employed, and carved like a sculpture. taking advantage of the same lines, the stackable chair and stool follow the connection between the back, arm and seat. it was designed with the thought of wanting to make the shape attractive as seen from the back. the appearance of the stool and stackable chair from that specific view was particularly important because highlights the stainless steel legs integrating with the solid wood. 

a detailed look at the stainless steel legs and arm rest 

the 'hiroshima' chair is stackable


'hiroshima' stool concept by naoto fukasawa 

the stool concept features solid wood 

the 'making of' maruni wood industry's 2016 collection
video courtesy of maruni wood industry
see designboom's instagram coverage @milan.design.week
sep 20, 2017
sep 20, 2017
jul 27, 2017
jul 27, 2017
apr 10, 2017
apr 10, 2017
nov 10, 2016
nov 10, 2016
sep 14, 2016
sep 14, 2016
may 08, 2016
may 08, 2016
nov 10, 2016
nov 10, 2016
apr 04, 2014
apr 04, 2014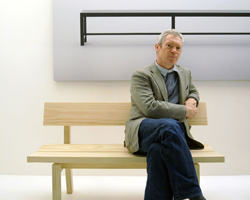 may 14, 2013
may 14, 2013
jul 27, 2016
jul 27, 2016
jul 05, 2016
jul 05, 2016
jul 02, 2016
jul 02, 2016
aug 23, 2017
aug 23, 2017
feb 13, 2017
feb 13, 2017
feb 05, 2017
feb 05, 2017
feb 14, 2017
feb 14, 2017
jun 26, 2016
jun 26, 2016
jun 21, 2016
jun 21, 2016