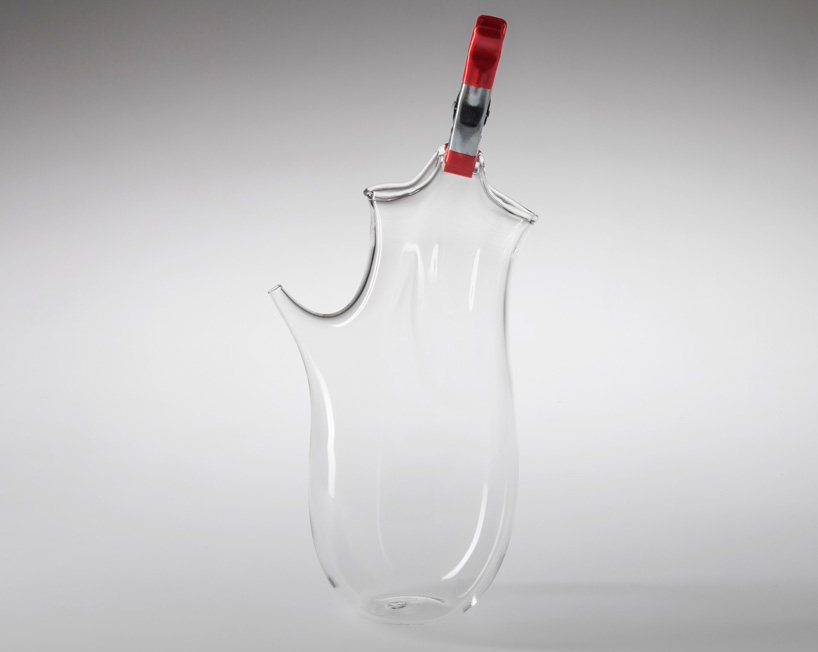 massimo lunardon transforms designers into poets of glass for maison et objet
(above) 'pinch' carafe by studio formafantasma
Ø16 cm x H38 cm
artist and master glass craftsman, massimo lunardon gave birth to 'poets' in 2014, bringing together a group of international designers to create a unique collection of glass objects. andrea anastasio, sam baron, studio formafantasma martino gamper and martì guixe worked alongside lunardon to envision products that offer a new aesthetic for hand-blown glass with colored boarders, fabrics, subtle textures, sharp cuts… breaking the perfection of what we typically envision hand-blown glass pieces to look like. imperfections were embraced in 'poets' debut collection, each piece exhibiting evidence of a touch of sabotage to the perfection of lunardo's crafted glass objects.
for 2015, the same designers were invited back, this time however, a new material has been introduced into the glass blowing process: graphite. with its low-density metallic, opaque presence, it almost seems to anchor the glass. from the structural to the functional, the graphite changes each piece, transforming it into a hybrid object that sits in a state of equilibrium somewhere between immateriality and solidity.
the 2015 'poets' collection was presented at maison et objet 2015, with the contributions by additional designers, alessandra baldereschi and elena salmistraro. here is a look at the growing family of contemporary glass objects.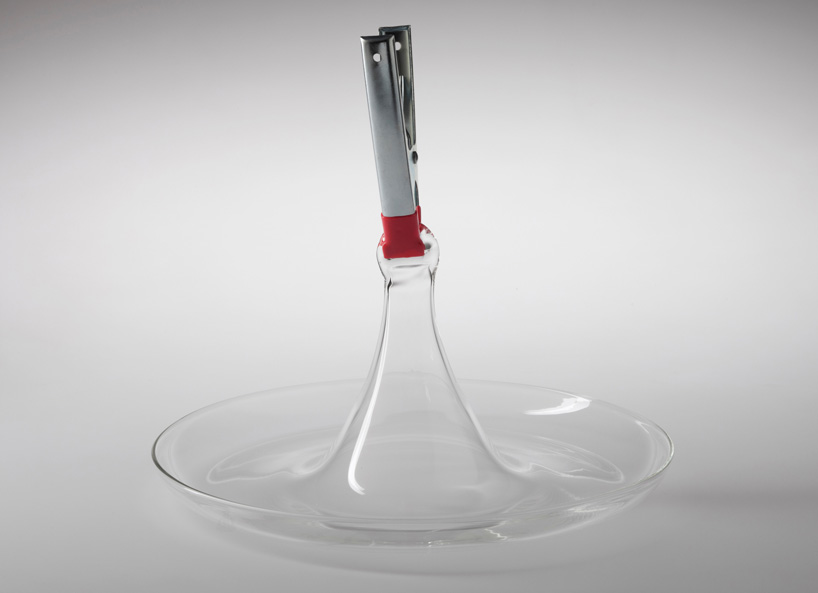 'pinch' tray by studio formafantasma
Ø35 cm x H36 cm
'pinch' by studio formafantasma is a collection of objects for the table and home, where the glass is handmade without molds or by lathe. the fluidity of the material is controlled by industrial pliers that become part of the finished object. the pieces instead of being the result of a design, reflect a gesture where the craftsmanship of glass meets the industrial brutalism of the pliers.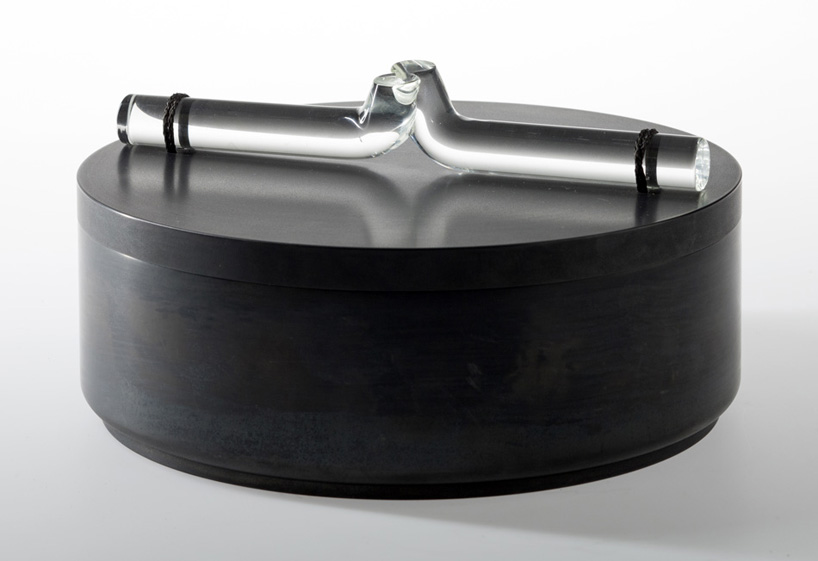 'borosilicate glass on graphite' by studio formafantasma, 2015
Ø25 cm x H13 cm
studio formafantasma's 'borosilicate glass on graphite' box combines graphite and borosilicate glass extrusions. the material is moulded as a box that becomes the ideal canvas for a carefully shaped glass handle, produced via turning two ends of the borosilicate extrusions. the piece is archetypal and the materials almost not designed in order to highlight the moment in which the glass mutates from a perfectly machine made form to a more lively and gestural one. to avoid the addition of any extra material, a woven graphite ribbon is used to connect the handle to the box.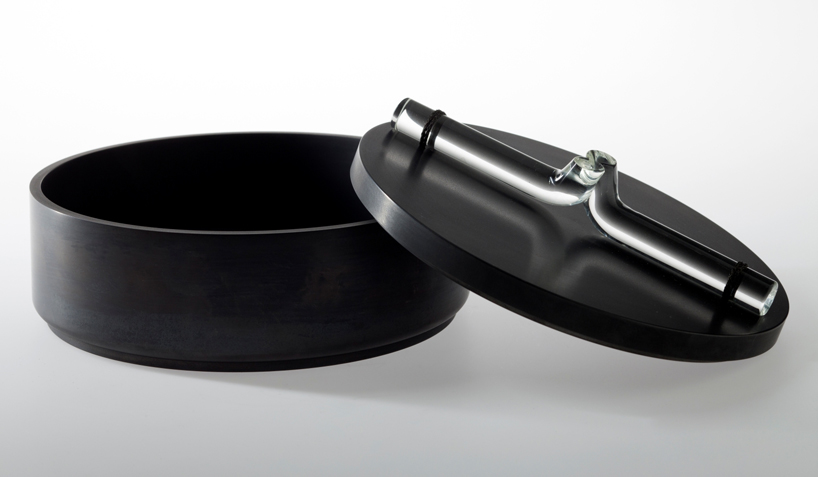 the 'borosilicate glass on graphite' box combines graphite and borosilicate glass extrusions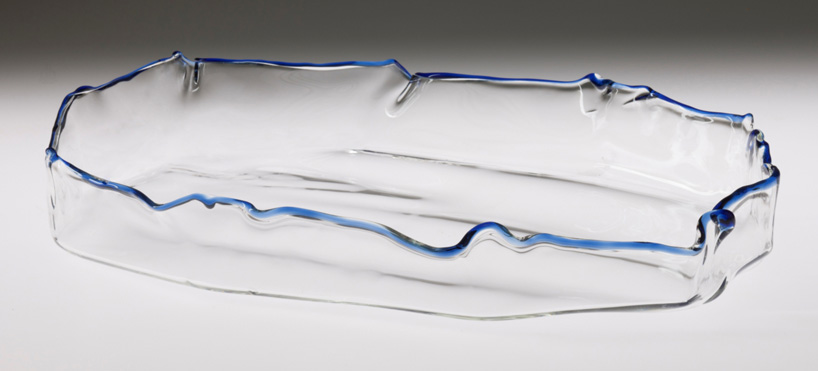 'horizonte blu' by martino gamper
Ø35 cm x H7 cm
martino gamper's 'horizonte' set comes in green, red and blue versions. the series of oven dishes are made by hand and are characterized by a border of color along the lip of its opening.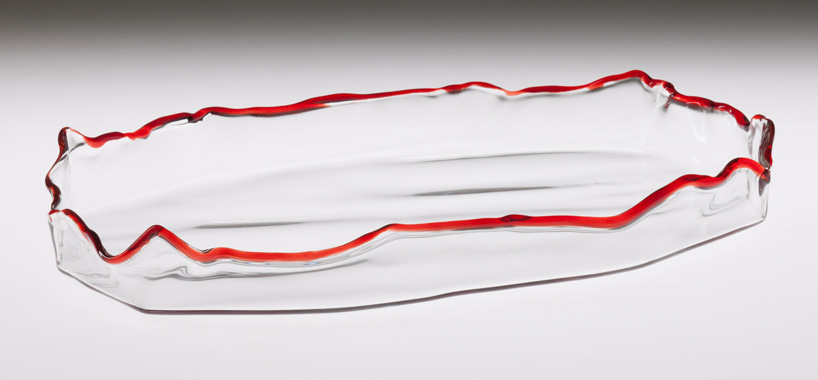 'horizonte' red by martino gamper
Ø30 cm x H4 cm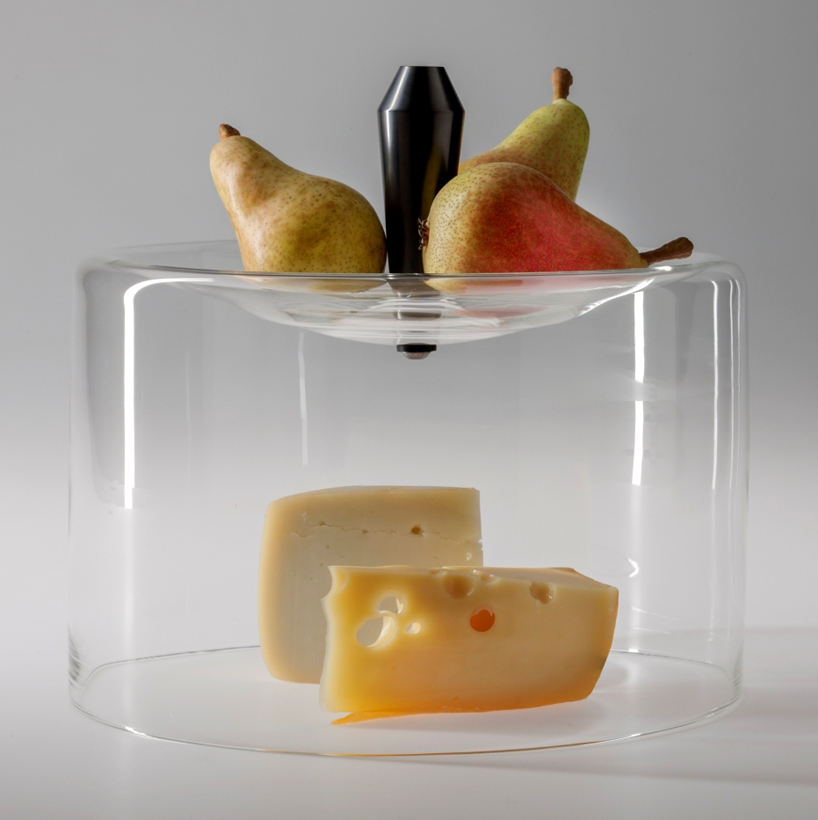 'sottosopra' by martino gamper
Ø30 cm x H28 cm
'sottosopra' by martino gamper employs the same object to keep cheese fresh, and hold fruit bowl. the design makes use of all of the space that it covers.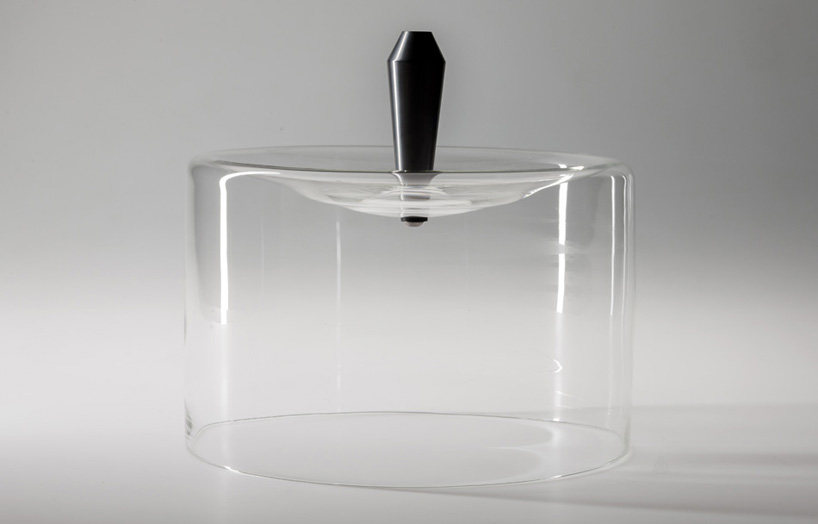 graphite is used in the 'sottosopra' handle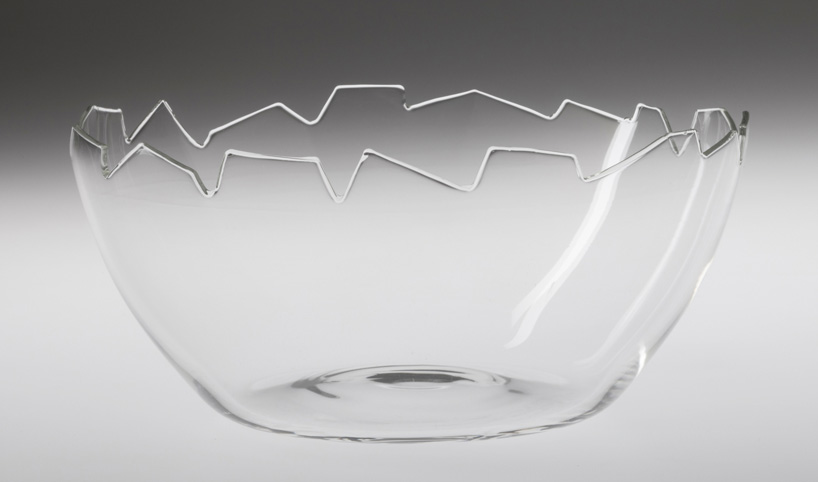 'jagged' bread basket by martì guixe
Ø23 cm x H12 cm

comprised of a bread basket, decanter, flower vase, fruit bowl, jarand plate, the 'jagged' glassware by martì guixe is defined by an broken, irregular edge that evokes the feeling of fragility and aggressiveness of glass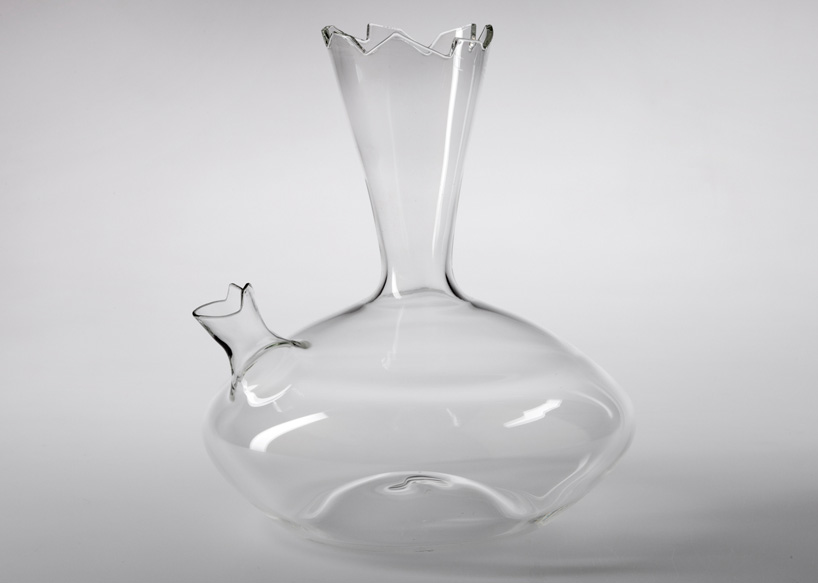 'jagged' decanter by martì guixe
Ø21 cm x H25 cm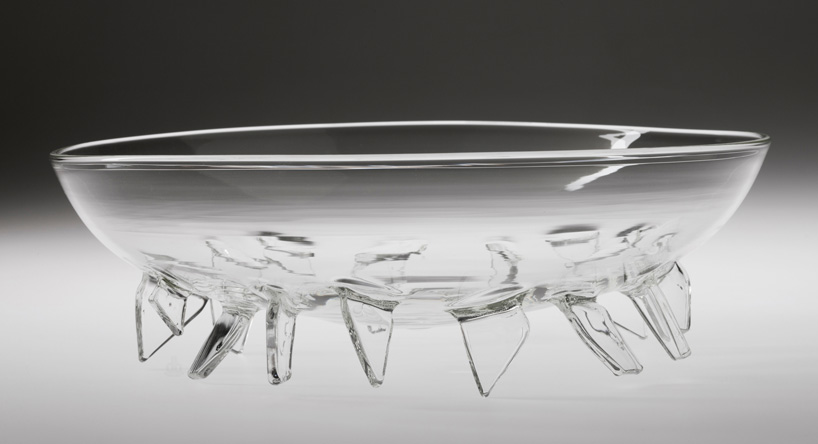 'jagged' fruit bowl by martì guixe
Ø33 cm x H11 cm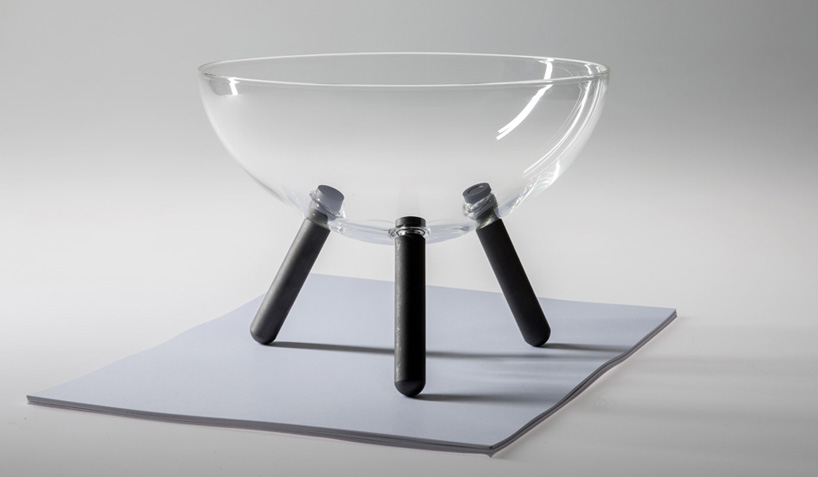 'grafitero' by martì guixè
Ø27,5 cm x H19 cm
'grafiter' by martì guixè is simply comprised of a glass bowl that is raised and supported by three graphite legs. these offer a sense of place and leave markings where the object has been placed.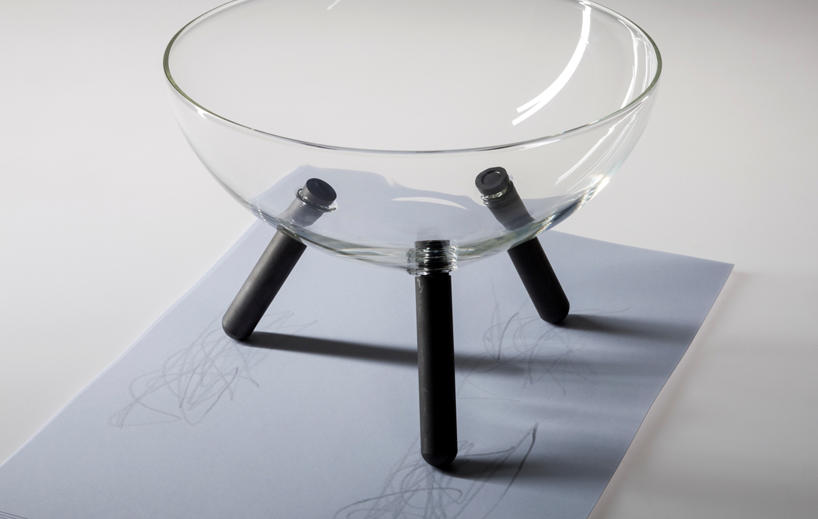 the graphite legs leave markings where the bowl has been placed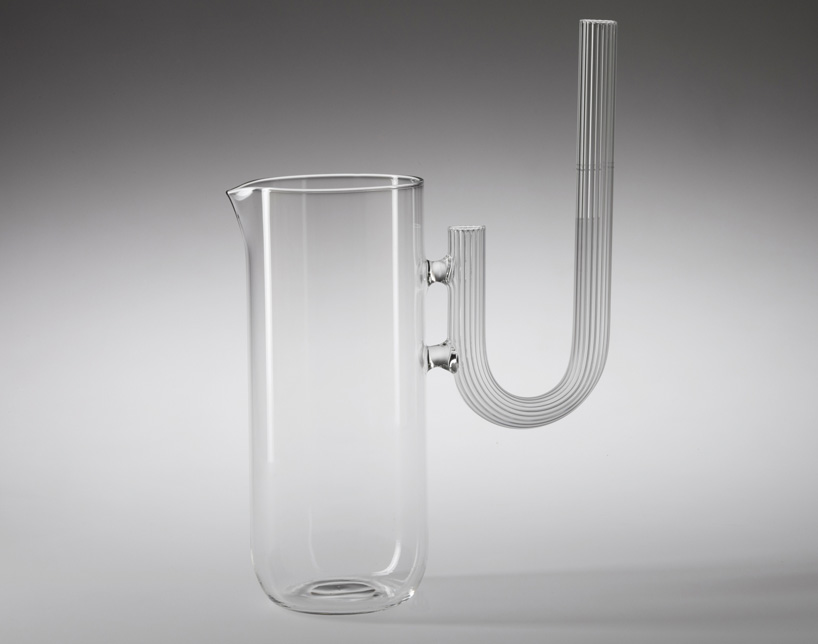 'poignées' carafe by sam baron
Ø29 cm x H42 cm
sam baron's 'poignées' collection explores the contrast between basic containers with simple and obvious functions, and various forms of handles. the difference between the transparent glass and ribbed glass makes the presence of the two components makes it easier to read the way in which they are meant to be used.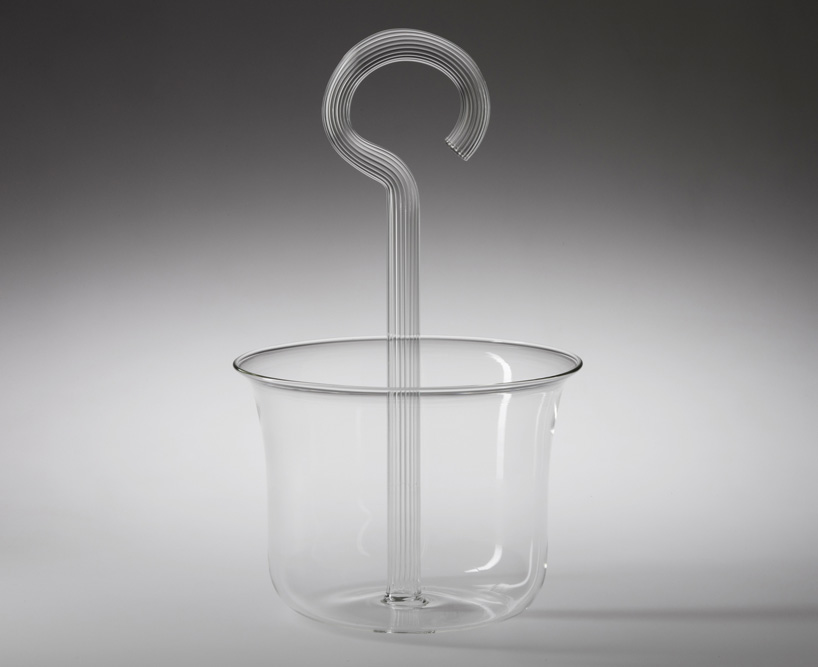 'poignées' compotier by sam baron
Ø30 cm x H50 cm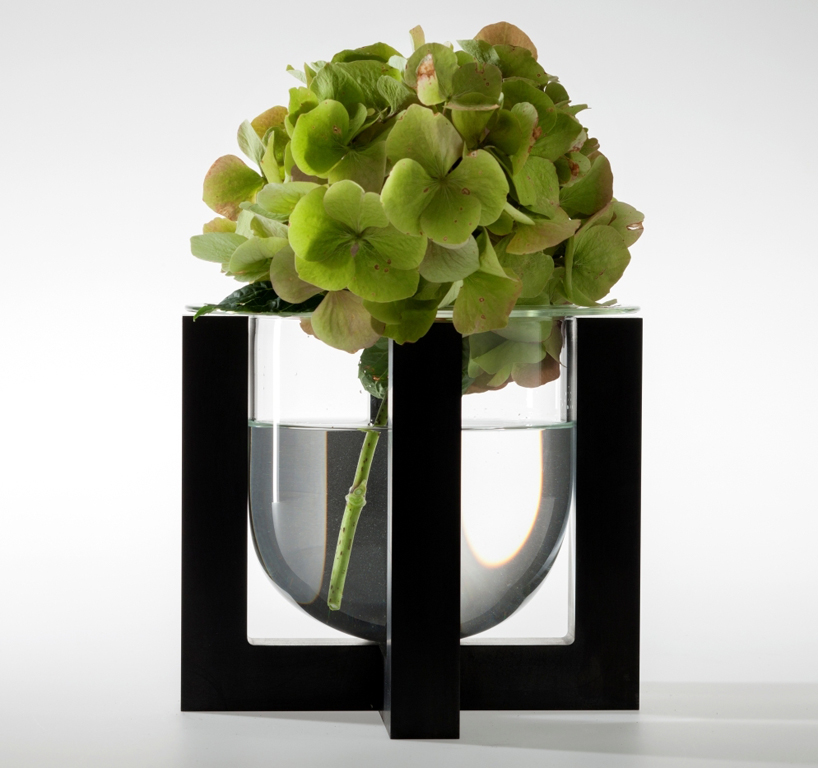 'coupole' by sam baron
Ø21 cm x H18,5 cm
graphite and glass equally take to the stage in 'coupole' by sam baron. the dark graphite support anchors the glass vase, offering a visual stability.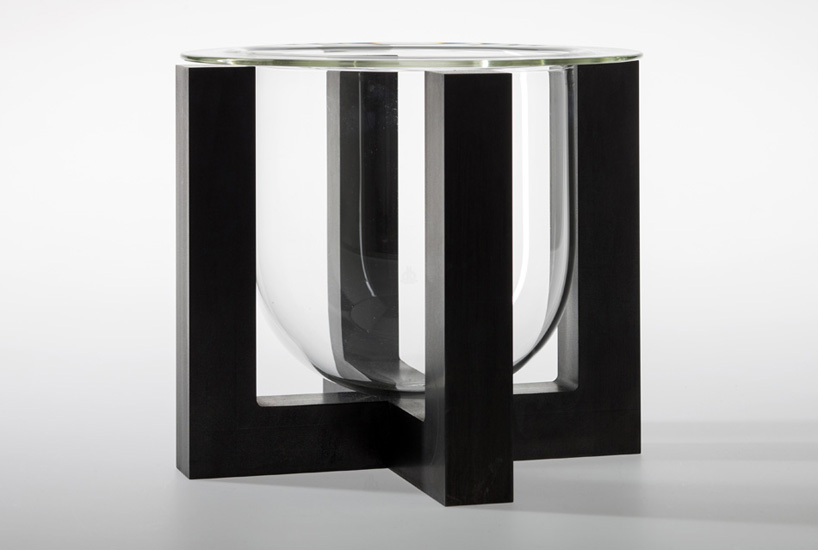 a dark graphite structure visually and physically anchors the glass vase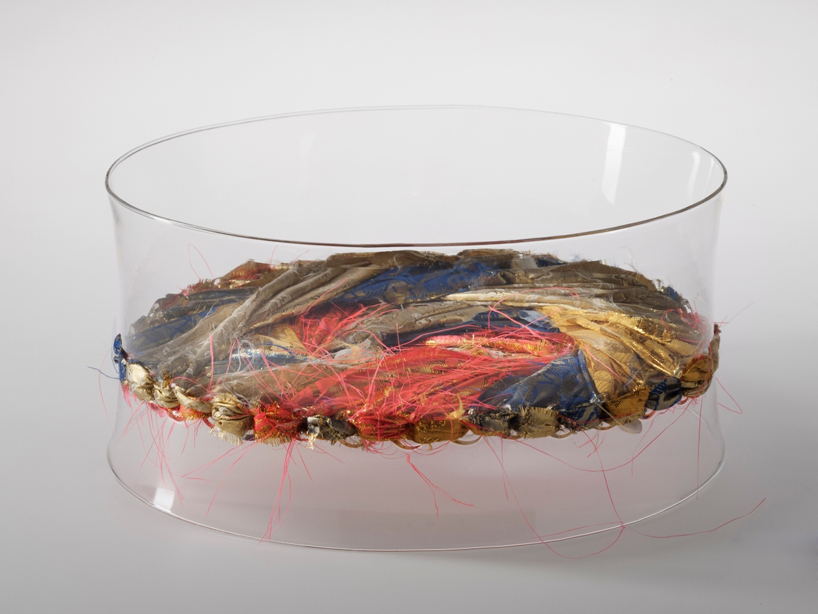 'supported red thread' by andrea anastasio
Ø 31 cm h. 13 cm
a red thread binds together the different acumen of creating; while marking the path that goes from the hunter-gatherer to the embroiderer. as in ariadne's thread the marking allows us to walk back and forth on the path that goes from the internet to the very first trapper's net and vice versa. rather than being classified as a vase or a fruit-bowl andrea anastasio's 'suppored red thread' objects are a symbol for one's day-to-day domestic expressions. the functionality is entirely contained in the weaving and the knotting of the yarn, whereas the glass provides the transparent structure that holds it — a reflection of our day to day experience of 'being here', with all it's restlessness, beauty and wonder that cyclically repeats itself through the folding & unfolding of our days.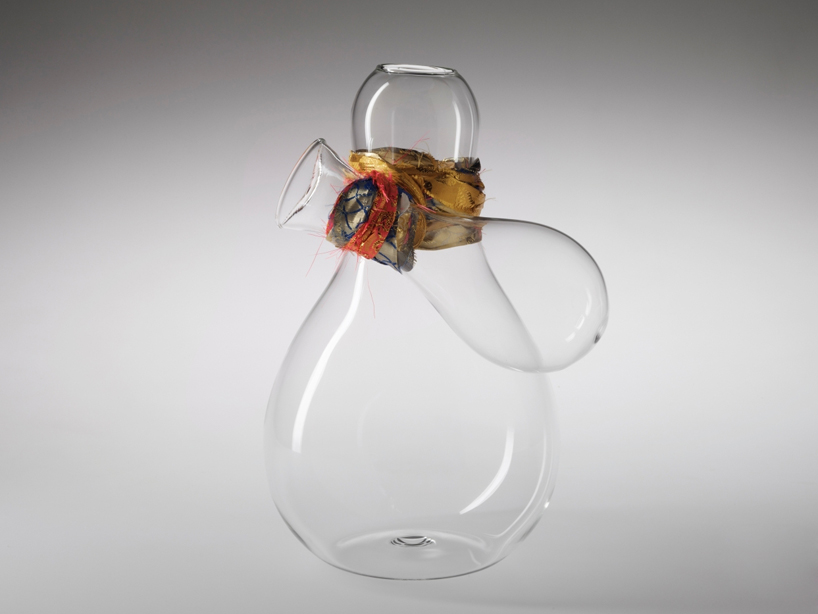 'supported red thread' by andrea anastasio
Ø 30 cm h. 36 cm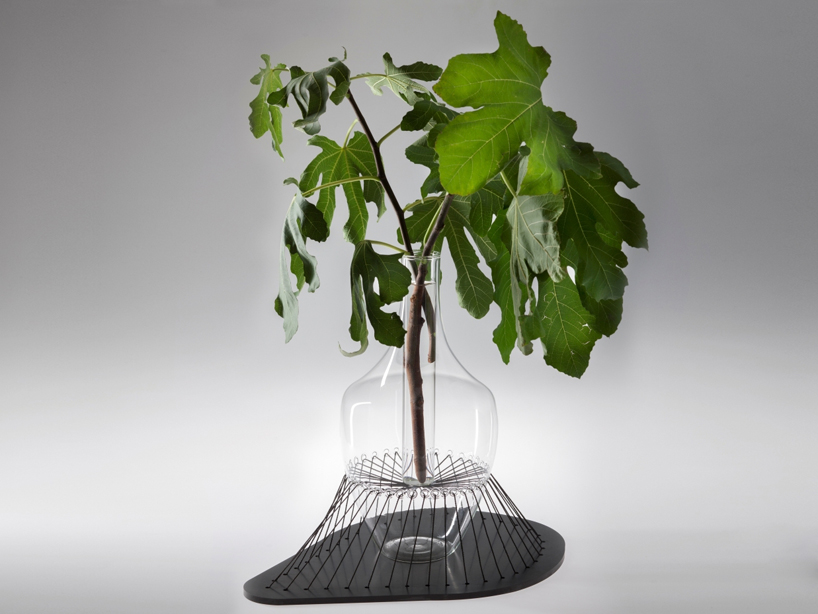 'shadow lines' by andrea anastasio
Ø54 cm x H50 cm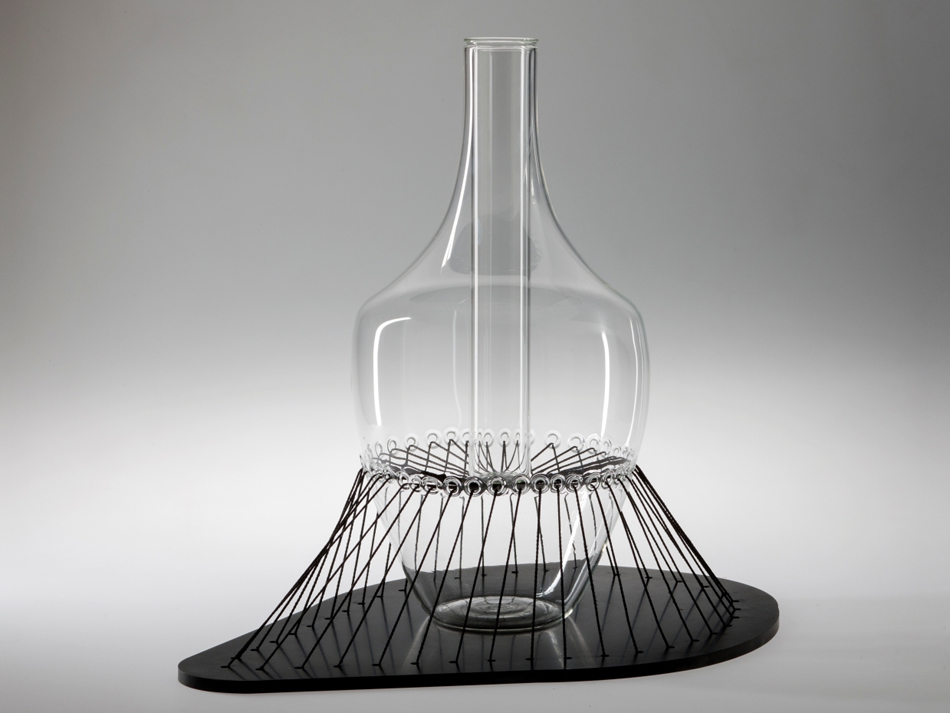 anastasio translates the role of thread in his original works into graphite which acts to support the vessels in place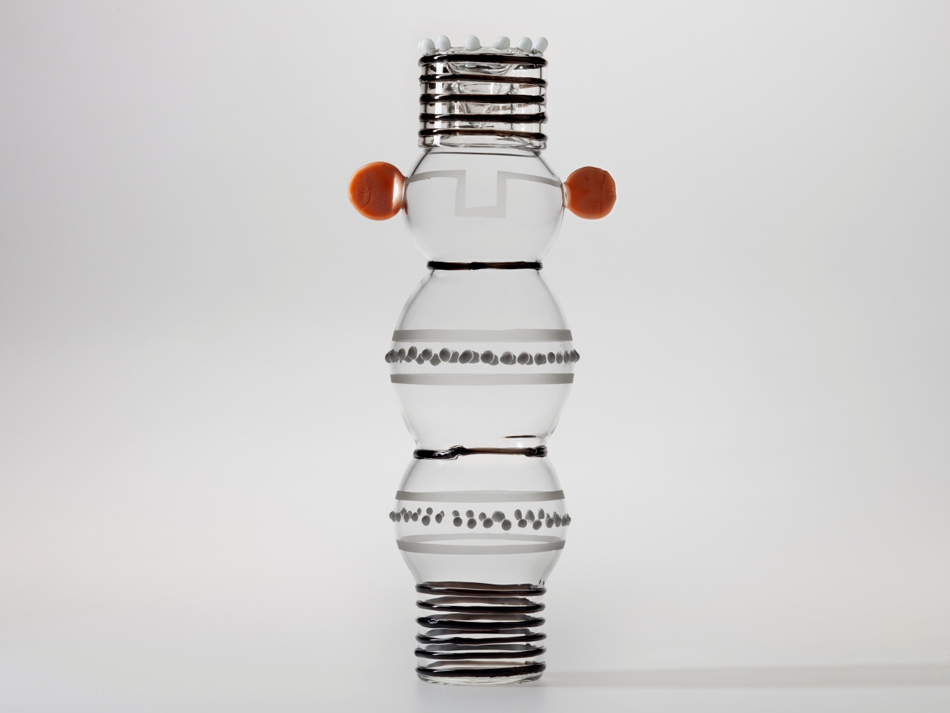 'k'abel' by elena salmistraro
Ø12 cm x H30 cm
mayan art, and especially the large stele depicting the 'king divinities', have influenced elena salmistraro's fine tableware collection for massimo lunardon. the family of sculptural objects is comprised of two bottles, a vase, a bowl and a cloche, borrow their names from the kan-dynasty (snake): k'abel, one of the most important queens of the mayan civilization, the princess ikoom, jing k'inich bahalam, the vassal of the chak took ich'aak dynasty and his son tikal. simple geometric shapes, embellished with relief carvings, cadenced by frosted glass decorations are unquestionably riminiscent of the lines and the narrative of the ancient mesoamerican civilization.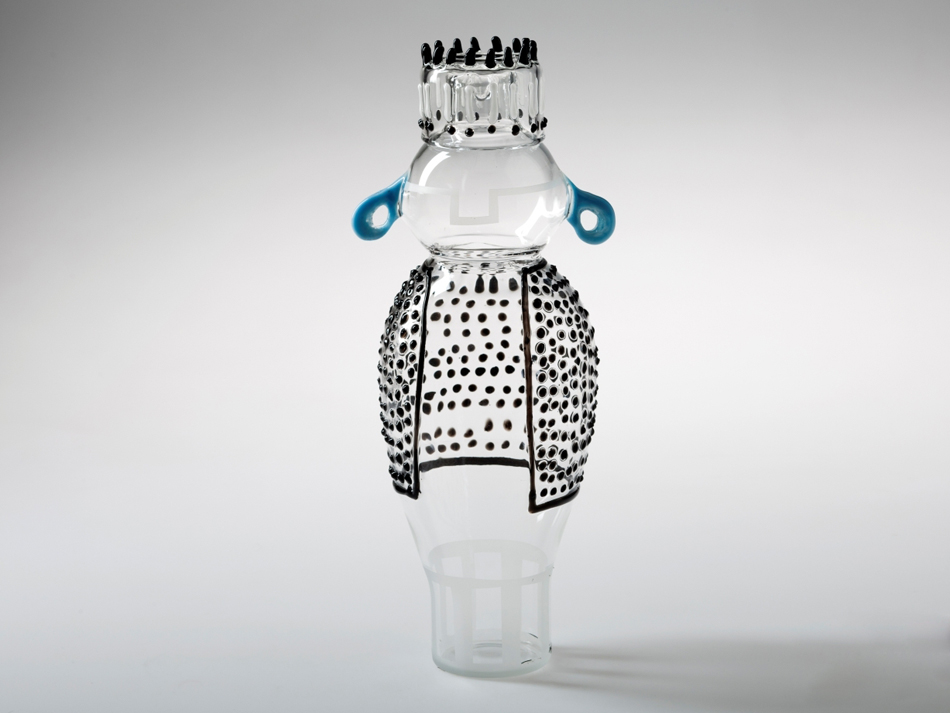 'k'inich' by elena salmistraro
Ø12 cm x H30 cm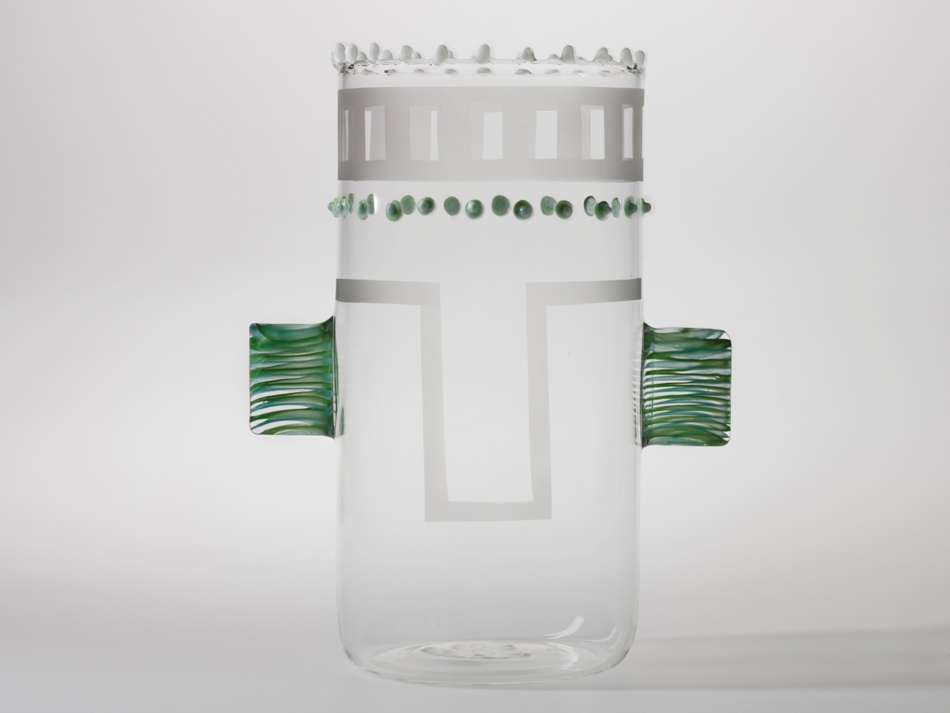 'tikal' by elena salmistraro
Ø23 cm x H31 cm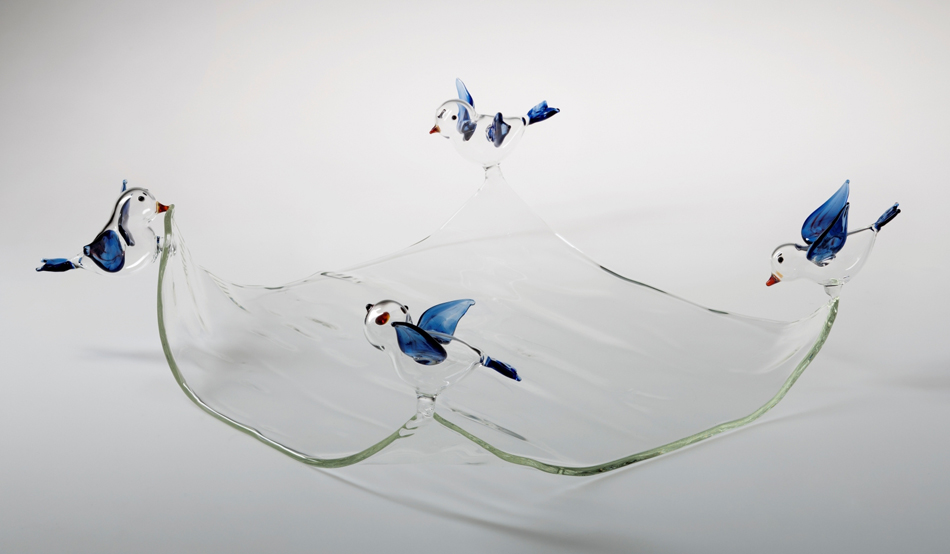 'snow white' by alessandra baldereschi
Ø56 cm x H12 cm
alessadnra baldereschi's 'once upon a time' collection of objects seem to come right out of a fairy tale: the woods, the bundle for lunch and the small birds, leading one's imagination to think about the great advantage of the invention. at any age, the fairy tale can be what stimulates one to produce and develop a sense of fantasy, starting from the most mundane of materials.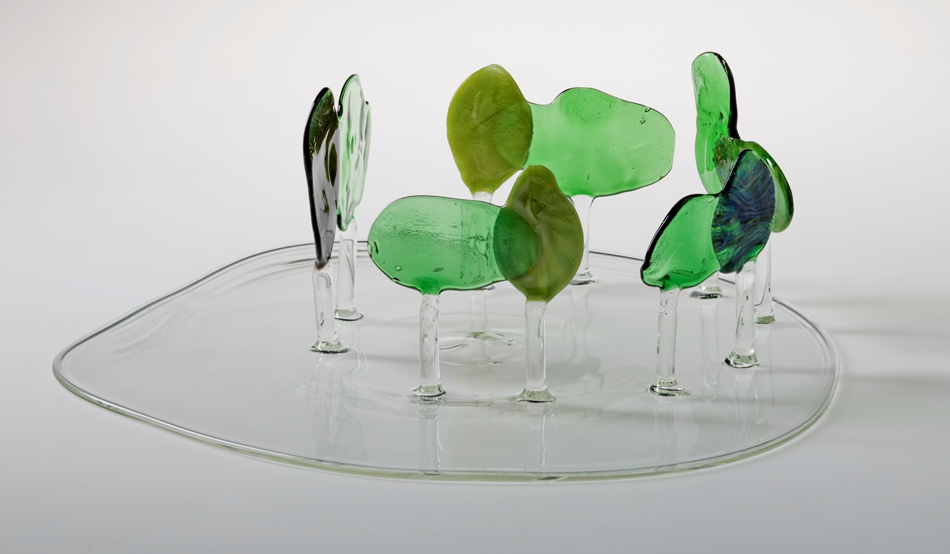 'sleeping beauty' by alessandra baldereschi
Ø38 cm x H12 cm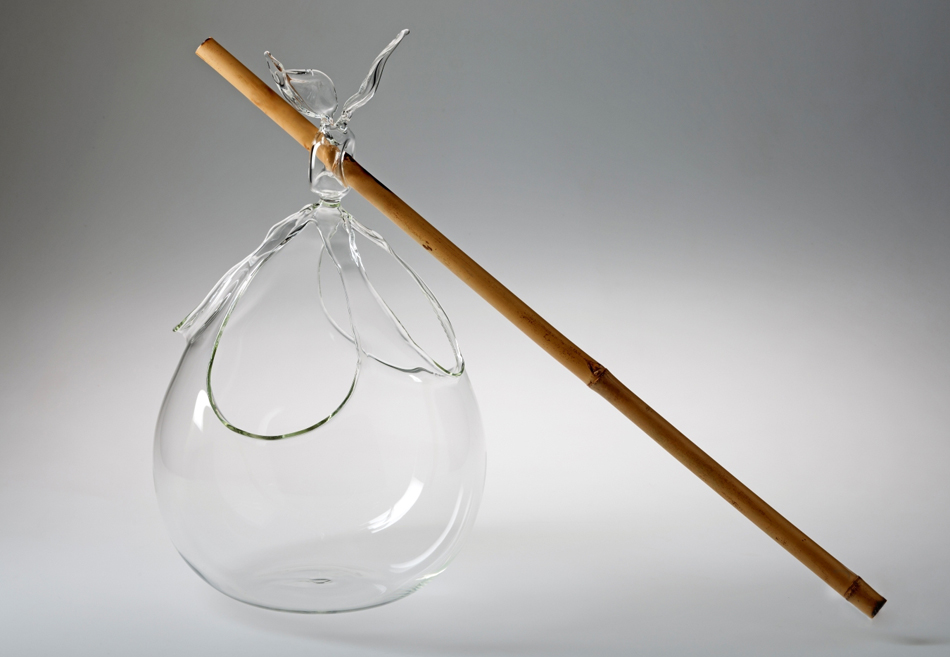 'little red riding hood' by alessandra baldereschi
Ø27,5 cm x H44 cm
shuhei senda
I designboom
sep 07, 2015
a diverse digital database that acts as a valuable guide in gaining insight and information about a product directly from the manufacturer, and serves as a rich reference point in developing a project or scheme.
designboom will always be there for you
milan, new york, beijing, tokyo

,
since 1999