apr 26, 2012
matali crasset: court circuit for danese milano
'court circuit' by matali crasset image © designboom
french designer matali crasset has presented 'court circuit' for danese milano during milan design week 2012. the pendant light is a suspension lamp which interprets the materiality connections of LED. the expression of the piece is a source which is associated with electronics and technology, while creating a new relationship out of classic forms. starting from the archetype of the lampshade using FR4, the material which the printed circuit is made from, the LED are supported by a single diffuser which becomes the only element holding the entire body and applications of the form.
the 2mm thick boards provide the necessary rigidness and intrinsic characteristics of the material to create a semi-opaline diffuser which acquires transparency when interacting with the light, revealing functional components and graphic traces. the overall shape is composed of 5 round-profiled surfaces reminiscent of a petal which repeats the patterns of the circuits, acting as a platform for the LED. energy is transmitted through the tracks which is similar to nature, growing like the ribs of the leaves that branch out and duplicate themselves while their thicknesses become thinner.
image © designboom
the 5 surfaces of the differs mount a total of 90 LED, which are turned inwards creating a direct light while the single sconce is oriented outwards to provide an indirect source. the surfaces are punctured to increase the dissemination of brightness and transparency of the body. each hole is surrounded by a tin coating that reacts with luminosity to increase the reflections and expressiveness of the lamp. the pendants are available in three colors, green, black and gray.
'designing with led requires a change of approach: it's not like designing with the incandescent light bulbs which have their own physicality and unify 'mechanical' components, it's almost a 'do-it-yourself' approach. it doesn't mean to add new potentials, but to interpret the ones already existing in the material itself. the printed circuit is an intelligent and complex material, not an aesthetic skin with technology inside or a simple sum of layers, but it's something integrated, closer to the functionality of the human body where everything is profoundly connected'. – matali crasset
image © danese milano
single sconce image © designboom
single LED petal image © danese milano
circuit detail with punctured holes image © danese milano
sep 21, 2017
sep 21, 2017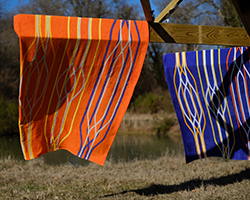 may 30, 2017
may 30, 2017
jul 02, 2016
jul 02, 2016
jun 02, 2016
jun 02, 2016
may 15, 2016
may 15, 2016
feb 03, 2016
feb 03, 2016
mar 08, 2013
mar 08, 2013
jul 18, 2012
jul 18, 2012
jul 17, 2012
jul 17, 2012