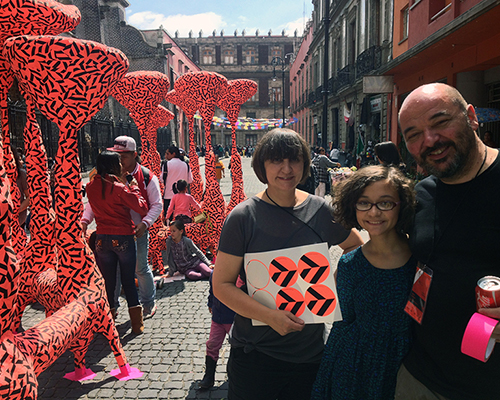 nov 01, 2013
mexico city seating installation by el ultimo grito
mexico city seating installation by el ultimo grito
el ultimo grito (rosario hurtado and roberto feo with their daughter)
photo by luca salas
last week el ultimo grito worked with volunteers to create a public seating installation in the downtown of mexico city as part of the abierto mexicano de diseño.
they told designboom about the experience:
'for the last few years we have been developing design and manufacture systems that would free us from the traditional methods of production. it marked a return to a kind of primitivism, before tools and machines could inform the way we design and think about design. this system allows us to use our bodies as tools. as we began to shape spaces and objects we soon realized that we never produce the same results twice working this way. our hands are well trained – they respond instantaneously to our brains comfortably.
we began to re-cycle packaging materials because they are readily available easy to work with and highly malleable. these materials allowed us to think with our bodies not just our hands, their materiality did not have an associated aesthetic or a prescribed way to work with them. they can be cut, glued, joined, folded, twisted, etc. without any of the preciousness or skill required when dealing with other materials. and their manipulation required us to develop more organic construction techniques that would bring structural integrity to our objects with a minimal use of material.
since then, we have done many public installations and spaces utilizing this system and techniques. of course, the system has evolved. it is impossible not to develop a level of skill that would allow us to achieve more complex objects. we have also experimented with different finishes. from gaffer tape and stickers, which we used as adhesive skin, that when applied over the whole surface work both as a structural solution, producing a plastic skin that keeps all its parts together, and as a graphic layer, designed to give identity to the objects by unifying them into a one single space-object.'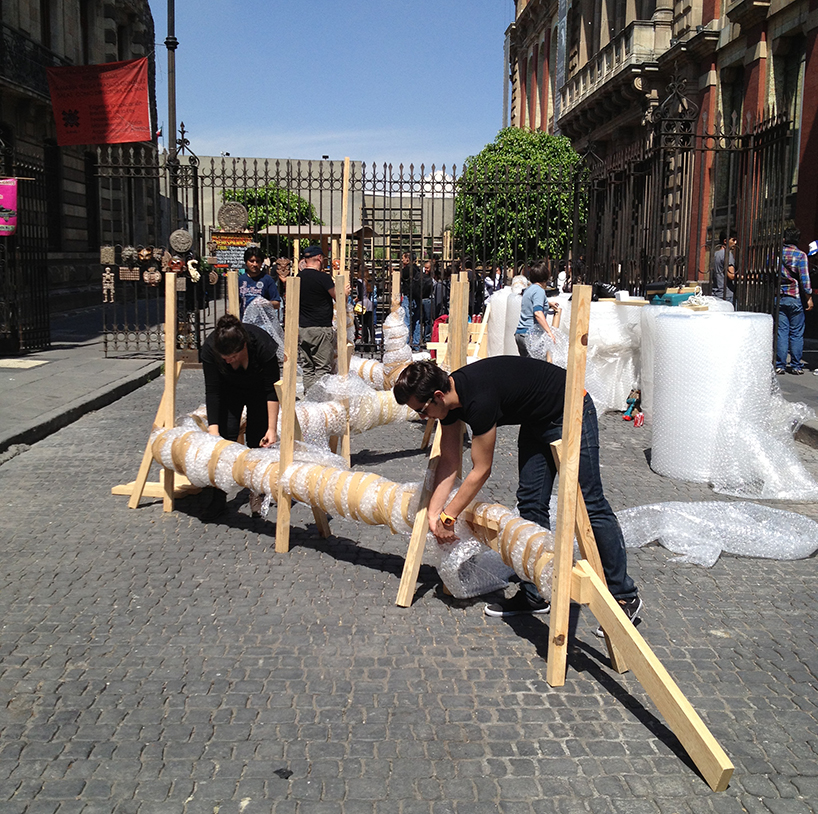 volunteers help build the seating structure
photo by erandi sotelo
about the installation for abierto mexicano de diseño
'if you have never been in the historic center of mexico DF you don't know what it means to turn up all your senses full blast to 11. the noise, the colors, the smells, the proximity of the bodies of thousands of people up and down the streets moving with ease around the cars, the 'vendedores ambulantes', the bicycles, the police, food stalls… and just around the corner from it all, a cul-de-sac, between the palacio de autonomia and the templo mayor, which is where our installation took place.
this was without a doubt our most 'public installation' in terms of social engagement with the local community while producing the work. in the historical center of mexico city it is impossible not to be part of what happens in the street if you are working in the street, it absorbs you.'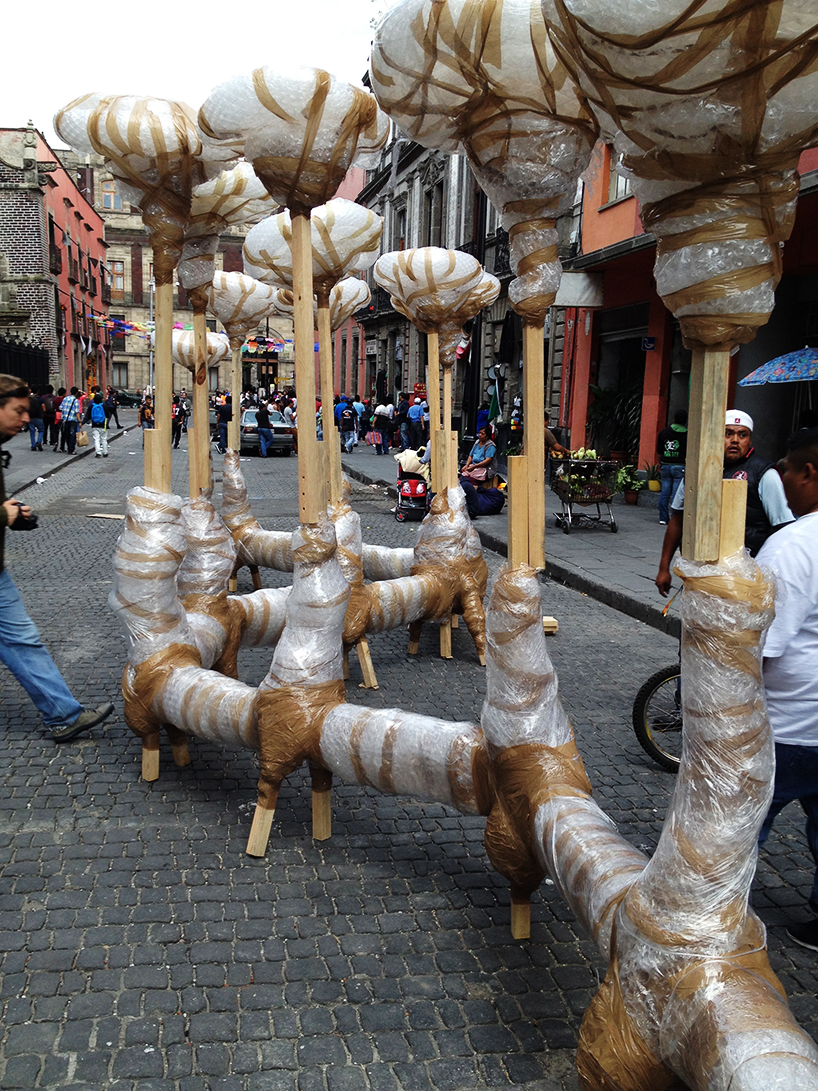 the finished structure without its 'sticker skin'
photo by el ultimo grito
'we began work with a team of volunteers provided by the abierto mexicano de diseño but very fast it became a much larger affair, children living in the area got involved within seconds, asking questions, playing with the bubble wrap, wanting to participate. on the first day we managed to finish the structure and to 'upholster it' with the packing materials, ready to be rendered with the stickers the day after.'
'we find that people have a very different reaction to these installations before and after they are covered by stickers. the before looks weirdly naked, like an animal missing its skin, all the muscles and bones exposed… wood, bubble wrap, packing tape. it might even look like a pile of rubbish if you have never seen one finished before, certainly the people working and living in the area didn't seem very convinced about it when we left the first day. 'are you going to leave this here? for how long? what is this for?' they asked.'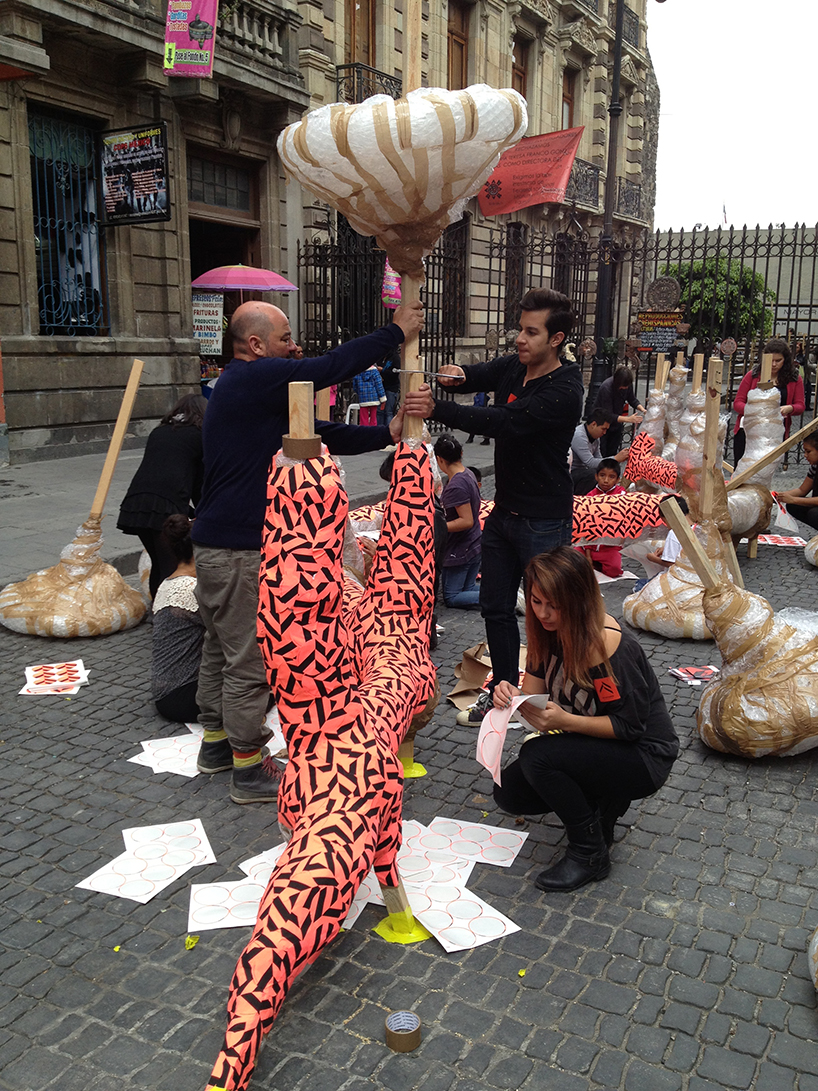 stickers are applied to the finished structure
photo by erandi sotelo
'the day after was a different story, as soon as we started rendering it with stickers it became a party, lots of people joined in, both working and looking, a near by shop started playing music loudly, then more people arrived, little stalls selling food, we had started a street party!!'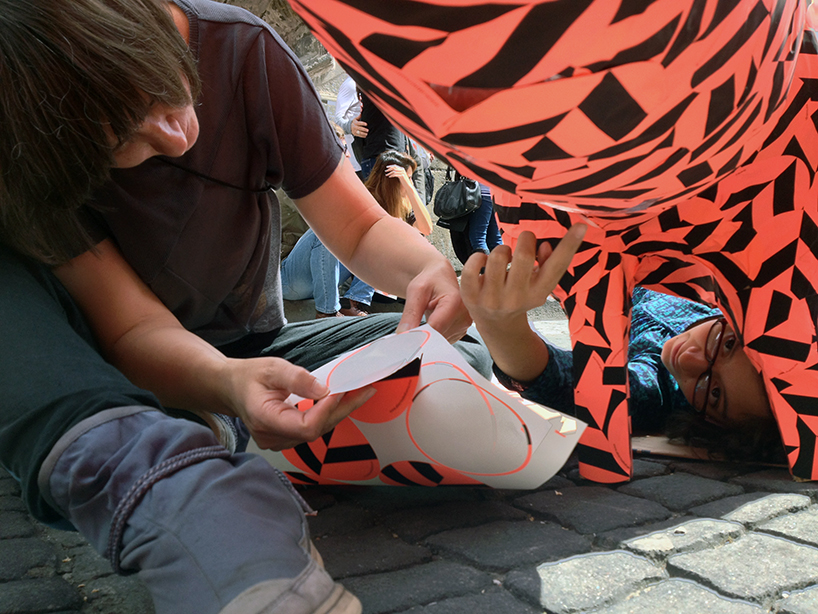 rosario from el ultimo grito and her daughter working on the installation
photo by luca salas
el ultimo grito would like to thank the following people for their help: gala fernandez , renata becerril, erandi sotelo, fernando rosas, daniel cisneros, naty cervantes, nayelli mayra cruz, nayeli pérez, rebeca victoria mel, anakaren noriega, isaac telléz, adriana garcía, ana zalazar, carmina camarillo and carlos garcia.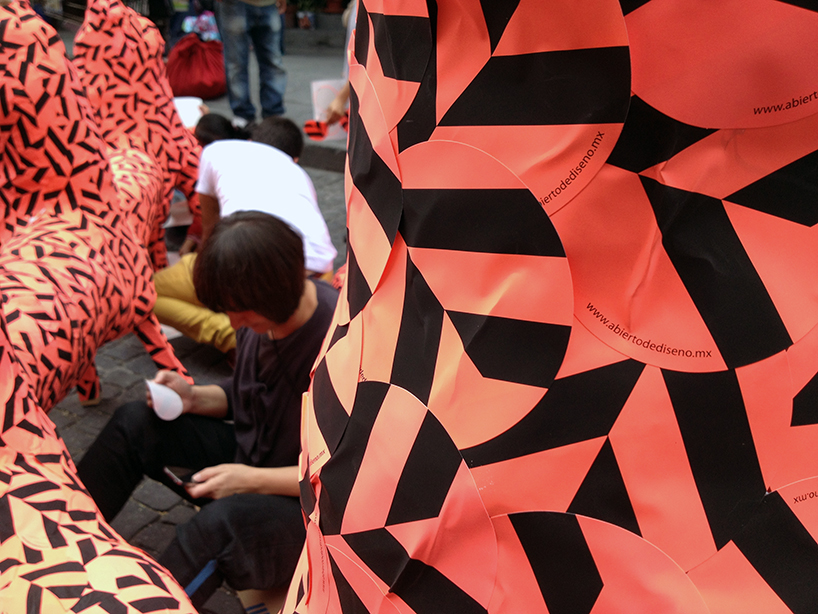 applying stickers to the furniture
photo by erandi sotelo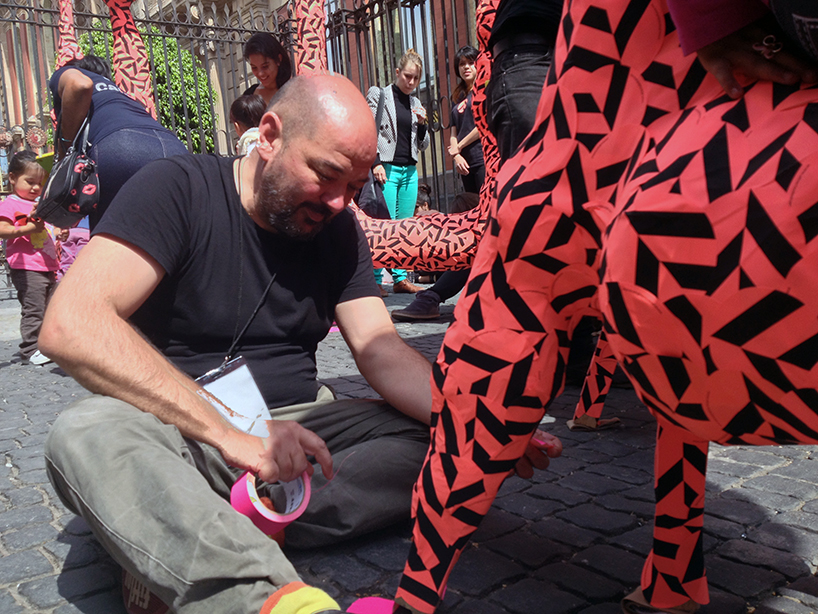 roberto feo of el ultimo grito applying fluorescent tape to the feet of the installation
photo by luca salas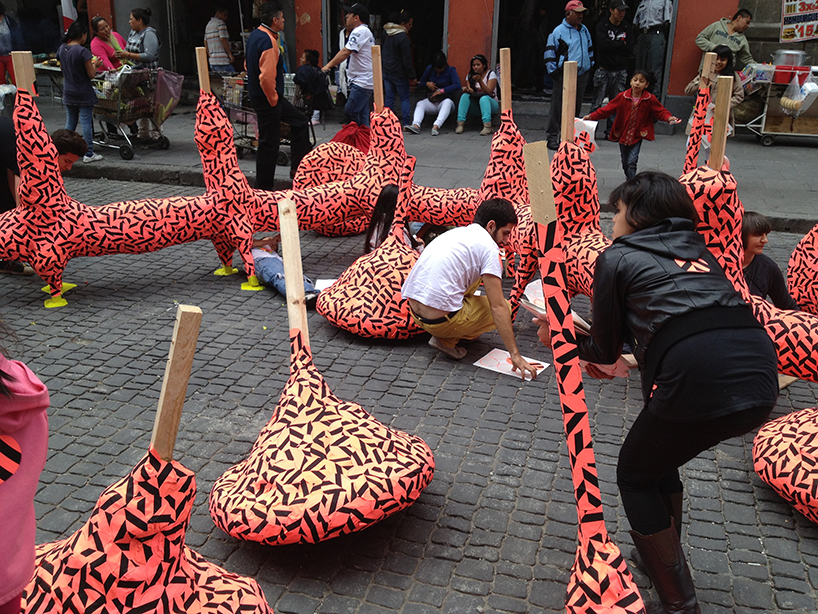 assembling the structure
photo by erandi sotelo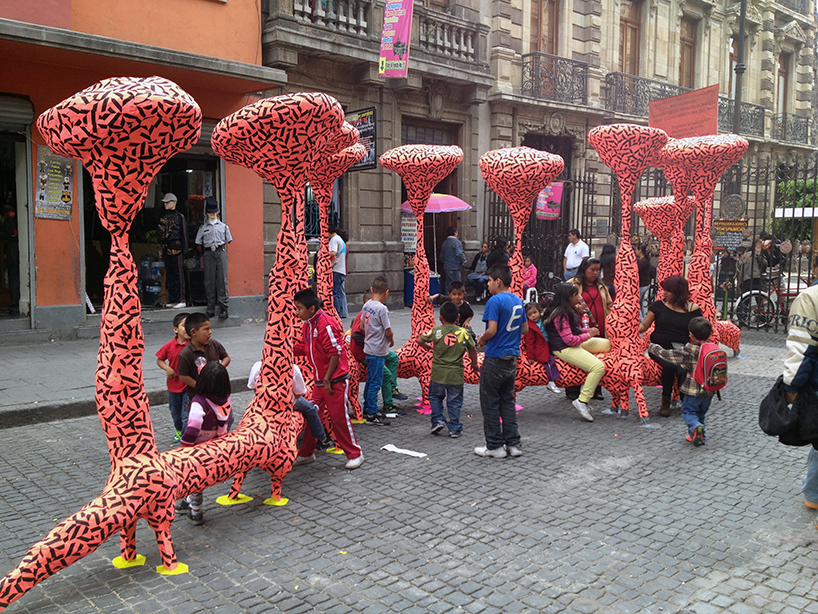 the public interacting with the seating installation
photo by erandi sotelo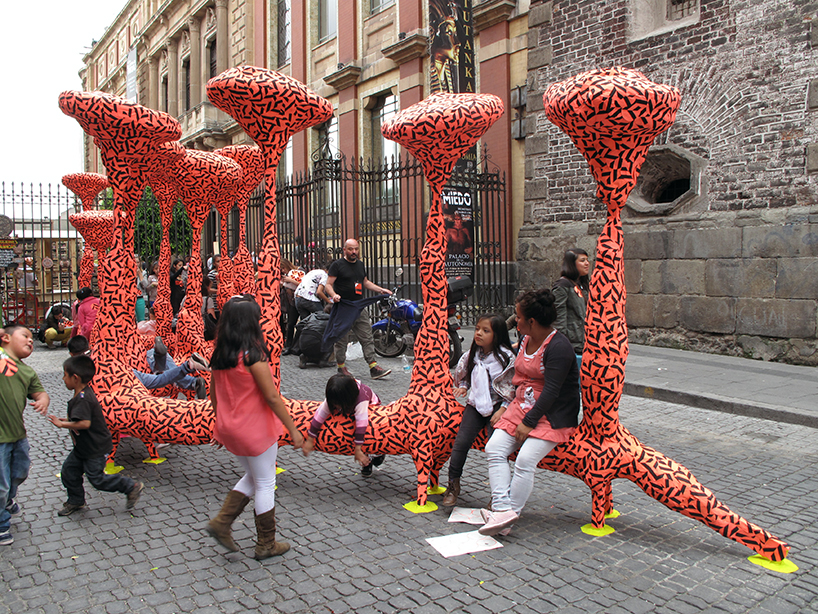 photo by el ultimo grito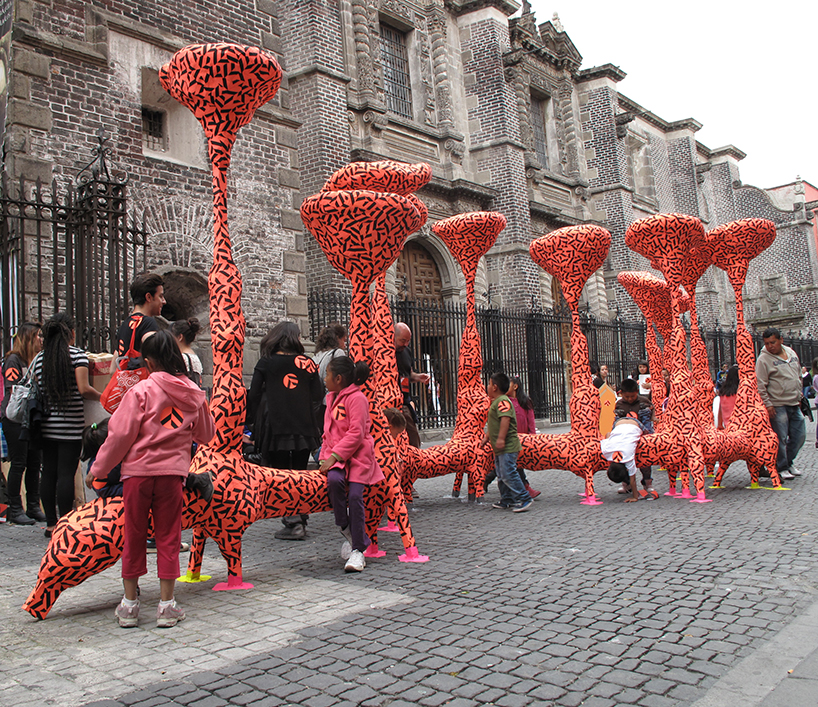 photo by el ultimo grito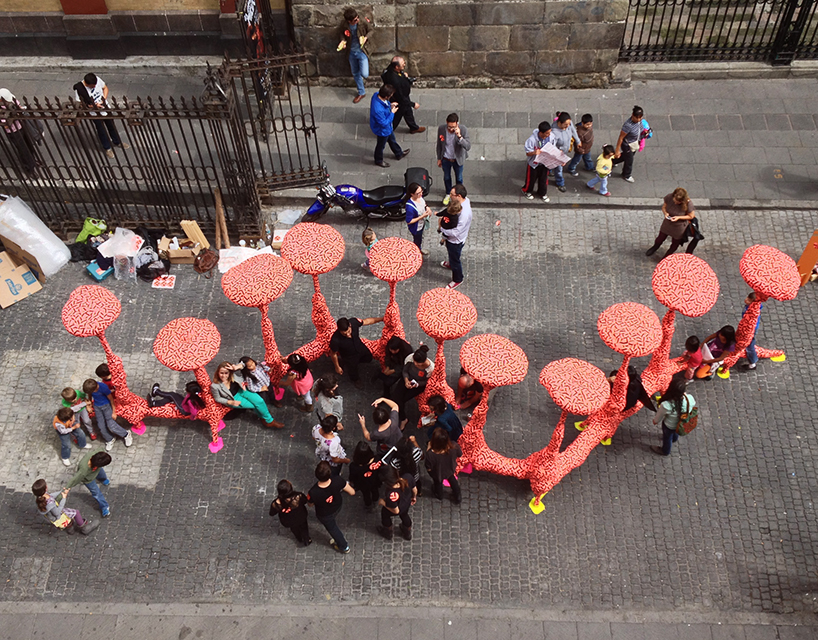 aerial view
photo by luca salas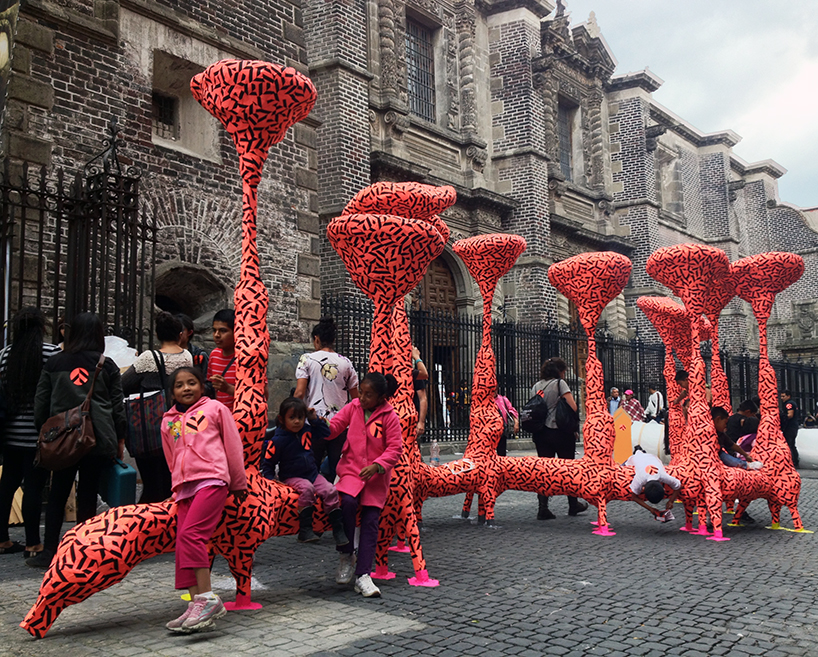 photo by luca salas
update: el ultimo grito uses design to explore the social, political and philosophical nature of human relationships. they have been speakers at the 2014 design indaba conference where they elaborated on their seating installation in mexico, and working towards creating specifically for the public realm.
dubbed 'the conference on creativity', the design indaba conference is all about how design, creativity and innovation can positively impact the world. so much more than a 'how-to' conference, this is a forum fueled by inspiration that breeds ideas, ingenuity and innovation. the conference is an opportunity to listen to the world's foremost creatives, entrepreneurs and trendsetters. it's the not-to-be-missed creative event in africa.
nov 20, 2013
nov 20, 2013
nov 12, 2013
nov 12, 2013
nov 07, 2013
nov 07, 2013
nov 06, 2013
nov 06, 2013
nov 06, 2013
nov 06, 2013
nov 04, 2013
nov 04, 2013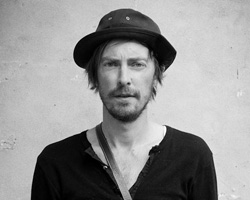 nov 12, 2014
nov 12, 2014
sep 02, 2014
sep 02, 2014
apr 18, 2014
apr 18, 2014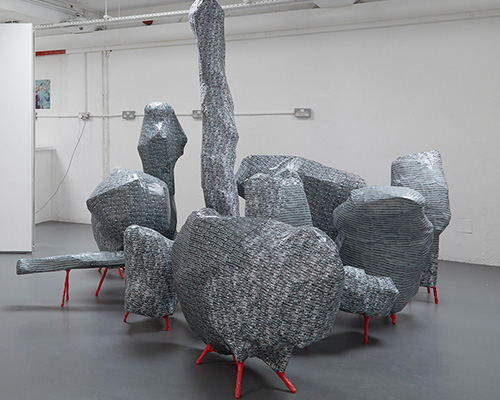 sep 09, 2015
sep 09, 2015
jun 16, 2014
jun 16, 2014
sep 20, 2011
sep 20, 2011
jun 19, 2020
jun 19, 2020
feb 06, 2020
feb 06, 2020
oct 15, 2019
oct 15, 2019
a diverse digital database that acts as a valuable guide in gaining insight and information about a product directly from the manufacturer, and serves as a rich reference point in developing a project or scheme.