design-lovers everywhere will soon journey to miami, where — over the next week — art basel miami beach and design miami/ will open their doors to collectors, curators and enthusiasts alike. the two events — together with a packed program of offsite installations, exhibitions, workshops, talks and creative programming — form miami art week, which takes over the coastal city in full floridian fashion.
stay tuned as we bring you the latest must-see exhibitions and events, and discover designboom's definitive guide of recommendations for the week ahead.
the fairs
ART BASEL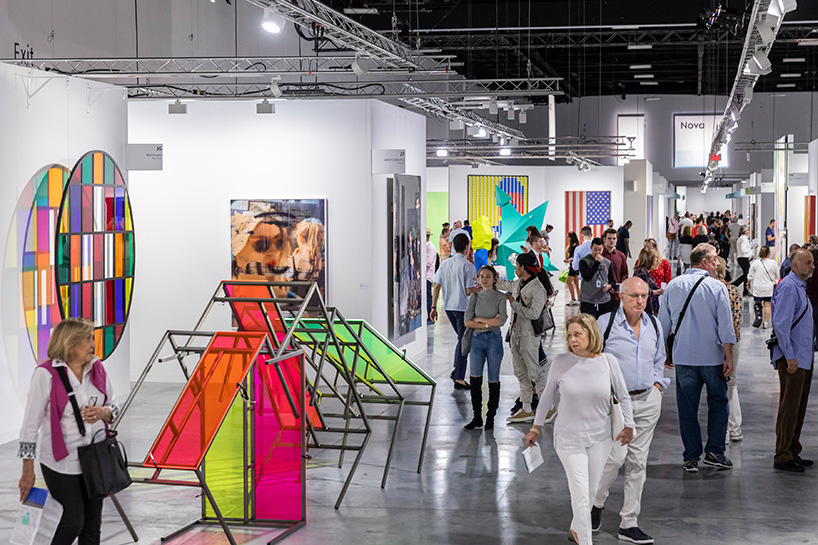 image © art basel
december 5 – 8 @ miami beach convention center; visitor information here
art basel stages the world's premier modern and contemporary art fairs annually in basel, miami beach, and hong kong. for its eighteenth edition, art basel miami beach will showcase more U.S. and latin american exhibitors than ever before — with 20 galleries joining the fair for the first time. paintings, sculptures, installations, photographs, films, and editioned works of the highest quality are on display in the main exhibition hall. meanwhile, ambitious large‐scale artworks, films and performances become part of the city's outdoor landscape at nearby collins park and soundscape park.
DESIGN MIAMI/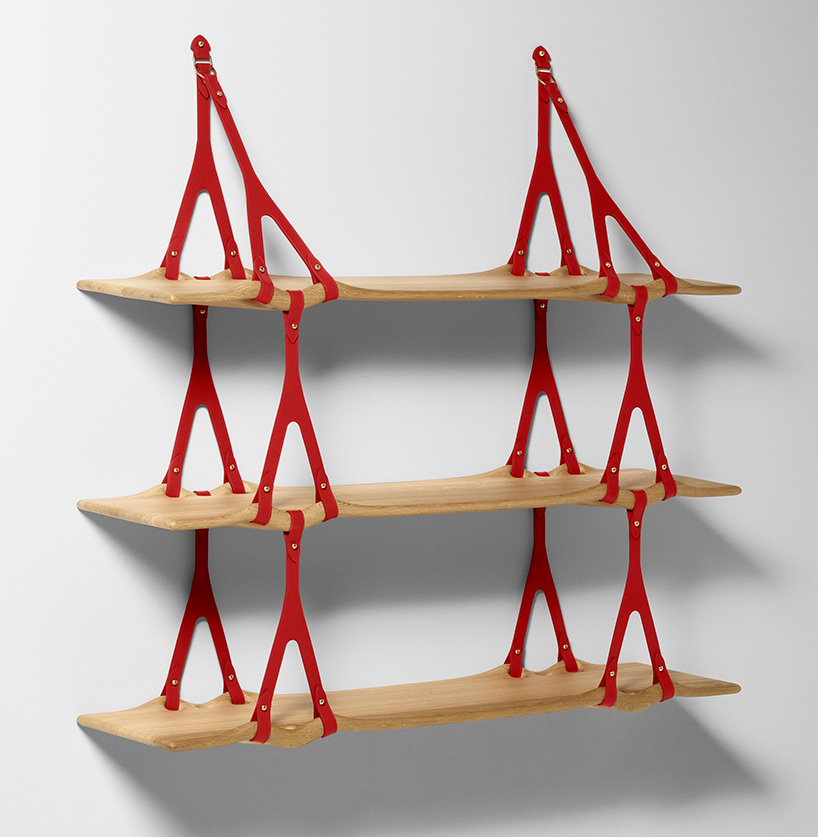 at design miami/, louis vuitton will exclusively present the 'swell wave shelf' by andrew kudless, the designer's debut for the louis vuitton objets nomades collection
december 3 – 8 @ meridian avenue & 19th street; visitor information here
design miami/ is the global forum for design. each fair brings together the most influential collectors, gallerists, designers, curators and critics from around the world in celebration of design culture and commerce. occurring alongside the art basel fairs in miami (each december), and basel, switzerland (each june), design miami/ has become a premier venue for collecting, exhibiting, discussing and creating collectible design.
—
december 5 – 8 @ indian beach park, 4601 collins avenue
founded in 2005, PULSE art fair is an established part of the annual art calendar and is recognized for providing its international community of emerging and established galleries with a dynamic platform for connecting with a global audience. in celebration of its 15th anniversary, the fair is dedicating this edition to 'creating an atmosphere that will have you lingering for hours and leaving with artwork to add to your collection.'
december 2 – 8 @ alfred I. dupont building, 179 east flagler street
PRIZM is the producer of a cutting-edge platform that is multidisciplinary in scope. its goal is to expand the spectrum of exhibiting international artists from africa, the african diaspora and emerging markets, who reflect global trends in contemporary art. PRIZM exhibits a dynamic group of contemporary artists during miami art week and beyond.
december 5 – 8 @ ice palace studios, 1400 N miami ave
the 17th edition of NADA miami is dedicated to showcasing new art and to celebrating the rising talents from around the globe. NADA miami is the one of the only major american art fairs to be produced by a non-profit organization, and is recognized as a much needed alternative assembly of the world's youngest and strongest art galleries dealing with contemporary art.
december 3 – 8 @ 801 ocean drive
celebrating its 19th edition, SCOPE miami beach returns to its bespoke pavilion on the sands of ocean drive and 8th street. honoring its perpetual mission to provide a platform for discovery, SCOPE will welcome 134 diverse contemporary exhibitors featuring the new contemporary, a genre that stands as a critical contribution to both global politics and local community engagement.
what not-to-miss
SOHO HOUSE & BMW i ART TALK: 'STARGAZING'
ZAC LANGDON-POLE AT THE BMW AT BASEL LOUNGE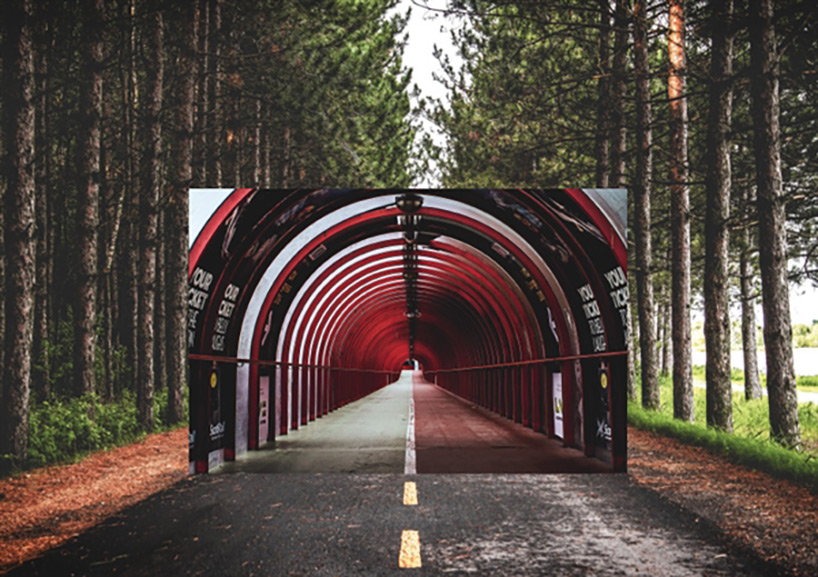 the BMW art journey, a joint initiative between art basel and BMW, will present new work from last year's award winner zac langdon-pole at the BMW lounge, located in the collectors lounge area. langdon-pole's publication documenting his journey will be launched during an exclusive soho house & BMW i art talk on december 3. meanwhile, street artist spencer mar guilburt, joined by visual artist alexandre arrechea, will embark on the BMW 8 series mural tour throughout the city of miami, documented digitally on instagram via @bmwgroupculture.
on december 3, artist zac langdon-pole, NASA astronaut and photographer terry virts, and visual artist sanford biggers will be in conversation with art consultant andrás szántó.
december 3, 7:30 pm @ soho beach house, 4385 collins avenue
PINK BEASTS BY FERNANDO LAPOSSE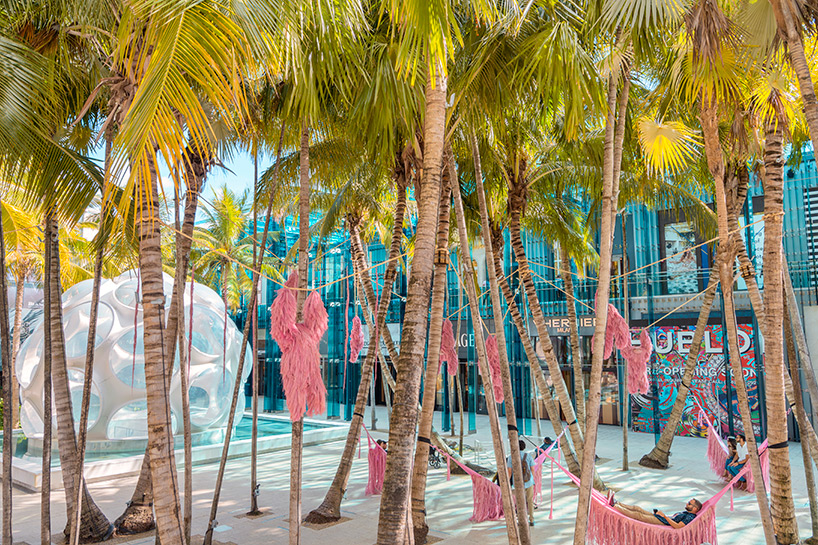 miami design district has chosen mexican designer fernando laposse for the 2019 neighborhood commission. the installation comprises strands of pink sisal tassels suspended through the trees guiding visitors to discover a collection of pink hairy sloths hanging from ropes, trees and arches. in collaboration with designer angela damman, the installation will also incorporate ten sculptural hammocks which will hang on metal structures and directly on palm trees for public use. the mesmerizing pink landscape of pink beasts is achieved by dying the sisal fibers with natural dyes made from cochineals, tiny parasitic insects native to central mexico which grow on the opuntia cactus.
@ the miami design district
"DOLLAR A GALLON" BY VIRGIL ABLOH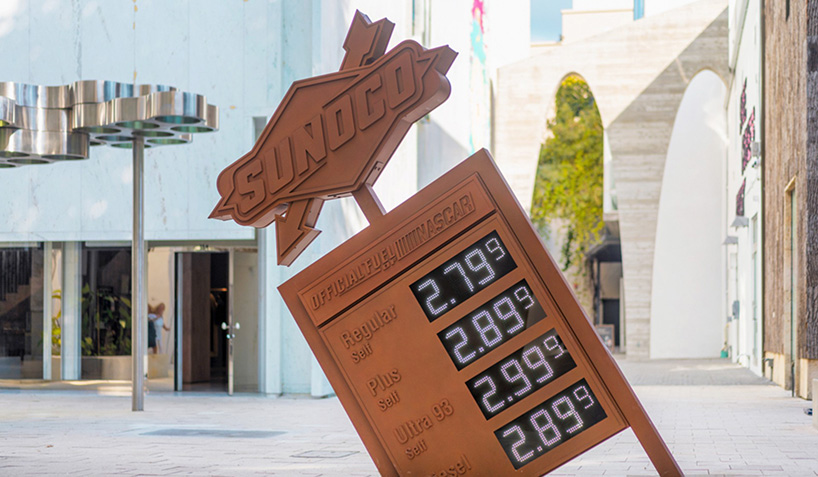 "dollar a gallon" is a sculpture by virgil abloh presenting a window into the artist's study and research of the effect of advertising on the impressionable. the work serves as a comprehensive lighthouse of mixed media. the framework is reminiscent of a gasoline sign relaying information about various types of gasoline and the respective pricing, while also being the commodity of an advertised sponsor. the series of global occurrences of this work was considered specifically for the miami design district, where its final positioning implies the concept of commerce and necessity re-packaged as a brand — while underscoring the relevancy via location.
@ paseo ponti, between NE 40th & 41st streets
NEW YORK SUNSHINE X UNKNWN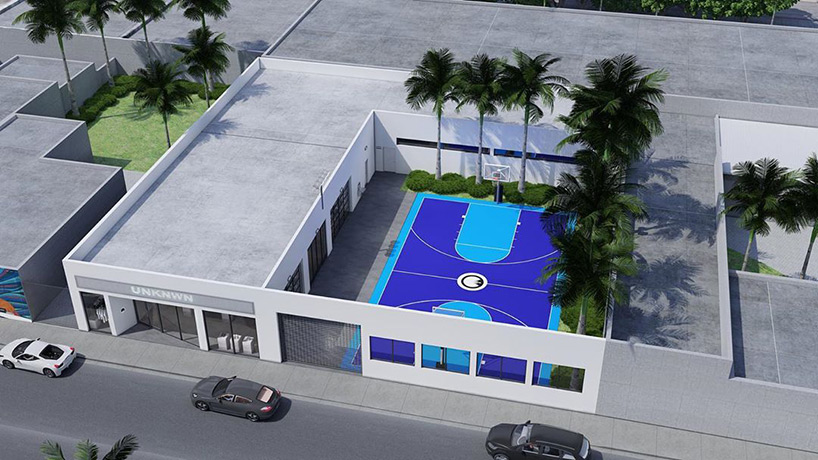 new york sunshine, the multidisciplinary creative studio and fashion brand led by artist john margaritis, has designed UNKNWN's wynwood flagship to include a full-scale basketball court. UNKNWN is the designer, street, and lifestyle retail destination co-founded by lebron james.
@ UNKNWN, 261 NW 26th street
CASACOR MIAMI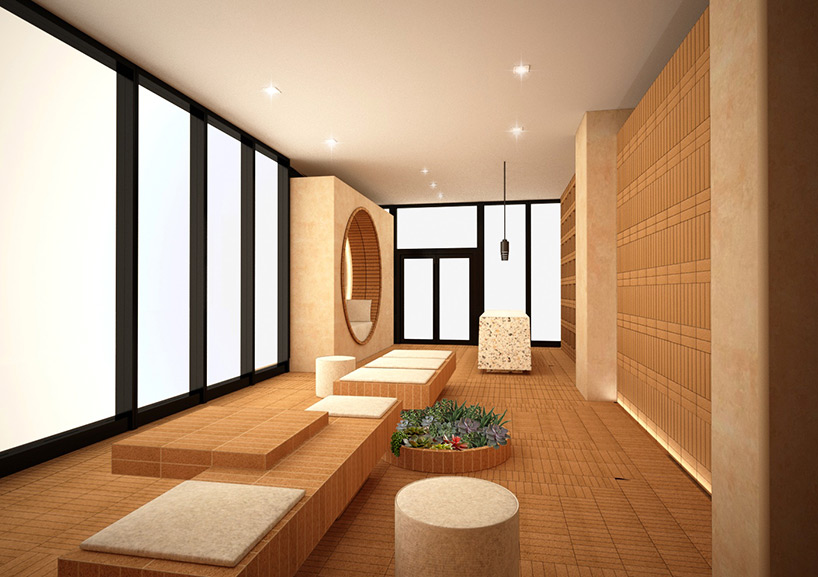 earth lounge by fanny haim & associates
CASACOR miami — the architecture, interior and landscaping design exhibition in north america — returns for its third year at miami's $1.05 billion landmark, brickell city centre. in partnership with swire properties, presented by cosentino and with the global sponsorship of deca, the interior design exhibition will feature an international mix of 20 established and emerging interior designers, inspired by sustainability and the urban infrastructure of the city. visitors will move from micro-environments to vignettes within a 25,000 square foot residential sales gallery. visionaries, such as moniomi design, allan malouf, pininfarina, jesus pacheco studio, edge collections, alberto salaberri, and léo shehtman return to CASACOR miami. this year, the three-week exhibition continues to add new top-tier designers to its impressive roster, such as ukraine's rising design firm yodezeen, and sig bergamin and michelle haim from design firm fanny haim & associates.
december 2 – 21 @ 700 brickell avenue
BRICKELL CITY CENTRE: CONVERSATIONS WITH NATURE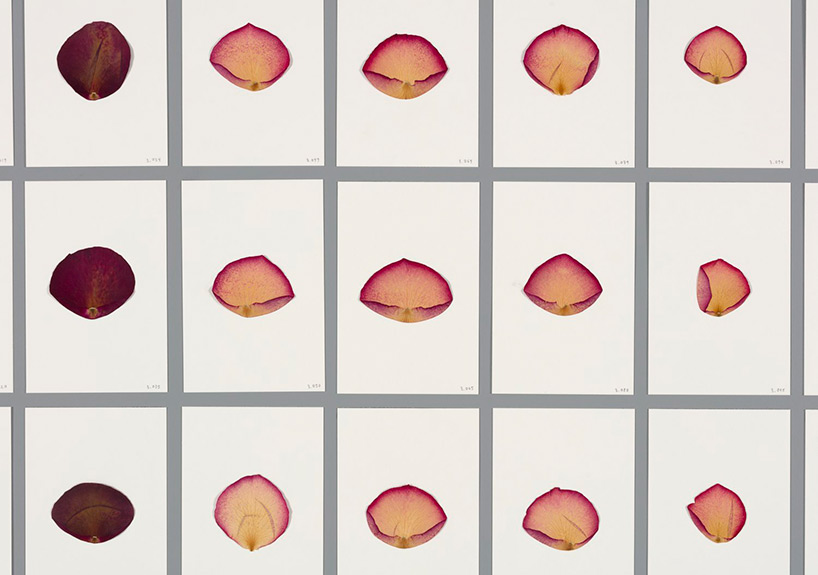 'conversations with nature', an introspective art exhibition presented in partnership with swire properties, is aimed at inspiring environmental action. curated by albie alexander, former creative director of 29Rooms, the interactive exhibition pays homage to mother nature through multiple art installations taking over brickell city centre, the open-air shopping center, during miami art week.
free and open to the public, 'conversations with nature' invites visitors to step into a wonderland of installation art, soundscapes, meditation and even poetry — all aimed at prompting guests to explore their connection with the natural world. highlights include the work of basia goszczynska, who will present a life-sized sand pit contaminated with microplastics, and a forest of towering plinths that will resemble human figures and trees; brittany asch of BRRCH + yrsa daley-ward who will team up to transform an ethically sourced fallen tree into a surreal 'fantasy tree' adorned with varying flora and fauna; and sarah meyohas, who presents a meditative film of 100,000 unique rose petals shifting from states of absence to presence as a commentary on the fragility of nature.
@ brickell city centre, 701 south miami avenue
INSTAGRAM X STUDIO SWINE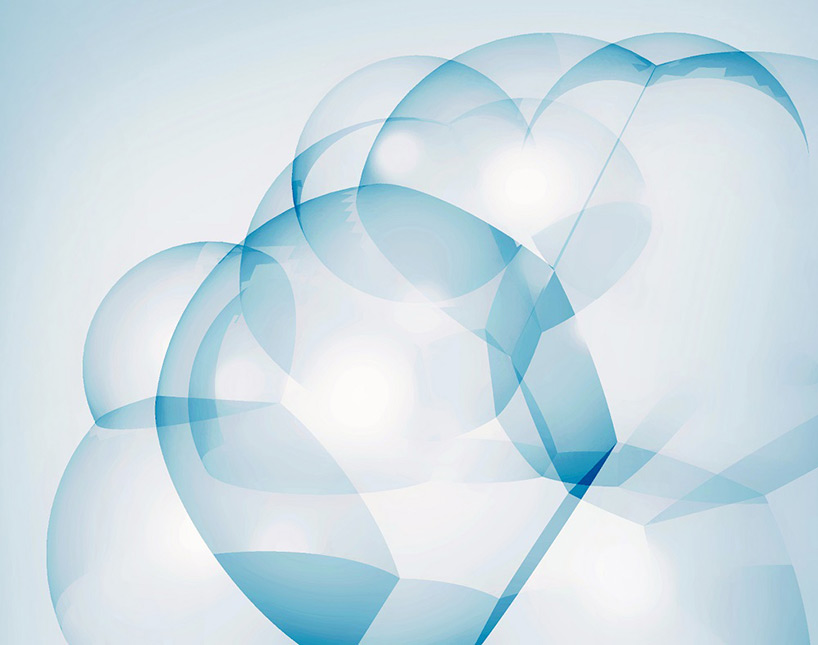 instagram's @design will extend beyond its social platform to engage with the public in real life for the first time at design miami/. with a 'leave no trace' approach, studio swine has designed an inflatable bubble-shaped booth, made out of 100% recyclable PVC that is easily transportable, lightweight and compactable for efficient shipping, and versatile for multiple displays.
december 3 – 8 @ design miami/
VB88, VANESSA BEECROFT PERFORMANCE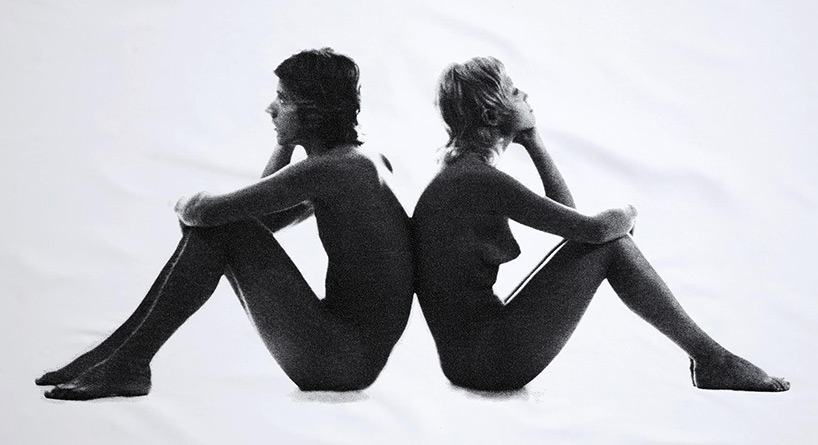 2019, kappa logo, original picture by photographer sergio druetto used to design the kappa logo in 1969
limited edition print of the work | serial no: 091/100
curated by neville wakefield, the performance by vanessa beecroft will be an exploration and interpretation of the kappa 'omini' logo in celebration of its 50th anniversary.
december 5 from 5:30pm to 8:00pm (by invitation only)
@ lot 11 skate park, 348 NW 2nd street
VERSACE'S SOUTH BEACH STORIES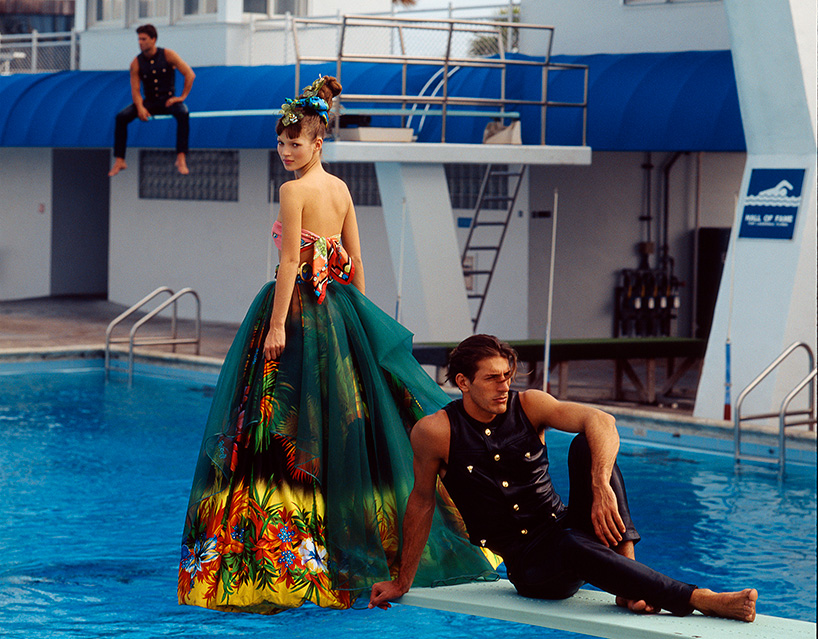 a new exhibition by versace and friend of the house, interior designer, sasha bikoff will debut. drawing inspiration from the brand's rich heritage, one-of-a-kind furniture pieces designed by bikoff will be displayed together with the archive looks they reference. versace's miami design district boutique will also showcase three settings designed by sasha, first presented during milan design week 2019.
@ palm court event space, 140 NE 39th street, 3rd floor
december 6 – 7, from 11am – 8pm; december 8, from 12pm – 6pm
WYNWOOD WALLS 10-YEAR ANNIVERSARY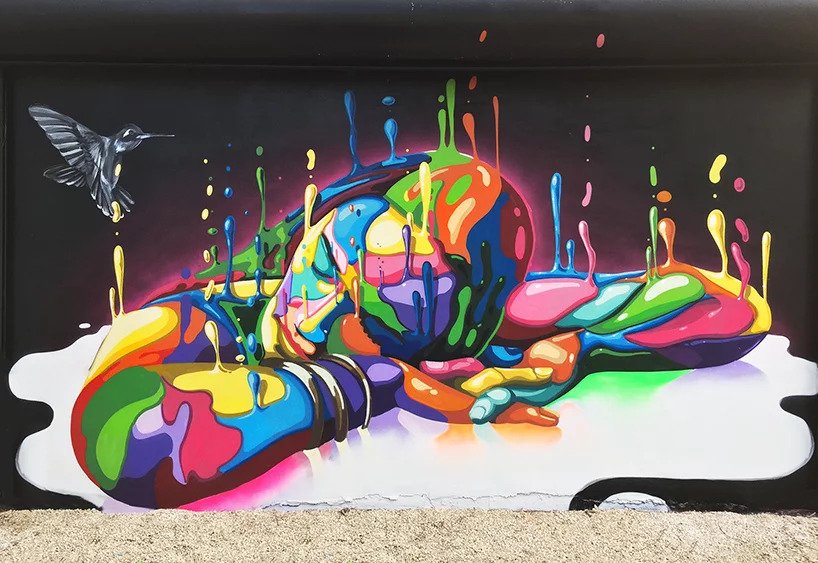 dasic fernández at wynwood walls 2016 — see more here
image © designboom
wynwood walls, the famed epicenter of the wynwood arts district known worldwide for its groundbreaking, ever-changing collection of curated art, will celebrate its 10-year anniversary this year. goldman properties CEO jessica goldman srebnick has selected a roster of global artists, both up-and-coming and established, to create new murals at the wynwood walls in time for the international art community to descend on miami. this year's artist line-up will feature tats crew, hush, mina hamada, kelsey montague, michael vasquez, dan kitchener, faile, futura, kenny scarf, ernesto marange, martha cooper, dasic fernandez.
@ wynwood walls, 2520 NW 2nd avenue
BERLUTI AND LAFFANOUR GALERIE DOWNTOWN:
UPHOLSTERED PIERRE JEANNERET LIMITED EDITION PIECES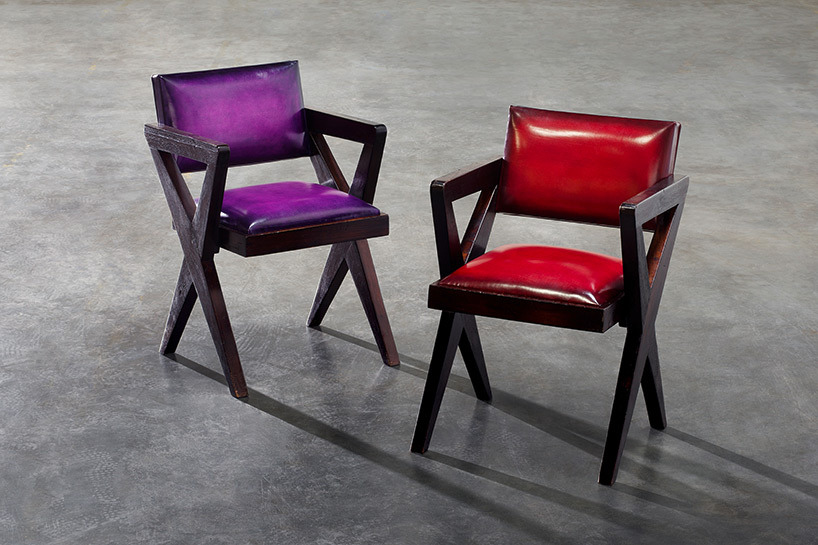 berluti together with laffanour galerie downtown present a small exclusive series of 17 original pierre jeanneret pieces. created by the swiss architect in the 1950s, to furnish chandigarh's capitol complex in india, these original pieces have been restored to conservation standards and upholstered with berluti's emblematic venezia leather. berluti's creative director kris van assche has developed an entirely new palette of patinas for the series. based partly on the two-colour collections le corbusier created in 1931 and 1959, as well the rich colours he found in the natural light, architecture, landscape, and foliage on a recent trip to chandigarh. this hand-applied patina enhances the gentle curves of the soft padding.
december 2 – 8 @ paradise plaza, 151 NE 41st street
FAENA FESTIVAL:
THE LAST SUPPER, AN EXPLORATION OF SPIRITUALITY AND FOOD IN CONTEMPORARY ART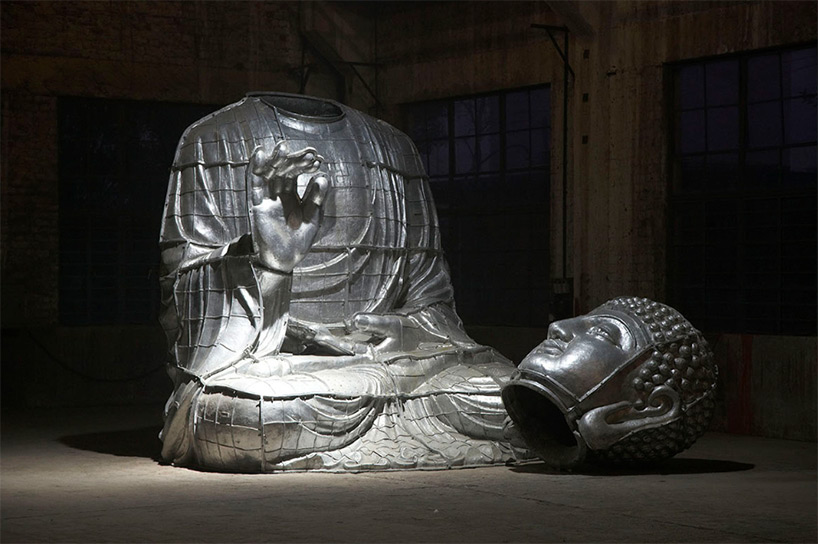 zhang huan, miami buddha, 2009
the second annual faena festival will present artworks that engage with the complexities of spirituality and food. the last supper will include commissions by myrlande constant, gabriel chaile, and emeka ogboh as well as works by yael bartana, camille henrot, zhang huan, and the propeller group. organized by faena art chief curator zoe lukov, the festival will occupy and engage the entire faena district, including the faena hotel's theater and screening room and the faena forum, and extend into miami beach's public spaces, waterways, and beaches.
december 2 – 8 @ faena forum, 3300 collins avenue
EL ESPACIO 23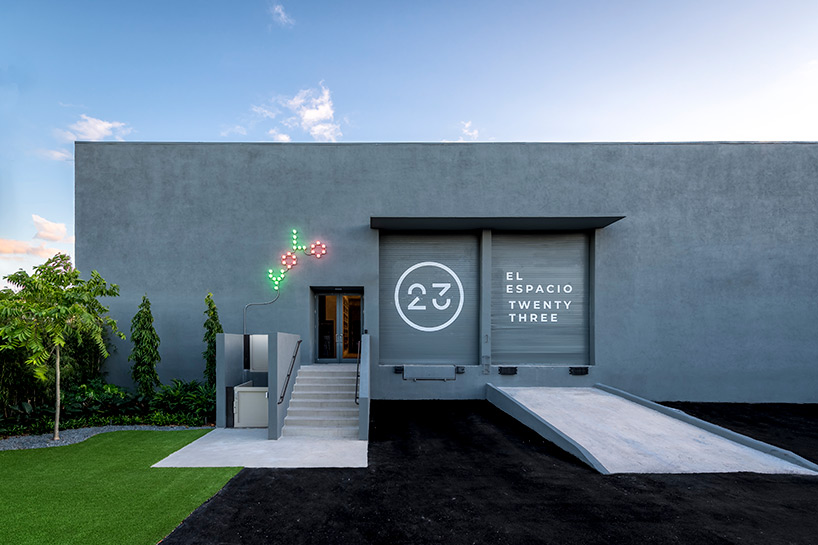 billionaire philanthropist, entrepreneur and contemporary art collector jorge m. pérez will unveil his highly anticipated experimental arts center, el espacio 23, on december 2. located in miami's emerging allapattah neighborhood, el espacio 23 will serve artists, curators, and the general public, with regular exhibitions, residencies and a variety of special projects. the space will house the jorge m. pérez collection, which is regarded as one of the world's most extensive private holdings of contemporary art. el espacio 23's opening show, 'time for change: art and social unrest in the jorge m. pérez collection' features close to 100 works by over 80 global artists, and explores questions of identity, public unrest and marginalized peoples.
inaugural exhibition, december 4 @ 2270 NW 23rd street
'ORDER OF IMPORTANCE' BY LEANDRO ERLICH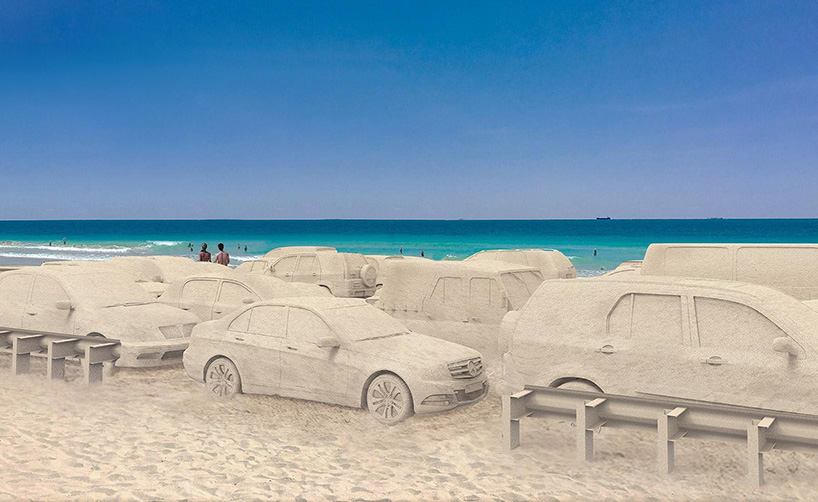 commissioned by the city of miami beach, the monumental public installation by argentinian artist leandro erlich 'order of importance' will be on view at lincoln road beachfront through december 15. it will be the largest public work by the artist to date.
december 3 – 15 @ lincoln road beachfront
LES LALANNE AT THE RALEIGH GARDENS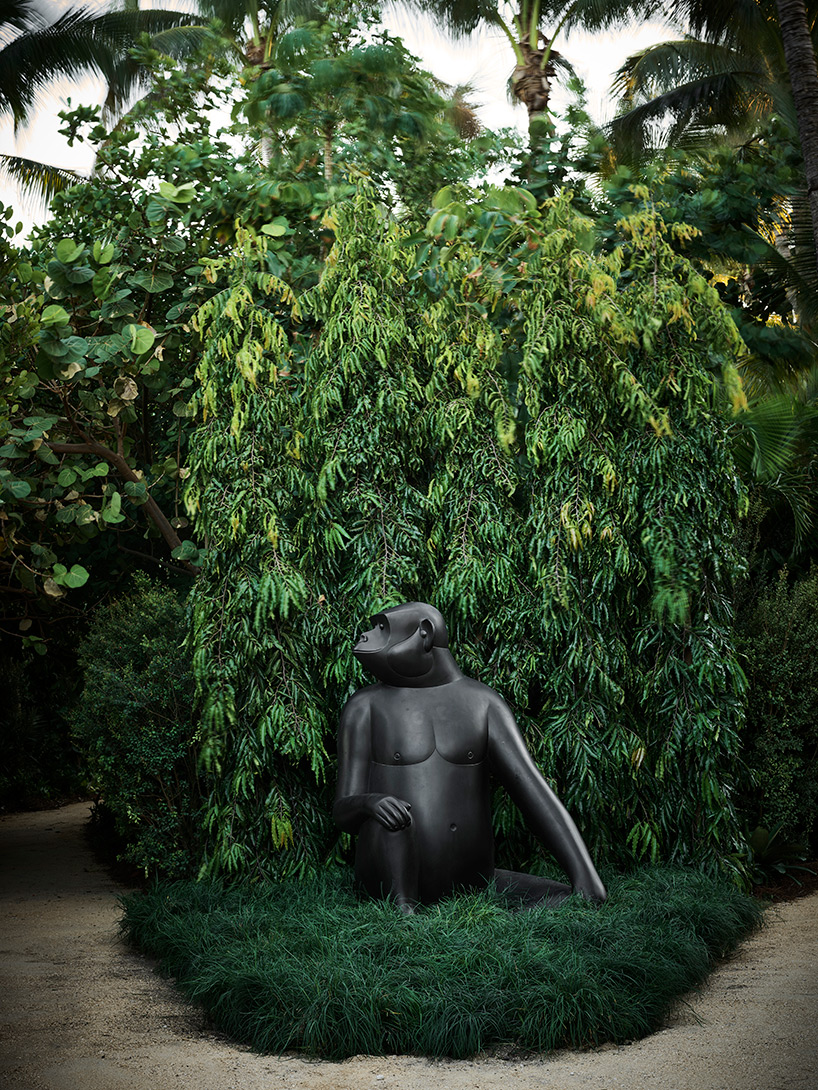 installation image, les lalanne at the raleigh gardens
courtesy SHVO © douglas friedman
to inaugurate the opening of the newly-designed raleigh gardens, michael shvo and his partners today present an outdoor public exhibition of the work of the late claude lalanne (1924-2019) and françois-xavier lalanne (1927-2008) — the artistic duo known together as les lalanne. the exhibition will be on public display in a new, immersive, lush, beach-side tropical garden designed by architect peter marino, and miami landscape architect raymond jungles.
november 22, 2019 – february 29, 2020, 12pm to 8pm @ 1775 collins avenue
THOM BROWNE INSTALLATION / PALM TREE I
thom browne will unveil his first large-scale public artwork on thursday, december 5th, at the moore building in the miami design district. palm tree I (2019) is a twenty-one-foot tall palm tree constructed from yellow, green, and pink seersucker, pincord, and gingham oxford that evokes the iconic and unmistakable palette of an american summer. the installation conjures the american dream as a primarily aesthetic idea in the cultural psyche, questioning the value of success as it relates to rest and leisure.
@ the moore building, 91 NE 40th street
museums and institutions
PÉREZ ART MUSEUM MIAMI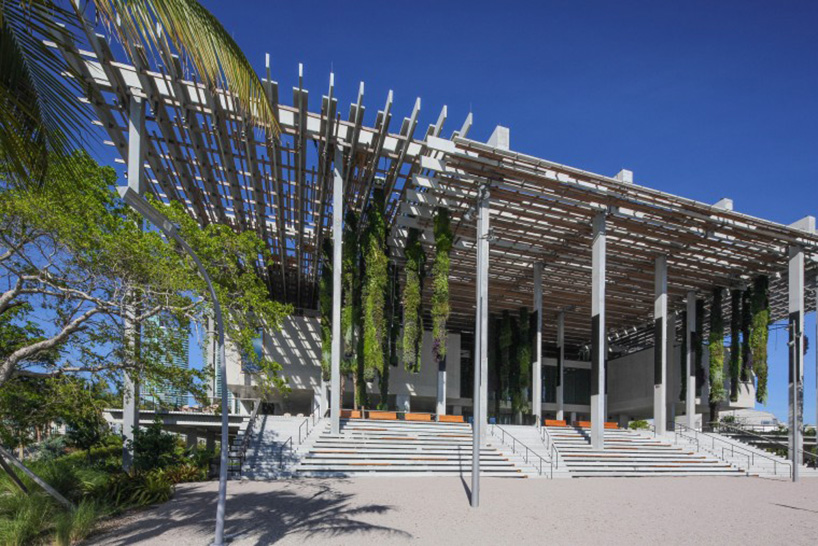 during art week, PAMM presents 'teresita fernández: elemental', which tells the story of a creator who reflects and challenges perceptions of the natural world and the U.S. social order, and asks viewers to contemplate their roles with those spaces.
PAMM @ 1103 biscayne boulevard
october 18, 2019 – february 9, 2020

RUBELL MUSEUM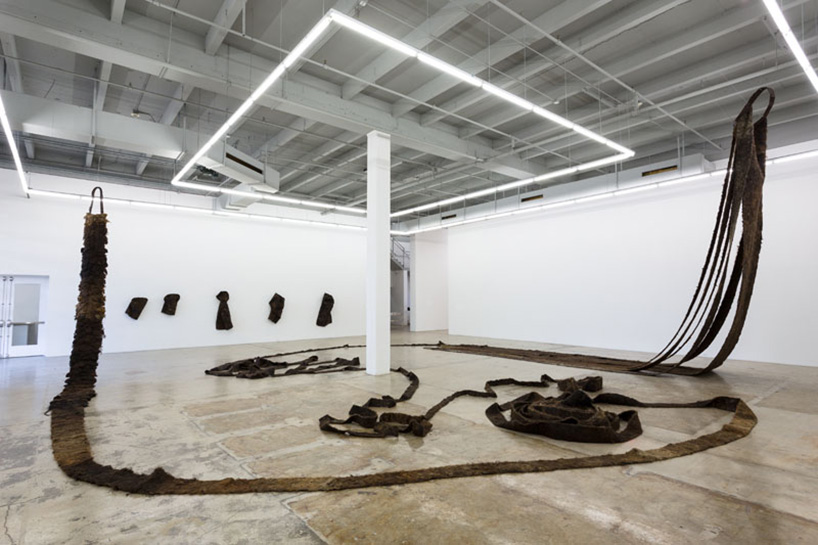 the rubell museum will open in its new home in allapattah with a museum-wide installation of more than 300 works by 100 artists, providing one of the most far-ranging museum exhibitions of contemporary art ever presented, drawn entirely from the rubells' collection. the former industrial building was transformed by selldorf architects.
rubell museum @ 1100 NW 23rd street
LARRY GAGOSIAN AND JEFFREY DEITCH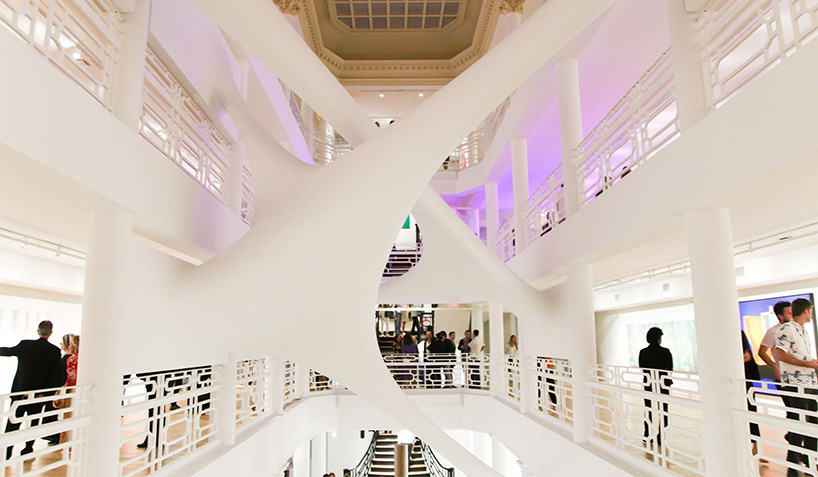 larry gagosian and jeffrey deitch present 'the extreme present', the fifth in their series of thematic exhibitions presented at the moore building in the miami design district during art week.
moore building @ 191 NE 40th street
december 3 from 5pm – 8pm; december 4 – 7 from 11am – 8pm; december 8 from 12pm – 6pm
THE BASS PRESENTS LARA FAVARETTO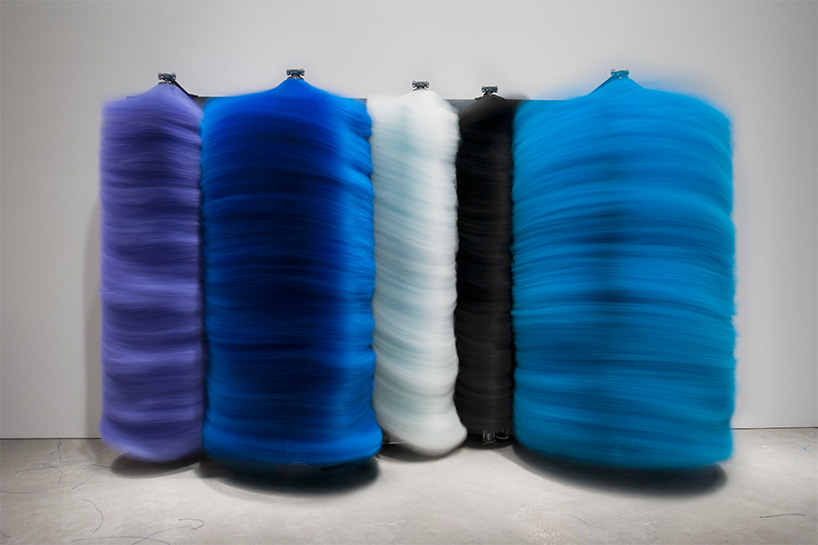 'blind spot' at the bass represents a new phase of evolution lara favaretto's body of work itself. the exhibition unveils the contents of the artist's previously locked collection of suitcases, revisiting and restocking her interactive installation momentary monument—the library (2012-2019), and installing a suite of site-specific car wash brushes to emblematize the change her longstanding creative motifs have fixated upon.
the bass @ 2100 collins avenue
december 1, 2019 – april 19, 2020

YAYOI KUSAMA: ALL THE ETERNAL LOVE I HAVE FOR THE PUMPKINS AT ICA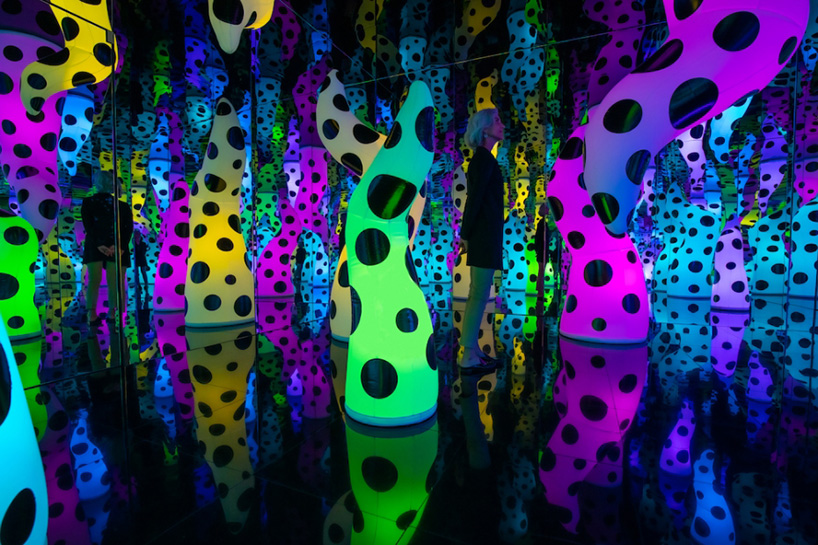 ICA miami presents a special off-site exhibition by artist yayoi kusama. on view from october 12 through january 31, 2019 in the miami design district, kusama's 'all the eternal love I have for the pumpkins' (2016) marks the first time that one of kusama's signature 'infinity mirror rooms' will be on view in miami.
ICA miami @ 112 NE 41st street, suite 106
october 12, 2019 – january 31, 2020 from 11am – 5pm
WHITE CUBE PRESENTS CERITH WYN EVANS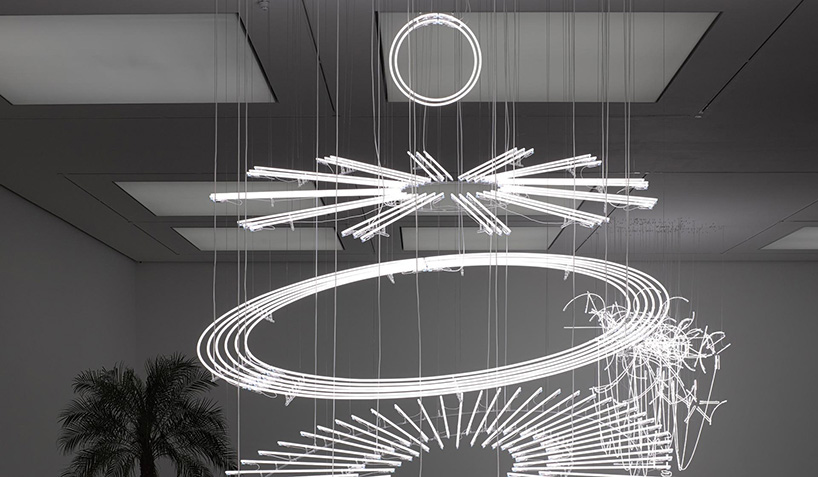 white cube presents an off-site exhibition by cerith wyn evans featuring sculpture and installation, highlights include the seminal neon work 'the illuminating gas… (after oculist witnesses)'.
white cube @ city view garage, unit 109
december 3 from 5pm – 8pm; december 4 – 8 from 10am – 8pm
where to stay
the legendary EAST — a brand boasting lauded locales in hong kong and beijing — recently opened a miami outpost that promises the amenities and aesthetic appeal that has distinguished the hospitality giant since its inception. EAST, miami offers a supremely stylish and sumptuous stay in the heart of the city's brickell district, forming part of the monumental, 4.9 million square-foot arquitectonica-designed development, brickell city centre. destination dining, personalized service, four pristine pools and an award-winning rooftop bar all contribute to creating a cultural haven of high-hospitality.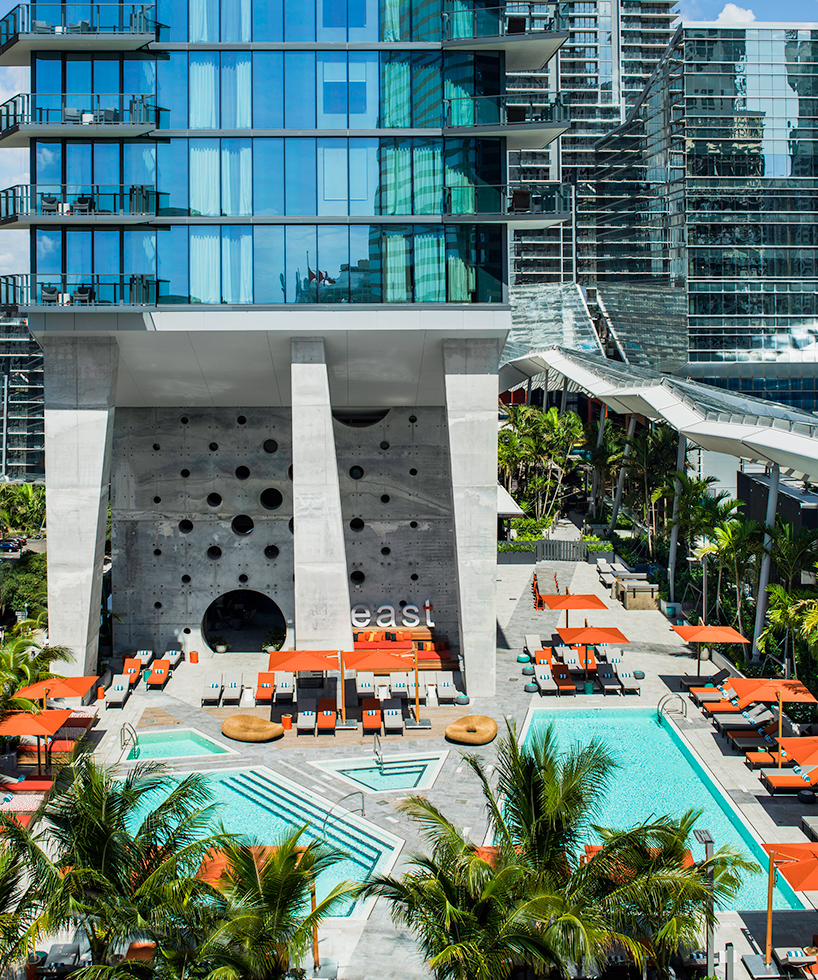 EAST, miami features four swimming pools surrounded by lush greenery
nina azzarello
I designboom
nov 25, 2019
KEEP UP WITH OUR DAILY AND WEEKLY NEWSLETTERS
happening now! antoniolupi extends its expertise beyond the bathroom with the 'living' collection, a series of home furnishings that complement its esteemed collection of bathroom furniture and accessories.
a diverse digital database that acts as a valuable guide in gaining insight and information about a product directly from the manufacturer, and serves as a rich reference point in developing a project or scheme.
designboom will always be there for you
milan, new york, beijing, tokyo

,
since 1999