design-lovers everywhere are soon journeying to miami, where — over the next week — art basel miami beach and design miami/ are taking place. the two events, together with a host of offsite installations, exhibitions, workshops, talks and creative programming, take over the coastal city in monumental miami fashion. stay tuned as designboom brings you the latest must-see exhibitions and events, and discover designboom's list of recommendations for the week ahead.
the main attractions
art basel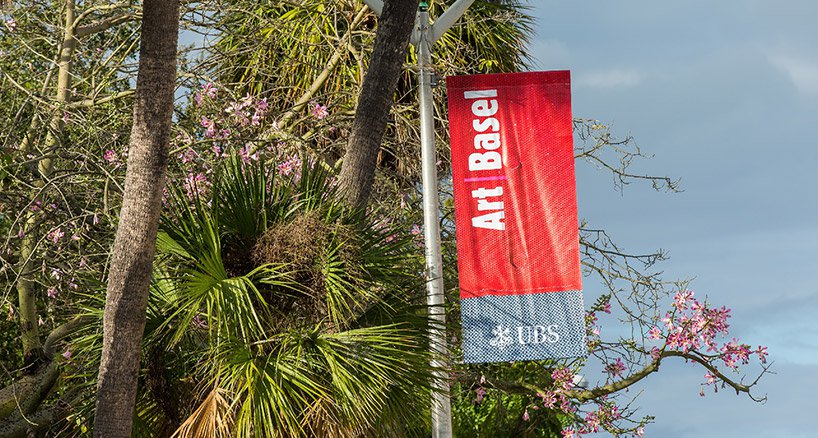 opening hours here @ miami beach convention center
art basel stages the world's premier modern and contemporary art fairs annually in basel, miami beach, and hong kong. a driving force in supporting the role that galleries play in nurturing the careers of their artists, art basel frequently expands its platforms to include the newest developments in the visual arts. in the american show, leading galleries from north america, latin america, europe, asia and africa show significant work from the masters of modern and contemporary art, as well the new generation of emerging stars. paintings, sculptures, installations, photographs, films, and editioned works of the highest quality are on display in the main exhibition hall. ambitious large‐scale artworks, films and performances become part of the city's outdoor landscape at nearby collins park and soundscape park.
design miami/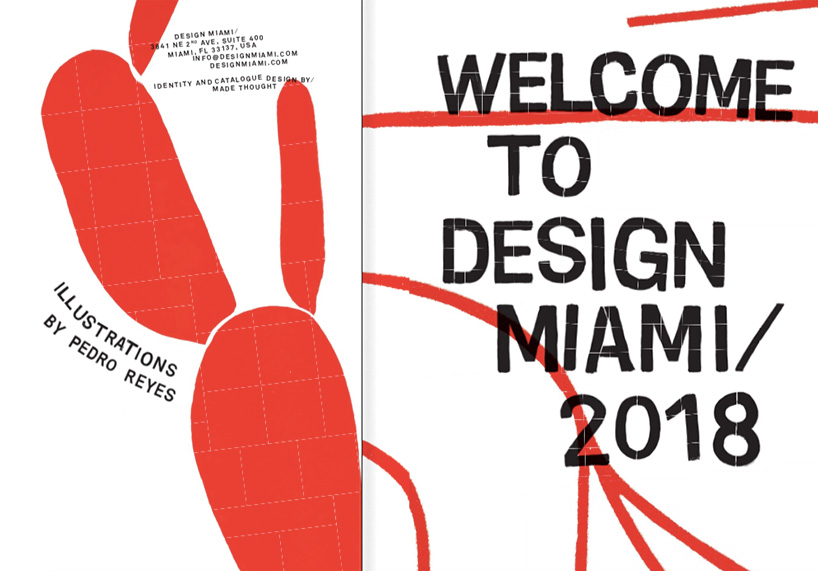 opening hours here @ meridian avenue & 19th street
design miami/ is the global forum for design. each fair brings together the most influential collectors, gallerists, designers, curators and critics from around the world in celebration of design culture and commerce. occurring alongside the art basel fairs in miami, USA each december and basel, switzerland each june, design miami/ has become the premier venue for collecting, exhibiting, discussing and creating collectible design. design miami/ is adjacent to the miami beach convention center, a short walk from art basel in miami beach.
this year's annual design miami/ visionary award goes to pedro reyes and carla fernández.
LEXUS art series: art & innovation talks by whitewall at design miami/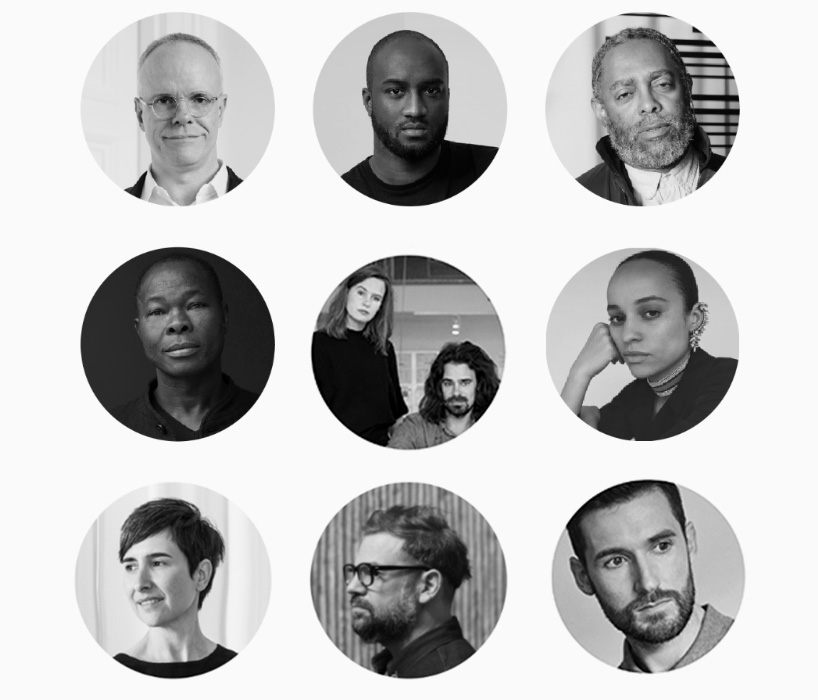 LEXUS & whitewall team up for third year in a row and bring their ongoing discussion series to the official programming of design miami/. for the first time, the series will take place on site at design miami/. the unique series of four conversations features an international group of global art and design leaders discussing key topics relevant to the creative space.
on tuesday december 4th @ 5:30pm at design miami/, designboom's editor in chief birgit lohmann will moderate a talk on supporting emerging designers for a better tomorrow:
how are today's design leaders fostering the next generation of designers and what unique skills do tomorrow's designers need? through the LEXUS DESIGN AWARD, now in its seventh year, the luxury automaker has brought together leaders across multiple disciplines to nurture the development of the next generation. from globally renowned architect sir david adjaye to technologist john maeda and lexus international president yoshihiro sawa, a group of industry luminaries will discuss mentorship and the strategic role of design to build a better future.
other speakers this year include carla fernández and pedro reyes, virgil abloh, alexander groves of studio swine, lonneke gordijn and ralph nauta of studio drift, and francis kere, among many others.
what to do and see
discover the LEXUS LF-1 limitless future concept vehicle @ design miami/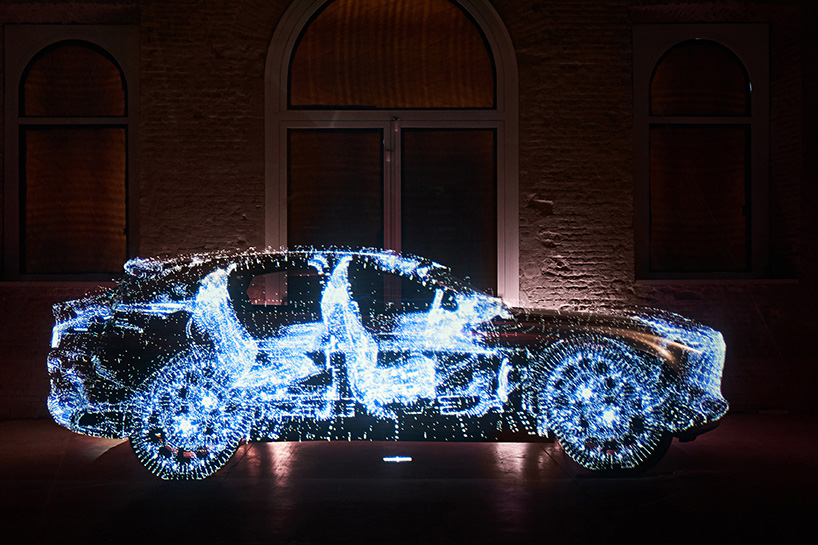 'the future is limitless' is presented by LEXUS at design miami/
LEXUS will join design miami/ as the official automotive partner for the 2018 fair. on site, the LF-1 limitless future concept vehicle will be exhibited in an installation titled 'the future is limitless'. the LF-1 limitless will be displayed with a mixed reality installation, an evolution of the projection mapping designed by japanese architect socha ichikawa of dNA. ichikawa believes architecture's potential is restricted by conventional methods of measuring space. By programming computers to interpret space from an omni-directional perspective, he frees his imagination to explore new dimensions.
prada presents prada mode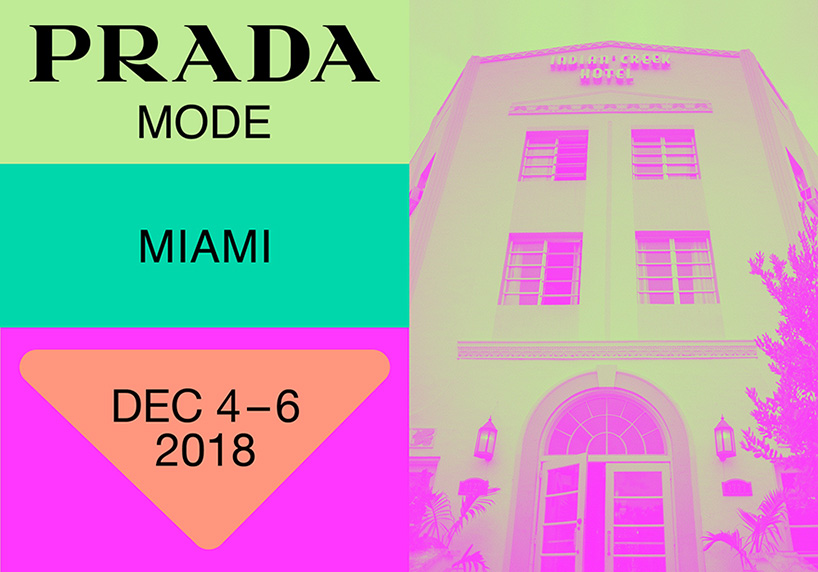 the club invites its members to experience art, music, dining, conversations and late night festivities with a focus on contemporaneity at large and local. the inaugural iteration – which will be held at freehand miami from december 4th to 6th – serves as both an exclusive destination and a discreet, elegant retreat from the daily clamor of high-intensity cultural engagements. the schedule includes events organized by the artist theaster gates, the national youngarts foundation, and document journal as well as special musical performances and dancing with DJ sets.
bid on a lab-grown diamond ring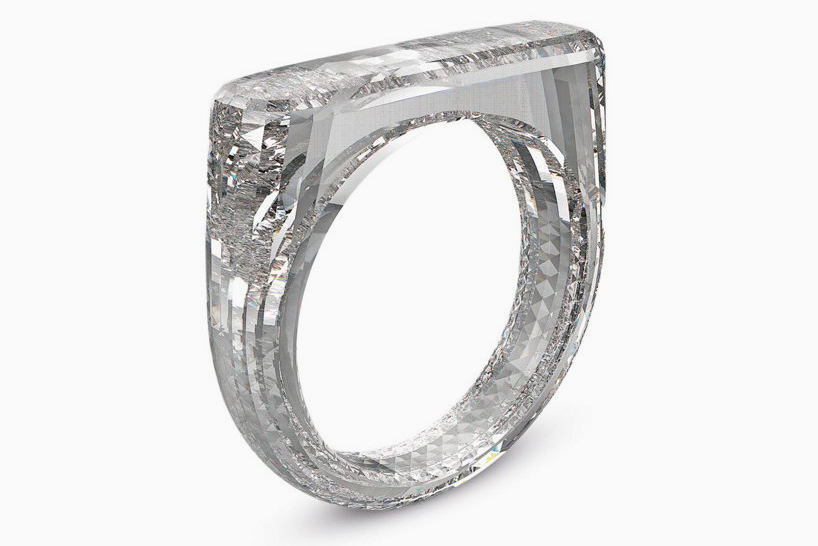 marc newson and sir jony ive's lab-grown diamond ring for sotheby's third (RED) charity auction
marc newson teamed up with apple's chief design officer sir jony ive to design a lab-grown diamond ring for sotheby's third (RED) charity auction. the one-of-a-kind piece of jewelry will be created by the diamond foundry, using its plasma reactor technology and a scientific process involving the manipulation of atoms to create a diamond block big enough to cut a ring in all its entirety.
the charity auction will see over 50 contemporary artworks and design pieces curated by artist theaster gates, architect sir david adjaye, and musician bono, auctioned live and online. the auction and exhibition will take place at the renowned moore building in the miami design district, and will center on the theme of light and the color red. the 50+ pieces include one of the late zaha hadid's liquid glacial coffee tables and a painting by marc quinn especially created to reflect this year's auction.
unearth archival material by christo and jeanne-claude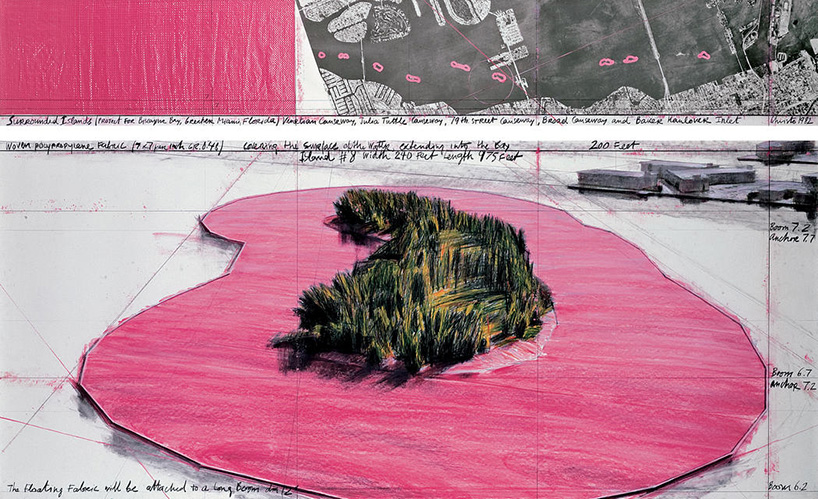 surrounded islands (project for biscayne bay, greater miami, florida) drawing 1982 in two parts
pencil, charcoal, pastel, wax crayon, enamel paint, aerial photograph and fabric sample
15 x 96″ and 42 x 96″ (38 x 244 cm and 106.6 x 244 cm)
photo by wolfgang volz © 1982 christo
pace gallery presents a series of five works on paper by christo at art basel miami beach, all related to christo and jeanne-claude's celebrated project surrounded islands, biscayne bay, greater miami, florida, 1980-83. a lasting influence on the evolution of miami as a major center for international contemporary art, surrounded islands was on view for two weeks and comprised christo and jeanne-claude encircling 11 manmade uninhabited islands over 7 miles in biscayne bay with 6.5 million square feet of floating, pink, woven polypropylene fabric.
simultaneously, pérez art museum miami presents a documentary exhibition of archival materials and artworks around the renowned artists' site-specific installation. the history of surrounded islands is inseparable from PAMM's origins, and the exhibition reinforces the idea that the museum's evolution is inextricable from the development of miami as both a city and an artistic hub.
haas brothers' exhibition 'ferngully' at the bass museum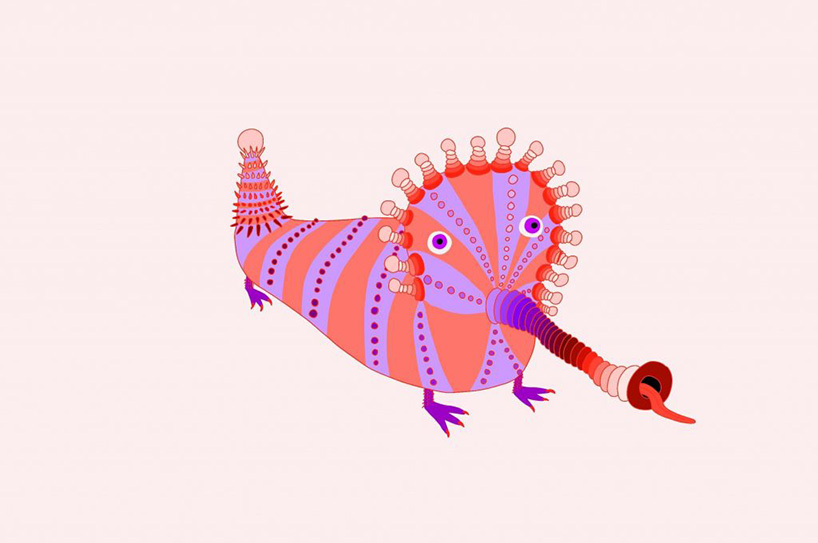 the exhibition is on view from december 5, 2018 – april 21, 2019
the haas brothers' first solo museum exhibition, ferngully, positions the viewer in an immersive environment that evokes cycles of renewal and rebirth found in nature. playful and sometimes irreverent, they create furniture and sculptural objects in the form of anthropomorphic hairy chaises, fantastical beaded chairs and fungi, and hand-layered liquid clay accretion vases that explore themes of mathematics, science and nature, sexuality, nostalgia and social equity.
a participatory installation by tomás saraceno for audemars piguet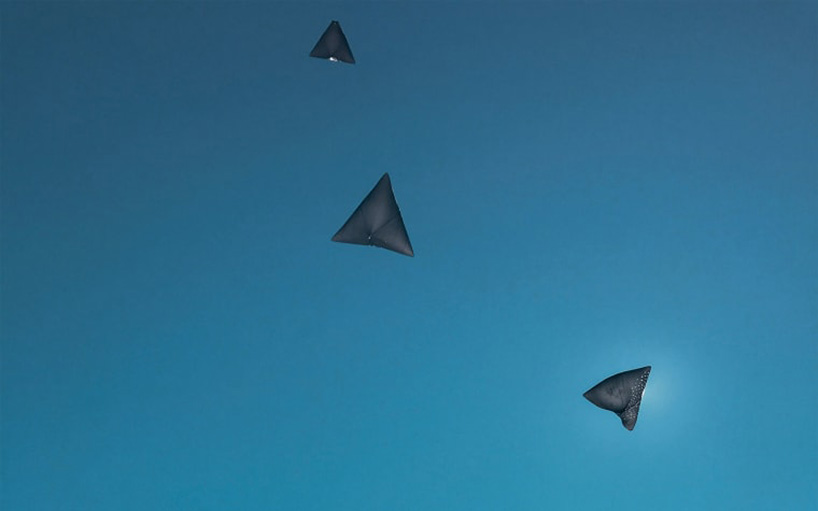 the installation is located on the oceanfront, between 21st and 22nd street
audemars piguet presents tomás saraceno for aerocene's atmospherically-attuned participatory installation albedo at the miami beach oceanfront. featuring solar reflective structures and floating sculptures. free public access (except thursday, december 6, from 12 noon only)
the inaugural faena festival
faena art launches an annual multidisciplinary festival presented during miami art week. from december 3 through 9, 2018, the inaugural faena festival, this is not america, is keyed to miami's enduring role as a port that welcomes migrants, refugees, and tourists from across the us and the americas, and from countries throughout the world. the festival engages with the multiplicity of communities and cultures and the palimpsest of histories that have created the americas while responding specifically to miami as to hemispheric hub. all programming is free and open to the public.
4510/SIX presents a month-long installation by henrik vibskov
for 4510/SIX's little river store, vibskov has designed a custom installation to celebrate the influx of creatives meeting in miami for art week. on the main floor, three temporary modules, each with back-painted walls and décor, will interrupt the everyday retail experience. the modules will contain vibskov's SS19 and AW18 collections, with the latter inspired by jan fabre's sculpture the man who measures the clouds (l'homme qui mesure les nuages), which vibskov encountered last summer during his travels in kanasawa, japan. oversized knits, statement outerwear, and garments interspersed with geometric lines all stem from the poetic gesture of measuring something unmeasurable. as part of vibskov's installation, dozens of suspended, identical 'brooms' will fill 4510/SIX's front window.
step inside a frei otto-designed music pavilion tent @ the miami design district
award winning architect frei otto, an innovator of lightweight construction has partnered with birdair (TAIYO), leading contractor of custom tensile structures in the world to create a newly fabricated tent. the music pavilion tent will join the fly's eye dome in the miami design district; both structures link the past to the present and both projects involve close collaborations with those organizations that are working to preserve the legacy of these pioneering thinkers. the miami design district is honored to have sponsored this project, and share otto's legacy of innovation.
pop minimalism minimalist pop presented by gagosian & jeffery deitch @ the moore building
gagosian and jeffrey deitch present pop minimalism | minimalist pop, their fourth collaboration at the moore building in the miami design district. this group exhibition explores the intersections and legacies of two major american art movements of the 1960s—pop art and minimalism—and the ways in which features of minimalism have been incorporated into a variety of contemporary art practices. while these two art movements are typically seen to represent opposing artistic responses to the legacy of abstract expressionism, the work in pop minimalism | minimalist pop highlights points of common conceptual approaches and mutual exchange.
louis vuitton presents objets nomades
at design miami/, louis vuitton presents new pieces from objets nomades, an ever-expanding collection of limited edition, collectible furniture inspired by the house's historic art of travel campaign. the interwoven nature of louis vuitton's savoir-faire with the discerning eye of renowned designers has created inventive shapes, materials, and products—a tradition that continues with the objets nomades.
the institute of contemporary art, miami presents judy chicago: a reckoning
a major survey of works by the pioneering feminist artist, this exhibition highlights chicago's iconographic transition from abstraction to figuration, and explores the ways in which the artist's strong feminist voice transforms our understanding of modernism and its traditions.
ebony g. patterson . . . while the dew is still on the roses . . .at PAMM
ebony g. patterson . . . while the dew is still on the roses . . . presents the most significant presentation of the artist's work to date. the project includes examples of the artist's work produced over the last five years, embedded within a new installation environment that references a night garden. known for her drawings, tapestries, videos, sculptures and installations that involve surfaces layered with flowers, glitter, lace and beads, patterson's works investigate forms of embellishment as they relate to youth culture within disenfranchised communities.
locust projects presents jibade-khalil huffman: "_______________" means "I love you" in italics
an experimental public art project by visual artist and writer jibade-khalil huffman for locust projects'. huffman, who is currently based in new york, is known for video and photo works that employ found, archival material and contemporary ephemera to address slippage in memory and language, particular to race and visibility. as part of his project at locust projects, the artist will produce an new video that captures the culture of music that everyone experiences in their day-today experience, all through the lens of miami's multicultural landscape.
public installations across the city
five different studios design 'wildly varied' facades for miami's museum garage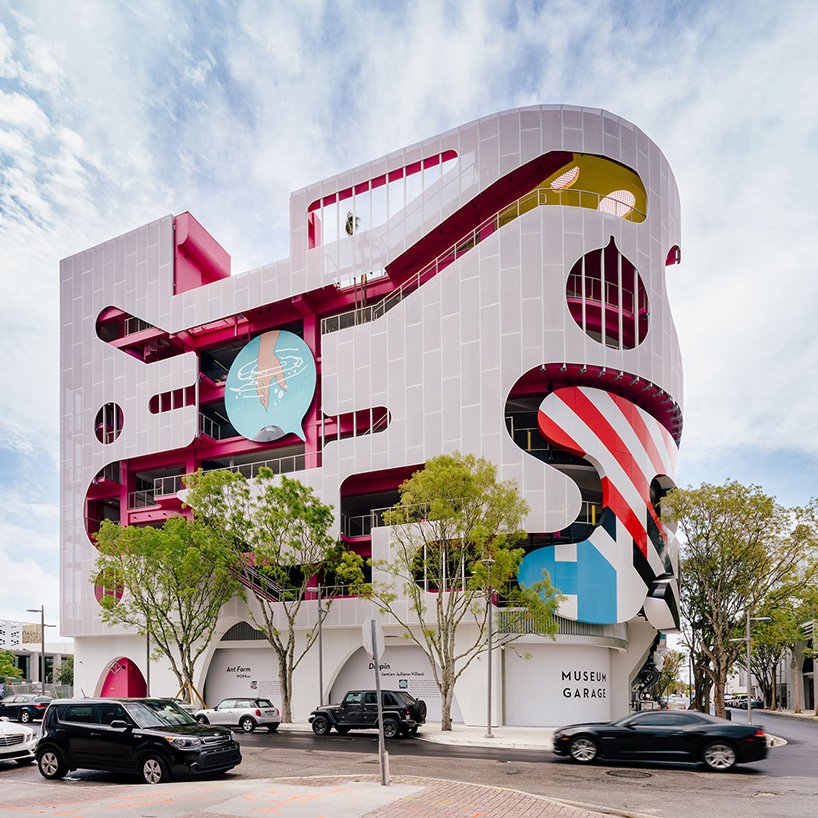 image by imagen subliminal (miguel de guzman + rocio romero)
after more than two years of planning and construction, the seven-story, mixed-use 'museum garage' is now part of the miami design district. the structure's facade, which constitutes its most striking feature, is composed of five individual and radically different pieces designed by WORKac, nicolas buffe, clavel arquitectos, K/R and j. mayer h.
ronan & erwan bouroullec: 'nuage' pergola @ the miami design district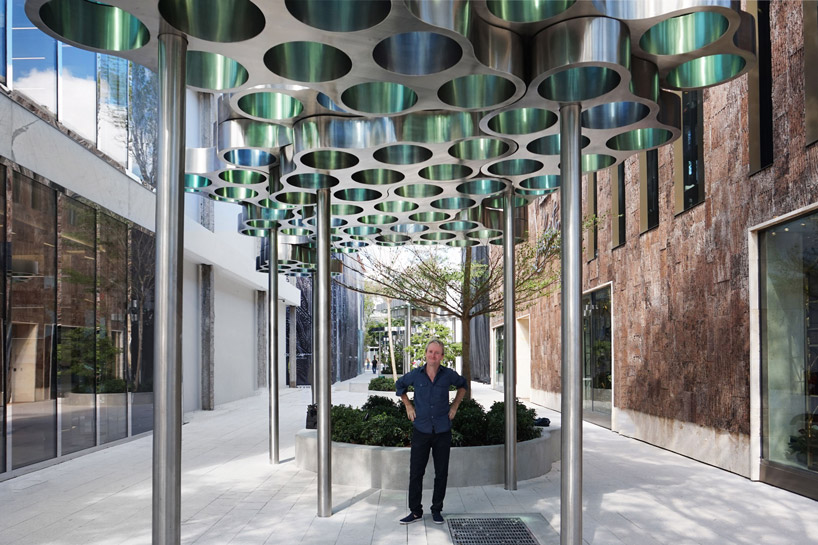 french designer-duo ronan and erwan bouroullec present 'nuage', a 100 metre-long, five meter-high pergola installed as part of the design miami/ satellite program during miami art week 2017
the miami design district is covered in cloud – but it's far from raining. the sun shines through the steel and colored glass structure that mimics cloud apertures, casting graphic shadows that vibrate with blues and greens like stained-glass windows crossed by the sun in cathedrals.
john baldessari: fun (part 1) and fun (part 2) @ the miami design district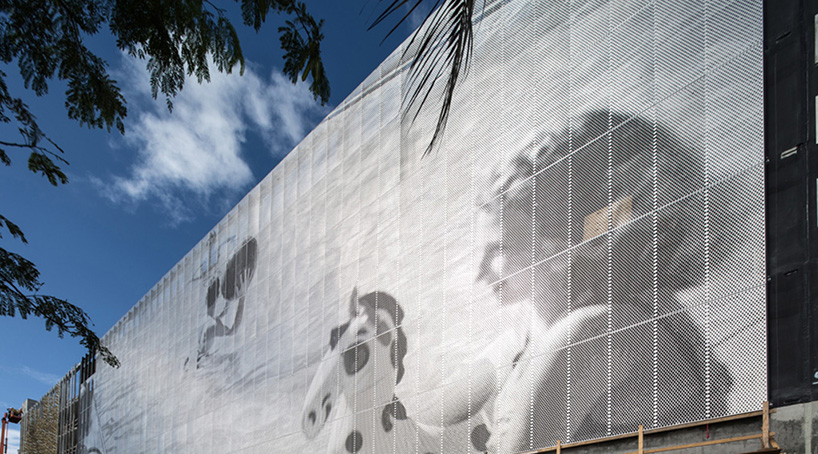 the images appear on city view garage, a mixed-use building that is part parking garage/part office and retail space
baldessari's fun (part one) and fun (part two) were printed on perforated metal and cover perpendicular sides of the city view garage. known for synthesizing photography, film, text and found images, the artist used production stills to portray a deco-styled woman in her bathing suit, playtime in the water, and the simple pleasures of what feels like summer.
buckminster fuller fly's eye dome @ the miami design district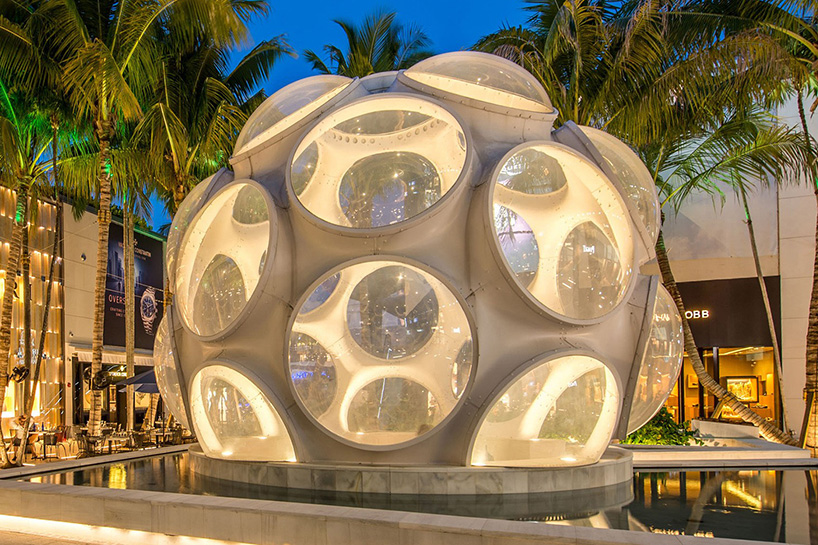 the buckminster fuller dome is a landmark of the design district
in 1965 buckminster fuller designed and patented the fly's eye dome, which he called an 'autonomous dwelling machine'. in 2011, collector craig robins acquired the 24-foot prototype with the intention of exhibiting it and using it as inspiration for a key element of the miami design district. the buckminster fuller institute was then commissioned to produce a fly's eye dome utilizing state-of-the-art materials, intelligence and techniques, to be prominently incorporated in the miami design district.
where to stay
the legendary EAST — a brand boasting lauded locales in hong kong and beijing — recently opened a miamioutpost that promises the amenities and aesthetic appeal that has distinguished the hospitality giant since its inception. EAST, miami offers a supremely stylish and sumptuous stay in the heart of the city's brickell district, forming part of the monumental, 4.9 million square-foot arquitectonica-designed development, brickell city centre. destination dining, personalized service, four pristine pools and an award-winning rooftop bar all contribute to creating a cultural haven of high-hospitality.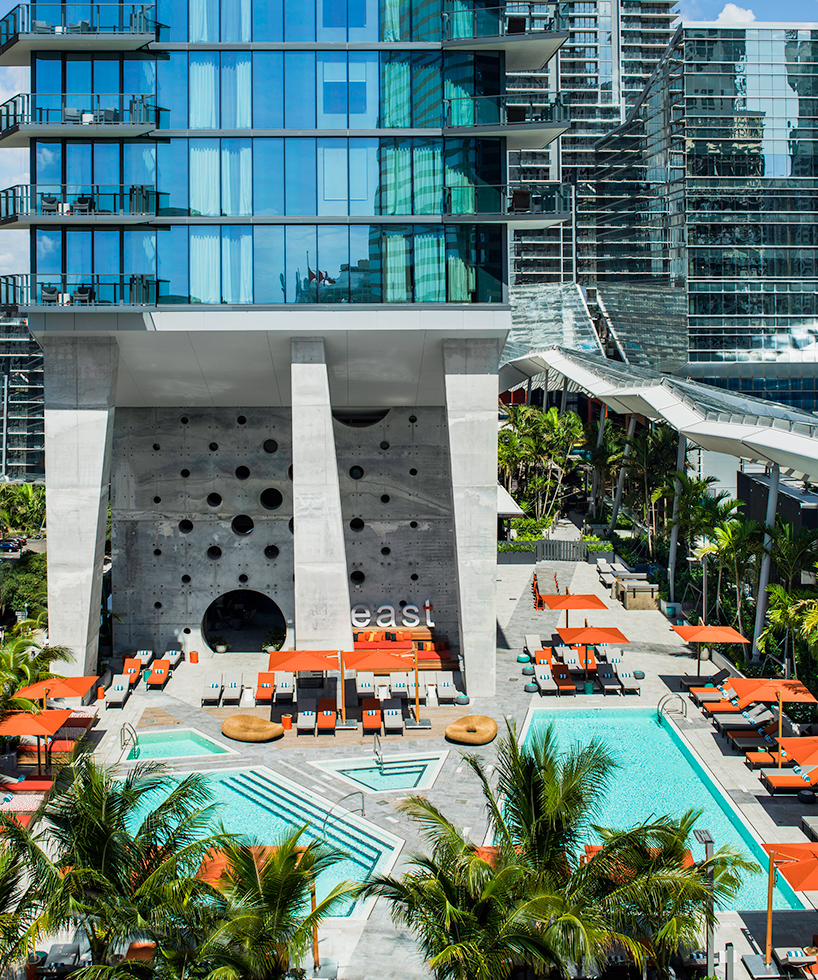 EAST, miami features four swimming pools surrounded by lush greenery
art fairs
NADA is a non-profit arts organization dedicated to the cultivation, support, and advancement of new voices in contemporary art. this year's new art dealers alliance miami will fund the NADA acquisition gift for PAMM /perez art museum miami.
is an international, curated art fair founded in 2012 that focuses on curatorial balance and integrity across all disciplines of contemporary art.
was founded in 2005, PULSE contemporary art fair is an established part of the annual art calendar and is recognized for providing its international community of emerging and established galleries with a dynamic platform for connecting with a global audience.
the team behind FAIR. (miami's first all-female art fair) is back again with its second free-to-the-public alternative art fair, where none of the art will be for sale. this year's iteration, FREE!, will feature works from some of the world's most recognized and pioneering artists taking over the brickell city centre shopping center. the works will be dedicated to healing – of our nation, our environment, and our communities – in light of the current political climate.
in its 29th edition, art miami (along with sister fair CONTEXT) maintains a preeminent position in america's modern and contemporary art fair market.
returning for its 18th year, SCOPE miami beach hits the sand with hundreds of international artists.
at the aqua hotel in south beach is a sister fair of art miami and features works by young, emerging and mid-career artists. it has become a gathering spot for art lovers to discover fresh talent.
nina azzarello
I designboom
nov 28, 2018
KEEP UP WITH OUR DAILY AND WEEKLY NEWSLETTERS
happening now! discover how effe perfect wellness merges tradition with modern design to bring the total relaxation experience of saunas and hammams into use in private homes.
a diverse digital database that acts as a valuable guide in gaining insight and information about a product directly from the manufacturer, and serves as a rich reference point in developing a project or scheme.
designboom will always be there for you
milan, new york, beijing, tokyo

,
since 1999