apr 27, 2013
miami dolphins 2013 uniform
mike wallace in the new dolphins 2013 uniform
the miami dolphins new NFL NIKE elite 51 uniform design for the 2013 NFL season features updated numbers and fonts that represent south florida's beautiful environment and the dolphins' strong team heritage.
inspirationthe newly dolphins uniform stays true to its roots while harnessing the city's modern, cutting-edge characteristics for a more refined head-to-toe look that embodies what it means to be a miami dolphin.
miami's sun and south florida waters serve as the foundation for the dolphins uniform aesthetic.the purposefully simplistic design is sharpened by the use of new materials, sheen and color consolidation. NIKE designers worked closely with the NFL and the dolphins to elevate, lighten and brighten the existing color palette, taking them back to their roots. the updated hues reflect the blues in the water, as well as the orange in the sun and glow of the city, to create a consistent look from head to toe.
'miami's new NIKE elite 51 uniform design is a true reflection of their culture – modern, refined and bold.his highly innovative uniform system allows for zero distractions on the field and provides a fresh updated look to take the team into the 2013 season.'  – todd van horne, global VP and creative director for NIKE football
the new helmet sheen features a sparkled finish to reflect the sand, as well as a refined stripe pattern with a pop of orange, to highlight the horizon. the same stripe pattern is carried throughout the uniform into the new number and font design and through the stripe in the pant. the uniform also proudly features the 'miami' wordmark on the outside back of the pant and in the inside back of the neckline.
learn more about the design process behind NIKE's new NFL uniform's in our interview with NIKE creative director of football, todd van horne »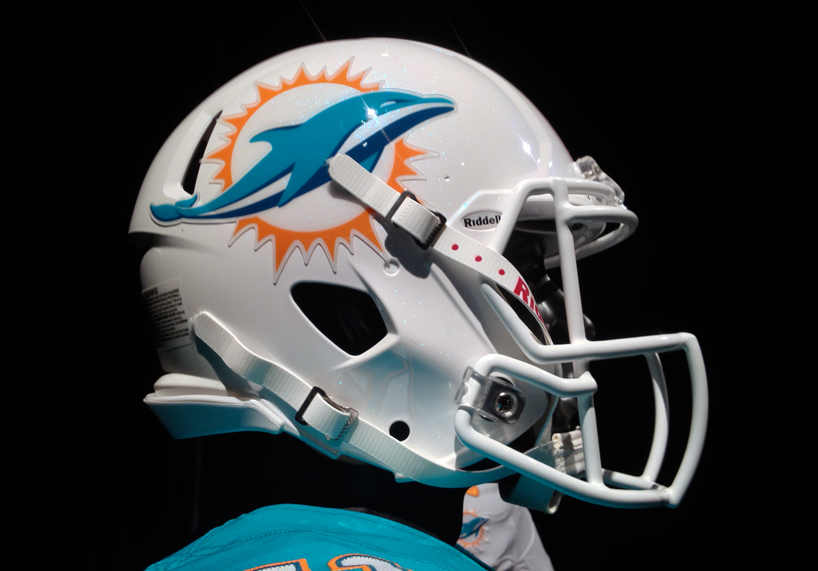 new dolphins helmetimage © designboom
innovationdesigned and engineered from the inside out, the NFL NIKE elite 51 uniform focuses on creating a system where the baselayer, padding, jersey and pant work in concert. lightweight padding is also integrated directly into the crucial 'hit zones' in the baselayer. new innovations include integrated flywire technology in the neckline to reduce weight and provide lockdown fit over pads, increased sleeve articulation for better range of motion, and all-over four-way stretch fabricationto provide a streamlined shrink-wrap fit.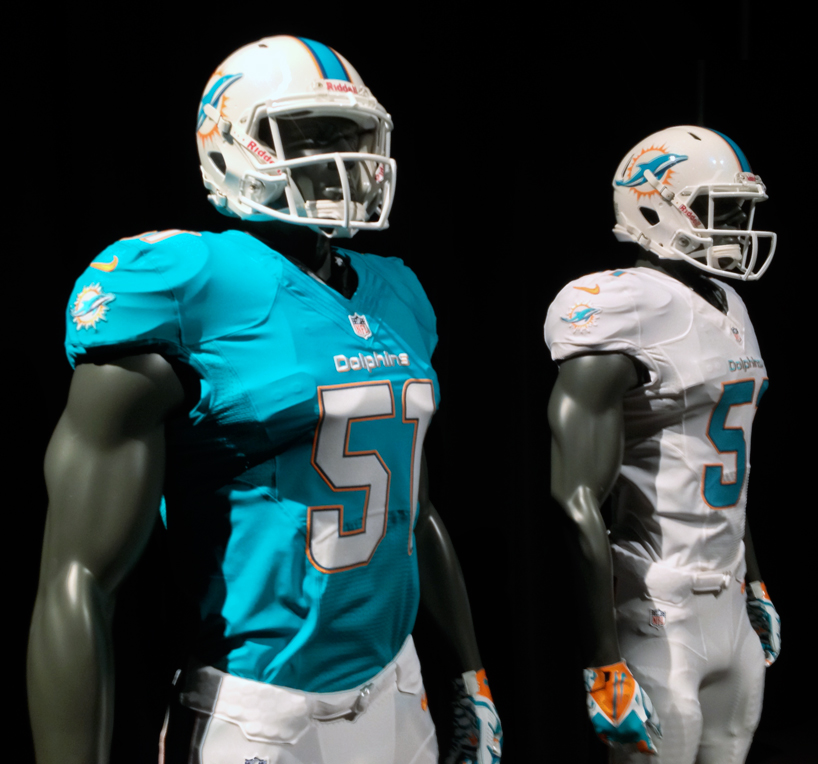 alternate teal jerseyimage © designboom
image © designboom
as the official uniform supplier of the NFL, NIKE provides all on-field, baselayer, sideline and practice wear for the league's 32 teams. the new vikings fan jerseys are scheduled to go on sale april 25 at nike.com, NFLshop.com and miamidolphins.com, and at broader retail locations including NIKE stores beginning april 26.
NIKE
(153 articles)
aug 16, 2017
aug 16, 2017
jul 28, 2017
jul 28, 2017
jul 09, 2017
jul 09, 2017