with every edition, maison&objet paris elects a designer of the year to honor one of the most outstanding names in industrial and interior design worldwide. for its 2020 spring edition, the fair has chosen to celebrate the talent of cypriot designer michael anastassiades, making it a befitting occasion as it was the parisian trade show the first fair in which anastassiades presented his new designs for his eponymous lighting brand in 2007.
in his work, michael anastassiades uses simple shapes and volumes — a sphere, a line, a circle — to create a rich language where uncertainty and imbalance are embraced. at first glance this translates into simplicity but deeply, his designs are a combined labor of love and hard work that result in a simplicity that encourages curiosity, and a curiosity that leads to participation and interaction. for him, designers should create relationships and interactions between people and objects.
during maison&objet spring 2020 in paris, designboom met with the designer at his exhibition called 16 acts where he shed light into what he thinks a successful lighting product is as well as his relationship with yoga and how this has infused his practice.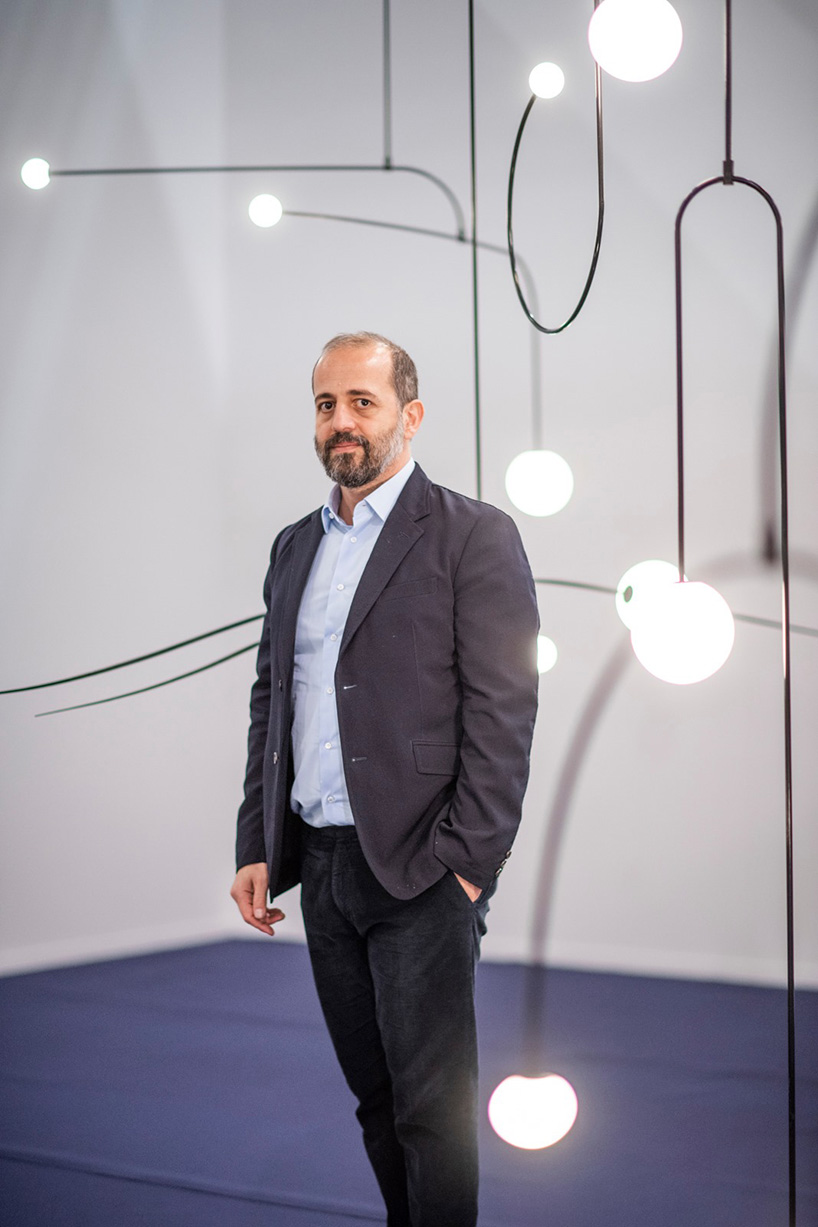 image © anne-emmanuelle thion, courtesy of maison&objet
DESIGNBOOM (DB): can you guide us through your 16 acts exhibition at maison&objet as designer of the year?
MICHAEL ANASTASSIADES (MA): well, it's interesting because after I set up my brand in 2007, maison&objet was the first commercial fair I decided to do. and it was 10 years ago… it was 2009. and it was january this time of the year. and so it's nice to be back 10 years later as designer of the year. at that time I wanted to focus on my brand even though I had been developing a lot of products for flos and this is probably what people know me most for and recently with a lot of furniture collaborations. but my own brand has remained the platform for expression of my ideas in the purest form. so it was nice to show also one collection, one family of fixtures that I've been developing for a long time, because I wanted to communicate a lot of these qualities that I believe should exist in lighting, and also concepts that I have worked with that are very strong and very present to my work still today. here we have an evolving family of fixtures, first designed in 2008 and then I've been introducing new models to the family ever since. every euroluce in milan is usually our deadline, when we launch new fixtures and so we keep on adding to the formula. now we are at number 16, so it's 16 mobiles and 16 acts for the title of the exhibition. it's about light. it's about balance. it's about movement. it's about space. it's all these qualities that are important in my work, together. and timelessness of course, above all, because it's consistency in the beliefs, it's 10 years I'm developing similar things and it has become an evolving, let's say, language.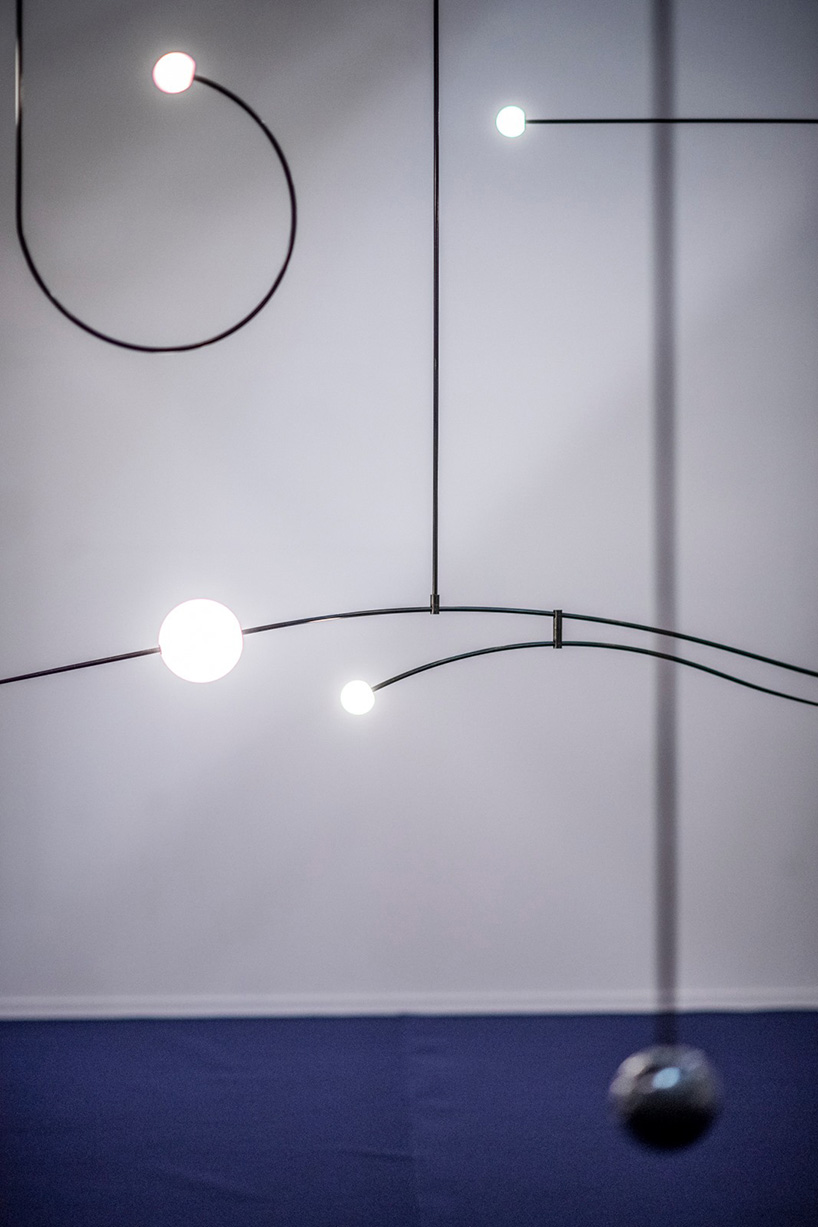 image © anne-emmanuelle thion, courtesy of maison&objet
DB: how have these 16 acts evolved throughout the years?
MA: you see how they evolve mainly from linear language to curves, because first I worked with straight lines, then I introduced the curves, and then geometric curves. and finally, the last ones are the ones featuring the organic curves.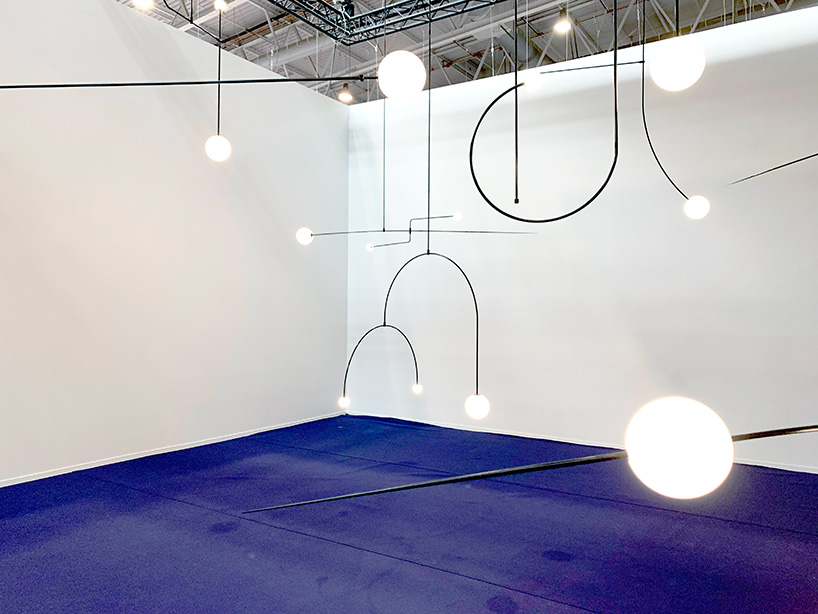 image © designboom
DB: what are the characteristics you believe a good lighting product should have?
MA: I believe that really the fundamental success of a light fixture is actually when you focus on the glow. for me, this has always been my priority. I'm interested in the quality of light, I'm interested in the right brightness, the right temperature… so I start from the source and everything else follows. but these lights are very, very special in the way that they relate to movement. and then these ideas of having an endless configuration that you can position a light in. these are the qualities that I'm exploring here.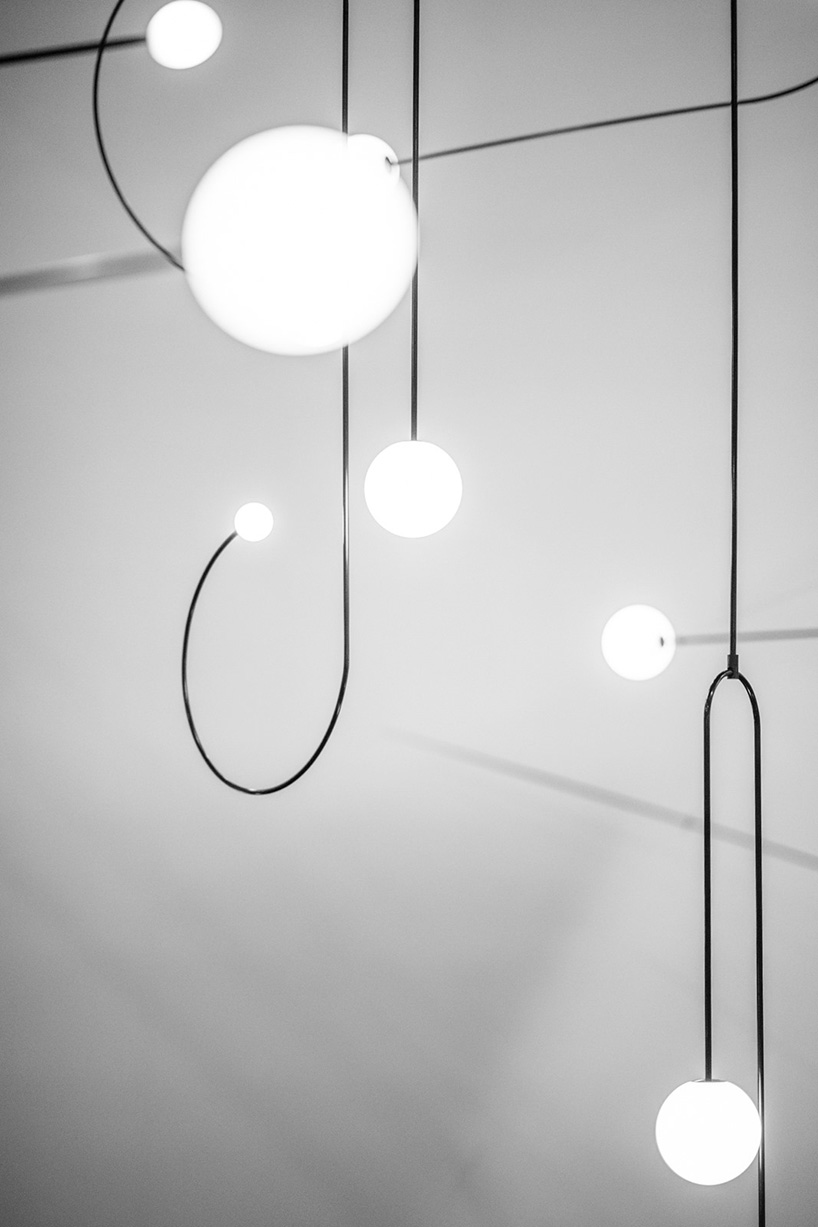 image © anne-emmanuelle thion, courtesy of maison&objet
DB: what do you think design should be like today?
MA: I believe in thoughtful design and by saying thoughtful, I mean that it's important that people and designers take responsibility and actually question more about why they designed — is there a reason why they want to introduce a new design? is there something different they can say about it? because just simply recycling ideas is not really the solution to the future. we're surrounded with so many objects that sometimes you question the need for more. so if there is more, there needs to be a reason for more and I think that's the main value that designers should address.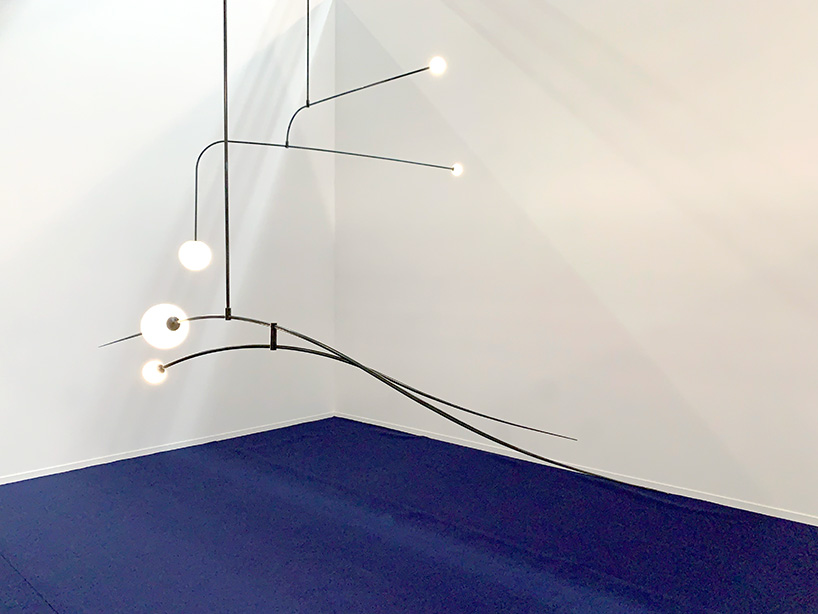 image © designboom
DB: you are an avid yoga practitioner – do you embed any of its qualities into your work?
MA: yoga is something that is embedded in me. I started practicing it when I graduated as a designer and was something that gave structure and balance in my life and it was something I kept and eventually something I taught. so I think subconsciously it comes out also in the way that I express my ideas and my creative process.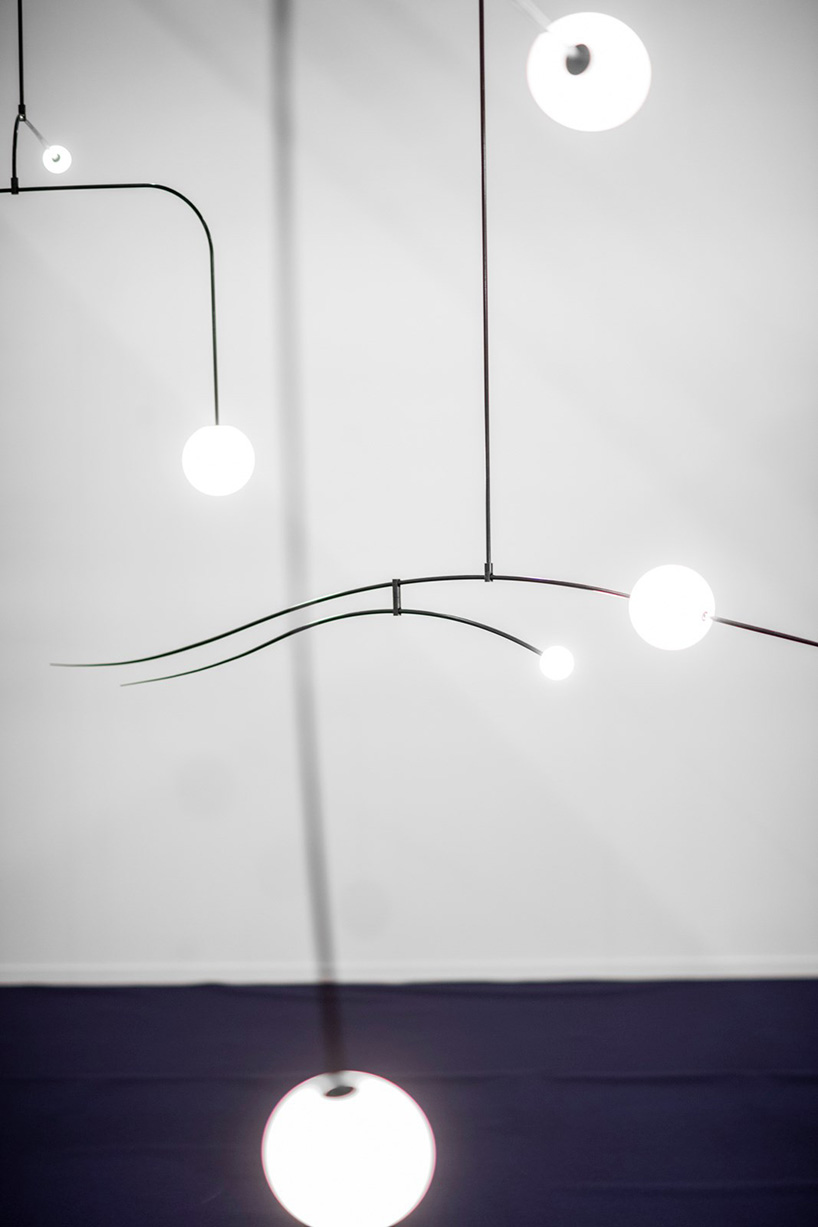 image © anne-emmanuelle thion, courtesy of maison&objet
DB: simplicity is not easy, but it's definitely your thing. how are you able to achieve it? is there a specific formula?
MA: it's a lot of work. it's not easy and simplicity is always tough to achieve. I try by removing information and noise throughout the design process, and I try to remove layer after layer, after layer until the point when I actually decide to keep just the bare minimum. and this is when I stop because there's nothing else to remove.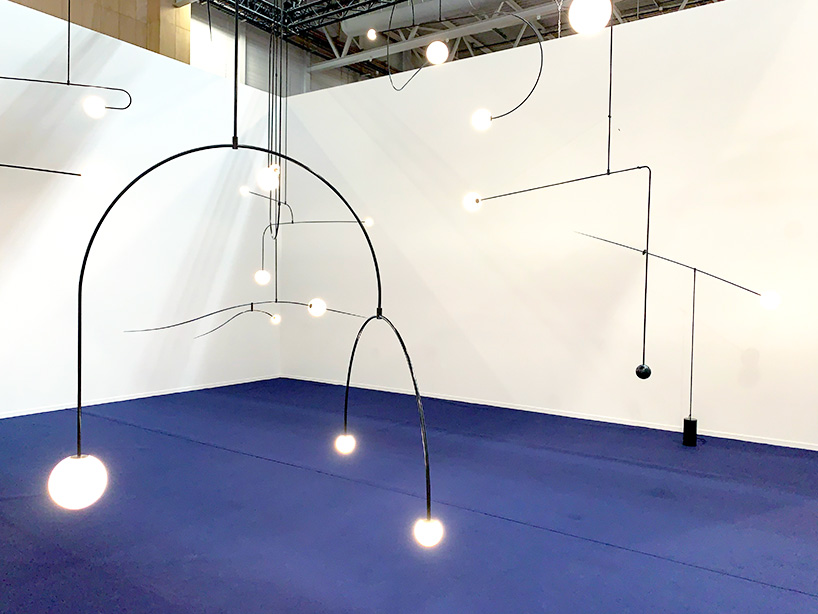 image © designboom
DB: the installation at maison&objet is constantly moving at a subtle, meditative pace. why the movement?
MA: I wanted the lamps to be moving because they're supposed to move with the wind, and they're supposed to move when you touch them. movement and balance are inherent qualities of these fixtures. so the idea of having them on slow moving motors is also very important because it communicates all this and it creates this mesmerizing, meditative space watching all these pieces move with relation to each other with relation to the space.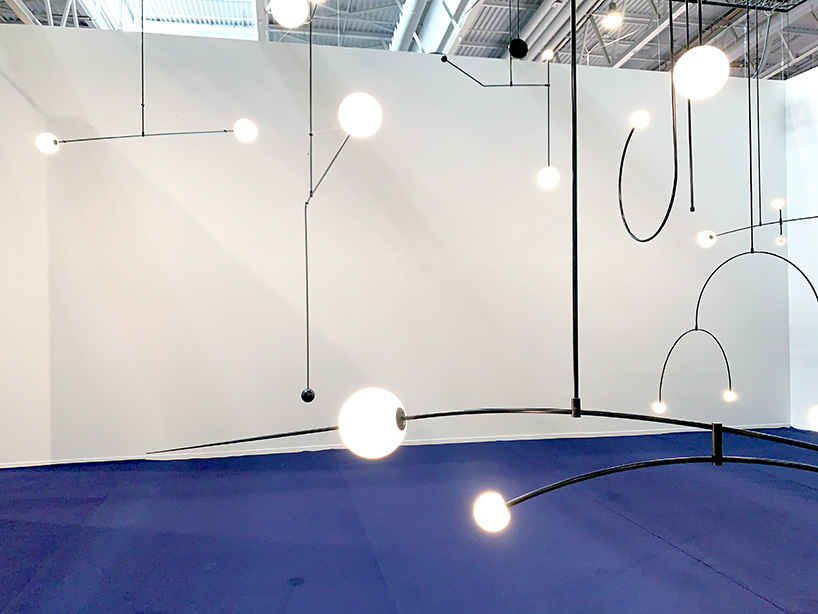 image © designboom
DB: the movement does engage me into a meditative state…
MA: yes, because an object should mean more to us. it's functional, but you know, a light is not just a light to enable you to see. I think it should be a lot more than that.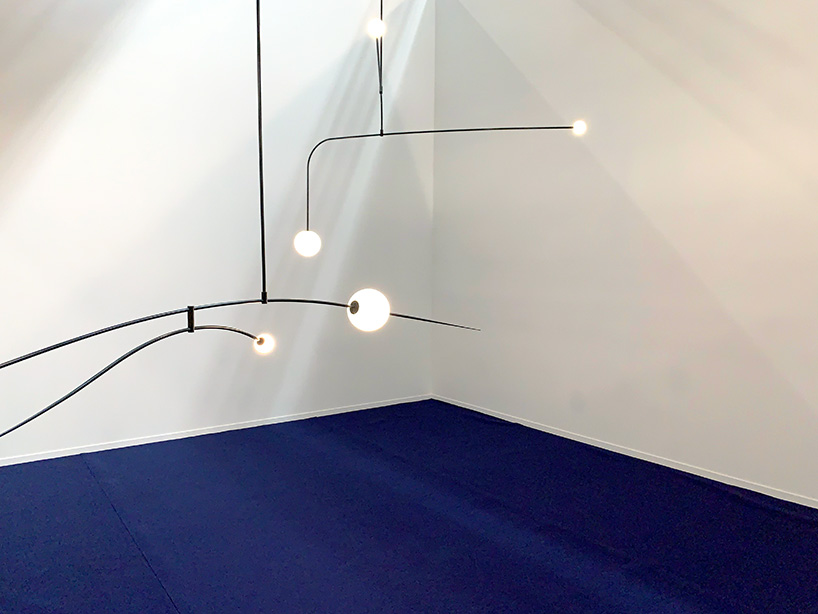 image © designboom
DB: what reactions have you seen from people when interacting with the installation?
MA: some just stand around, others try to move around, people try to capture it through taking photographs… some people want to take selfies and then sometimes they stand in front of a mobile and then the mobile hits them gently. but you know, that's not really any problem. it's nice to see how people react with all these things. it's nice to see people stay here for a long time. and I think that's beautiful because it means that it captures people. it's that people are able to engage for longer.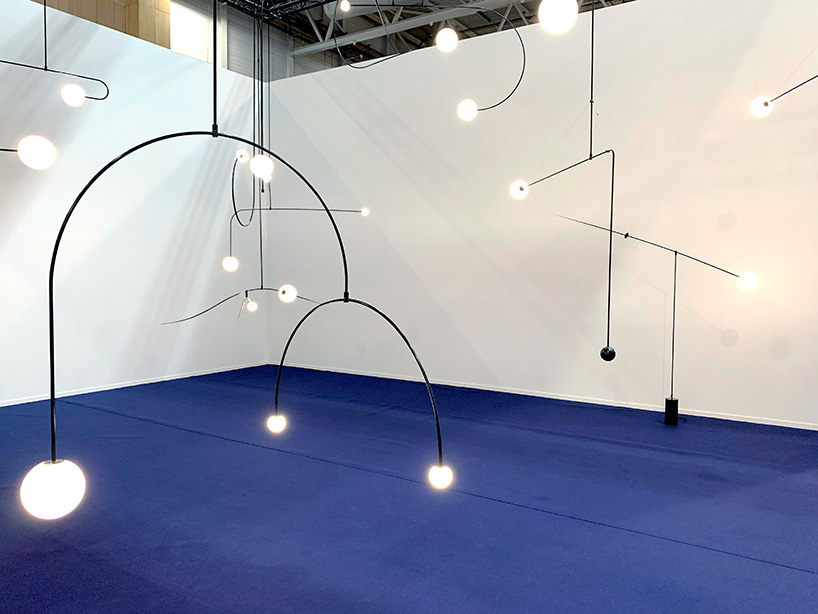 image © designboom
DB: what are you currently working on? what's next for michael anastassiades?
MA: lots of projects… we constantly add to my collection of fixtures, not just these mobiles, but we were working for 2021 euroluce already. 2020 salone del mobile with some furniture companies that have been working with existing partners as well as new brands.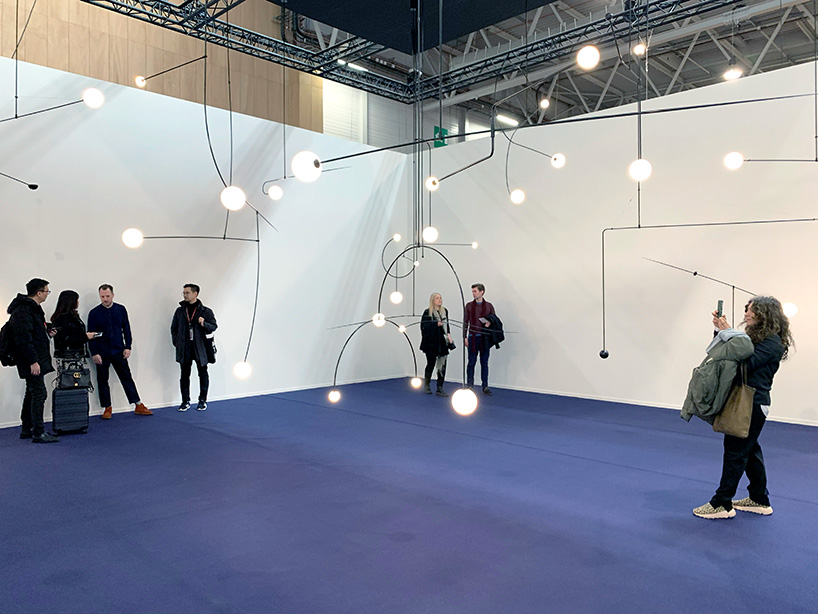 image © designboom
for maison&objet, michael anastassiades assembled for the very first time in one place, a previously unseen installation of 16 mobile chandeliers. driven by motors, the mobiles move the penumbra like glowing planets. darkness becomes a willing accomplice to the magic of light, which is the perfect way to describe the designer's poetic approach. 'I want to continue being creative and I see any invitation as a great opportunity to express my ideas or at least say something different about what design should be.'
project info:
name: michael anastassiades
honored with: designer of the year
at: maison et objet spring 2020
location: paris, france
feb 17, 2020
feb 17, 2020
feb 03, 2020
feb 03, 2020
feb 03, 2020
feb 03, 2020
jan 31, 2020
jan 31, 2020
jan 22, 2020
jan 22, 2020
jan 21, 2020
jan 21, 2020
sep 22, 2019
sep 22, 2019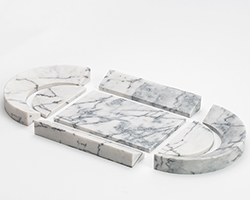 jun 09, 2019
jun 09, 2019
may 21, 2019
may 21, 2019
a diverse digital database that acts as a valuable guide in gaining insight and information about a product directly from the manufacturer, and serves as a rich reference point in developing a project or scheme.