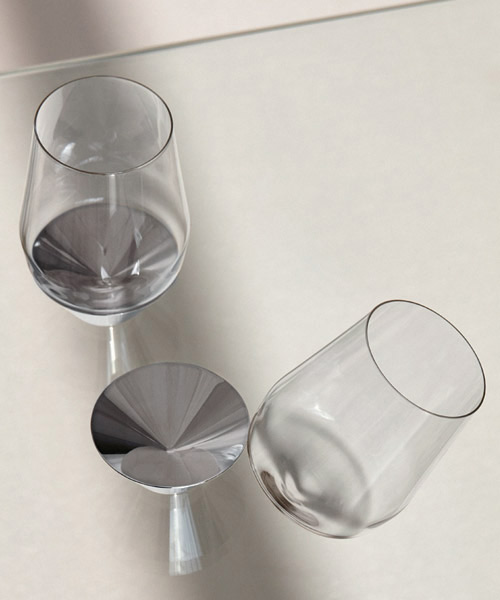 feb 12, 2016
michael anastassiades' sommelier collection for puiforcat rejuvenates the wine tasting ceremony

michael anastassiades' sommelier collection for puiforcat rejuvenates the wine tasting ceremony
there is one glass for each type of wine, and also for champagne and water
image courtesy of puiforcat
collection by collection, puiforcat lays the groundwork for a new art of living – an art of taste, defined by the harmonious conjunction of today's usages with a rich silversmithing tradition. every consideration revolves around the table, a focal point of contemporary culture and a leitmotiv of the house's history. whether with cutlery, champagne and cognac beakers, or coffee, tea, and pastry sets, puiforcat's expert instruments reinvent gastronomy at every step, from preparation to setting and on to the time of tasting.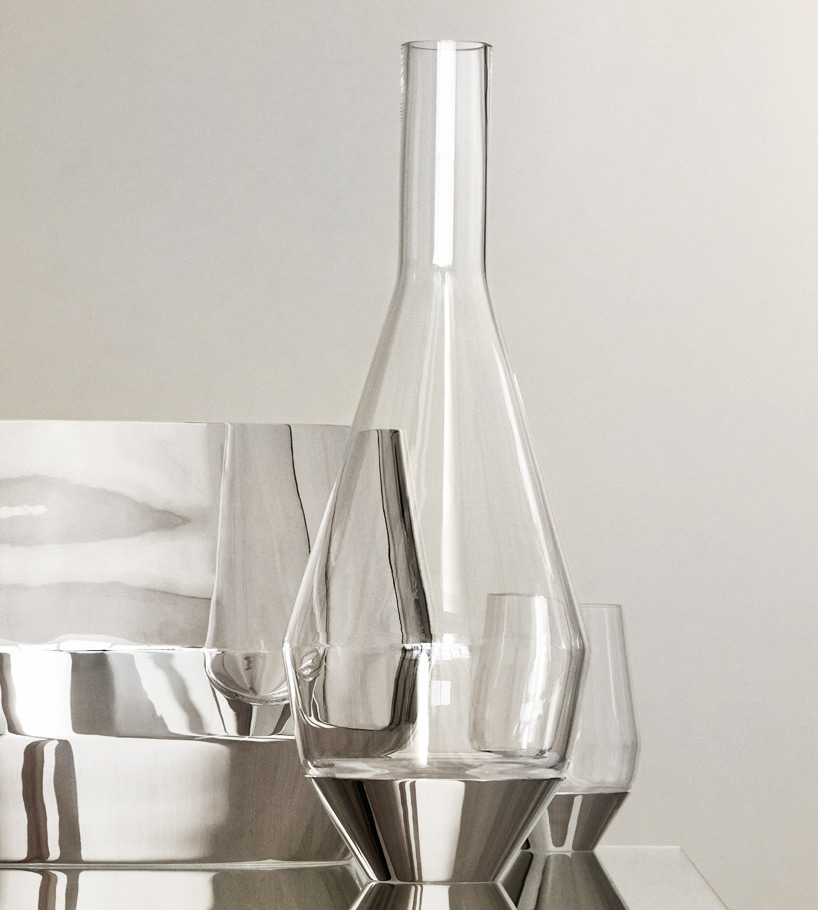 the glass bowl is laid on a metal stand, the sommelier collection is entirely dedicated to the sublimation of wine
image courtesy of puiforcat
designboom was invited to the official reveal of the 'sommelier collection' by michael anastassiades for puiforcat in paris, where we spoke with the designer about the collaboration, and his vision for the wine tasting setting.

since being founded in paris in 1820 by jean-baptiste fuchs and his two cousins émile and joseph-marie puiforcat, the manufacture has been at the forefront of silversmithing. in the 1920s, jean puiforcat, member of the fourth generation of the family, introduced architectural shapes, clean lines, and meaningful simplicity. the lack of embellishment, as well as blending sterling silver with other precious materials (such as exotic wood, hard stones and shagreen) – an art deco-inspired style – became the foundation of fine contemporary silverwork. since coming under the wing of the Hermès group in 1993, puiforcat has used its truly exceptional savoir-faire to both reproduce the finest pieces of its heritage and to imagine tomorrow's classics alongside great contemporary designers.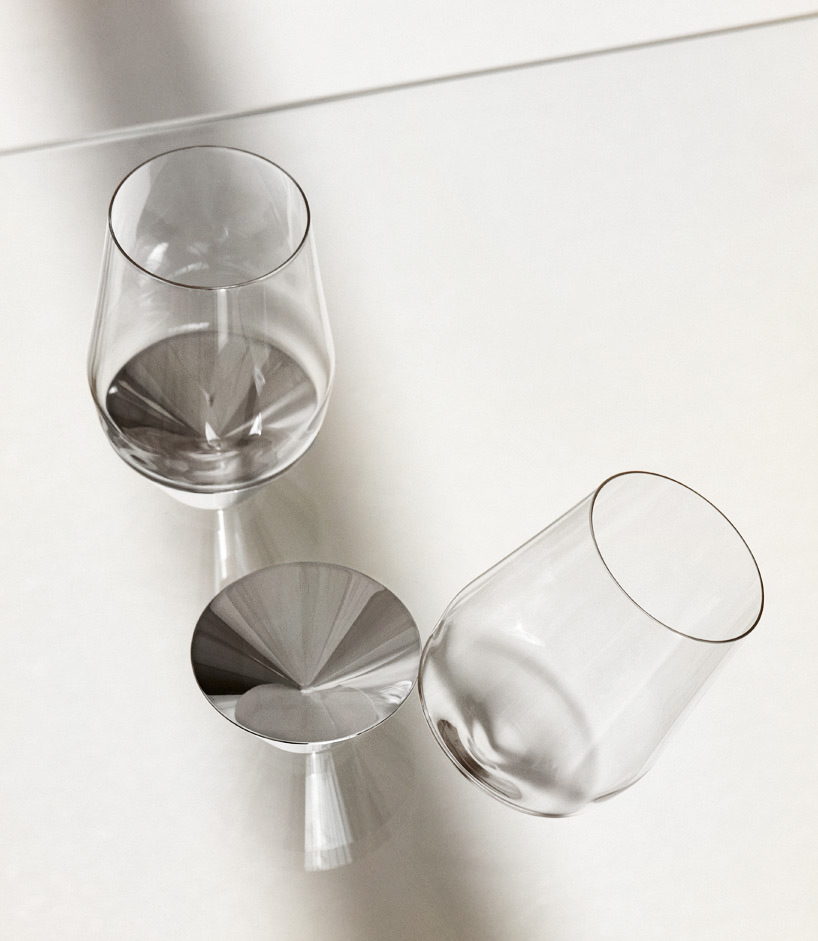 the stemless glasses coordinate with a silver base which provides stability when one puts their drink down
image courtesy of puiforcat
in its latest collaboration, puiforcat has partnered lombard enrico bernardo, 2004 world's best sommelier and owner of parisian restaurant IL VINO, a michelin-starred establishment; with michael anastassiades, the cyprus born, london-based creative. under the guidance of puiforcat's silversmith, a perfect symbiosis flourished between the scholar of wine, and the renowned designer.
michael anastassiades' challenge in creating the puiforcat sommelier collection was: how do you make wine and metal get along when the two don't normally pair up easily?
the solution? keep them separate of course!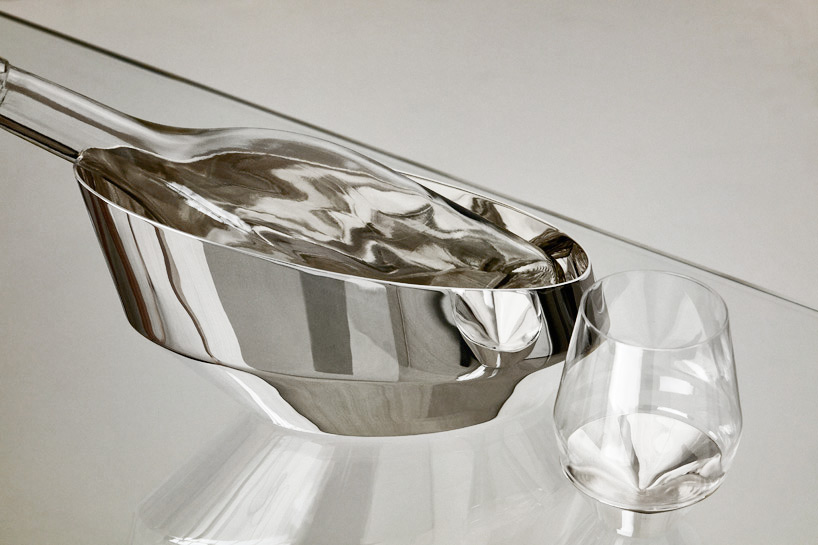 single wine bottle cooler with glass
image courtesy of puiforcat
the setting is defined by glass bowls with their stems removed — which now rest on top of a metal stand. the idea was born out of an observation that enrico bernardo made of his guests taking their glasses by their base of the bowls rather than the stem. puiforcat worked on the structure of the ideal wine vessel, with the exact dimensions charted out by the sommelier. the glass is architectural in its presence and is characterized by a discrete ridge, offering a subtle hint of the right quantity to be poured. the angle of attack is not vertical as in traditional stem glasses, but instead becomes horizontal, transporting the wine towards other regions of the mouth. with this shape, unexpected sensations arise, and round supple characteristics come to the fore, providing an optimal balance of flavors.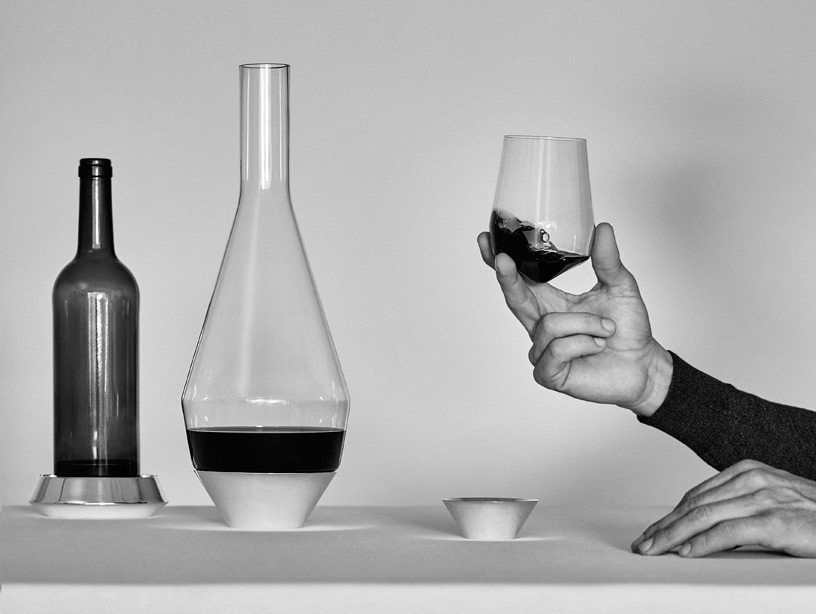 the 'sommelier collection' rejuvenates the ceremony of wine tasting
image courtesy of puiforcat
michael anastassiades' design features a base that is conically sculpted in order to concentrate the wine and slow down the oxidation process, while supporting the glass. the companion liqueur glass is tulip-shaped to prevent ethers from evaporating; and dessert wines are served in a narrow vessel. apart from the glasses and carafe, every object is silver-plated — from the serving bottle to the large wine bucket, to the carafe and one glass for each type of wine, as well as champagne and water. the mirror-polished finish extends to the inside of the wine tray, in order to better highlight the reflections of the bottle. and, as water is not sensitive to oxidation, the dedicated beaker dresses up in silver-plated metal.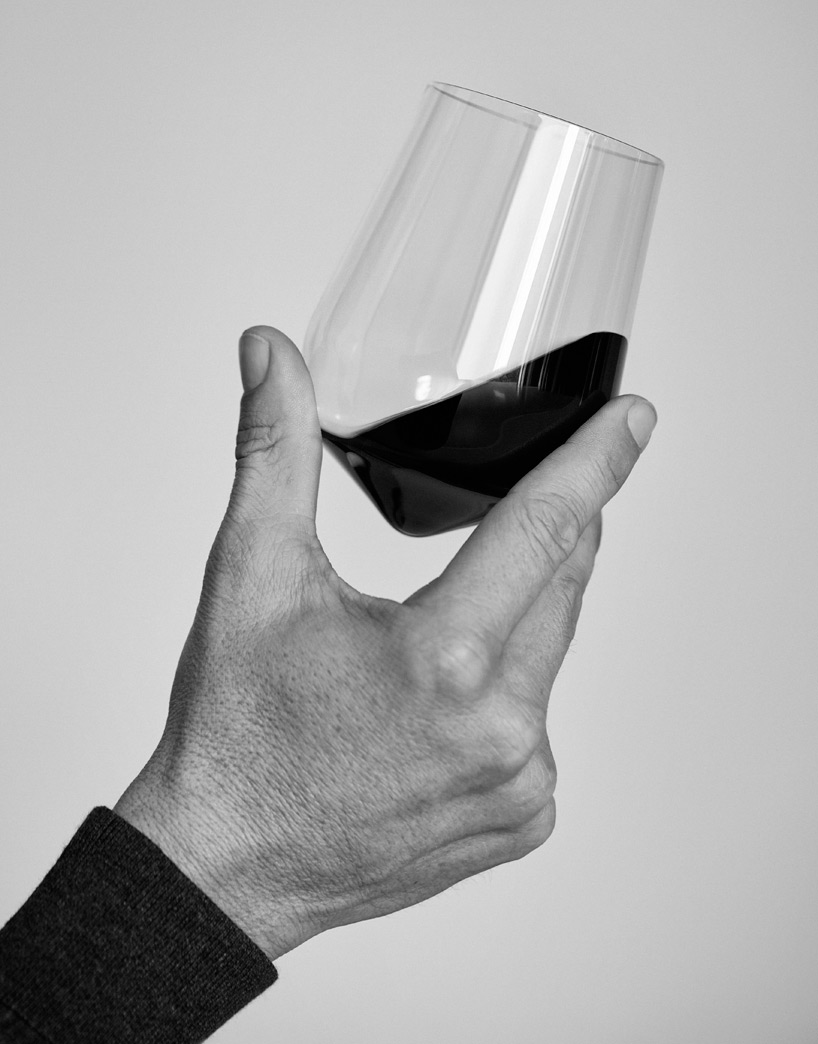 a view of the angled glass which is sculpted in a way that concentrates the wine and slows the oxidation process
image courtesy of puiforcat
the lightness of the crystallite glasses opposes the comforting weight of their metallic stands. on the table, each piece is anchored to their stand, with the glasses perfectly stable. placed outside of their base, they sway softly for a few seconds before finding balance. wherever the drinking vessels are placed, they cast a subtle pattern of geometric reflections that bring new life and structure to the entire table setting. the relationship between light and matter, and the resulting scene is carefully staged by anastassiades. it too is an affair of poise – minimalism in conversation with sophistication.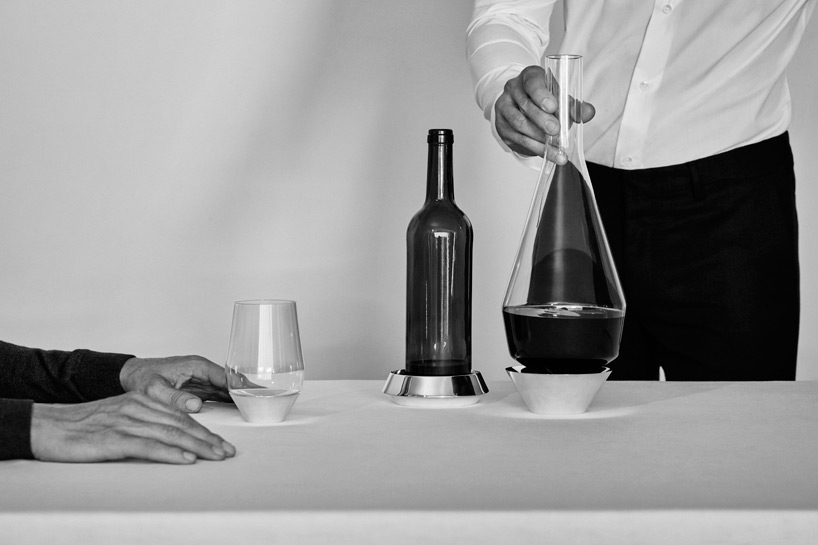 the 'sommelier collection' is defined by a stemless glass which sits within a sculptural conical shaped silver base, to concentrate the wine and to slow down the natural oxidation process.
image courtesy of puiforcat
DESIGNBOOM: is the design process of working with a manufacturer where everything is made by hand, different from how you usually proceed with your industrial design work?
MICHAEL ANASTASSIADES: not exactly. I always use small artisanal workshops when I develop a prototype. form development is realized through a handmade process, and similar to the manufacturing possibilities of puiforcat. the glass pieces (I've just showed you) are all mouth blown in a factory in the czech republic. during my research, I've been there to understand how they are made and every one is unique.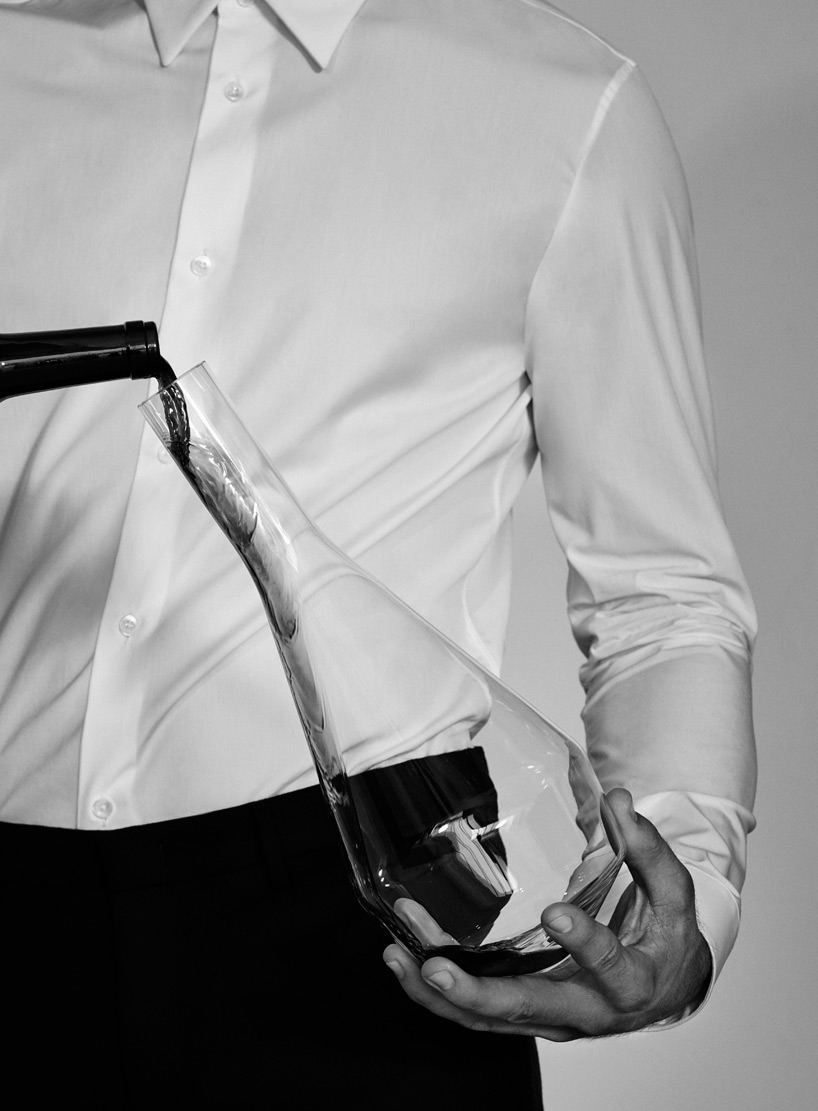 the geometries of the wine decanter
image courtesy of puiforcat
DB: using silver was maybe not the best material. so, you needed to understand where to incorporate it. what were the options?
MA: a couple of years ago puiforcat launched a champagne beaker; a very small, beautiful beaker made out entirely of silver. they also did a version of it that was gold plated. in one of the first meetings that we had with enrico bernardo, puiforcat proudly showed the beaker to him, and enrico reacted and said, 'how is it possible that you could consider this a champagne beaker? you should always sell it as a gold plated beaker because it oxidizes the wine.' so, this is to say – you should never serve wine inside silver!
you should always serve wine in glass, but we had to use silver. I mean, we are working with a silver manufacturer here, and it was quite intriguing to combine that with the whole ceremonial aspect of wine tasting. you know there was leeway to sort of understand this idea that there is a specific location where the glass needs to be, everything is also being looked after by somebody else. you don't have to do anything really… a bit like in a tea ceremony. you're there to experience and enjoy, and I wanted this to be almost like a starting point for the project.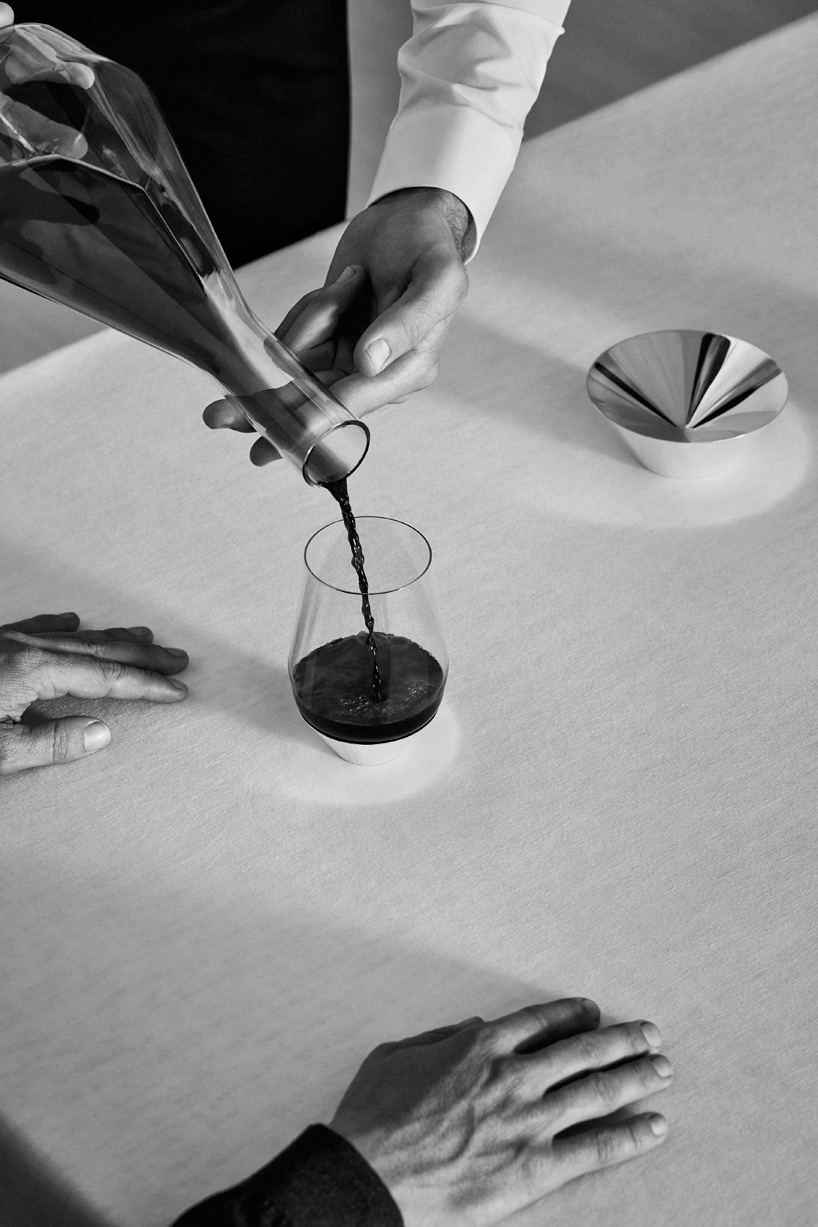 the setting creates a play of light and geometries on the table
image courtesy of puiforcat
DB: was working with a luxury brand of this level of exclusivity quite difficult and intimidating?

MA: at the end of the nineteenth century, the puiforcat workshop achieved a quality of the highest order; and began reproducing 17th century masterpieces. fascinated by sculpture, jean puiforcat invented a revolutionary formal language that aligned form with function. I understood that I would need to respect that heritage, and to fulfill their expectations for the highest quality possible was indeed quite difficult. their approach was that they wanted to target this new collection towards a slightly different market — a more contemporary market, let's say. so there is the decanter, the bottle holder, the coaster, the bottle rest and there is the single champagne bucket, plus a six bottle champagne bucket… there are ten items in total. I think they're very pleased, and I am very pleased with the collaboration.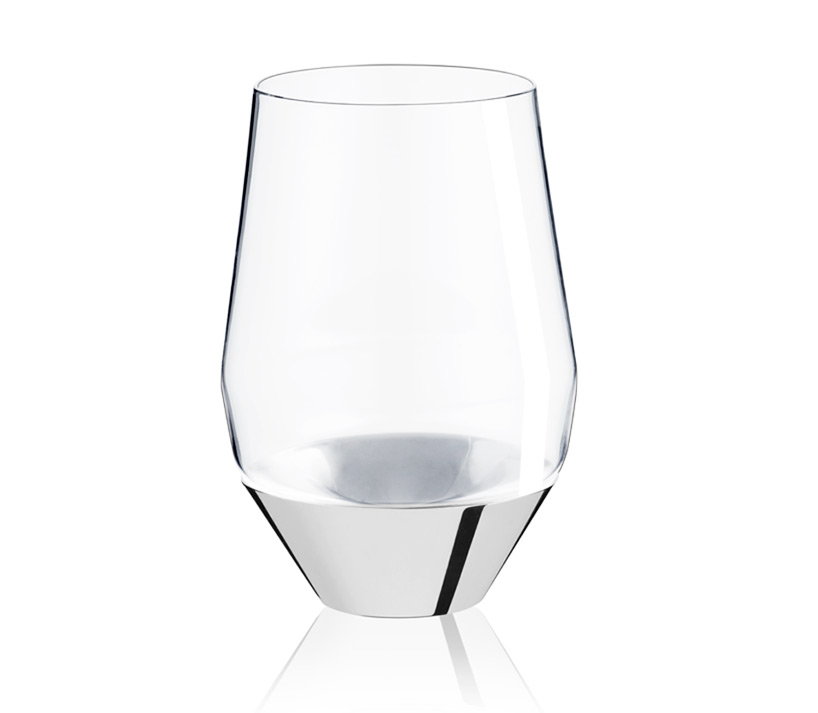 red wine glass
image courtesy of puiforcat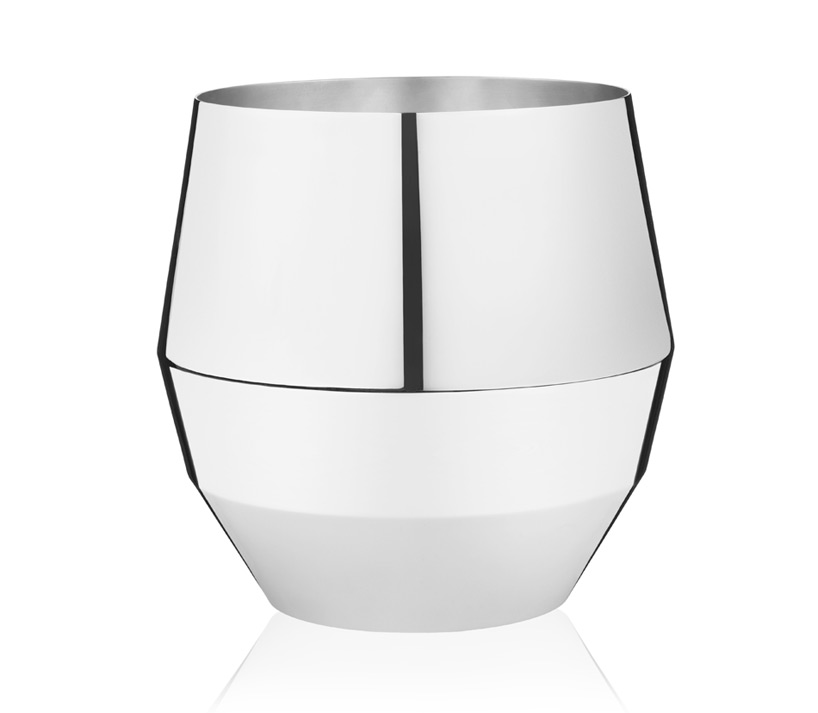 champagne bucket
image courtesy of puiforcat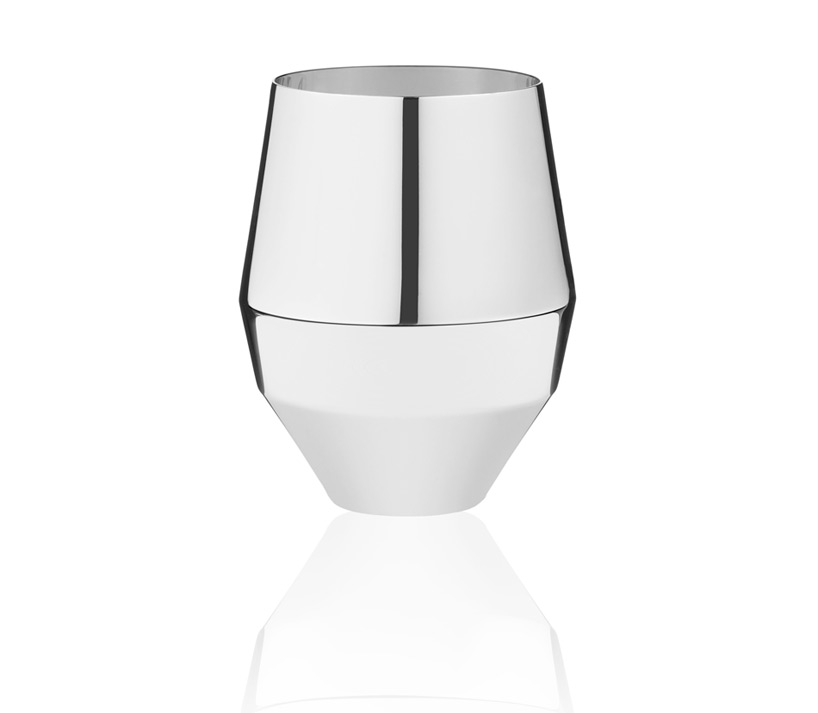 water tumbler
image courtesy of puiforcat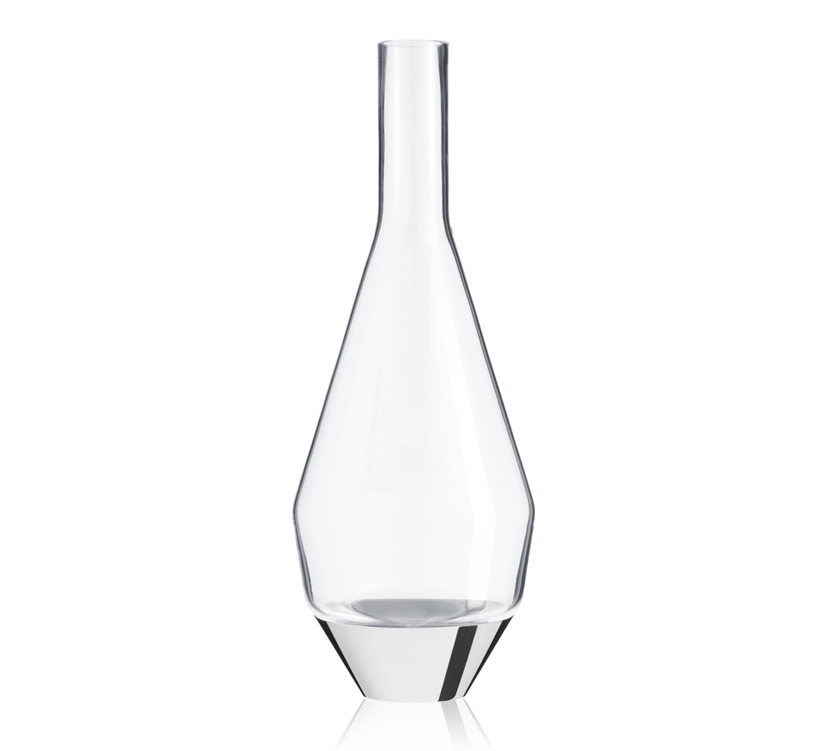 wine decanter
image courtesy of puiforcat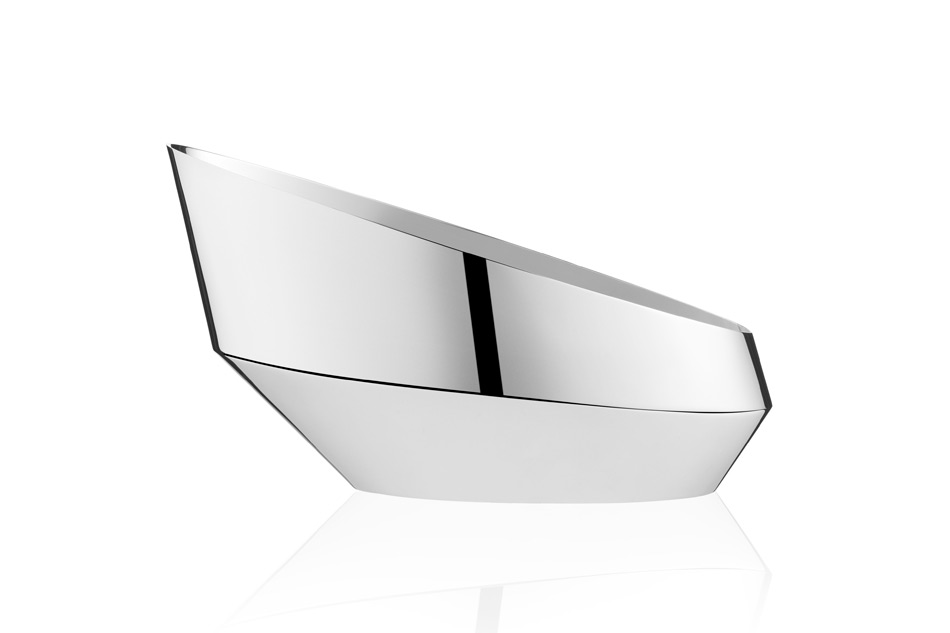 wine server
image courtesy of puiforcat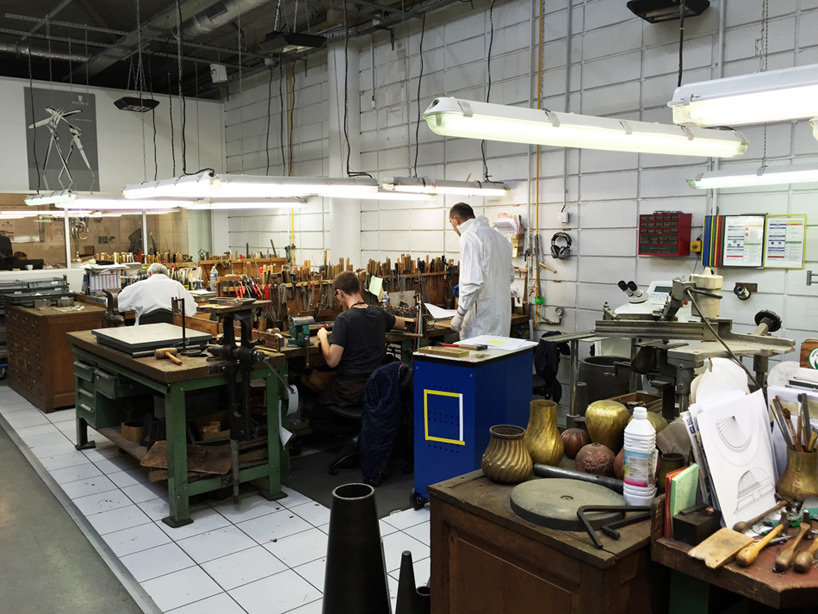 inside the puiforcat atelier in paris
image © designboom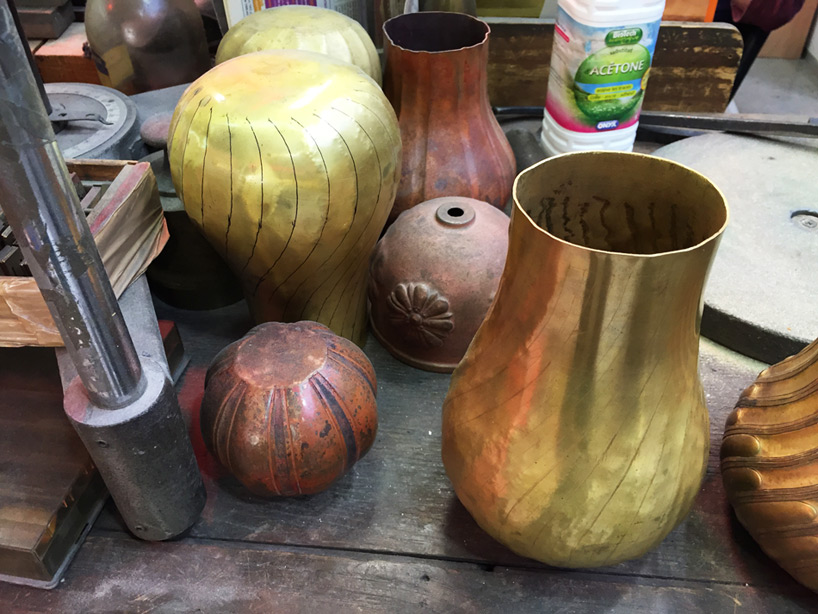 up close look at some vessels in the silversmithing manufacture
image © designboom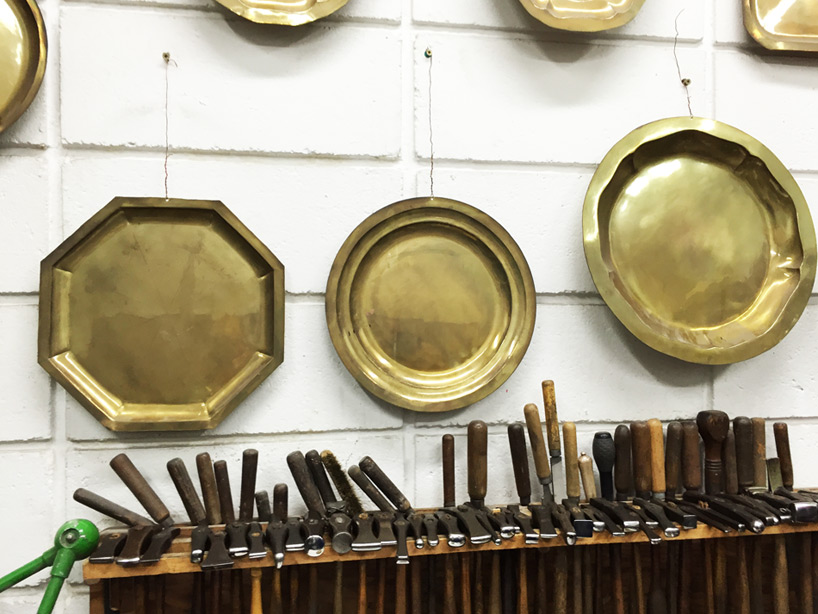 puiforcat trays representing three different time periods – baroque, art nouveau, art deco – exhibit the handcrafted details of the atelier's expertise in silversmithing. planishing is the first step in forming dishes and trays from a flat silver sheet. this process consists of stretching the metal with more than 300 different mallets (hammers).
image © designboom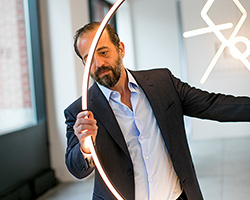 jan 22, 2020
jan 22, 2020
sep 22, 2019
sep 22, 2019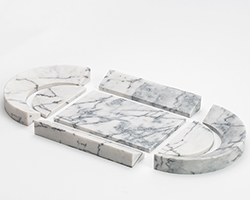 jun 09, 2019
jun 09, 2019
may 21, 2019
may 21, 2019
mar 24, 2019
mar 24, 2019
feb 12, 2019
feb 12, 2019
jun 08, 2011
jun 08, 2011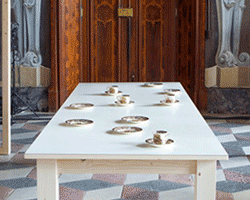 may 24, 2019
may 24, 2019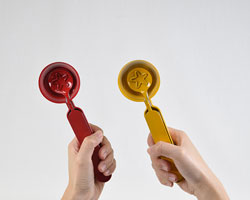 feb 21, 2019
feb 21, 2019
jan 30, 2019
jan 30, 2019
a diverse digital database that acts as a valuable guide in gaining insight and information about a product directly from the manufacturer, and serves as a rich reference point in developing a project or scheme.