feb 12, 2015
die-cast + extruded aluminium define michael young's otto stool and dub pendants for EOQ
die-cast + extruded aluminium define michael young's otto stool and dub pendants for EOQ
michael young's design practice is deeply embedded in exploring traditional manufacturing techniques and pushing them to new limits. the latest of his collaboration with hong kong brand EOQ sees the british-born creative utilizing die-cast and extruded aluminium to form his 'otto' stools and 'dub' pendant lights.

small 'dub' pendant in grey-amber
as a natural evolution of his previous 'joseph' lighting series developed for EOQ, young utilizes aluminium extrusions with the 'dub' pendant collection. commencing with the same raw extrusion as in the past, on this occasion he has instead sculpted the metal into softer forms, removing much of the material. this is then encased in a hand-blown glass vessel, produced in the czech republic — combining industrial engineering with artisanal glass shades. the 'dub' pendants are available in three sizes (small: D 110mm x H 177mm; medium: D 277mm x H 152mm; large: D 277mm x H 388mm) in five standard anodized colors; while the glass diffusers are available in three. these can be mixed in various combinations.

large 'dub' pendant' in grey-green

'otto' bar stool in silver-walnut
'otto' by michael young is made from a die-cast aluminium seat, that can unusually be perfectly anondized in any color. the metal component is paired with warm walnut or oak legs, bringing forth a seat that offers both the flexibility in terms of the multitude of color options available, along with its resilience to heavy use as a result of its robust materials.
both the 'otto' stool and 'dub' pendant lighting were presented at maison&objet 2015 in paris.

various color combinations of the 'dub' bar stool

'otto' low stool in copper-oak

'otto' low stool in silver-oak

'dub' pendant lights presented at the EOQ stand during maison&objet 2015 in paris
image © designboom

detail of the 'dub' pendant's aluminium extrusion
image © designboom

worm's-eye view of the aluminium extruded and glass blown 'dub' lamps
image © designboom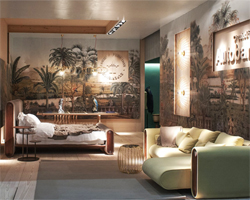 feb 13, 2015
feb 13, 2015
feb 10, 2015
feb 10, 2015
feb 09, 2015
feb 09, 2015
feb 02, 2015
feb 02, 2015
jan 29, 2015
jan 29, 2015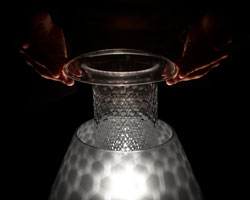 jan 28, 2015
jan 28, 2015
sep 17, 2017
sep 17, 2017
mar 08, 2017
mar 08, 2017
feb 18, 2017
feb 18, 2017