apr 17, 2011
michael young: trussardi 100 collection
'100 coffee table' and '100 chair', part of the '100 collection' designed for trussardi by michael young image © designboom
with strong but organic-looking lines and detailing modeled after historical trussardi editions, the '100 collection', created by british-born, hong kong -based designer michael young for the 100th anniversary of the company, effects a balance between the eastern and western worlds.
'100 chair' image © designboom
composed in editions of either plastic or wood covered with pleated leather, the '100 chair' draws its design from the chairs that trussardi produced in the mid-1990s for the airline alitalia. the form, in which curved edges are contrasted with vertical lines and horizontal pleats, is elongated in the '100 bench' of the same materials.
'100 chair' and '100 coffee table' image © designboom
detail on '100 coffee table' image © designboom
the sides of the rounded '100 coffee table' are covered in the same stitched pleating as the '100 chairs'. its base, composed of ceramic and plastic, features an interpretation of the detailing of trussardi handbags in the 1980s and 1990s.
'100 table' pictured with '100 chairs' image © designboom
the '100 table' features a base of either wood or plastic, hand-covered with leather stitched with visible seams.
side view image © designboom
detail of chair image © designboom
'100 stool' image © designboom
three pieces form the '100 stool' collection, which are conceptualized in form as departures from chinese lanterns. the stools are made of plastic and ceramic, featuring the same detailing as the coffee table, and are likewise covered in pleated leather.
two pieces in the '100 stool' collection, whose shapes are modeled after chinese lanterns image © designboom
installation view during milan design week 2011, with part of young's 'links' installation visible in the background image © designboom
the leather pleating in the collection is drawn from the chairs trussardi produced for alitalia in the mid-1990's, on display alongside the new pieces image © designboom
based on contemporary asian silhouettes but featuring trussardi's artisan italian leatherwork, the collection as a whole is meant to enact a dialogue between eastern and western design, as well as between the design process and its mode of technical production.
the pieces are on display during milan design week 2011, accompanied by scaled works of michael young's modular installation on exhibition in the square outside the trussardi storefront. the sculpture is an assemblage of gilt aluminum 'links' that can be reconfigured in innumerable ways, which outside envelopes and extends around a statue of leonardo da vinci, and in the storefront climbs some of the interior poles or stands freely on the floor.
designer michael young, pictured during milan design week 2011 with the city's duomo in the background portrait © designboom
sep 17, 2017
sep 17, 2017
mar 08, 2017
mar 08, 2017
feb 18, 2017
feb 18, 2017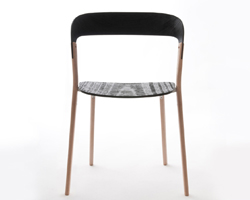 apr 07, 2012
apr 07, 2012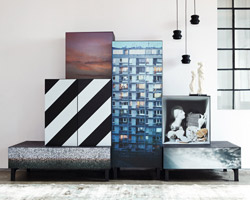 mar 21, 2012
mar 21, 2012
jul 16, 2011
jul 16, 2011