debuting at biennale interieur 2016, the clip-on marble shelf designed by michael young for belgian natural stone experts van den weghe draws from the studio's craft skills and techniques. created as part of a limited edition series made in pierre de vals stone, the piece follows the tradition of workmanship adopted at the firm's kortrijk workshops in belgium, and underscores its interest in practicing traditional craft.

'stone shelf' debuted at the biennale interieur 2016
all photos by piet albert goethals / courtesy of michael young studio
michael young's 'stone shelf' for van den weghe is comprised of cool grey stone slab that takes on a 7.5° taper as it extends outwards from the wall. the marble is precisely fixed to three small wedges that fasten to the wall, locking into the stone using only gravity. the technique draws from woodworking practices, mimicking the methodology of dovetail joints and their ability to create a great deal of strength and resistance without the use of screws or fasteners. a synthesis of technology, art and craftsmanship, the shelf's debut at biennale interieur 2016 marks its first exhibition, and will soon be made available in a variety of different stones found across europe.

the clip-on marble shelf draws from michael young's craft skills and techniques

the piece follows the tradition of workmanship adopted at the studio's kortrijk workshops in belgium

a cool grey stone slab takes on a 7.5° taper as it extends outwards from the wall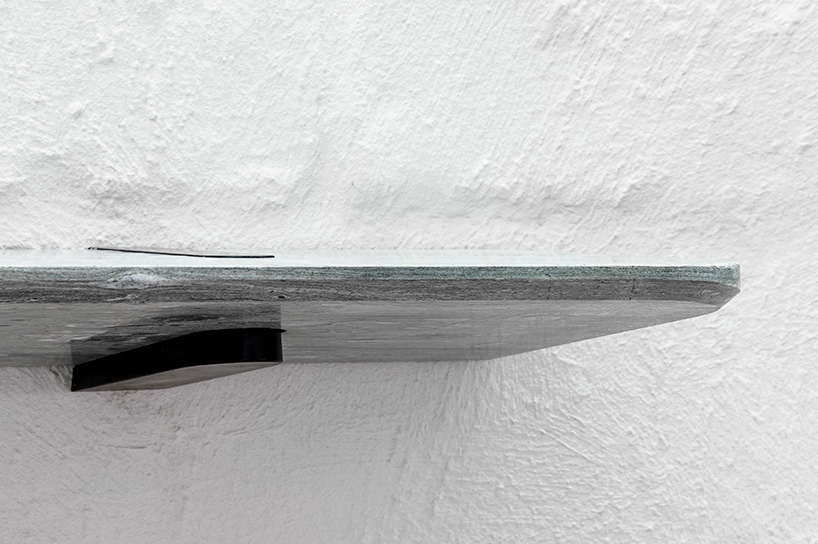 the marble is precisely fixed to three small wedges that fasten to the wall, locking into the stone using only gravity

the technique draws from woodworking practices, mimicking the methodology of dovetail joints
Save
nov 29, 2016
nov 29, 2016
oct 29, 2016
oct 29, 2016
oct 27, 2016
oct 27, 2016
oct 26, 2016
oct 26, 2016
oct 24, 2016
oct 24, 2016
oct 22, 2016
oct 22, 2016
sep 17, 2017
sep 17, 2017
mar 08, 2017
mar 08, 2017
mar 16, 2016
mar 16, 2016
feb 03, 2016
feb 03, 2016
dec 18, 2015
dec 18, 2015