mar 16, 2011
mika barr: folding A part
close-up of leaf-like 3D fabric
'folding A-part' is a project that deals with print as an outline to fabric's structure. an exploration and research performed by israeli-based mika barr, the development is a series of textiles that fold, fracture and turn in three-dimensional ways, derived from a flat printed pattern.
full view of leaf-like 3D fabric
the initial interest for the project came from barr's research into the relation between geometrics and organics, and her observation of flowers and different structures in nature, exploring the relationship between printed material itself and the image it creates. this investigation evolved into a textile manufacturing process in which a 2D image defines the dropping and folding of fabric. the light and elastic textiles are hand-dyed and then screen printed with an inflexible material that indicates the fabric's movement, creating a new, three-dimensional textile structure. while 'folding A-part' is hand-made (dyed and printed), the technique has been transferred into industrial production through barr's studio. besides forming sculptural elements, the textiles can be designated for use in various fields including furniture.
the fabrics are screen printed with an inflexible material that indicates the fabric's movement
'folding A-part' is on show as part of the 'promisedesign: new design from israel' exhibition curated by ely rozenberg presented at milan design week 2011.
detail of the folds and fractures
geometric-patterend 3D fabric
full view of the polygonal structure of the fabric
all fabrics are hand-dyed
detail
3D floral sample
print sample
polygonal sample
designboom has received this project from our 'DIY submissions' feature, where we welcome our readers to submit their own work for publication we have already acquired many submissions, so keep on the lookout for more of your projects to be published in the coming days!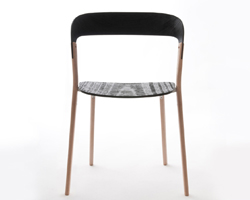 apr 07, 2012
apr 07, 2012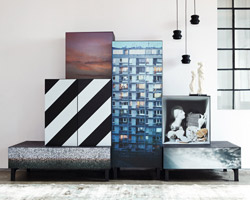 mar 21, 2012
mar 21, 2012
jul 16, 2011
jul 16, 2011