jul 02, 2012
mind design: poopoo strategy
poopoo strategy by minddesign
mind design take a satirical look at the increasing importance of 'strategy'.
— holger jacobs told designboom more about the new service on offer:
'so far we have been doing design without any thinking at all. our work had no purpose and no direction, it just miraculously materialised. things have changed. now we also offer STRATEGY (!!!) to our clients. we wear nice clean shirts and talk a lot, using all the latest marketing buzzwords (don't worry if you don't understand them, we don't understand them either).'
we have the biggest flip charts, order new stacks of post-its on a weekly basis, we organise holistic client workshops, spoil our focus groups with luxurious lunches, produce highly impressive powerpoint presentations, convincing diagrams and technically advanced logo construction drawings.
we offer the full programme! enjoy the ride through our process! 100% boardroom satisfaction guaranteed. obviously we will charge you for it — shit loads.'
logos
(186 articles)
sep 22, 2016
sep 22, 2016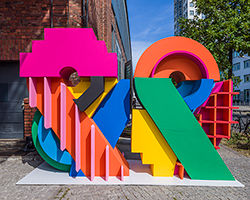 sep 10, 2016
sep 10, 2016
may 20, 2016
may 20, 2016
jul 20, 2012
jul 20, 2012