MINI LIVING's urban cabin continues its global tour at the los angeles design festival 2018, following installations in london and new york in 2017.
to create maximum quality of life on a small footprint is once again at the center of the concept. additionally, the aim of every cabin is to reflect the city its located in. the MINI LIVING urban cabin for LA focuses on the city's strong connection to nature. it features a much more open design, literally and conceptually, as well as unique and site-specific characteristics.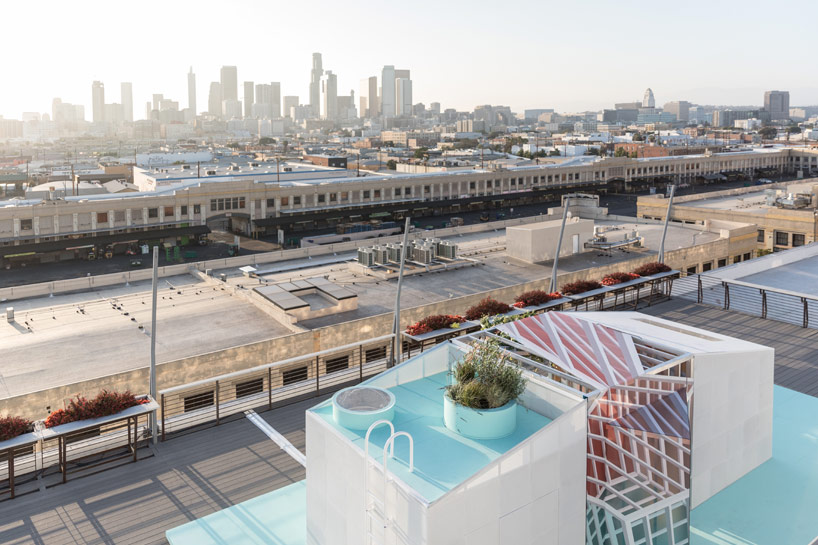 all images courtesy of MINI LIVING
atop an unused roof in downtown LA, the MINI LIVING urban cabin once more showcases a creative use of space through an incredibly high degree of flexibility. the micro-home does so by connecting itself with its urban surroundings. it is made of three formal elements, all with a façade of perforated metal. together with portholes cut into the interior's wooden walls, light shines through and transforms the inside during the day whilst reversing at night to enable the cabin to glow outwards through these small spotlights.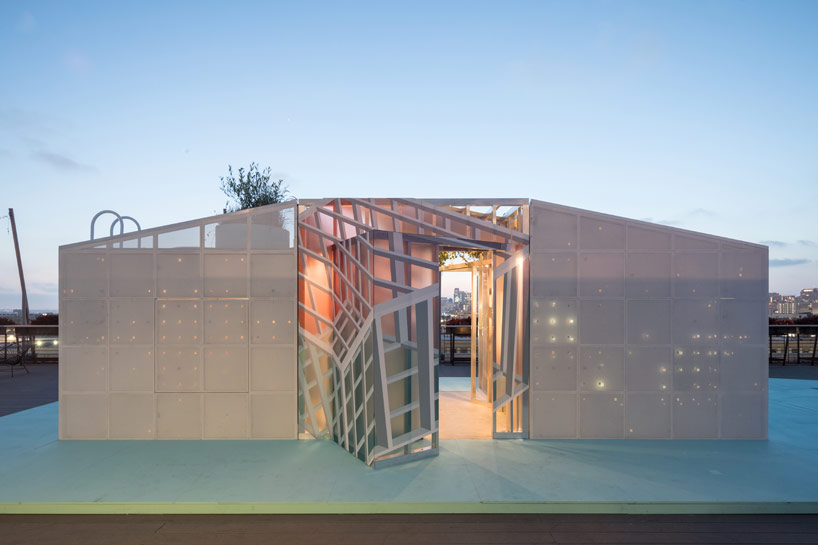 the cabin's connection to the environment also lends itself to its sharing spirit. pieces of its walls open, slide, and rotate to expose the interior outwards, connect the inhabitants to their surroundings, and create meeting points. this includes a rotating table in the living and sleeping room, and a window in the kitchen and bathroom. the latter feature helps adapt the private space into a shared one, depending on the occasion, and give the opportunity to enlarge the rooms if needed.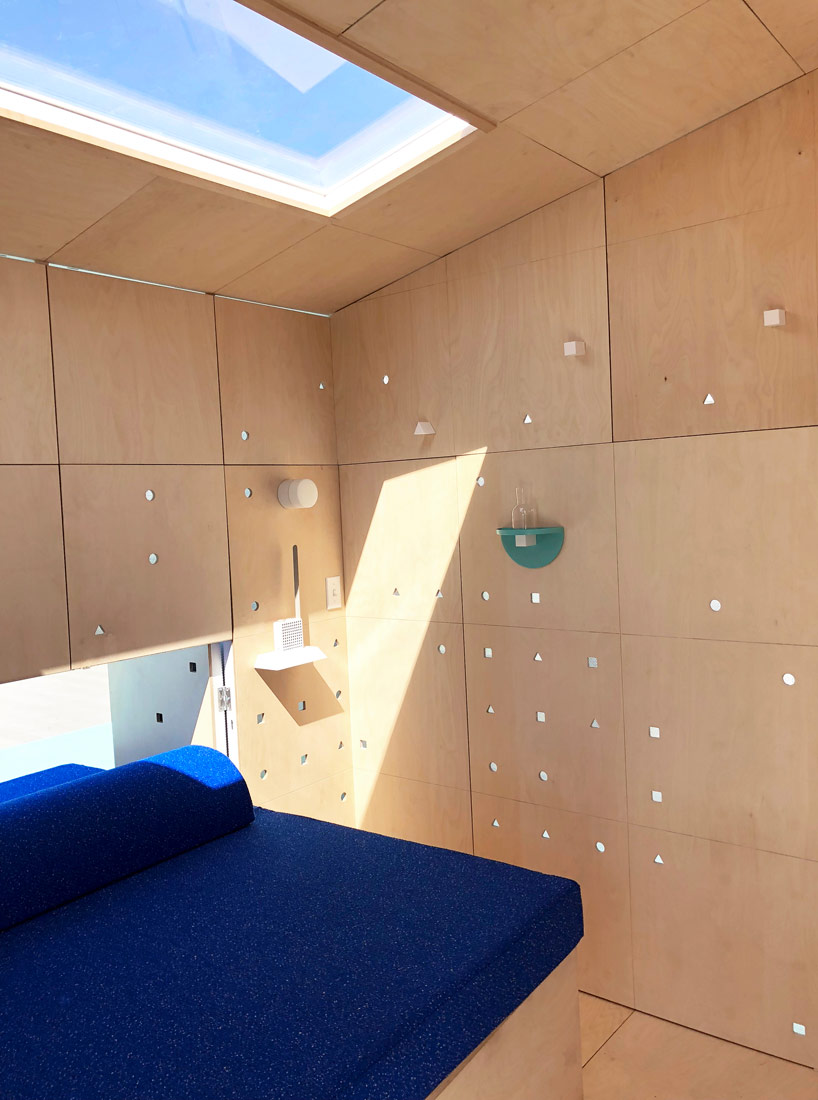 image © designboom
in between the two modules designed by the MINI LIVING team, freelandbuck, a locally-based architecture studio, positions an experiential space that enlarges the whole cabin, externally and internally, through an optical illusion. two nested cubes with an open framed structure is cladded with panels printed with patterns. these create a kaleidoscopic effect that, with a spectrum of colors, responds uniquely to sunlight and thus creating one-off experiences based on the viewer's perspective. the panels seem to merge into the sky, making the space seem infinite, and connecting users to the outside. this is further strengthened through hanging gardens that figuratively bring nature to the heart of the city.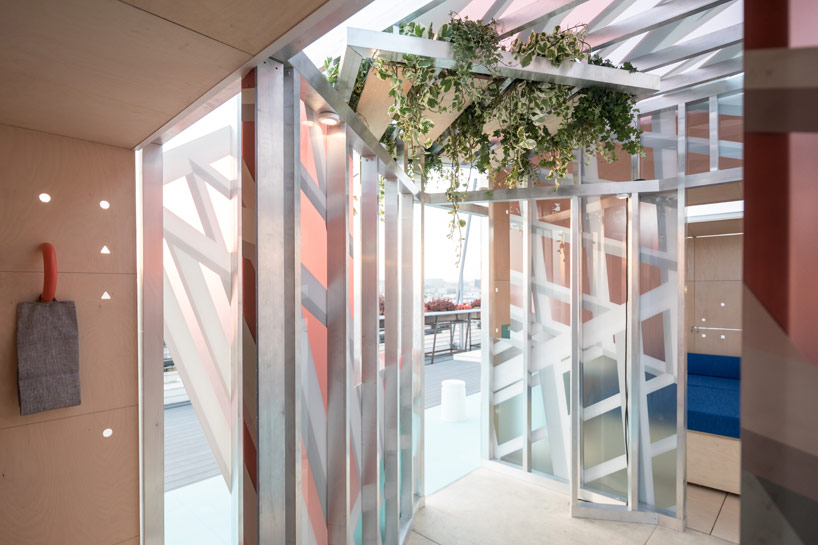 at the los angeles stop of the MINI LIVING urban cabin tour, designboom interviewed the leading creatives involved in the los angeles edition. oke hauser, creative lead MINI LIVING; corinna natter, designer at MINI LIVING; and david freeland, principle architect of freelandbuck los angeles, all delved into the unique character of their design, how it creatively expands small spaces, and, most importantly, the living experience they created.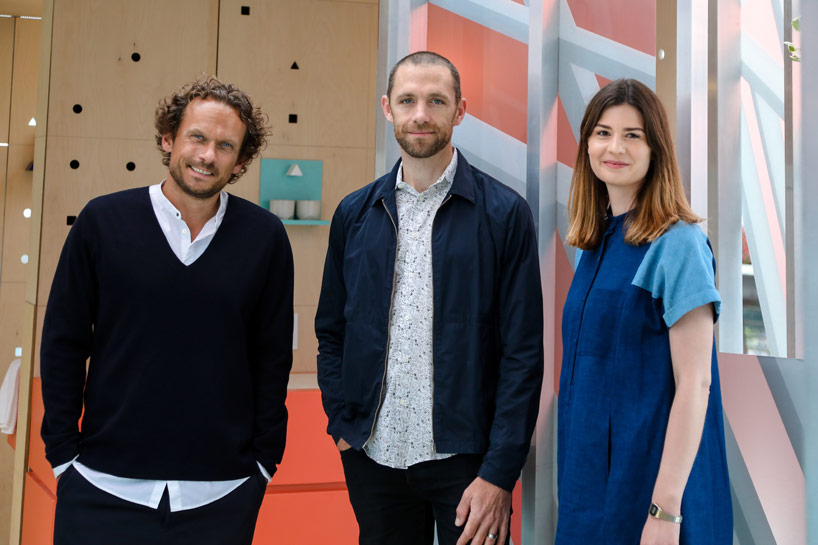 (from left to right) oke hauser, david freeland,  and corinna natter
designboom (DB): firstly, what is the MINI LIVING urban cabin project?
oke hauser (OH): our urban cabin concept challenges the ways in which empty urban spaces can be transformed into inhabitable places on a small footprint. this project, first started in 2017 in london, was then followed with a stop in new york, and now we have presented our third installment during the 2018 los angeles design festival. each one explores a design approach that is specific to the city and site we place them in.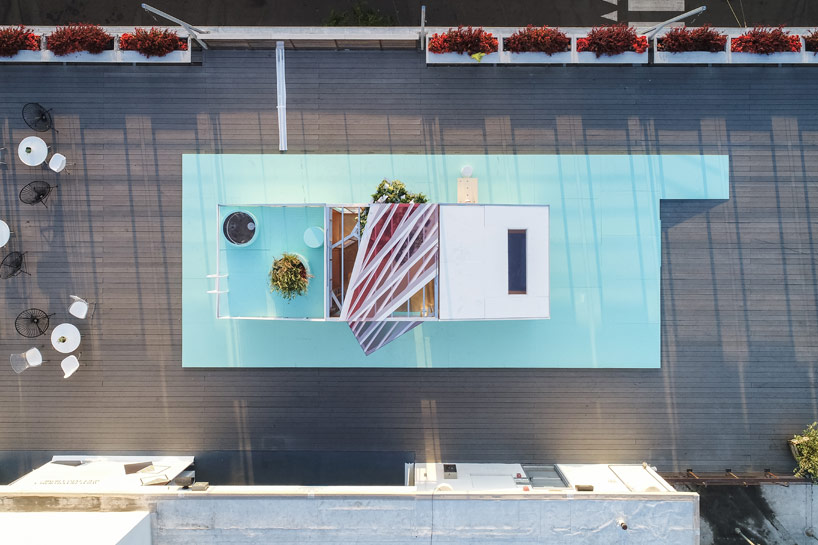 DB: what makes the urban cabin in los angeles unique?
OH: we have created a much more open design, as the people in los angeles love the outdoors, the sun and its blue sky. this aspect of nature has been enhanced through the cabin's use of light, open sections and greenery. as a result, it connects the inhabitants to the natural environment even though they are still in the heart of the city.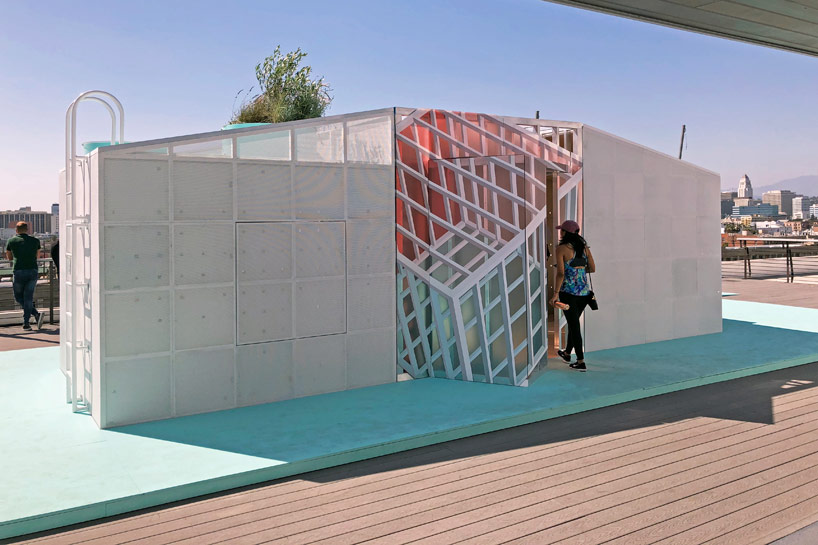 image © designboom
DB: for each urban cabin, MINI LIVING collaborates with a local architect. on this occasion, why was freelandbuck's design chosen?
david freeland (DF): we were selected due to our understanding of the type of experience MINI LIVING wished to create. our section's exterior interface creates a bridge between the inside and out through how it plays with qualities of light. the result is an experience room that amazes viewers and extends the functionality of MINI LIVING's urban cabin design.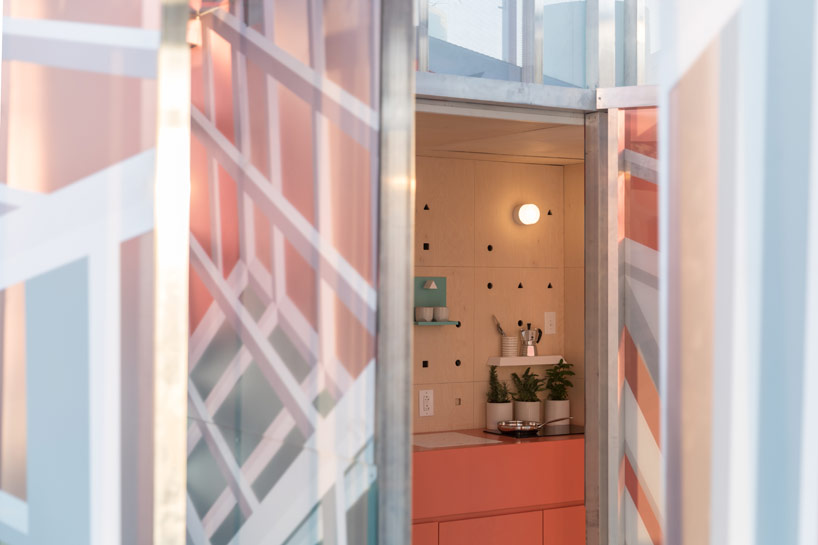 DB: in what ways does the experience room enhance the natural attributes of los angeles?
DF: the colors we used were selected in relation to the hues of the sky and the city's sunlight. these tones were printed on the panels to create a kaleidoscopic interior, which is constantly changing with the different qualities of light. at various times of the day, the interior's walls can blend into the sky or sunset to create a very dynamic experience.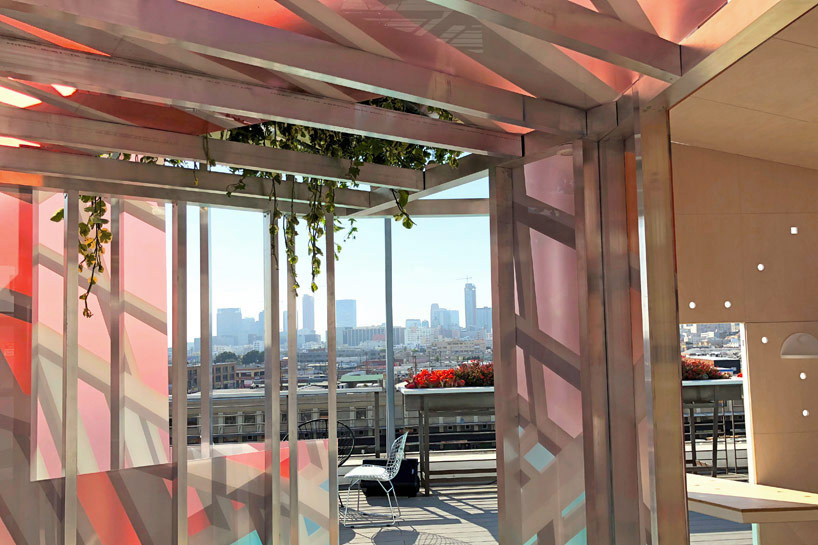 image © designboom
DB: how does the urban cabin's living space incorporate shared living?
corinna natter (CN): the living area truly showcases the cabin's ability to transform from a private space to a shared one through many details. it features a bed that can slide inside and out to become a day bed, sofa or simply a place to sleep under the stars. part of the wall also swings open on a horizontal axis to create a table where friends can e.g. share a meal.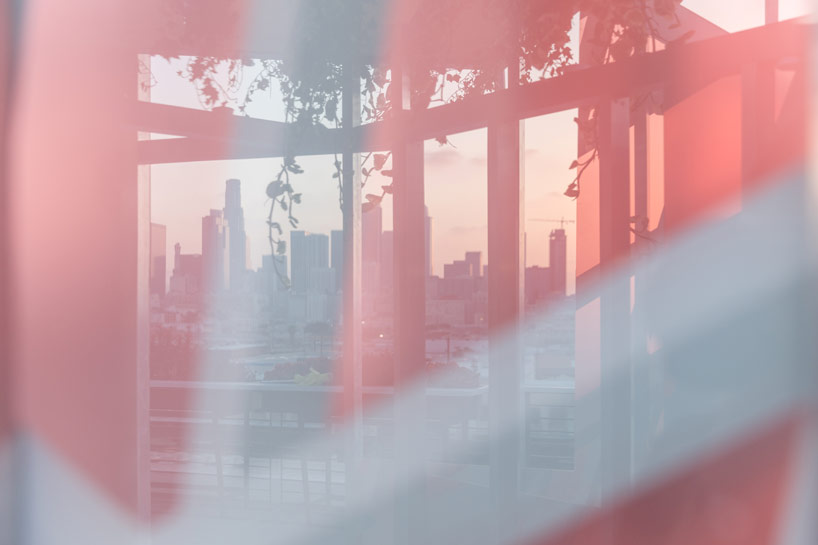 DB: as well as the experience room, in what ways does the rest of the interior play with elements of light?
CN: the interior walls are sporadically lined with geometric holes that play with light, as well as fit pegs that items can hang from. during the day, these holes create changing reflections upon the floor, walls and furnishings. however, during the evening, the lights inside shine back through the facade to create an exterior of speckled spotlights. the perforated facade creates this dual inside-outside aspect, which, once again, connects the cabin's inhabitants to the city and vice-versa.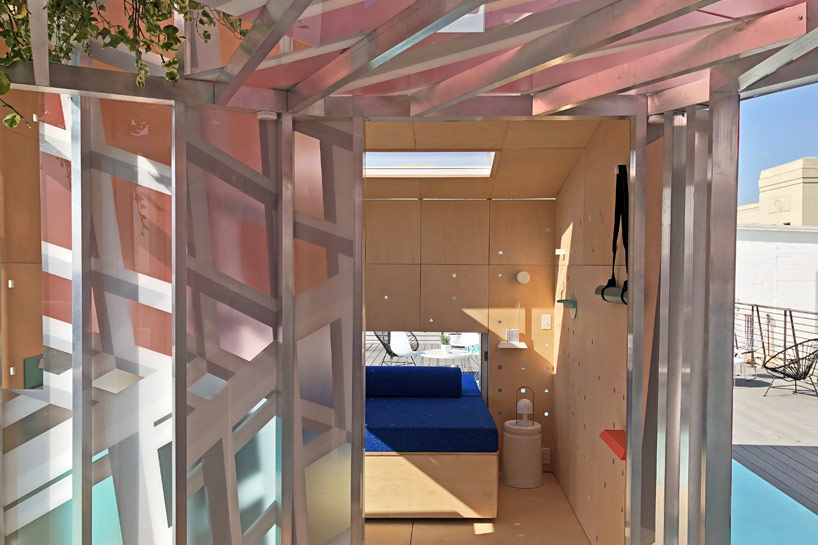 image © designboom
DB: is the kitchen and bathroom space as adaptable as the living room?
CN: there are also transformative moments in the kitchen / bathroom area, but it is mainly a very functional space. as well as the pegs that hold utensils, it features a window that, like the table in the living space, swings open but on a vertical axis. it can be turned 180 degrees to really connect the kitchen to the outside, make it bigger, and enable the inhabitant to experience everything that's happening around the cabin.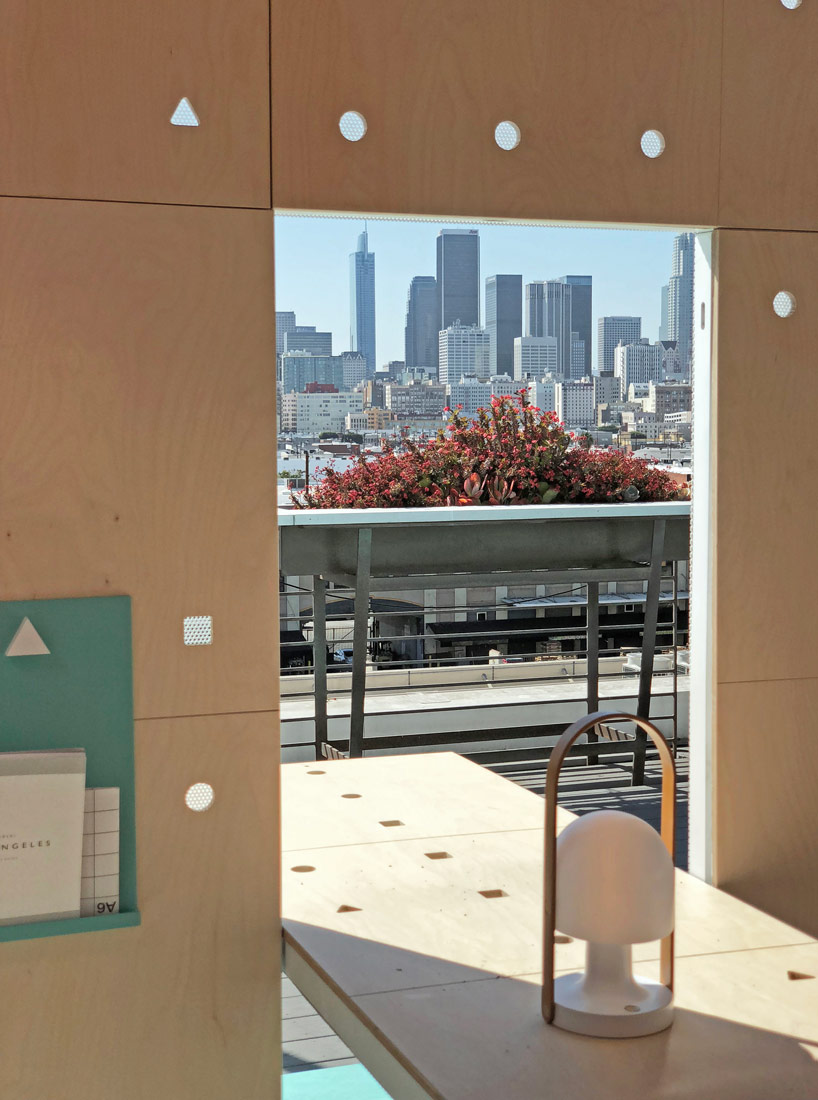 image © designboom
DB: what can readers expect to see from MINI LIVING's future urban cabins?
OH: los angeles was the third stop for our global urban cabin tour. afterwards, we will be in beijing and then tokyo, where we will explore two completely unique designs along the theme of creative use of space. intriguingly, all these cabins will explore themes that will later be implemented in our first MINI LIVING co-living hub in shanghai, opening in april 2019.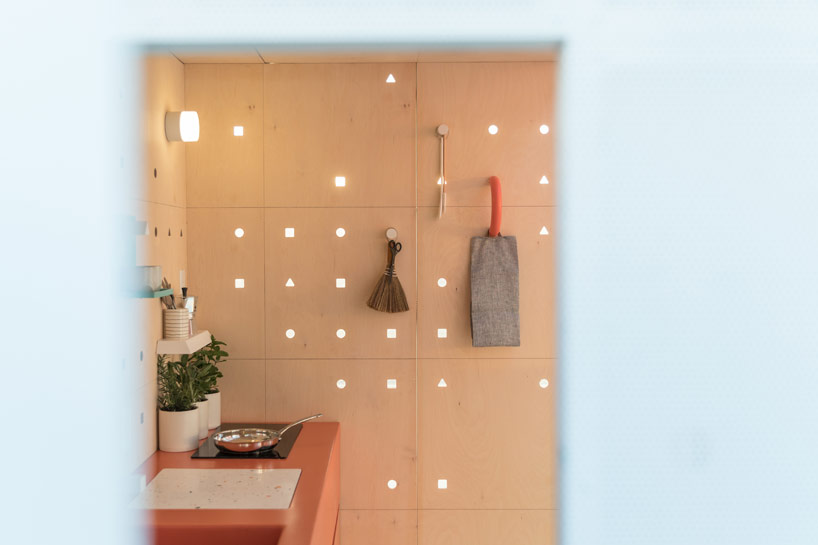 nov 28, 2018
nov 28, 2018
nov 28, 2018
nov 28, 2018
nov 23, 2018
nov 23, 2018
nov 09, 2018
nov 09, 2018
nov 08, 2018
nov 08, 2018
nov 05, 2018
nov 05, 2018
dec 03, 2018
dec 03, 2018
nov 28, 2018
nov 28, 2018
nov 23, 2018
nov 23, 2018
sep 06, 2018
sep 06, 2018
jun 08, 2018
jun 08, 2018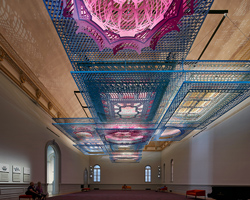 nov 10, 2017
nov 10, 2017
MINI
(55 articles)
jun 11, 2018
jun 11, 2018
jun 08, 2018
jun 08, 2018
may 12, 2018
may 12, 2018
oct 30, 2018
oct 30, 2018
oct 02, 2018
oct 02, 2018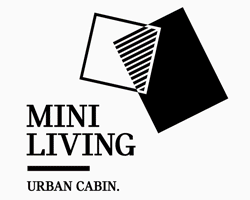 sep 26, 2018
sep 26, 2018
nov 23, 2018
nov 23, 2018
nov 22, 2018
nov 22, 2018
nov 14, 2018
nov 14, 2018
a diverse digital database that acts as a valuable guide in gaining insight and information about a product directly from the manufacturer, and serves as a rich reference point in developing a project or scheme.