since 1959, MINI has transformed the way people live in cities. MINI LIVING enhances the same core principles from the famed automobile – creative use of space, iconic design and a fun experience – and applies them to architecture in order to maximize living space on a tiny scale. this big life on a small footprint idea has been exemplified by their urban cabin tour. this year-long initiative saw them create a global village of modular, 15-square-meter micro-apartments in london, new york, los angeles and beijing. each one featured the mainstays of a home – a kitchen, bathroom and, most importantly, a living room – but still differed distinctly from one another. for each urban cabin a local architect was invited to collaborate, share knowledge of their city, and help shape a home of the future for its people.
from london in september 2017 to beijing a year later, designboom takes a tour of MINI LIVING's four urban cabins.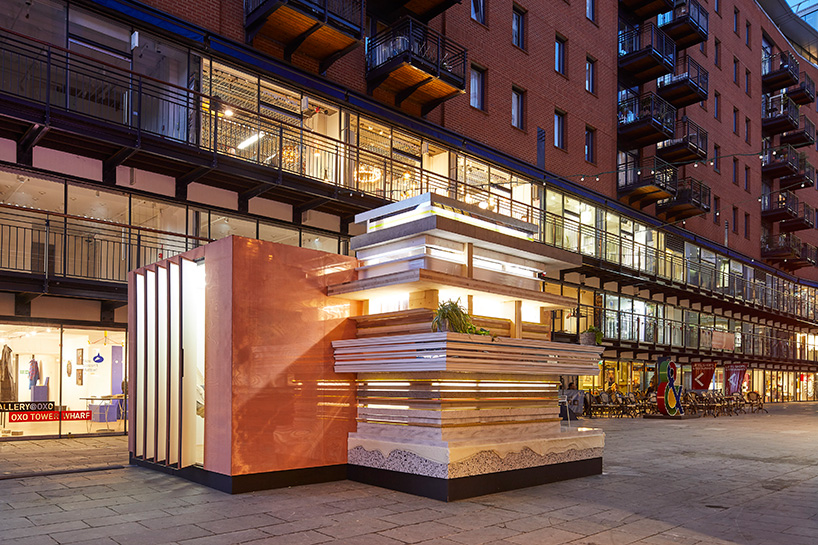 all images courtesy of MINI LIVING
during london design festival 2017, MINI LIVING's first urban cabin created a space for cultural conversation within the community. the home, located on the southbank, was composed of two modules: a shared kitchen/living room and a micro-library. inspired by the food markets of the city, the kitchen was wrapped in an exterior of copper cladding that reflected the rich, warm and ever-changing contrasts of the surroundings. inside, it featured many modular design elements that encouraged interaction such as the pull-out table and rotating windowpanes.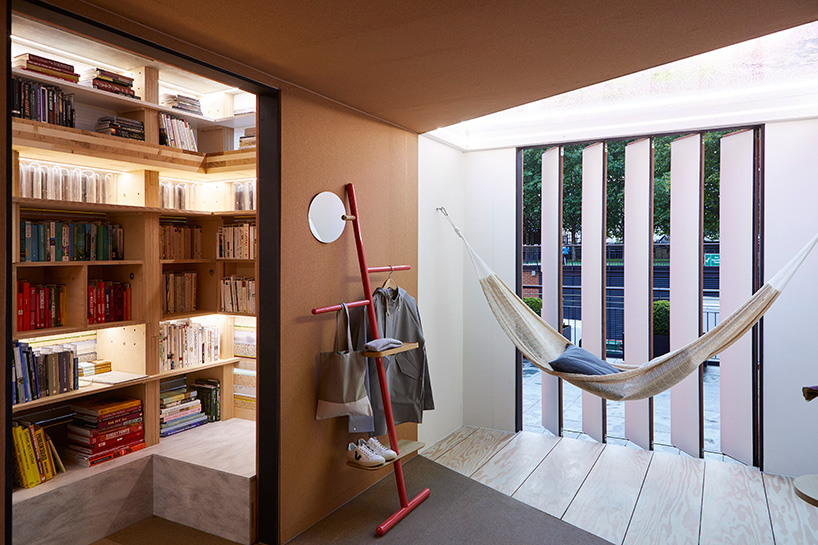 the urban cabin's wooden micro-library was a distinct addition created in collaboration with sam jacob studio, who was alarmed at the reducing number of public libraries in london. as spaces of knowledge, cultural exchange and building relationships, the design aimed to resurrect the experience of libraries. visitors were welcomed into the space to learn from the collection's mixture of modern design books and timeless classics, as well as to exchange books with the general public.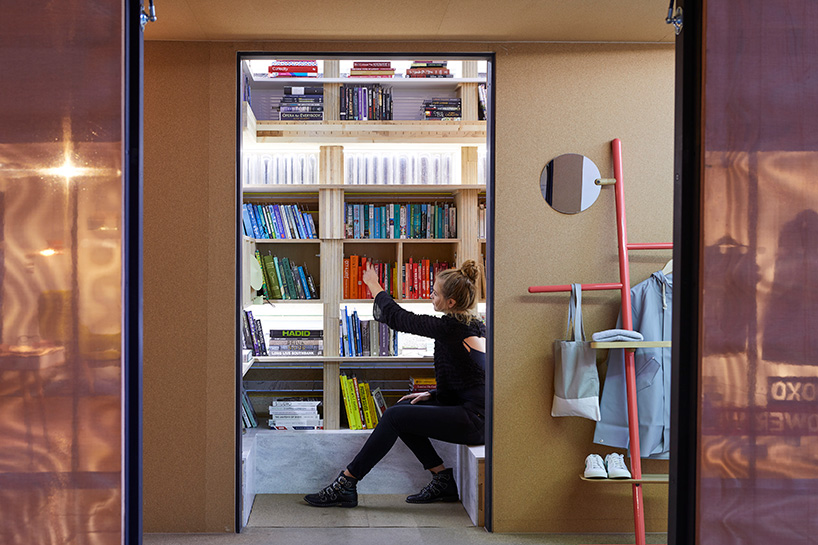 MINI LIVING urban cabin in new york with bureau V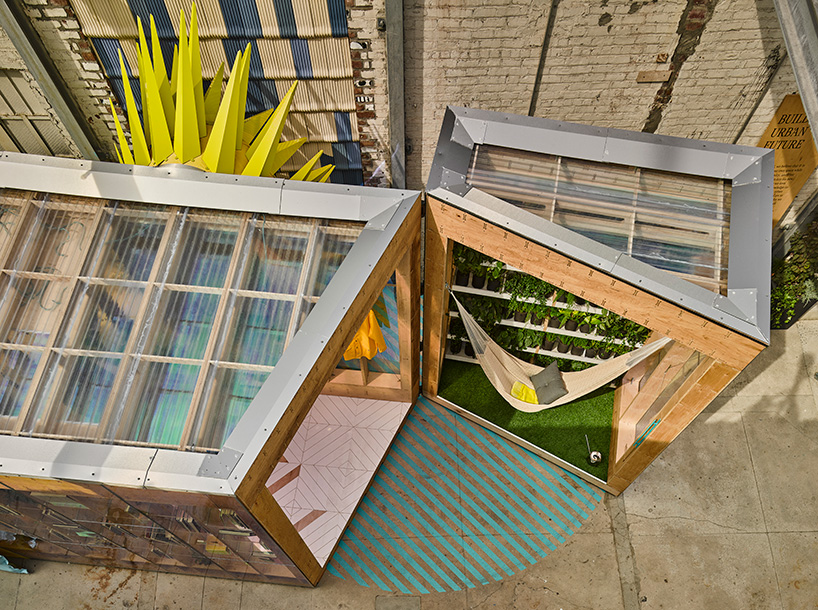 as MINI's dedicated space for exploring new boundaries in design, A/D/O in brooklyn, new york was the location for the second urban cabin. placed within an outdoor courtyard, the space was able to fit two people in a design of timber and transparent materials. the concept aimed to reflect new york's diversity and how home is a place for all people, no matter your background.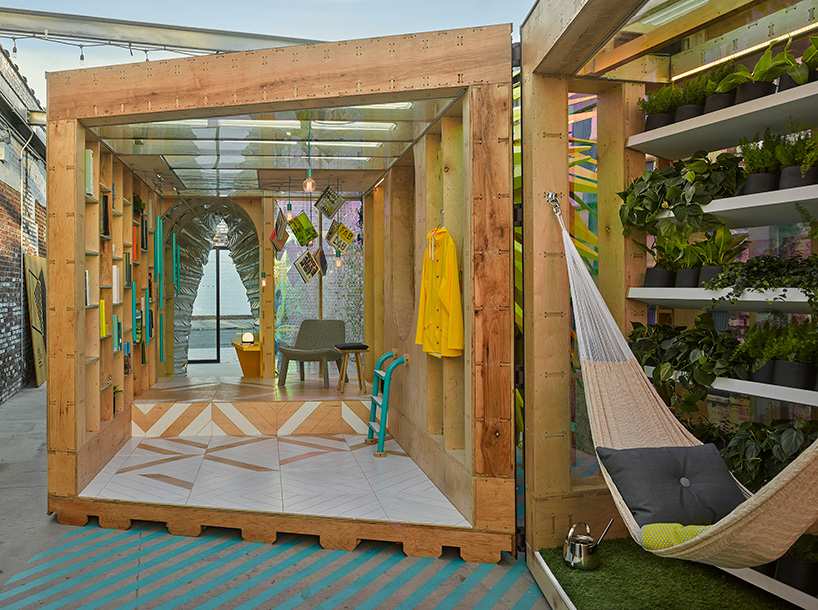 as people moved within the urban cabin, the design played with the angle of vision. created in collaboration with bureau V, transformational aspects enabled both moments of privacy and interactions with the outside world. as well, expressively-colored combinations of assertive and rigid forms supported this dynamism whilst adding a dose of humor. this feel-good factor aimed to highlight the importance of well-being to visitors at A/D/O.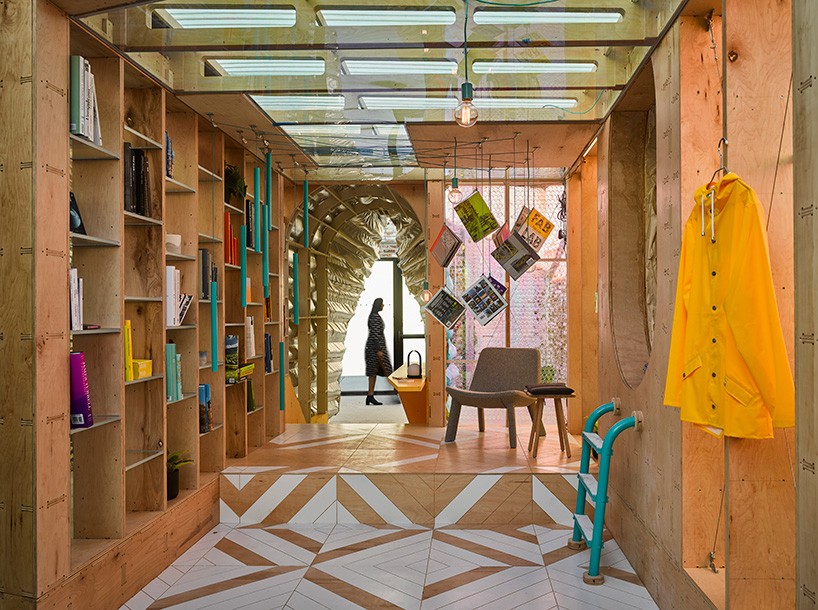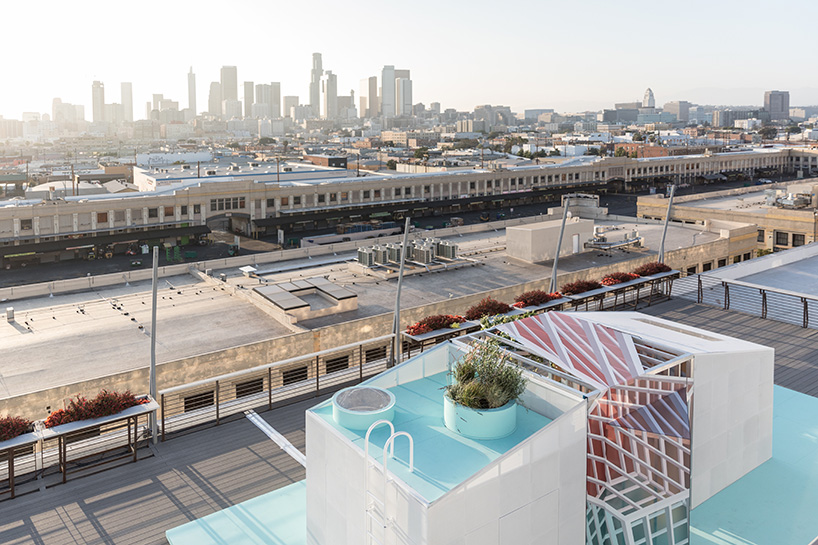 bathed in the californian sun, the third MINI LIVING urban cabin enhanced an unused rooftop in downtown los angeles. it was configured of three formal elements: a living and sleeping area on one side, a bathroom and kitchen on the other, and an experiential space in the middle. the two MINI LIVING designed sections were cladded in a perforated metal facade that changed in transparency, lighting and character throughout the day. they also featured space saving solutions that pushed, folded and rotated to accommodate various use scenarios, such as the rotating windows and bed that could be pulled outside.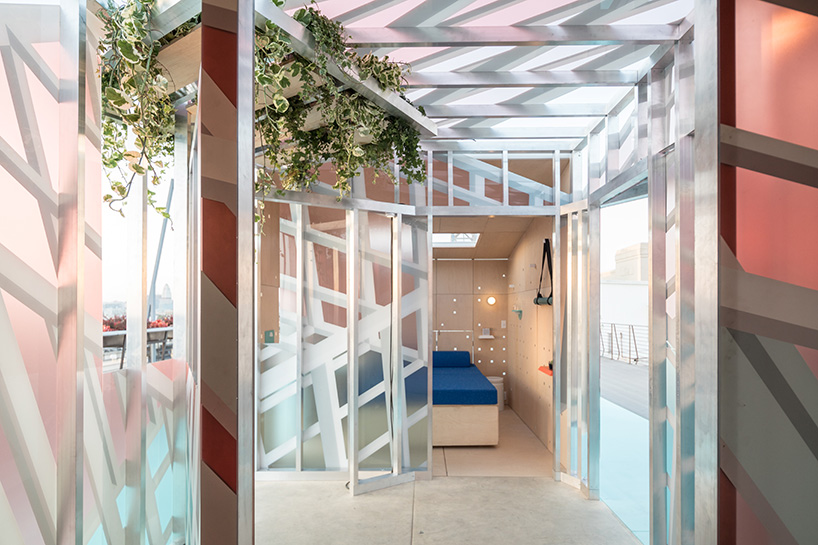 the urban cabin's middle section was created in collaboration with local architecture studio freelandbuck. with a kaleidoscopic print, the experiential space took the form of an installation as it appeared much larger than reality. it interplayed with the changes in weather and created visual illusions. the design, much like the rest of the micro-home, helped merge the boundaries between the inside and outside. this aspect reflected the importance of nature and community to the local way of living.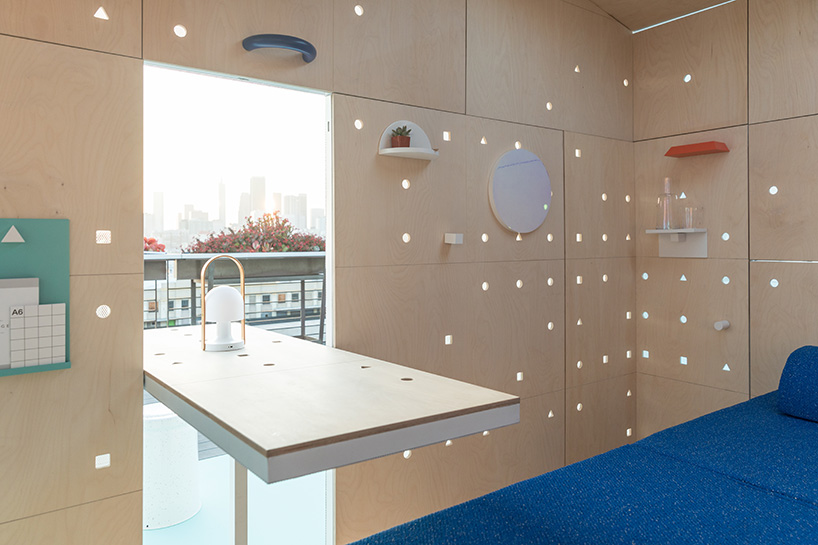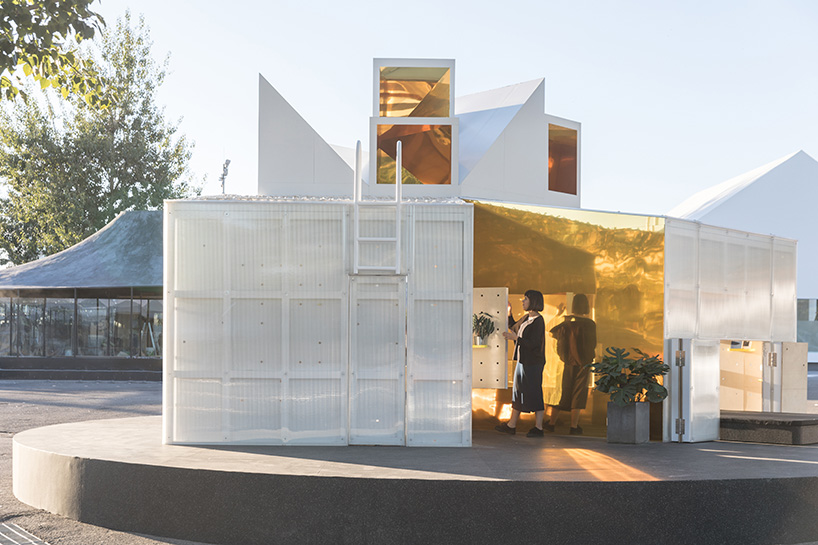 at the china house vision exhibition in beijing, MINI LIVING's urban cabin sourced inspiration from hutongs – the courtyards of traditional housing in the city – to create a new sense of community in homes of the future. the exterior paired clean white forms with golden elements such as the extruded roof. inside, MINI LIVING once again designed the living area and the kitchen and bathroom space. these both demonstrated a large amount of flexibility with solutions that not only saved space but also created areas that could alternate between being shared and private.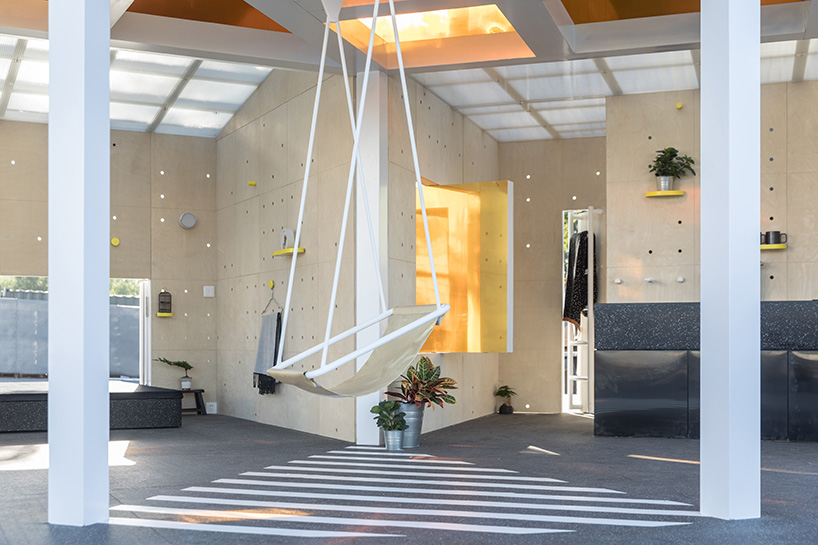 uniting the two functional areas of the urban cabin, MINI LIVING collaborated with dayong sun of penda who created an experiential space based upon the openness of hutong courtyards. this open area connected all parts of the home with the outside and thus the community, who could also play on the swing that was positioned in the center. golden, telescopic mirrors were placed in the ceiling, offering bright reflections of the surroundings and vice versa. in an urban environment that is going through such dramatic changes, the urban cabin importantly visualized a new sense of community on a small footprint.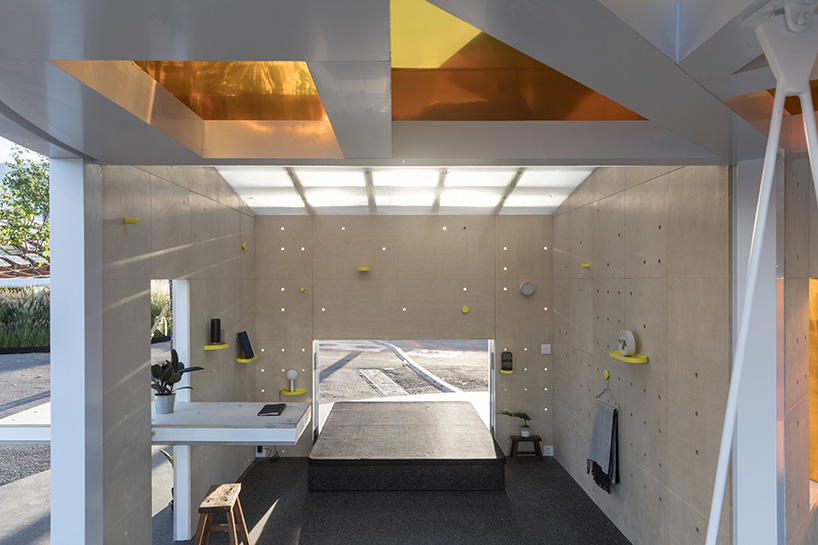 each unique edition of the urban cabin explores a distinctly different theme related to MINI. from small design cues to full colorways, these ideas and the concepts they explore aim to inform MINI LIVING's first permanent building, which will be completed in shanghai in 2019. it will represent one holistic vision of the brand and how they believe architecture can best accommodate for the needs of global urbanites.
jun 03, 2020
jun 03, 2020
jun 03, 2020
jun 03, 2020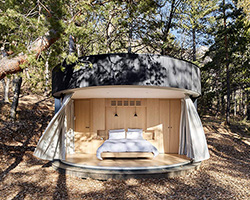 may 26, 2020
may 26, 2020
may 24, 2020
may 24, 2020
may 20, 2020
may 20, 2020
may 12, 2020
may 12, 2020
oct 30, 2018
oct 30, 2018
oct 02, 2018
oct 02, 2018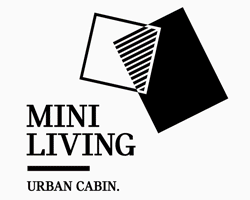 sep 26, 2018
sep 26, 2018
jun 03, 2020
jun 03, 2020
jun 03, 2020
jun 03, 2020
jun 01, 2020
jun 01, 2020
a diverse digital database that acts as a valuable guide in gaining insight and information about a product directly from the manufacturer, and serves as a rich reference point in developing a project or scheme.