apr 24, 2014
mischer'traxler wins 2014 BE OPEN young talent award
mischer'traxler wins 2014 BE OPEN young talent award
(above) 'reversed volumes' bowls by mischer'traxler

on the occasion of milan design week 2014, the winner of the inaugural BE OPEN young talent award was announced at a ceremony hosted within the expo hall of the università degli studi di milano.

'reversed volumes leaves' platters by mischer'traxler
from ten shortlisted winners: elie ahovi (france), anton alvarez (chile), benjamin graindorge (france), philippe malouin (canada), kwangho lee (south korea), humans since 1982 (sweden), daniel rybakken (norway), dennis parren (netherlands) and yuri suzuki (japan); austrian studio mischer'traxler was selected as the recipient of the €24,000 award. mischer'traxler were acknowledged for the potential of their creative future, with the monetary prize positioned to support the duo's living expenses for a year so that they are able to continue to work and develop projects at their own pace. in addition, they were given a trophy designed by barber & osgerby acknowledging their achievements – one of three egg-shaped prizes conceived by members of the jury, symbolizing the birth of new talent.

'97 meter veneer' by mischer'traxler
a prize replicating a dinosaur egg by front design was presented to dennis parren, the yelena baturina prize winner, chosen by the BE OPEN founder – for which the award is named – based on her beliefs of the dutch designer's business potential in the industry. said baturina of her decision:
'the candidates for this award show outstanding qualities, and the variety of their approaches and passion for invention is what drives me forward with BE OPEN – it is so inspiring to be surrounded by such intense engagement, curiosity and creative free-thinking. dennis works with light and space, the fundamental elements, but I am also fascinated by the nomadic themes he works with.  I think that he has tapped into a very important trend for our time: we are all global nomads, constantly on the move and we like to carry our homes with us, to some degree, to keep a sense of comfort and familiarity with us.  so he is my choice for the award that represents the potential to evolve into a serious business proposition.'

from left to right: gennady terebkov, director of BE OPEN; dennis parren, yelena baturina prize winner; thomas traxler and katharina mischer of studio mischer'traxler, 2014 BE OPEN young talent award winners
the jury which was comprised of shay alkalay (raw edges), giulio cappellini (art director of cappellini), giorgio galli (design director of timex group), sofia lagerkvist (front) and jay osgerby (barber & osgerby). they collectively commented on their decision stating:
'the work of the ten shortlisted candidates is of exceptional quality, but we felt that mischer'traxler's methods best reflect the spirit of this new, important design prize. matching experimental research and vanguard attitudes with industrial production, they clearly indicate how much further manufacturing can be developed from where it is now. their talent for introducing creative interaction into everyday objects and humanising every aspect of design reflects their incredible ability to synthesise the future of design.'
 juror jay osgerby independently commented on the BE OPEN young talent award:
'it is incredibly hard to establish oneself in any creative field, no more so than in the design world. this award will make it possible for some of the best young creatives to be not only recognised, but helped along their way. it is always fantastic to meet talented young designers and it has been an honour to be a part of an award that sets out to nurture the next generation.'

the jury and award winners at the BE OPEN young talent award ceremony during milan design week
a third 'web choice' award will be given, based on the public's voice. you can place your vote on BE OPEN's facebook page by liking the post of your favorite designer. polls close on may 17, 2014. BE OPEN will announce the winner based on tallies of the overall social media activity each candidate receives. the recipient of the highest votes will be given a wooden egg trophy designed by raw edges.

barber & osgerby's extruded egg trophy for the young talent award winner
barber & osgerby's trophy design takes on an extruded egg shape, which implies aspirations for greater heights. the pure and rational form is composed of two simple parts: a vertical gold component of machined and polished brass, trimmed over 200,000 times to achieve the shape; and the black anodised aluminium base.

front design's dinosaur-shaped egg trophy for the yelena baturina prize winner
front design turned to the fossil of a theropod egg for their trophy concept – a primarily stone volume featuring the biological imperfections of the object that it references. 'from the geological layers of our planet emerges a cracked form recalling the image of an opening egg as a symbol of rebirth to a new era of excellence and design – a small object from which a giant could emerge.'

raw-edges' wooden egg trophy to be awarded to the web choice winner
raw-edges reflected on the collective act of voting to inform their trophy scheme. acknowledging the spirit of the people's choice, they wanted to conceive an object that expressed the 'process of making' as more important than the final object. made from solid ceder wood, the upper is left in a natural finish, while the lower section is lacquered in white to resemble a shiny porcelain egg cup.

BE OPEN young talent award exhibition presented during milan design week 2014
image © designboom
within the università degli studi di milano's courtyard (part of the INTERNI program of milan design week) BE OPEN presented an exhibition of the 10 nominees through an installation of open birdcages, hosting tablets that feature the work and commentary of the selected emerging designers.

the exhibition installation consisted of bird cages that housed tablets displaying the work and commentary of the 10 finalists
image © designboom

detail of the BE OPEN young talent award exhibition installed in the courtyard of the università degli studi di milano
to sum up the awards, BE OPEN founder yelena baturina said, 'the young talent award is yet another example of how we try to see things differently and how we encourage people to look at the world with an open mind: we're not asking for tangible results at the end of the year's work; we're not demanding commitment, although we'd like the winner to become an active part of our network. we do, however, want them to keep developing their thinking; we want to glean inspiration from these talented young minds, because they are the leading minds of the future.'
dec 16, 2012
dec 16, 2012
dec 15, 2012
dec 15, 2012
sep 21, 2012
sep 21, 2012
sep 07, 2014
sep 07, 2014
aug 20, 2014
aug 20, 2014
jul 25, 2014
jul 25, 2014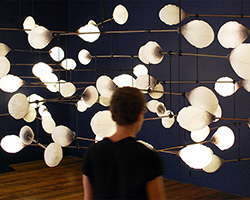 sep 06, 2016
sep 06, 2016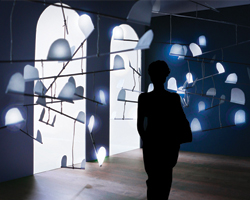 jun 25, 2016
jun 25, 2016
aug 28, 2015
aug 28, 2015