MAISON&OBJET is a leading interior decoration and lifestyle show that unites a broad range of artful, rich and expressive products. with its main event in paris — the 2017 edition set to take place from january 20-24  — the fair spotlights the art of living across the world.
this year, MAISON&OBJET introduces MOM — a digital platform that allows designers, brands and manufacturers to connect, communicate, and do business 24/7, 365 days a year. this powerful tool extends beyond the fair's existing visitors and brands, and can be accessed and reached by a diverse digital audience of manufactures, clients and creative forces. MOM offers industry professionals the ability to not only stay informed about the new products and latest developments of their favorite brands, designers, and architects, but discover new ones in the process as well.

the digital platform connects computer, tablet and mobile users
all images courtesy of MAISON&OBJET
MOM enhances exchanges and easily facilitates requests between designers, industry professionals, and key players in the sector. at any time of day, site visitors can access product specifications, share item information, exchange ideas, inquire about catalogues and rates, and even set appointments for in-person meetings. with a simple click or touch of a finger, users can connect to MOM's diverse digital database — whether they're at home, at the office, or on the go — and visualize a range of products like they would in a showroom or at an exhibition stand.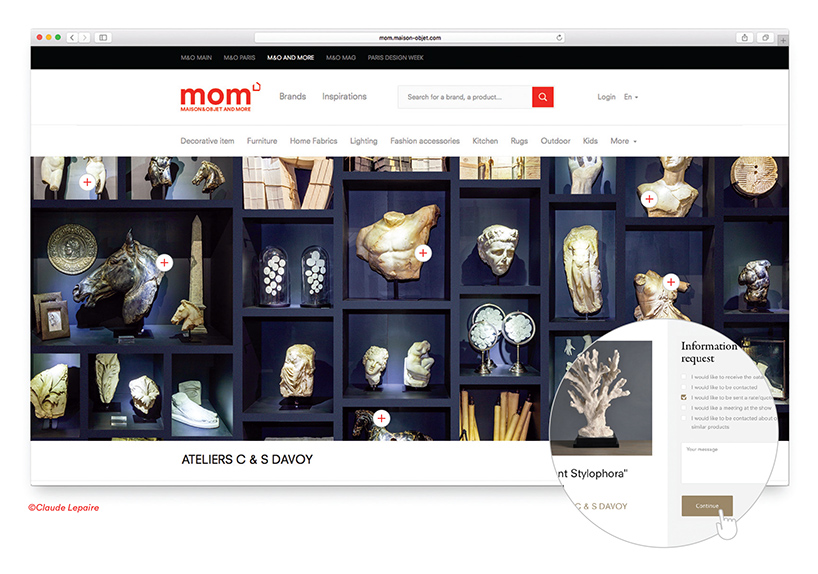 the platform allows brands and manufacturers to engage year round with clients, designers and architects
bringing the MAISON&OBJET experience online and expanding its reach, MOM allows brands and manufacturers to present their collections in a more engaging way to buyers, architects and interiors designers alike. the platform brings together the latest collections from more than 5,000 industry leaders within the decoration, furniture, accessory, textile and fragrance fields — with more continuously being shared.
geographical and time limitations are no longer an issue, as site visitors can discover and explore thousands of new products all year round, from anywhere in the world. the MAISON&OBJET experience extends far beyond the fair, allowing users — whether they're using a computer, tablet or mobile phone — to take the trade show with them.

users can access the latest trends within the interior and lifestyle field
MOM is an innovative and dedicated space for brands, manufacturers and design enthusiasts to find inspiration and make connections. creatives and industry professionals have access to thousands of the newest products within an incredibly rich digital database, allowing them stay ahead of the game and unearth new ideas and trends. as an almost immeasurable source of information and inspiration, the platform offers creatives a space to analyze current trends and even predict future ones.
by continuing the MAISON&OBJET experience online, MOM keeps the global interior and lifestyle community creating and communicating year round. discover more details on the MOM website.