MoMA century of the child growing by design, 1900 2000 exhibitionhans brockhage (german, 1925–2009) and erwin andrä (german, dates unknown) schaukelwagon (rocking car), 1950 beech frame and birch plywood seat 15 3/4 x 39 3/8 x 14 15/16″ (40 x 100 x 38 cm) the museum of modern art, new york architecture and design purchase fund
century of the child: growing by design, 1900-2000 the museum of modern art, new york july 29th to november 5th, 2012
'century of the child: growing by design, 1900-2000' is the first major overview of the subject of childhood as a means for modern design thinking in the 20th century. more than 500 items on display are on loan from both individuals and institutions within the U.S. and abroad, bringing together a vast archive of pieces which include small objects, toys and games, health and therapeutic products, furniture, books to public spaces such as school architecture and playgrounds.
the show draws its references from swedish reformer and social theorist ellen key's manifesto 'century of the child' which presents the 'universal rights and well-being of children as the defining mission of the century to come.'using this as her backbone, curator juliet kinchin surveys the 20th century, presenting both individual and collective visions of a child's material world, from utopian dreams for the 'citizens of the future', to more realistic approaches which address the darker realities of life and having to deal with politics, conflict and exploitation.
organized into seven chronological sections: new century, new child, new art; avant-garde playtime; light, air, health; children and the body politic; regeneration; power play; and, designer better worlds; a range of different concepts are presented revolving around the tangible and more physical aspects of children's design – type, material, scale, and geographical representation.
'century of the child…' is illustrated by key pieces from the history of design like isamu noguchi's designs for play equipment; pieces by charles rennie mackintosh, marcel breuer, alvar alto; alma siedhoff' buscher's bauhaus nursery furniture; a high chair by gerrit rietveld; poster and book illustrations by el lissitzky; and roald dahl's 'the gremlins', rounding out with the products of today like the 'XO laptop from the one laptop per child program', etch-a-sketch, LEGO building blocks, as well as the slinky.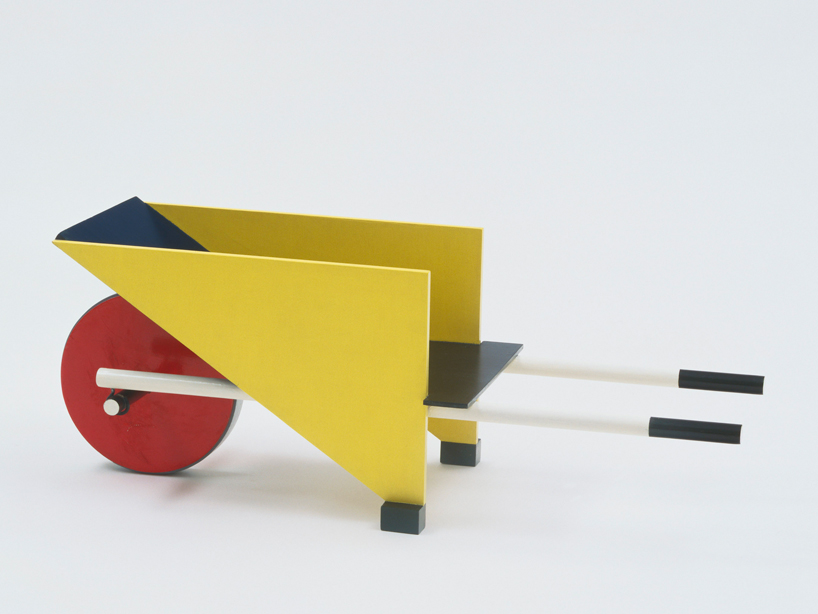 gerrit rietveld (dutch, 1888–1964) child's wheelbarrow, 1923 (manufactured 1958) painted wood 12 1/2 x 11 3/8 x 33 1/2″ (31.8 x 28.9 x 85.1 cm) manufactured by gerard van de groenekan the museum of modern art, new york gift of jo carole and ronald s. lauder © 2012 artists rights society (ARS), new york / beeldrecht, amsterdam
designboom posed a few questions to curator juliet kinchin about the exhibition itself and what her favourite toy was as a child:
designboom: how have the thematic categories represented in the exhibition been determined? juliet kinchin: the sections are arranged broadly chronologically and the thematic focus within each reflects shifting ideas of both the modern in design and modern concepts of childhood. we tried to focus on particular centers, individuals, ideas where there was a confluence of children and new ways of thinking about design, innovation, and the future shape of society.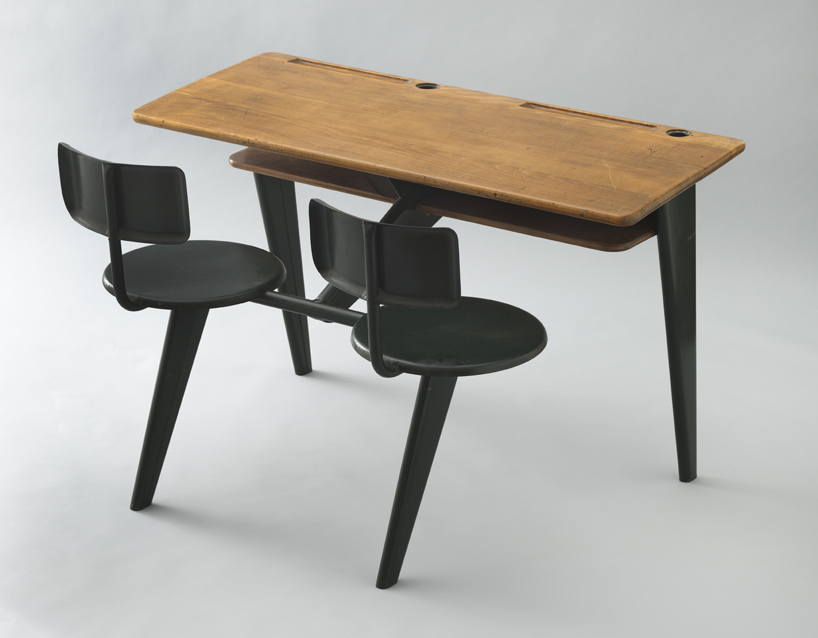 jean prouvé (french, 1901–1984) school desk, 1946 enameled steel and oak 28 1/2 x 45 x 34″ (72.4 x 114.3 x 86.4 cm) manufactured by ateliers jean prouvé, nancy the museum of modern art, new york dorothy cullman purchase fund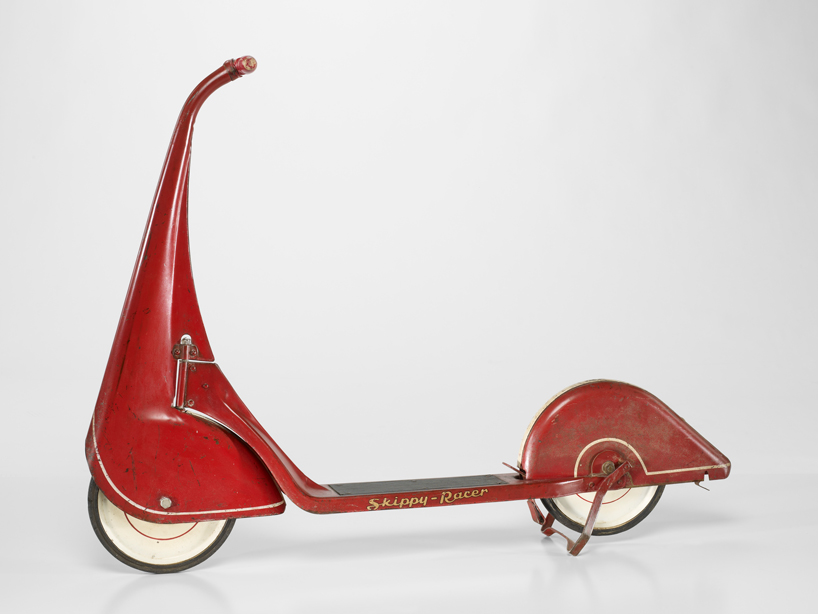 john rideout (american, 1898 – 1951) and harold van doren (american, 1895-1957) skippy-racer scooter, c. 1933 steel, paint, wood, rubber 31 3/4″ x 43 3/16″ x 6 1/2″ (80.65 x 109.7 x 16.51 cm) minneapolis institute of arts gift of funds from don and diana lee lucker
designboom: what are some of the key insights you gained on children's design while curating 'century of the child…'?
juliet kinchin: i think the best design is that which is flexible, stimulating, and leaves room for open-ended, playful interaction. these qualities are not just good for children, but benefit us all.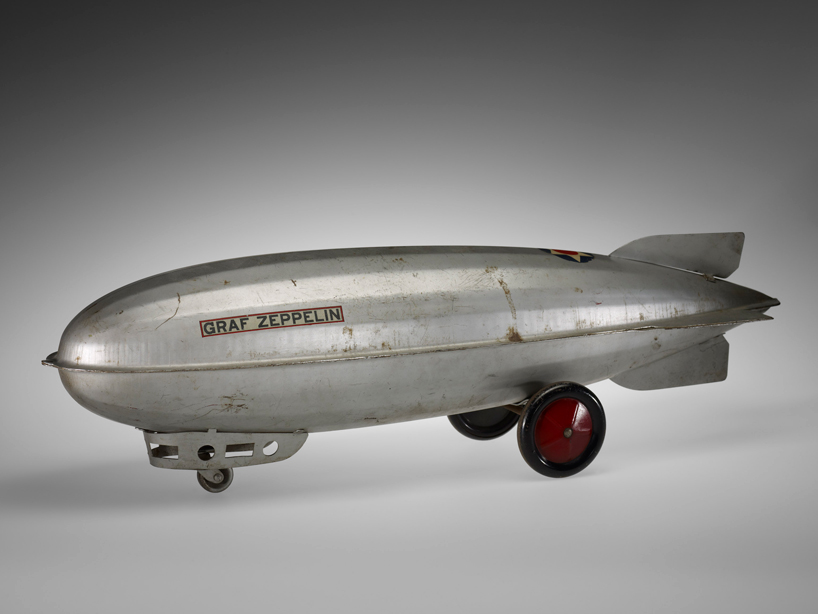 graf zeppelin toy dirigible, c. 1930 iron alloy, aluminum, enamel paint, and decals 7 ¼" x 25″ (18.4 x 63.5 cm) manufacture attributed to J.C. penney co., inc., plano, texas minneapolis institute of arts the modernism collection, gift of norwest bank minnesota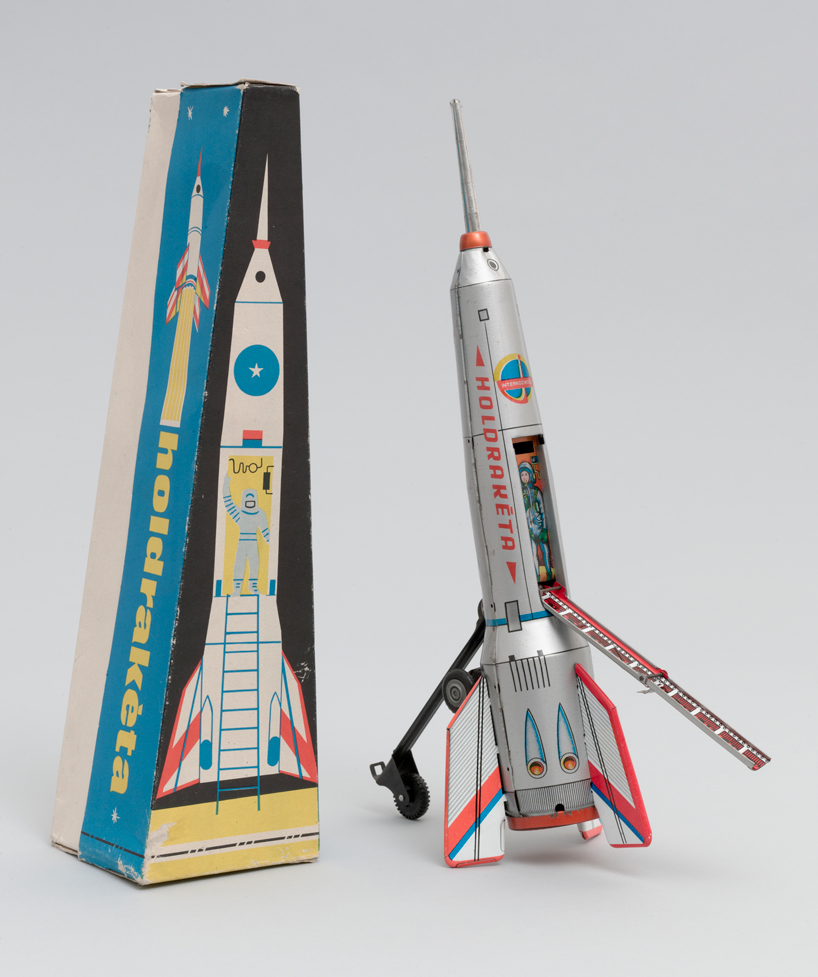 holdrakèta and original box, c. 1960 tin, box: 24″ x 6″ (61 x 15.2 cm) manufactured by lemezaru gyar, budapest (est. 1950) collection of joan wadleigh curran, philadelphia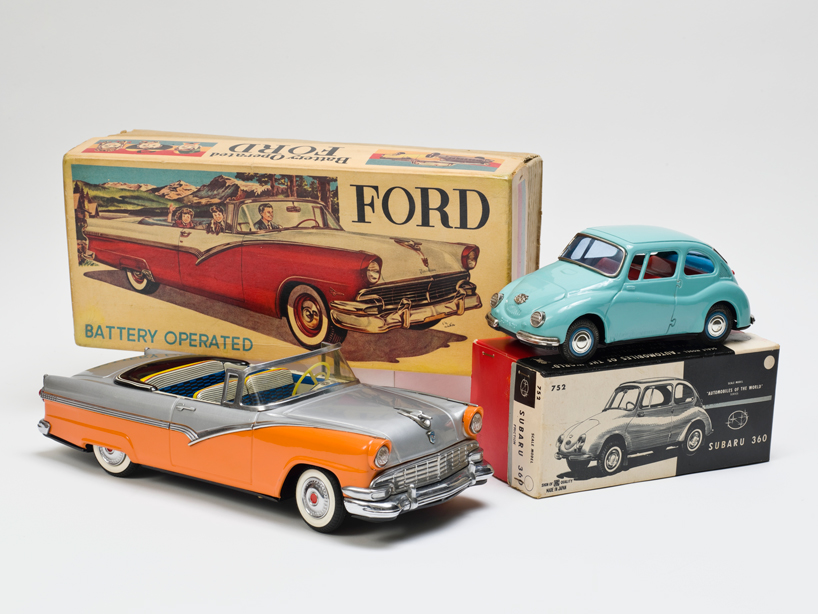 ford convertible toy car with original box, c. 1956 tinplate and various materials car: 3 7/8″ x 5 1/8″ x 13 1/4″ (9.8 x 13 x 33.7 cm), manufactured by marusan shoten ltd., tokyo (est. 1947), subaru 360 toy car with original box, c. 1963, tinplate car: 3 3/8 x 3 3/8 x 7 7/8″ (8.6 x 8.6 x 20 cm), manufactured by bandai, tokyo (est. 1950), bruce sterling collection, new york
designboom: how have political and social circumstances influenced the development of toys and architectural spaces for children?
juliet kinchin: all design functions within larger political as well as aesthetic, intellectual and economic contexts, and therefore bears the imprint of the values we prioritize, our sense of national identity, and changing attitudes to the relationship between adults and children, to differences between boys and girls. children have great emotional pulling power that has been exploited in advertising and propaganda throughout the 20th century. because children are the physical embodiment of the future, any designer intent on shaping a future vision must bear them in mind.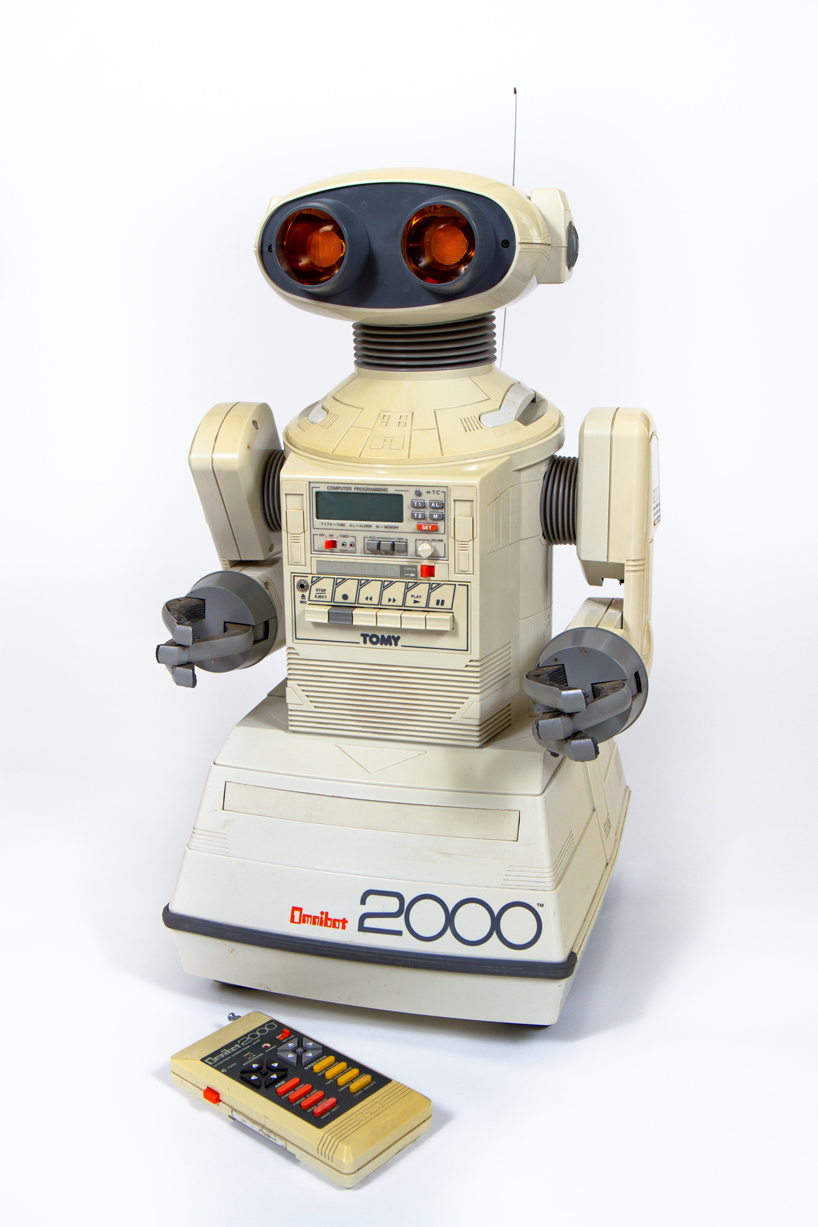 omnibot 2000 remote-controlled robot, c. 1985 various materials 24″ x 15″ x 14″ (61 x 38.1 x 35.6 cm) manufactured by tomy (formerly tomiyama), katsushika, tokyo space age museum/kleeman family collection, litchfield, connecticut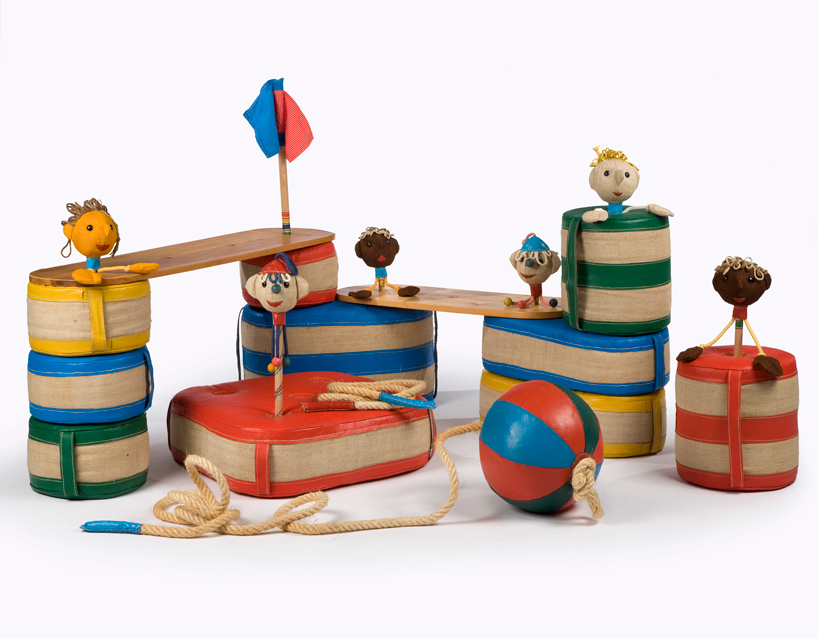 renate müller (german, born 1945) indoor play area, 1985 jute, leather, wood, play area: 3 x 8 x 5″ (7.6 x 20.3 x 12.7 cm) largest puppet: 12″ (30.5 cm) collection of zesty meyers and evan snyderman / R 20th century
designboom: who played an important role in shaping the existing material world of children?
juliet kinchin: adults of one description or another, although recently children have begun to participate more proactively in the design process. at points throughout the twentieth century designers have joined forces with social reformers, educational and medical specialists, government agencies, child psychologists, parent associations–to shape the material world of children.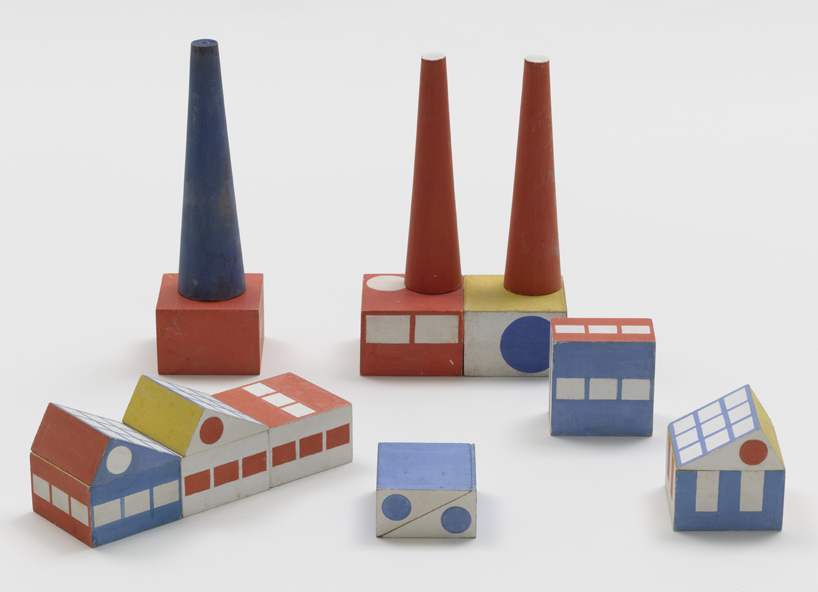 ladislav sutnar (american, born bohemia [now czech republic]. 1897–1976) build the town building blocks, 1940–43 painted wood thirty pieces of various dimensions largest smokestack: 7 3/8 x 2″ (18.7 x 5.1 cm) the museum of modern art, new york gift of ctislav sutnar and radoslav sutnar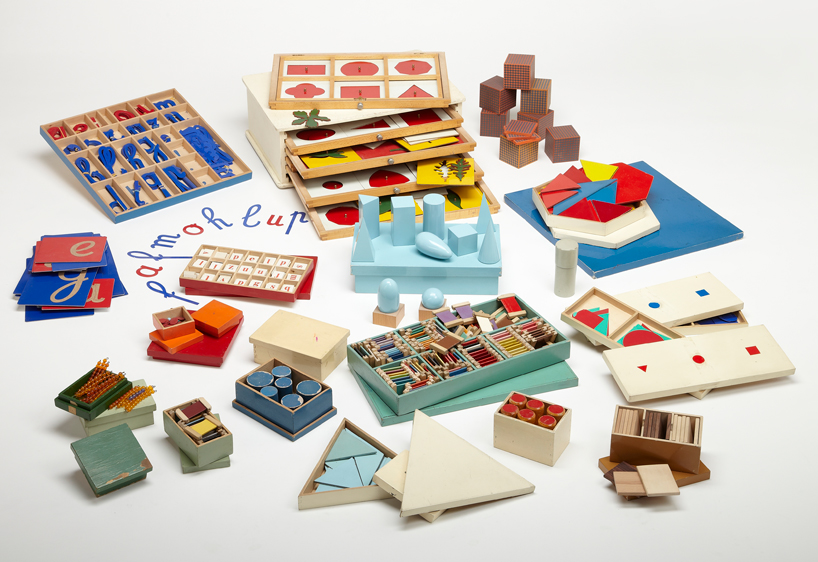 teaching materials commissioned by maria montessori, 1920s wood dimensions vary manufactured by baroni e marangon, gonzaga, italy (est. 1911) collection of maurizio marzadori , bologna
designboom: how has the world view of a child influenced that of adult psychology?
juliet kinchin: in vienna at the beginning of the 20th century sigmund freud revolutionized our understanding of early childhood development and experience within the adult psyche. the concept of an "inner child" is here to stay.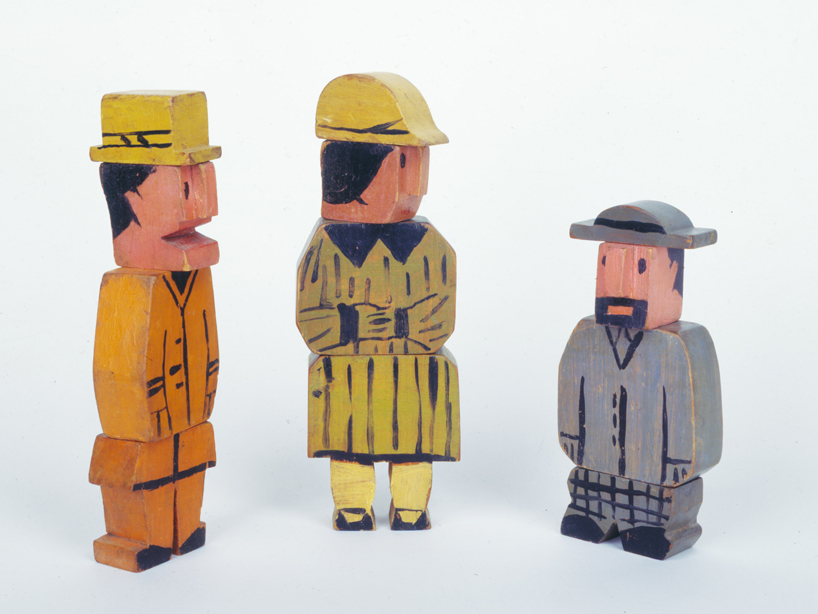 joaquín torres-garcía (uruguayan, 1874–1949) three figures, c. 1925 painted wood, twelve interchangeable pieces dimensions vary daniela chappard foundation © 2012 artists rights society (ARS), new york / vegap, spain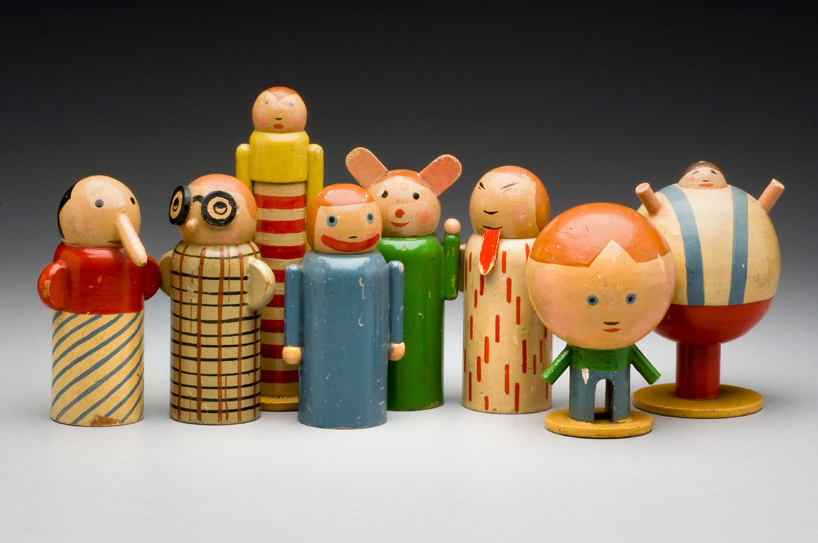 minka podhájská (czechoslovak, born moravia [now czech republic], 1881–1963) series of personifications of childhood misdeeds, 1930 painted wood dimensions vary, largest: 5 1/8″(13 cm) tall museum of decorative arts, prague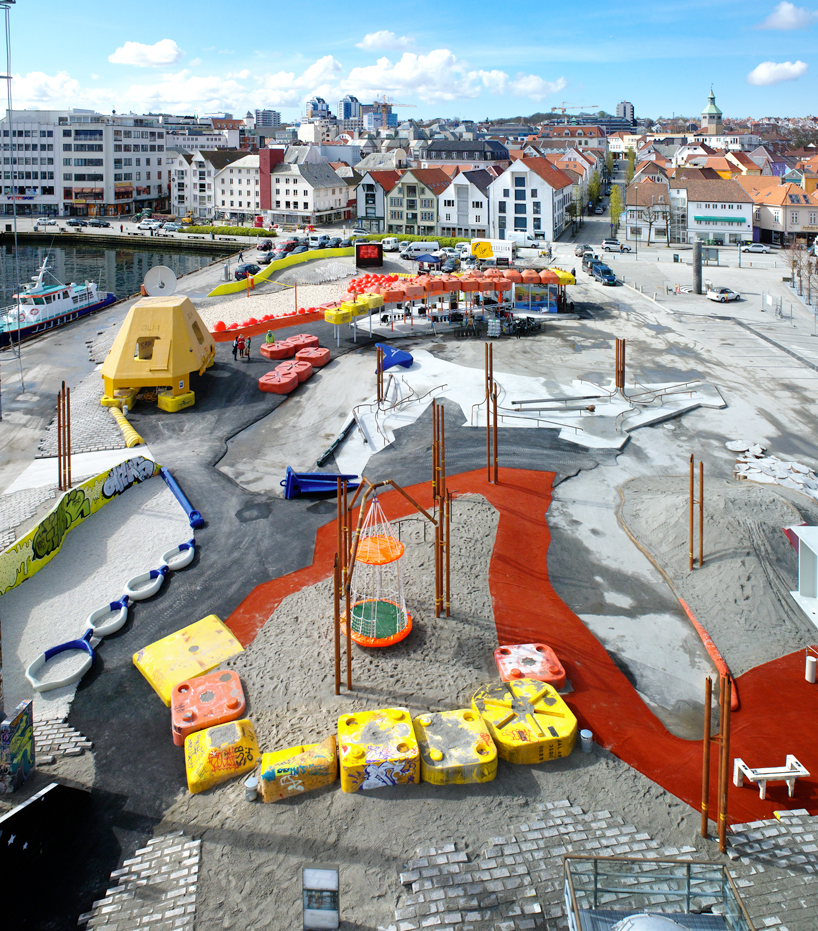 helen + hard as (norwegian, established 1996) siv helene stangeland (norwegian, born 1966) and reinhard kropf (austrian, born 1967) geopark, stavanger, norway, 2011 photograph by emile ashley courtesy of the architects
designboom: there is the saying, 'think like a child', but in a world directed by adults, how does their perception affect the environment and objects designed for the young?
juliet kinchin: children exert tremendous economic power as consumers, and manufacturers and designers are increasingly attentive to their needs and desires, or at least to how to manipulate them. but areas like comics, film animation, video games–initially targeted at children–show how child-appeal in design can also hook an adult audience. children encourage designers to think in terms of design that is flexible, robust, simple and imaginatively stimulating; such qualities, by extension, benefit us all.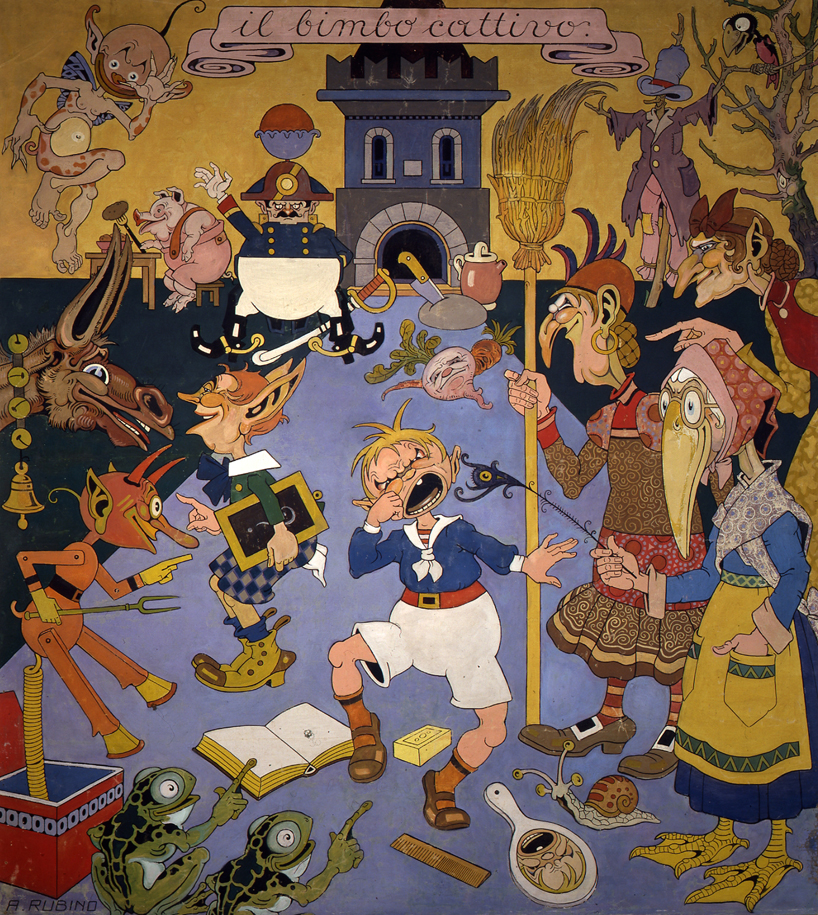 antonio rubino (italian, 1880–1964) il bimbo cattivo (the bad child) bedroom panel, c. 1924 tempera on canvas 6′ 1 1/4″ x 65 3/4″ x 9/16″ (186 x 167 x 1.5 cm) wolfsoniana – fondazione regionale per la cultura e lo spettacolo, genoa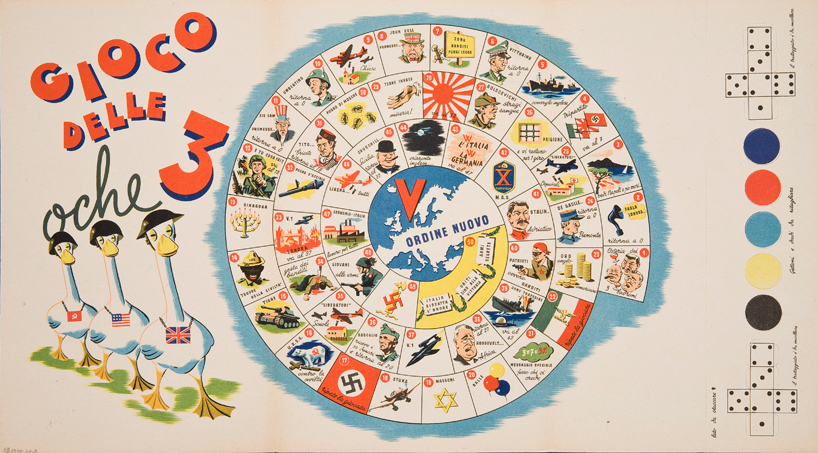 unknown italian designer gioco delle 3 oche (game of the 3 geese), c. 1944 12 ½ x 22 ½" (31.8 x 57.2 cm) the wolfsonian-florida international university, miami beach, the mitchell wolfson, jr. collection
designboom: what toy were you most fond of growing-up?
juliet kinchin: I adored my spirograph.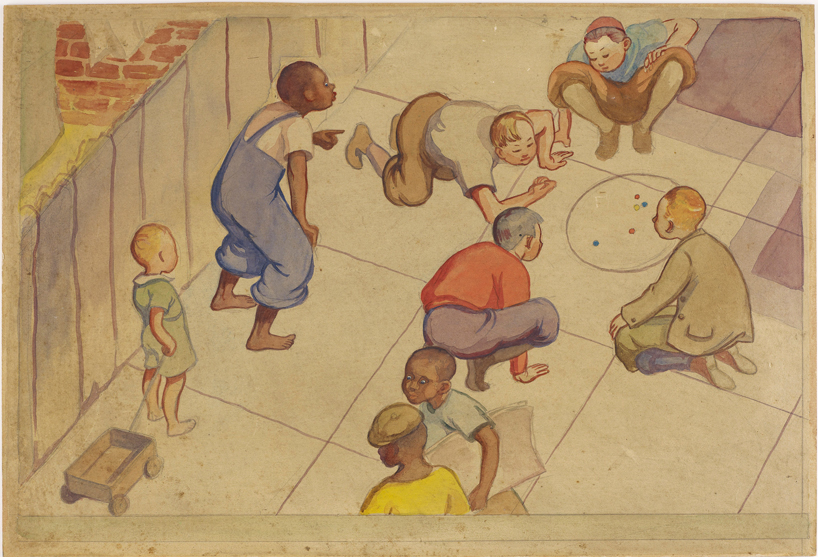 lucienne bloch (american, b. switzerland, 1909-1999) the cycle of a woman's life study for a mural commissioned by federal art project works progress administration, for the house of detention for women, greenwich village, new york, 1935 water and pencil on board, 11 ¾" x 17 ¼" (29.8 x 43.8 cm) the wolfsonian-florida international university, miami beach, the mitchell wolfson, jr. collection
a diverse digital database that acts as a valuable guide in gaining insight and information about a product directly from the manufacturer, and serves as a rich reference point in developing a project or scheme.
designboom will always be there for you
milan, new york, beijing, tokyo

,
since 1999