feb 06, 2016
moritz waldemeyer interprets alcantara material as animated kayoubi luminaries
moritz waldemeyer interprets alcantara material as animated kayoubi luminaries
all images courtesy of studio moritz waldemeyer
for the exhibition 'touching tales. the alcantara experience' in collaboration with DAMNº magazine, moritz waldemeyer was invited to reinterpret alcantara's versatile, avant-garde material. based in milan, alcantara specializes in a highly aesthetic, technical and sensory fabric, which has been the subject of prestigious collaborations in the fields of fashion, interiors, automotive, yachting, aviation and consumer electronics. the end result debuted at imm cologne 2016 alongside the interpretations by three other design studios.

the series of hanging lamps is animated by bright red and rich yellow light
waldemeyer commenced by considering his installation around alcantara's japanese heritage, which began in the early 1970s. he chose the name 'kayoubi' — meaning 'fire day' — for a series of animated lamps made with gold alcantara, red and yellow light. the luminaries intelligently use both the strength of the material and its flexible properties to drape organically into a selection of natural shapes. each of the objects is programmed with animations of bright red and rich yellow light that reflect off the gold foil on the lamps' outer surface and between its honeycomb-like pattern, while simultaneously adding radiant flickers to the surrounding floor and walls. a specially-designed circular venue made by waldemeyer to accommodate his installation features long perforated panels of alcantara, whose graduating circular punctures allow brief glimpses of light to pass through. 

the installation is conceived around alcantara's japanese heritage, which began in the early 1970s
'in the alcantara factory, they showed us a lot of samples – one of these was black on one side with a metallic film on the other, which I found particularly interesting,' waldemeyer tells DAMNº magazine. 'this contrast inspired me to develop a gold film that in conjunction with light acquires a reflective effect, transforming the material into something rich and precious. with this, we created an installation made entirely of lampshades. the installation is surrounded by a screen, because I wanted to make my own, dark, private space at the imm fair. it's all about creating a mood and an environment. research is a very important part of our work, as is engineering, but of course these shouldn't be in the forefront. the first approach should be emotional, as in: 'this is charming'. the result of our engineering is a natural-looking light that uses digital technology.'

light reflects off the gold foil on the lamps' outer surface and between its honeycomb-like pattern

the lamps intelligently adapt to both the strength of the material and its flexible properties

the material drapes organically to form a selection of natural shapes

a specially-designed circular venue features long perforated panels of alcantara

the luminaries add radiant flickers to the surrounding floor and walls

moritz waldemeyer with 'kayoubi' at imm cologne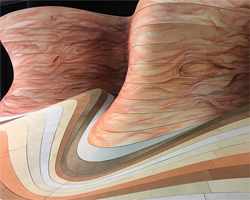 jan 29, 2017
jan 29, 2017
jun 09, 2015
jun 09, 2015
may 26, 2015
may 26, 2015
sep 26, 2011
sep 26, 2011
mar 03, 2009
mar 03, 2009
mar 05, 2016
mar 05, 2016
feb 24, 2016
feb 24, 2016
feb 06, 2016
feb 06, 2016
mar 17, 2015
mar 17, 2015
dec 01, 2014
dec 01, 2014
nov 19, 2014
nov 19, 2014