'authenticity and originality are extraordinary powerful words which do seem to have their meanings redefined at the moment, in the midst of a digital explosion', tells design museum london's director deyan sudjic. it is at this establishment – opened in 2016 – where a panel of experts explore these definitions in design through a modern day perspective. technologies such as 3D printing and open-source software, as well as recent copyright law changes, are transforming the field and making this topic even more relevant within the industry. to aid this discussion, sudjic is joined by designers ineke hans and joni steiner, VITRA chairman emeritus rolf fehlbaum, and curator and writer johanna agerman ross for a talk about the importance of design heritage.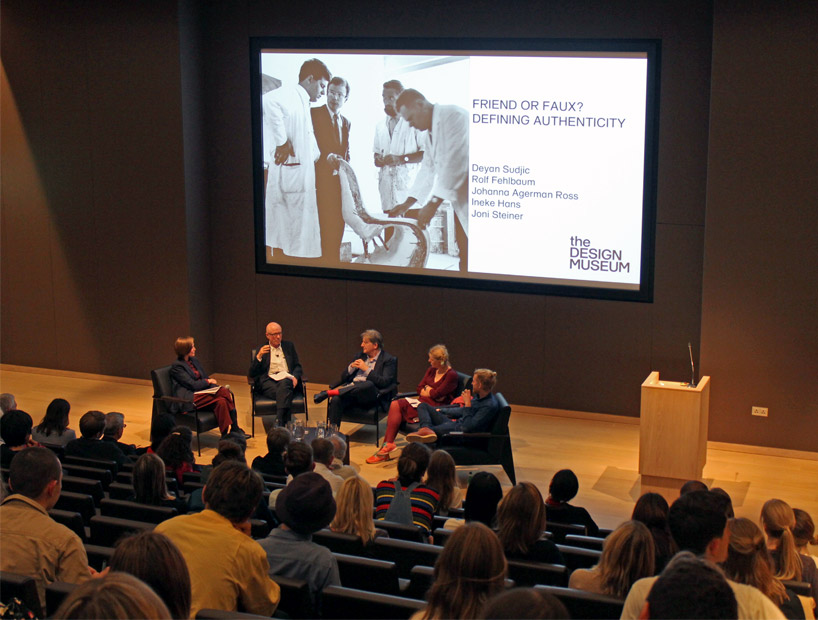 (from left to right) johanna agerman ross, rolf fehlbaum, deyan sudjic, ineke hans, and joni steiner
image © designboom
(main image: joris laarman lab's 3D printed aluminum chair)
'a product is authentic when its promises are matched by its reality, and when its appearance and reality correspond,' defines rolf fehlbaum, chairman emeritus of VITRA, giving an example of how african tribal masks would need to be produced and used as it claims to be considered authentic. he proceeds to explain that 'if someone made a copy and declared it to be so, then it is an authentic copy because the promises match the reality.' it is in this sense that the credibility of authenticity must be supported by legitimacy, being that when a product 'is produced and sold by those who have been given the authorization by the author'. this signals out how thieves use the result of somebody else's creative work without permission and so cannot be classed as authentic.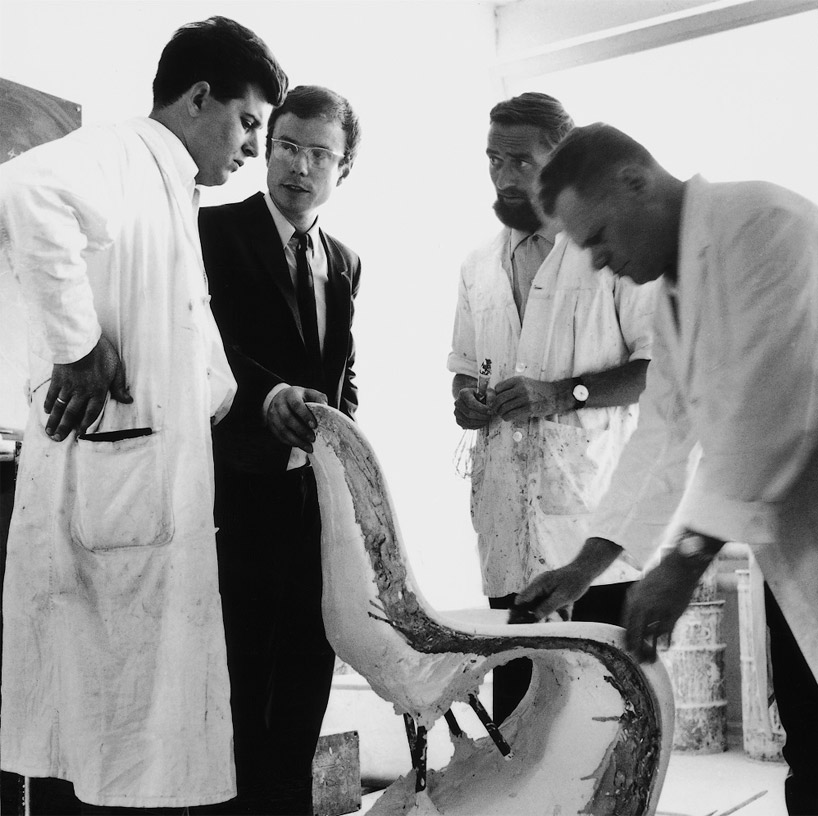 like the 'panton' chair, original designs are constantly improved through iterations
image courtesy of VITRA
the correlation between authenticity and legitimacy gets even more interesting when considering originality as well. fehlbaum states that 'there is no original in a discipline that by definition, is geared to reproduction' and that really an original is only when one is 'produced by the legitimate manufacturer in coordination with the author'. taking VITRA and the selection of work from charles and ray eames for reference, the brand continue to redevelop these designs in line with the producer and author to ensure they fit with modern times. this, he argues, is key to authentic design as thieves only copy the first product, when in reality, the authentic 'product is never finished until it becomes irrelevant.'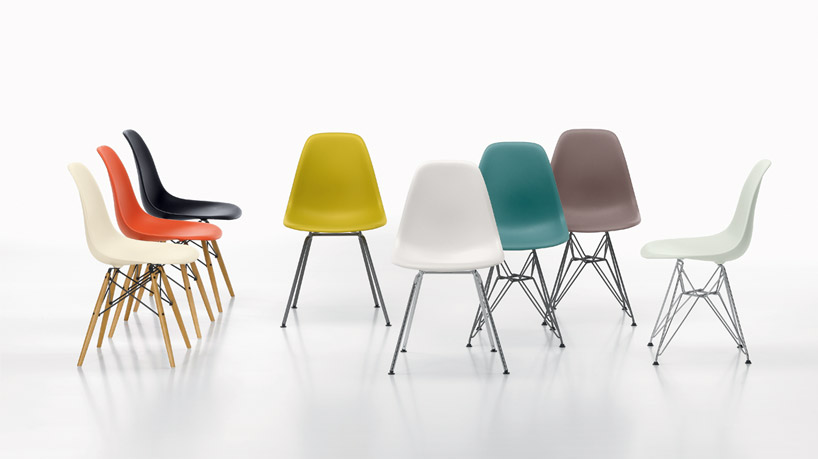 the 'eames plastic' chair is continuously updated by VITRA to fit modern needs, as well as ensure authenticity
image courtesy of VITRA
johanna agerman ross, currently the curator of product and furniture design at the victoria & albert museum, tackles the defining of authentic design from another unique perspective. referencing the conventions of the V&A's founder and first director, sir henry cole, the museum displays many reproductions of historic works of art, most notably trajan's columns of rome. these copies were created 'in the name of education and to bring the wonders of the world to london,' as well as to 'perpetuate material culture'. however, countering this, ross proposes the question of 'what happens when we look at works of art in the plural?'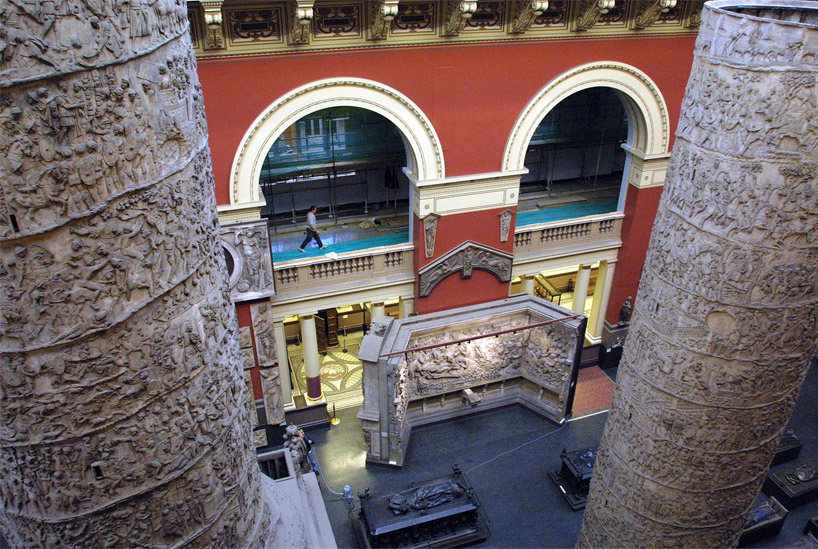 cast copies of trajan's columns
image © V&A museum
quoting the german philoshopher walter benjamin, 'even the most perfect reproduction of a work of art is lacking in one element – its presence in time and space.' this theory establishes a clear difference between originals and copies, almost in parallel to fehlbaum's defining of authentic design. furthermore, it also challenges whether originals that are now showcased within museums of galleries, can be classed as authentic because they are also missing these crucial characteristics.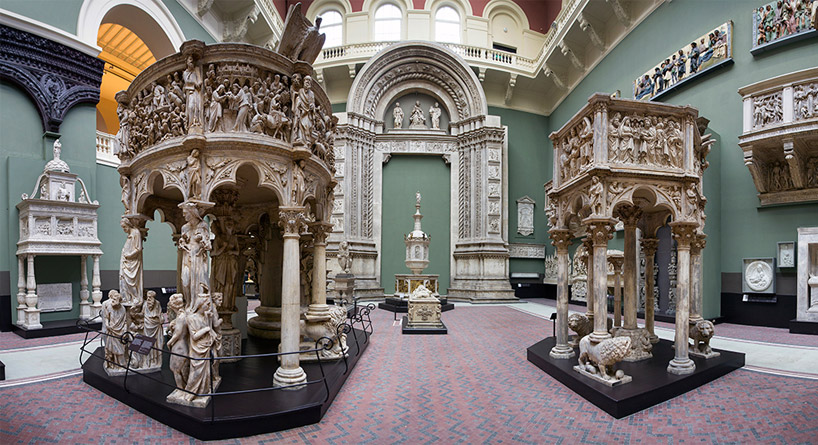 cast collection at the victoria & albert museum
image © V&A museum
this idea of authenticity – a balance of reality and originality – is continuously being challenged by the arrival and advancements of technologies like 3D printing and scanning. with these, manufacturers are able to craft exclusive one-offs, as well as truly customizable mass-production, where artisanal qualities can be found in every model made. these all still derive from the original design but differ from each other, so in theory, can all claim to be authentic as they are matched by its reality.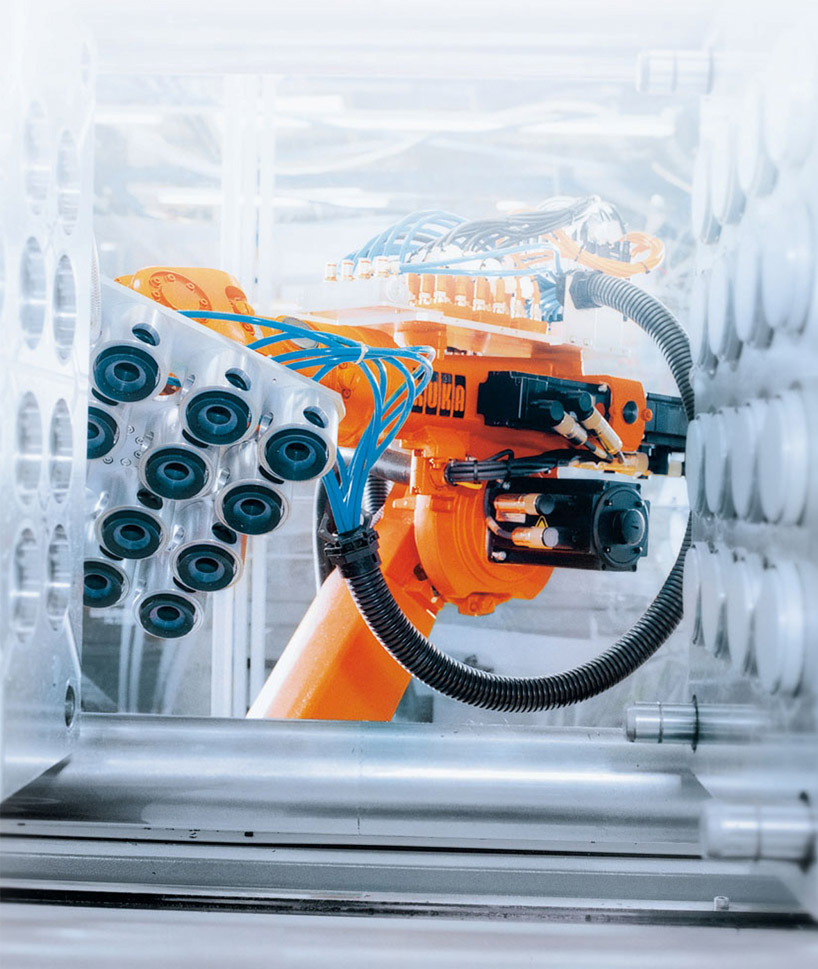 habs: kuka robot
image © kuka
in a digital age where 'fake news' is continuously communicated and claimed, joni steiner reads the definition of authentic as 'something of undisputed origin'. in a more overall sense, this understands authentic design as being about knowing and trusting the origin. to make this more complex, he claims that design is transiting 'away from singular outcomes and towards multi-authors' for more collaborative work and iterations. tesla cars exemplify this as the product's services can increase within its lifecycle by a simple software update, so how can technology play a part in aiding and recognizing this new layered process for design?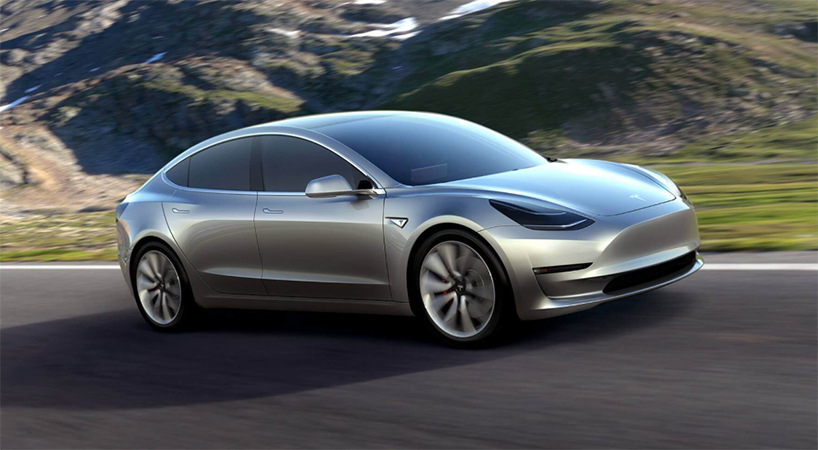 like the 'model 3', tesla cars can be improved throughout their lifecycle via software updates
image courtesy of tesla
'we are now looking at a more plural reading of design, the objects and its process' answers steiner. github – an online tool for designers to host projects and work collaboratively – is the most relevant example of this as it tracks changes to work and encourages multi-heritage, which is where different projects can be exchanged and morphed. currently six million users, 350,000 organizations and 29 million projects are active on this platform, with microsoft the biggest contributor. this truly shows how modern day designers are engaging in open innovation and changing the definition of originality, whilst still aiding its authentication.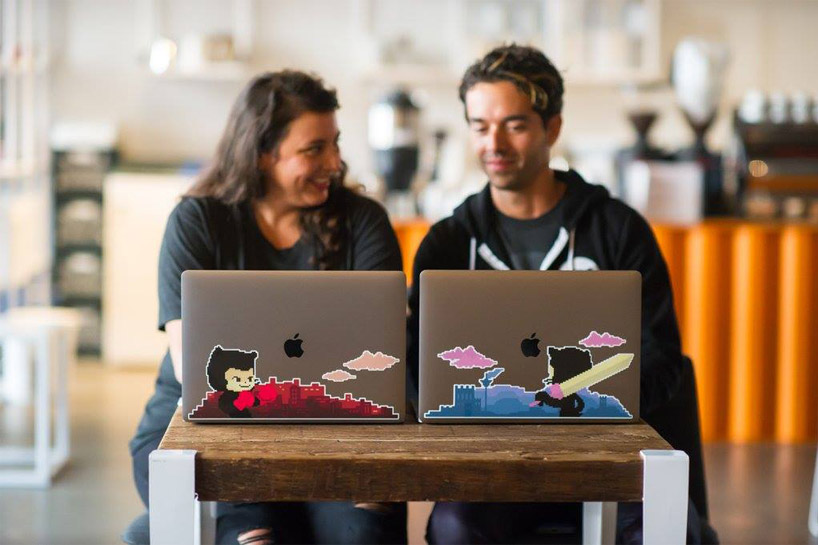 creatives can innovate collaboratively and transparently using github
image courtesy of github
ineke hans stipulates the need for clarifying the definitions of authentic and original design, most importantly due to the issues of copying. this trade, she says, was encouraged in education when students learn 'by aiming for something that already exists' as 'it is considered good to be of a standard to reproduce a piece of high quality work'. although sometimes designs are similar to someone else's without preconceived knowledge, nowadays everyone from students to practitioners alike are typically utterly afraid of plagiarism as they strive for complete uniqueness. this, as well as referencing steiner's progressive thoughts on collaborative design, is not the real problem. instead, the main issue of copying is that it can be an economical threat for manufacturers as others steal to undercut them in price and quality.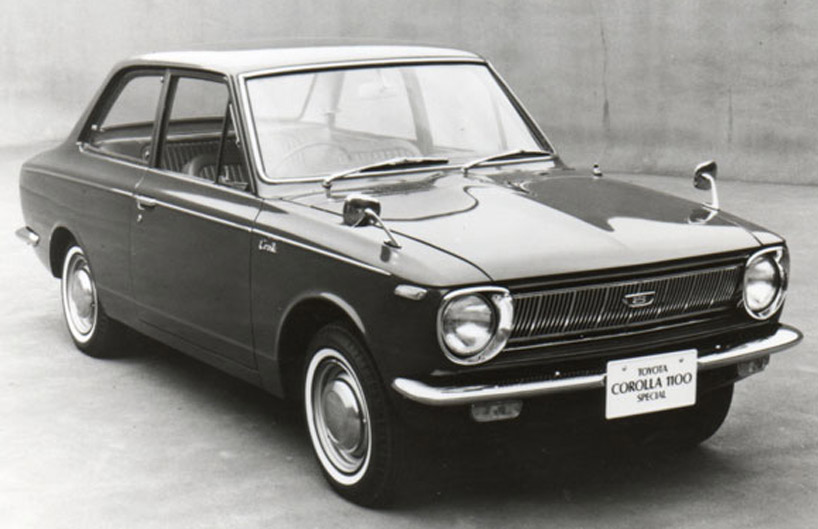 the first generation toyota 'corolla' exemplifies design iteration
image courtesy of toyota
leading from hans' ideas of harmless and educational copying, it is perhaps more prudent and easier to define what is not authentic than what is. it may also be more relevant in a field where mass-production and financial gain is so focused, that the real concern is to define what classes as commercial copying. as steiner said, authenticity and originality may become even more complex to understand as collaborative design increases. these future works can ensure true authenticity though thanks to open-source software like github, but more historic and arguably, more iconic designs are still at risk. the concern is fundamentally about the negative impact that copying causes on the authentic design, their authors and manufacturers.
a diverse digital database that acts as a valuable guide in gaining insight and information about a product directly from the manufacturer, and serves as a rich reference point in developing a project or scheme.