MVRDV's design for the JUT foundation's new 240 square-meter lecture hall combines architectural design with public art installation to create an unconventional space inspired by the natural landscape. the carpeted interior adds an attractive and comfortable accent to the versatile theater space in which a variety of programs can take place. located in taipei, taiwan, the MVRDV team worked closely with tapestry and carpet designer alexandra kehayoglou to complete the project's interior. 

MVRDV and argentinian artist alexandra kahayoglou work together to create a theater's interior
images by JUT group
MVRDV describes the theater for the JUT foundation as a 'new theater typology' that expands the boundaries of conventional theater design. argentinian artist, alexandra kehayoglou used a hand-tufting process to fabricate the wool textiles that cover the walls. the texture throughout the space mimics the natural character of water plants, moss, and pond vegetation. 

the JUT foundation's theater will house a variety of programs

the artist created a textured, wool textile and matching carpeting to cover the floor and walls of the space

the artist used a laborious hand-tufting technique to create the textile

the textile mimics ponds vegetation and moss

the project combines interior architecture and installation art

the unconventional design was inspired by the natural landscape
project info:
design MVRDV: winy maas, jacob van rijs and nathalie de vries
design team: winy maas, wenchian shi with hui-hsin liao, angel sanchez navarro, and xiaoting chen
tapestry carpet design: alexandra kehayoglou
design development: AI group – tomo huang, spring yang, mingchen liao and honghen lee
construction: dayi construction and chris chiu (AI group)
Save
oct 09, 2017
oct 09, 2017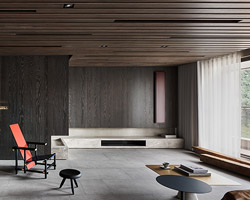 aug 17, 2017
aug 17, 2017
may 01, 2017
may 01, 2017
mar 23, 2017
mar 23, 2017
feb 14, 2017
feb 14, 2017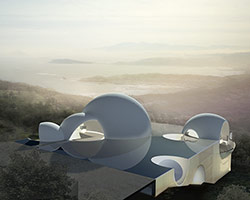 jan 22, 2017
jan 22, 2017
MVRDV
(100 articles)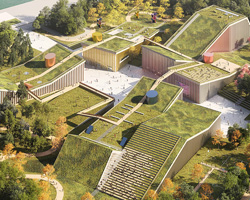 oct 17, 2017
oct 17, 2017
sep 06, 2017
sep 06, 2017
sep 05, 2017
sep 05, 2017
oct 06, 2017
oct 06, 2017
sep 03, 2017
sep 03, 2017
aug 12, 2017
aug 12, 2017