apr 04, 2014
naoto fukasawa on designing a chair for maruni wood industry
naoto fukasawa on designing a chair for maruni wood industry
under the art direction of naoto fukasawa, maruni wood industry dedicates itself to developing furniture pieces that are timeless in form and function. the japanese brand presents a catalog of wooden furniture pieces conceived by fukasawa and jasper morrison that are realized with a sophisticated minimalism and sensibility towards the use of the natural material in their construction. both of the designers continue to convey the founding philosophies that maruni established in 1928, conceptualizing and creating elegant objects that integrate machining techniques with the skillfulness of master craftsmen.
to express their story, maruni wood industry has released a video featuring naoto fukasawa who discusses his approach to designing a chair; and how the furniture company continues to employ traditional techniques of production, in combination with industrial machines, to bring forth the spirit of wood.

naoto fukasawa discusses the evolution of a chair design
video courtesy of maruni
on the occasion of the 2014 salone del mobile, maruni wood industry exhibits 'roundish' and 'bruno', two sofa concepts designed by naoto fukasawa and jasper morrison, respectively.

'bruno' sofa concept by jasper morrison
photo by yoneo kawabe
jasper morrison on his 'bruno' sofa concept for maruni wood industry:
'a sofa made by maruni should obviously involve wood in the structure. I decided that apart from the loose cushions the frame should be completely in wood except for the mesh below the cushions where a little extra comfort is needed. the sofa gets it's dynamic appearance from the side structures where the armrest makes bridges across the angled front and back legs, which are held together by the angled seat rail. the sitting comfort is a result of carefully consider seat and backrest angles and seat height. the combination of selected fabric or leather with the ash or oak wood structures gives the sofa a visual freshness.'

details
photos by yoneo kawabe

'roundish sofa concept' by naoto fukasawa
photo by yoneo kawabe
naoto fukasawa on his 'roundish' sofa concept for maruni wood industry:
'the roundish collection originally started with dining items. why not add something for the living room to it, maybe a sofa, inheriting the same design concepts? sit on either end of the sofa facing slightly inward. the puffy roundish shape fits your back with perfect comfort. you can lean back deeply with your arms on the back of the sofa, or you can sit on the corner and enjoy the sensation of your body and arms being completely wrapped around. the armchair and corners of the sofa both provide a feeling of a perfect fit and encased comfort of being wrapped around. the sofa can be combined with a round low table. add a mellow touch to your living room.'

photos by yoneo kawabe 
nov 10, 2016
nov 10, 2016
apr 01, 2016
apr 01, 2016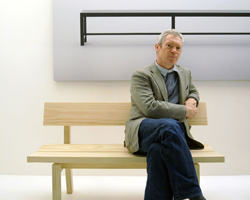 may 14, 2013
may 14, 2013
apr 17, 2013
apr 17, 2013
aug 31, 2011
aug 31, 2011
apr 12, 2011
apr 12, 2011
sep 07, 2014
sep 07, 2014
aug 20, 2014
aug 20, 2014
jul 25, 2014
jul 25, 2014
aug 23, 2017
aug 23, 2017
feb 13, 2017
feb 13, 2017
feb 05, 2017
feb 05, 2017