nov 02, 2015
naoto fukasawa embodies his idea of peacefulness in a timber retreat muji hut
naoto fukasawa embodies his idea of peacefulness in a timber retreat muji hut
image © designboom
tokyo designers week: touching on the growing popularity of people having their own holiday or weekend home in the suburbs, japanese homeware brand muji asked three recognized designers to develop a structure to escape the hustle and bustle of urban life. the huts seek to provide their inhabitants with basic amenities, allowing them to enjoy life's more simple pleasures. naoto fukasawa's wooden hut design is 'not quite a holiday house, yet not as simple as going camping.' the scheme is simple and refined, the compact and pitched structure boasts a dark timber cladding with a corrugated roof.

naoto fukasawa's wooden hut design is currently shown in the park at tokyo midtown
image © designboom
the rectangular design embodies fukasawa's image of peacefulness which he takes from his childhood memory. exhibited at the design touch 2015 event, the project eliminates unnecessary furnishing and decorative details. the warm interiors have been achieved by the timber floors and walls. sliding windows installed on the whole façade invite natural light and allow access into the space. furthermore, a log fire establishes its identity as a woodland retreat. fukasawa's 'tree hut' is currently showcased in the middle of roppongi for tokyo design week. 
with prices ranging from $25,000 – $40,000 USD, each of the minimal dwellings will be available to purchase starting in 2017. see the two other hut designs by konstantin grcic (here) and jasper morrison (here).

konstantin grcic's aluminium hut can be seen behind naoto fukasawa's tree hut
image © designboom

the internal organization is simple, one large living space that includes the kitchen area and a bathroom
image © designboom

sliding window/doors provide access in and out of the space
image © designboom

a log fire provides warmth and adds to the woodland cabin identity of the design
image © designboom

image © designboom

image © designboom

the timber clad structure is topped with a corrugated roof
image © designboom

image courtesy of muji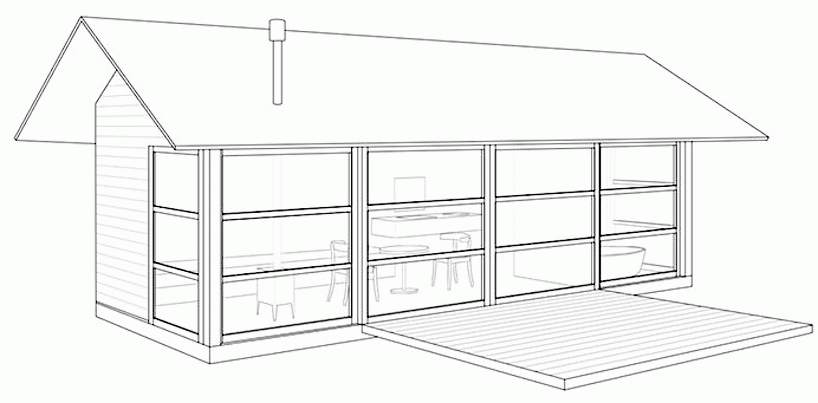 hut diagram

designboom met japanese product designer naoto fukasawa at his muji hut presentation in tokyo
image © designboom
Save
Save
Save
Save
Save
Save
muji
(13 articles)
aug 01, 2017
aug 01, 2017
apr 26, 2017
apr 26, 2017
oct 20, 2016
oct 20, 2016
aug 23, 2017
aug 23, 2017
feb 13, 2017
feb 13, 2017
feb 05, 2017
feb 05, 2017
dec 28, 2015
dec 28, 2015
dec 24, 2015
dec 24, 2015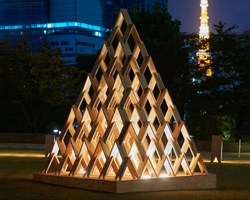 dec 09, 2015
dec 09, 2015
dec 15, 2015
dec 15, 2015
nov 28, 2015
nov 28, 2015
nov 26, 2015
nov 26, 2015