feb 02, 2015
designboom interviews nendo on his chocolatexture lounge at maison&objet
designboom interviews nendo on his chocolatexture lounge at maison&objet
portrait © designboom
the amount of work that nendo is producing, as well as the diversity of the projects that he takes on, makes the japanese designer one of the most prolific of our time. so, it is no surprise that he has been named maison&objet's 2015 'designer of the year', for which he was invited to conceive a special installation on the occasion of the fair in paris from january 23-27th.

the space is furnished by nendo-designed pieces for companies like cappellini and moroso, finished in a chocolate hue
image © designboom
steering away from presenting a conventional display of  pieces from his portfolio, nendo wanted to create an all encompassing experience that tapped into all five senses, offering an alternative way in which to 'consume' his designs. this started out with the creation of nine textural chocolate morsels, each developed with a particular texture in mind that would affect the taste of the confectionary. he then wanted to offer a place in which visitors could enjoy the sweets. he asked companies whom he has collaborated with to produce a selection of the furniture pieces he has produced with them in a chocolate hue. with this he had the desire to project a space in which one felt as if they were immersed in the world of chocolately-goodness.


2000 8mm rods painted with a gradient of hues, projects the feeling of melting chocolate
image © anne-emmanuelle thion
the result is 'chocolatexture lounge' — a zone that is wrapped by the installation of 2000 8mm thick aluminium rods, each hand-painted with a chocolate gradient, collectively evoking the feeling as if one is sitting within a pot of melted chocolate. read more about the 'chocolatexture lounge' concept on designboom here.


detail of the rods
image © designboom
designboom interviews nendo on being acknowledged as maison&objet's 'designer of the year' for 2015, and found out whether he himself is truly a chocolate fan:

nendo on the concept behind his 'chocolatexture lounge' for maison&objet 2015, paris
video © designboom

the painted rods gives off the feeling of ways of chocolate swirling around the lounge
image © designboom

the 'chocolatexture lounge' offered a place in which visitors could relax and enjoy nendo's sweet confectionaries
image © francis amiand

general view of the 'chocolatexture lounge'
image © francis amiand

seeing through the chocolate rods
image © designboom

the installation of rods also provided a bit of privacy from the rest of the fair
image © designboom

various seating areas were arranged within the 'chocolatexture lounge'
image © designboom

'chocolate covered' furniture
image © francis amiand

a piece from nendo's 'softer than steel' collection for desalto
image © designboom
see more about this project on designboom here

image © designboom

chocolate waves wrapped around the lounge space
image © designboom

'softer than steel' chairs designed by nendo for desalto
image © designboom

visitors could purchase the nendo-designed chocolates and enjoy them in the lounge
image © anne-emmanuelle thion

image © anne-emmanuelle thion

detail of the nine chocolate morsels nendo designed, which served as a starting point for the installation
image © anne-emmanuelle thion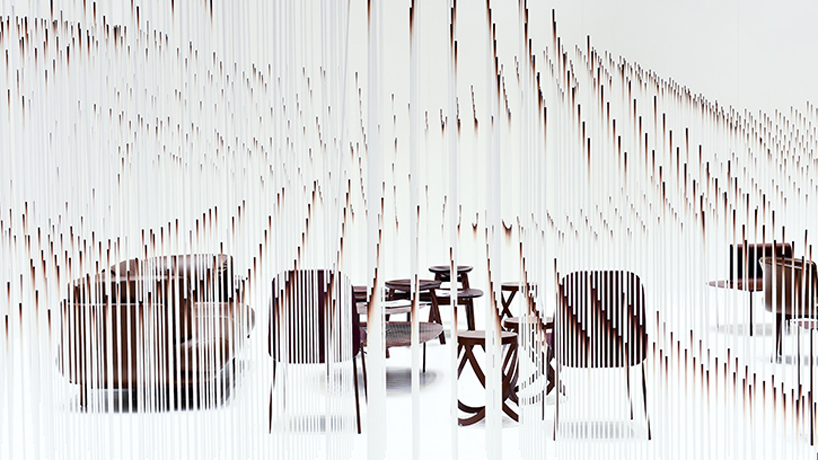 looking into the 'chocolatexture lounge'
image © anne-emmanuelle thion

external view of the 'chocolatexture lounge'
image © designboom
feb 10, 2015
feb 10, 2015
jan 15, 2015
jan 15, 2015
feb 28, 2014
feb 28, 2014
may 12, 2013
may 12, 2013
feb 14, 2013
feb 14, 2013
feb 06, 2013
feb 06, 2013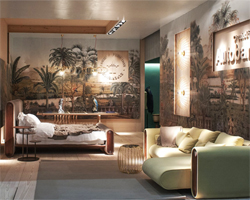 feb 13, 2015
feb 13, 2015
feb 12, 2015
feb 12, 2015
feb 10, 2015
feb 10, 2015
nendo
(213 articles)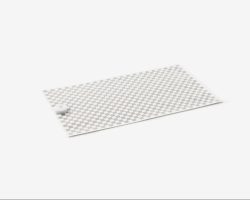 aug 27, 2017
aug 27, 2017
jun 16, 2017
jun 16, 2017
jun 08, 2017
jun 08, 2017