nendo has realized 'colorful shadows' a gallery within the japan pavilion at EXPO milan. speaking to the world event's theme of food, the cool space features a long dining table, displaying 16 new tableware products that nendo has designed specifically for this occasion. the designs have all been made in collaboration with different traditional japanese craftsmen within the country's local industry.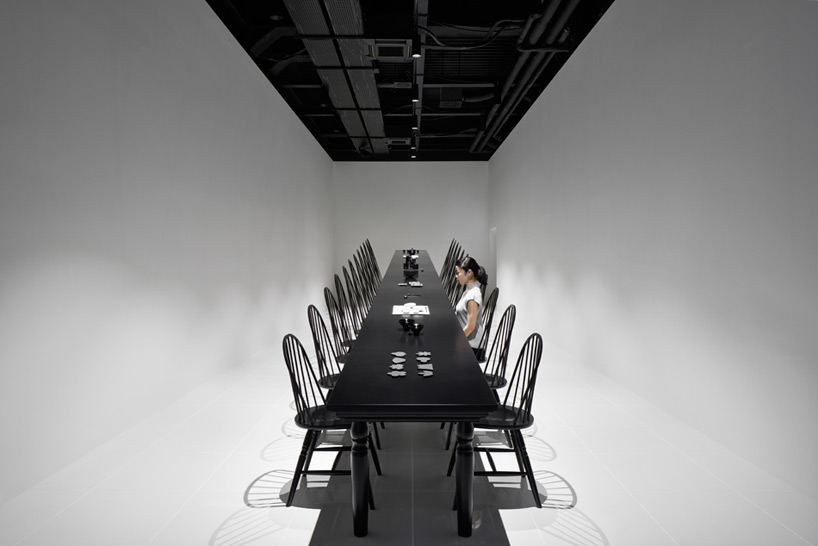 installation view of 'colorful shadows'
(above) image by daici ano
(main) image by daici ano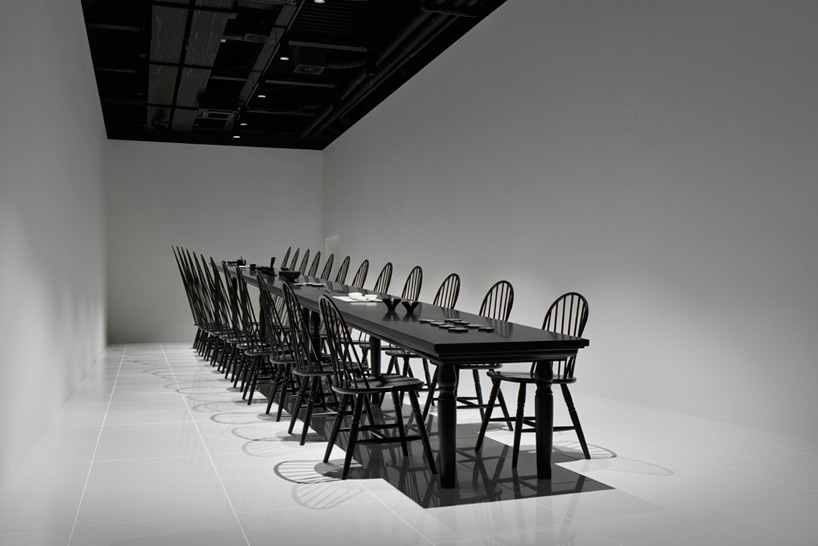 photo by daici ano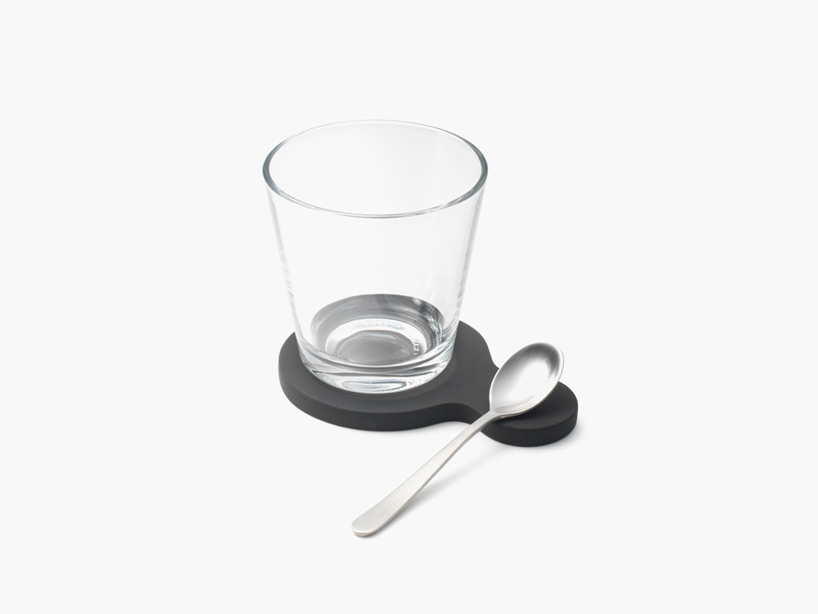 'tokoname-yaki' for koyo
photo by hiroshi iwasaki
'tokoname-yaki' is a type of ceramic ware chiefly produced in tokoname, aichi prefecture, and its surrounding chita peninsula area. 'tokoname-yaki' are typically reddish-brown, making use of the colour of the soil. however, these particular pieces have been blackened through the process of smoking using a rice chaff and made into coasters, making full use of the material's high absorbency. the resulting texture resembles that of a japanese hard sugar confectionery known as rakugan, from which the motifs are based. the gourd-shaped coaster, due to its very form, has a place to rest the spoon as well as the cup.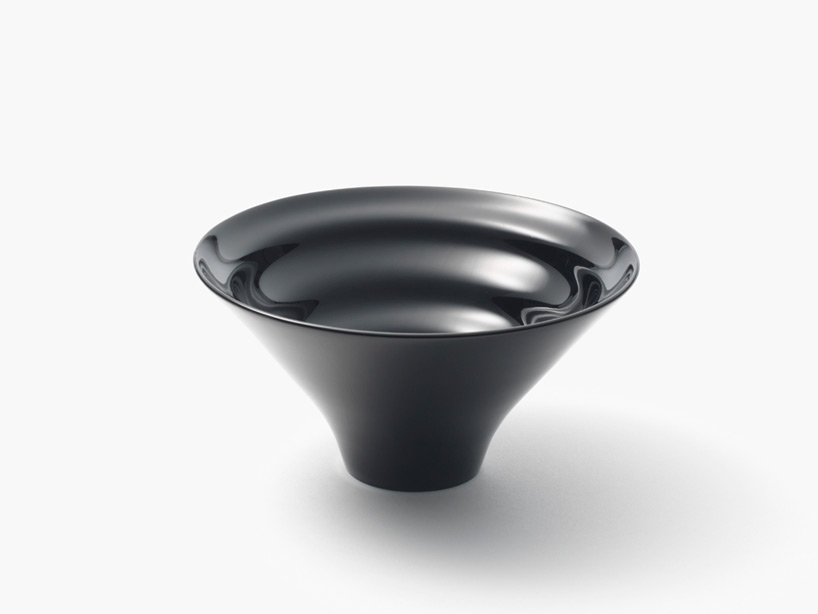 'yamanaka-shikki' for japan crafts oshima
photo by hiroshi iwasaki
'yamanaka-shikk'i is a type of lacquer ware which originated in the late 16th century in the yamanaka onsen (hot spring) region in kaga, ishikawa prefecture — a locality renowned for its woodturning. this bowl has been designed with the aim of bringing out the distinctive gloss and sheen of this traditional technique. the inside has a natural rippled finish, which contrasts the sharply stretched out silhouette of the mouth of the vessel. its complex curved surface reflects the light in a unique way, making it possible to accentuate the glossy finish even further.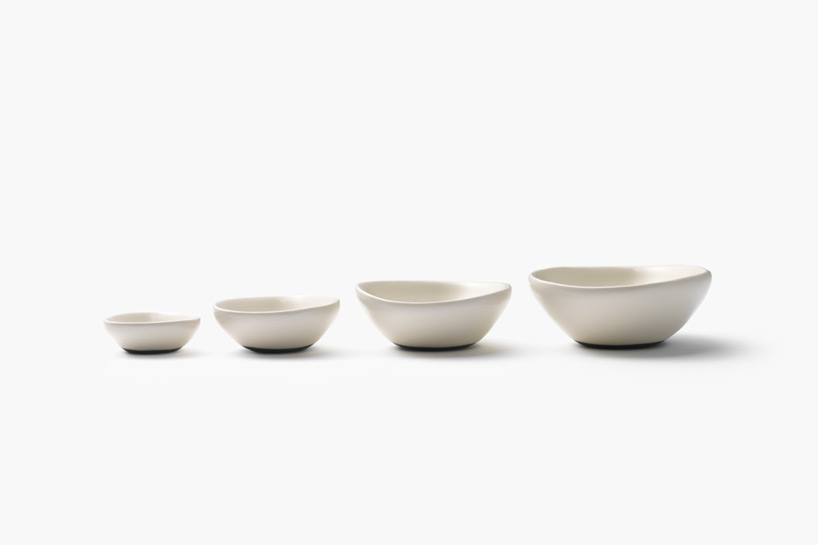 'satsuma-yaki' for tsukino-mushi
photo by hiroshi iwasaki
'satsuma-yaki' is a type of ceramic ware from kagoshima prefecture that originated in the times of lord toyotomi hideyoshi (1536-1598 A.D.). it is generally divided into two types: the white shirosatsuma, with its luxurious hand-paintings; and the black kurosatsuma, designed more for daily use with its simplicity and solidity. this particular four-piece set is in the style of shirosatsuma. an enamel glaze has been applied to a white background to resemble the colour and shape of an egg. the entire piece demonstrates the effect of kannyu; a method whereby cracks are intentionally formed due to a difference in the rate of contraction between the ceramic and the enamel. pigmented ink is then poured onto the cracks from inside of the container, and pushed through with different concentrations of colour, creating gradated hints of black oozing through the basic white surface. these four bowls can be piled up inside one another in a neat, nesting fashion.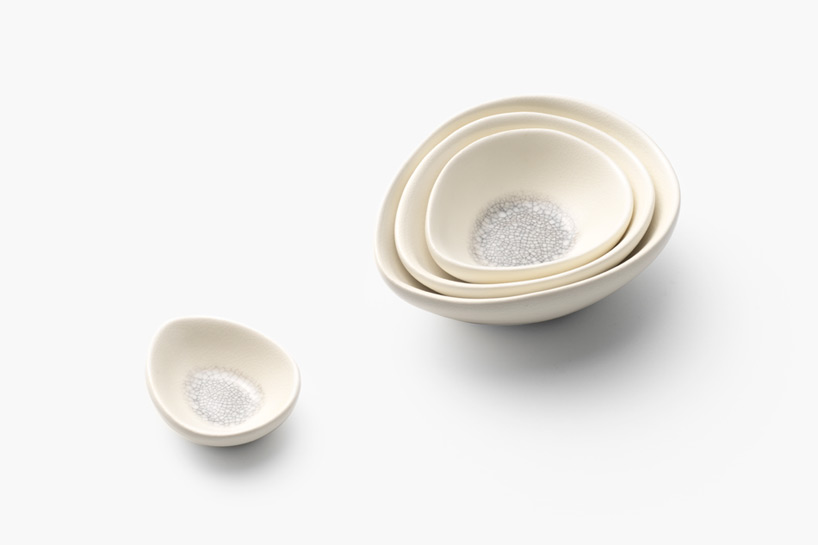 an enamel glaze has been applied to a white background to resemble the color and shape of an egg
image by hiroshi iwasaki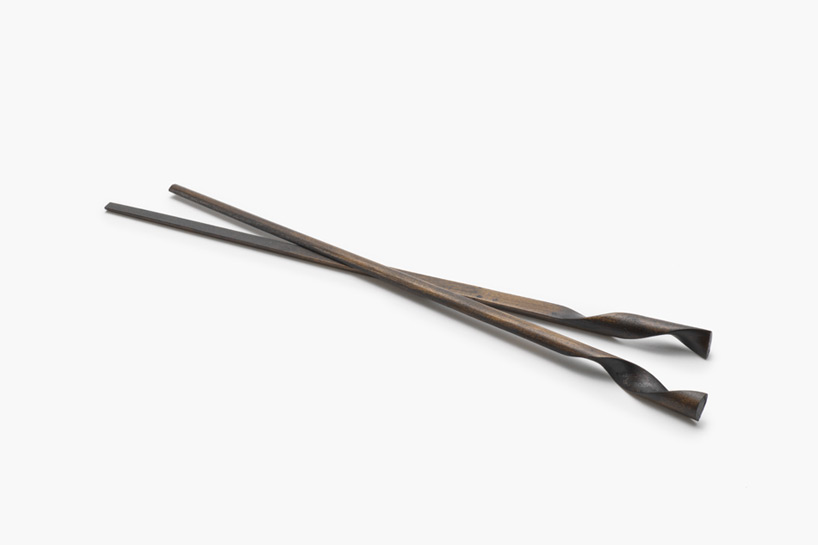 'wakasa-nuri' for hashikura matsukan
image by hiroshi iwasaki
for four centuries, the town of obama in fukui prefecture, japan, has manufactured lacquerware, recognised in particularly for the hardest and most beautiful of japanese lacquer chopsticks. ordinarily coming in pairs, rassen chopsticks are a single unit. they're separated into two for eating, then rejoined into one form when not in use.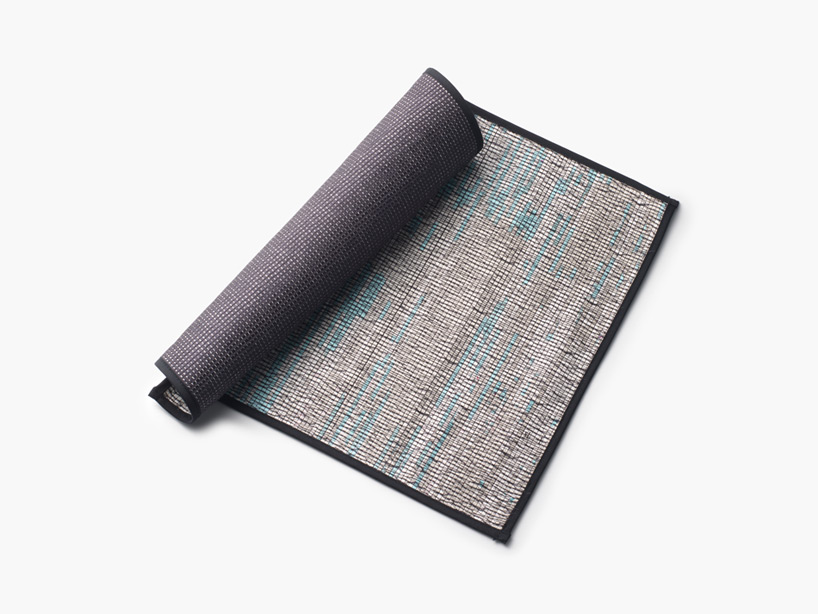 'nishijin-ori' for hosoo
photo by hiroshi iwasaki
'nishijin-ori' originated in 5th to 6th century and developed as a luxurious textile at the end of 8th century in kyoto prefecture. the traditional brocade uses thinly cut strips of paper treated with lacquer or gold leaf as the weft of the textile, and is often woven to make obi belts for kimonos. we have focused on this distinctive method of 'paper weaving', and have used strips from naval maps published by the maritime safety agency in its fabric. such maps have to be revised periodically, and older editions must be discarded as they are unusable for safety reasons. they are made from water-resistant paper that is difficult to recycle, and their material is therefore treated as industrial waste. turning it into luncheon mats not only makes optimal use of its water-resistant properties, but the seabed features inscribed on it also serve as an intriguing fabric pattern. the warp of the textile is black in order to accentuate the unique texture of the fabric.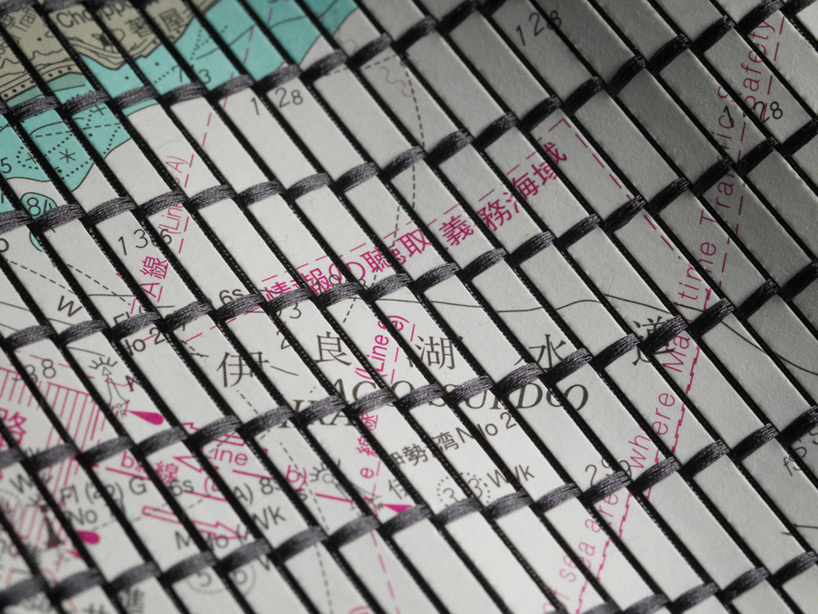 detail of the paper weaving
photo by hiroshi iwasaki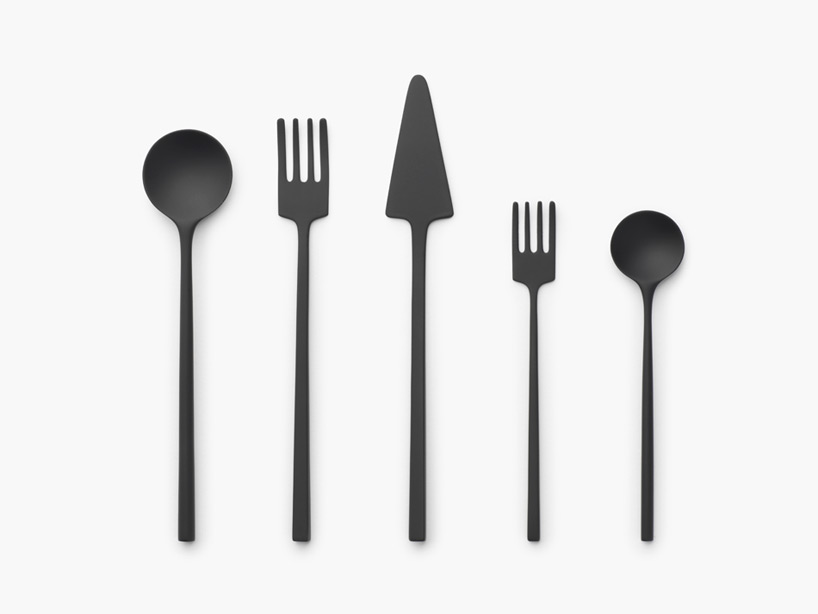 'takaoka-doki' for takatafactory
photo by hiroshi iwasaki
takaoka in toyama prefecture is renowned for its craftwork with a history over 400 years, and takaoka-doki is one of the main crafts of the city. with metals and alloys such as iron, copper, tin, bronze, and aluminium, it employs a variety of techniques and treatments to create a whole range of cast-metal products. this particular cutlery is made from aluminium treated with a urethane baking finish. to accentuate the unique texture resulting from this process, the individual pieces have been designed with abstract circular, square, and triangular shapes, with matching section-shapes for each of their handles. the design-feature of the handles also makes it easy to differentiate between spoon, fork, and knife when they are in an upright position, such as in a cutlery stand.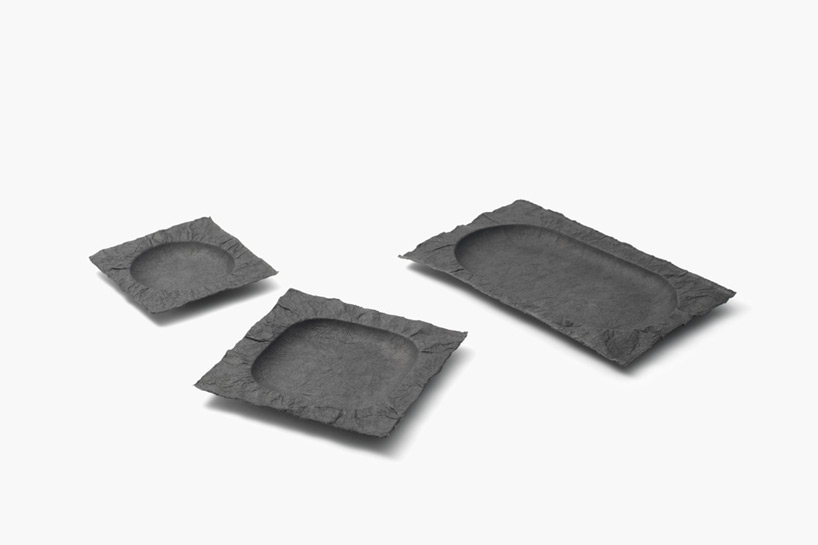 'ozu-washi' for ikazaki shachu
photo by hiroshi iwasaki
'ozu-washi' has been renowned for its high-quality traditional japanese paper made in aichi prefecture since heian period (794-1185 A.D.), which is generally made from the mitsumata plant or oriental paper bush. in this piece, sumi, a black ink used in traditional calligraphy which is compatible with washi, has been mixed in to soften the paper material, and then compressed to form the shape of a small plate. the jagged edges and the bumps surrounding the main portion of the plate have been intentionally left untreated, so as to accentuate the qualities of the original paper. these plates come in circular, square, and rectangular form, all of which can be neatly stacked. they can be used as disposable plates, or as ornamental trays for various small objects.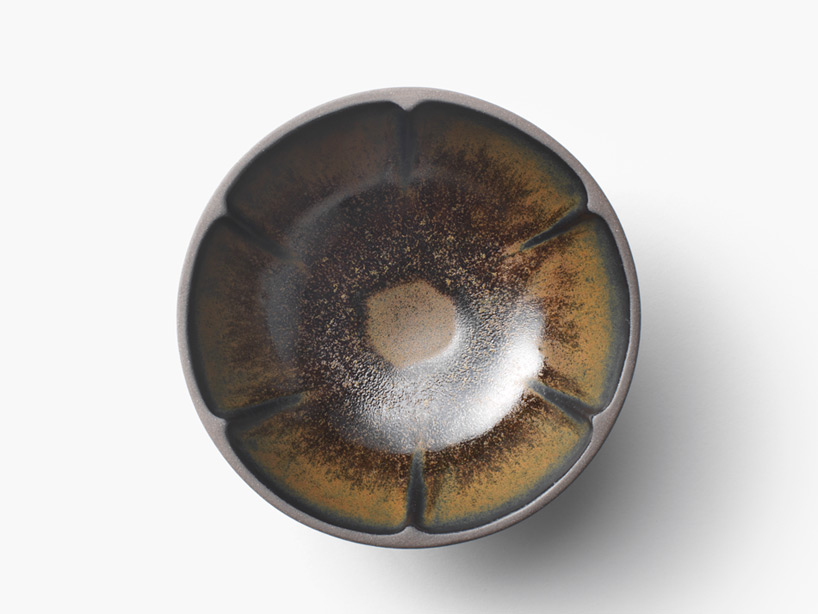 'satsuma-yaki' for tsukino-mushi
photo by hiroshi iwasaki
a bowl with a beautifully transparent glaze finish, incorporating the distinctive black used in satsuma earthenware, which is a coloration that comes from the iron in the clay and glaze. it has a citrus fruit motif, resembling the shape of an orange or a grapefruit. however, by applying the glaze to just the inside, it also mimics a citrus in its texture. that is, the inside has a glossy feel, resembling the refreshing juice within, while the outside has a natural matted finish, resembling the peel. furthermore, the uneven surface of the inside, which resembles the texture of the section profile of a citrus fruit when cut in half, allows for the expression of the glaze to change depending on one's perspective.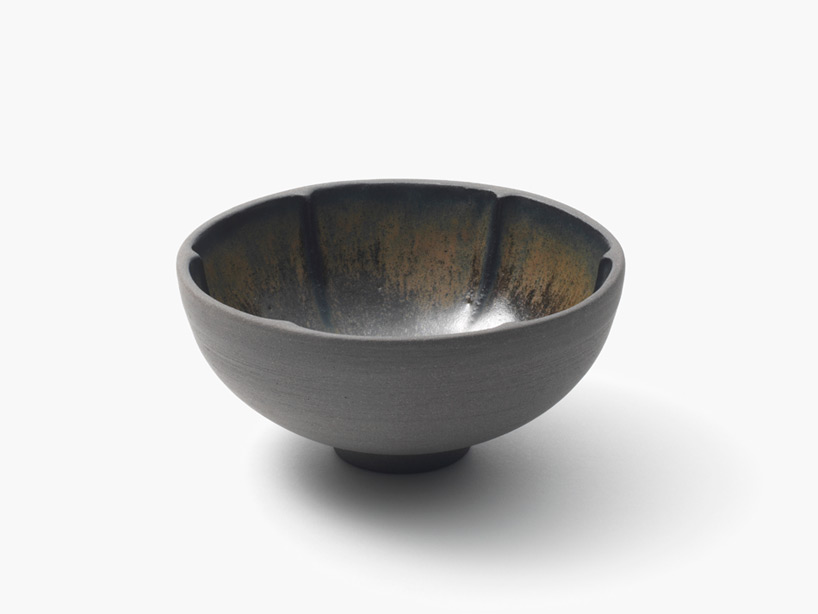 look at the internal section of the bowl that reveals a citrus fruit motive
photo by hiroshi iwasaki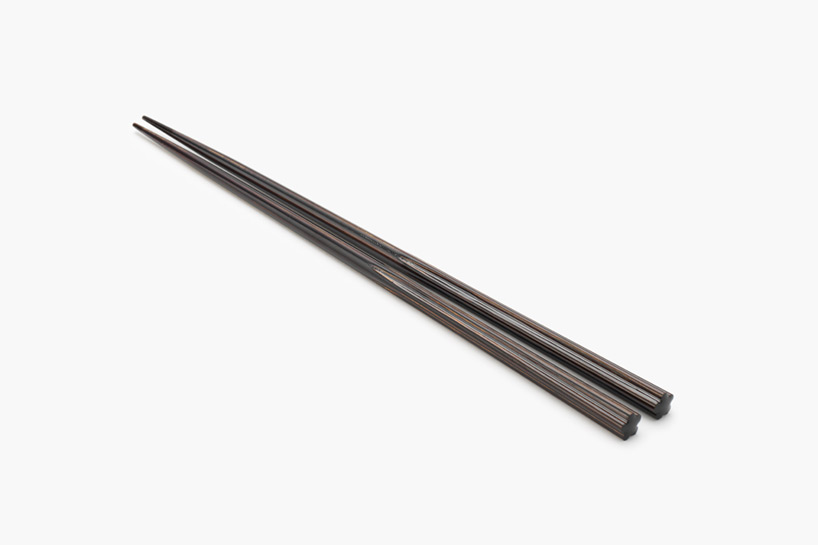 'wakasa-nuri' for hashikura matsukan
photo by hiroshi iwasaki
round chopsticks are slippery to use, but overly square-cornered ones aren't as comfortable to hold. we explored ways of increasing the surface area of chopsticks in the hand, as a way of improving holding comfort, and discovered the natural form of the pleated cross-section. when viewed as a cross-section, the chopsticks look like flowers, so a bunch of chopsticks kept together into a cup turns into a 'bouquet'.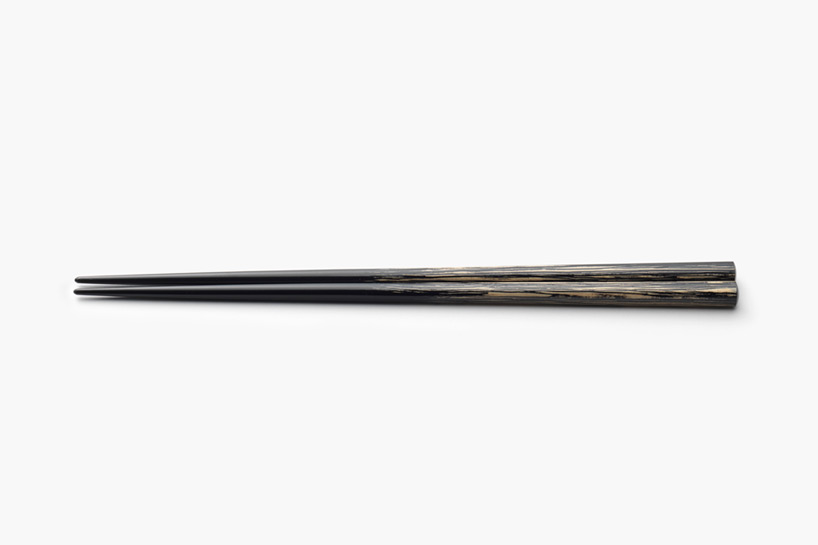 'wakasa-nuri' for hashikura matsukan
photo by hiroshi iwasaki
we used the udukuri process, in which the wood surface is carved away with a metal brush, leaving only the hard wood grain, then lacquered the chopsticks and polished them again to bring out the wood grain as pattern. the traditional technique, in which materials clamshells, eggshells and gold leaf are applied with the lacquer then polished away to reveal a pattern is known as 'togidashi' (literally 'to polish and show'), and is particular to wakasa-nuri. unlike patterns drawn by hand, this combination of processes allows patterns from nature to appear organically.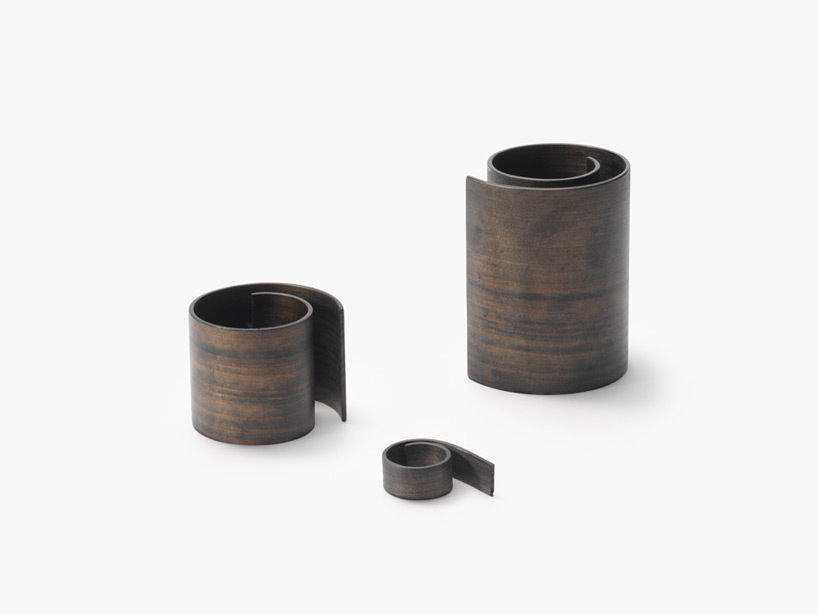 'oodate-magewappa' for oodate kougeisya
photo by hiroshi iwasaki
the 'oodate-magewappa' is a wooden box, usually circular or oval in shape and made from bending cedar or cypress. it is an exquisite traditional craft developed as a side job for samurai in the 17th century, and is particularly prominent in north eastern japan. as splendid a craft as it is, however, 'magewappa' tend to look so perfectly made that the highly sophisticated hand craftsmanship that goes into them often goes unnoticed. therefore, with this particular item, the container has deliberately not been made into a complete cylinder as it would ordinarily be. rather, it has been left in a disjointed spiral shape, in order to accentuate the edges of the material, as well as the fact that this tableware is indeed made from bending flat planks of natural wood. a magewappa that does not have some form of enclosed cylindrical shape is unprecedented, and this idea gave rise to a new technique of wrapping wood around various moulds. depending on its size, it can be used as a chopstick holder, a toothpick holder, or a chopstick rest.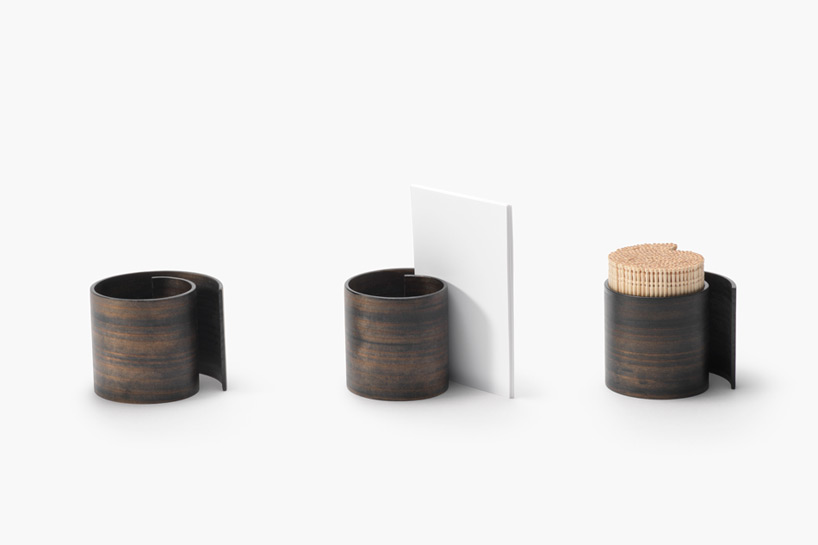 depending on its size, 'magewappa' can be used as a chopstick holder, a toothpick holder, or a chopstick rest
image by hiroshi iwasaki

'edo-kiriko' for kimoto glassware
image by hiroshi iwasaki
'edo-kiriko' glassware, often cited as a local specialty of tokyo, originated in 1834. traditional edokiriko typically cover the surfaces of red or blue glass with several cuts, but this particular design has focused on the aesthetic quality of a single cut. it has taken a simple two-layered cylinder of transparent and black glass, etching into it a single stroke. there are a number of stroke designs, from single horizontal or vertical cuts to diagonal helix or parabola-shaped cuts. peering through the etching in the black part, one will notice the reflections of light let in by the transparent part, creating a variety of beautifully nuanced patterns inside the glass.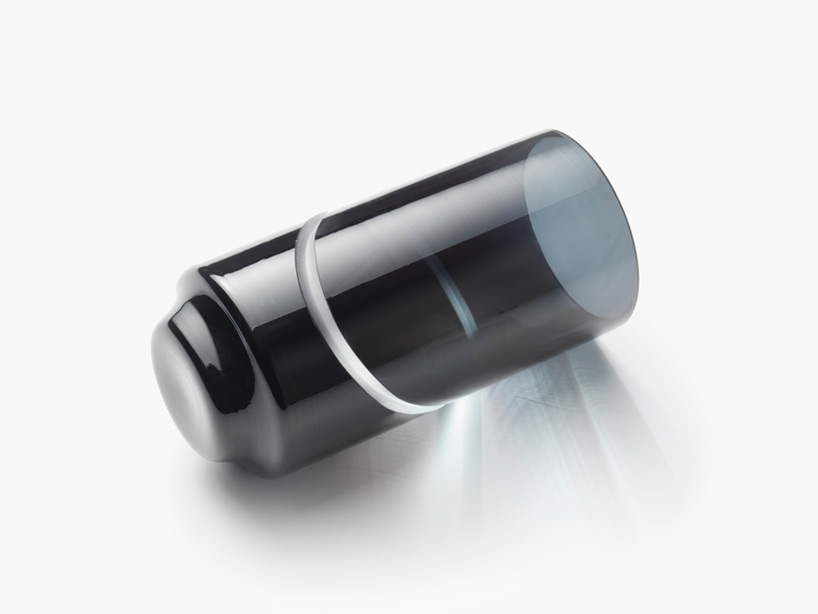 this particular 'edo-kiriko' glass focuses on a single cut
image by hiroshi iwasaki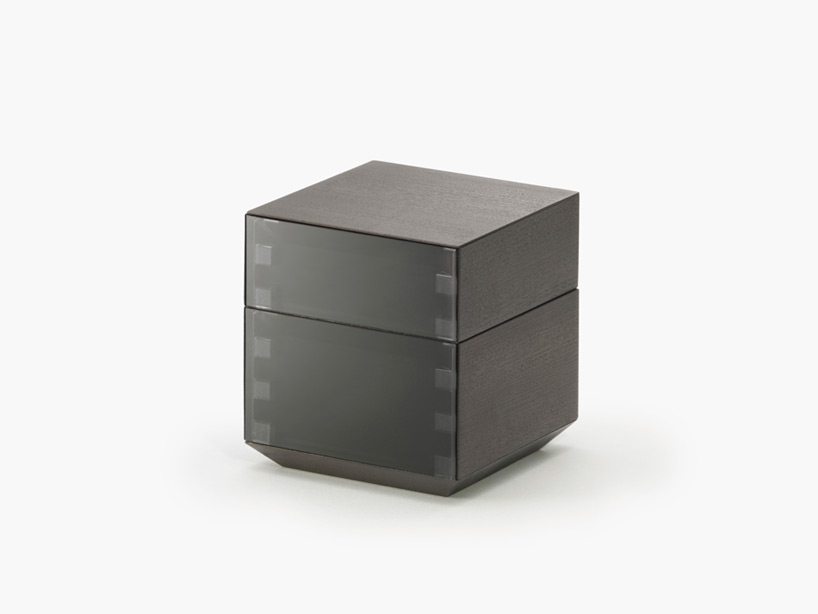 'edo-sashimono' for kahei yamada
image by hiroshi iwasaki
the traditional japanese masu, or box-measure, widely used for centuries as a cup from which to drink sake, and as a measuring device for various grains. this particular masu has been produced in collaboration with an edo-style woodwork craftsman who inherits sophisticated technique that dates back to the early edo period, and its top and bottom have been tapered with diagonal carvings for easier stacking. although these kinds of elaborately designed meshing joints are usually hidden from view, they have been purposely accentuated in this particular design by makin g parts of the box out of smoke-coloured acrylic. the wood has been coloured with traditional japanese ink, sumi, and the cut ends have a darker shade as they soak in more of the colour, providing a gradated accent to the overall finish. this container can be used for storing a variety herbs, spices, and condiments.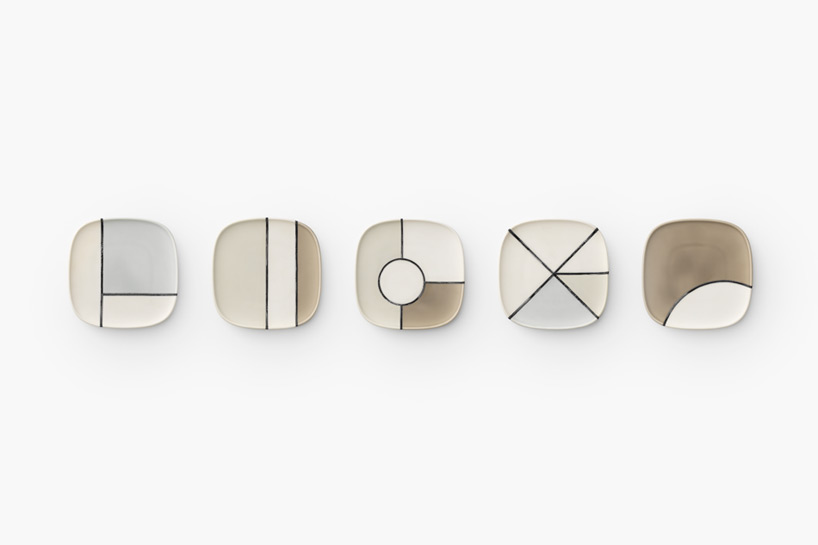 'mino-yaki' for miyama
photo by hiroshi iwasaki
with a history of more than 1300 years, mino-yaki is a type of pottery and porcelain from the tono region in gifu prefecture. by combining the traditional technique of kintsugi, which is the art of repairing broken ceramic ware with a glue lacquer, with the modern ingenuity and skill that sustained the rapid economic growth of post-war japan, three identically shaped but different-coloured plates have been cut and refitted to form these unique designs. the sintered plates are meticulously cut with a water jet, then sandblasted for rejoining, and the pieces are finally glued together again with lacquer. whereas traditional kintsugi usually winds gold leaf on top of the lacquer, these pieces have just a black lacquer finish. this has created a whole new appearance from the conventional method of applying a separate glaze to the finished product.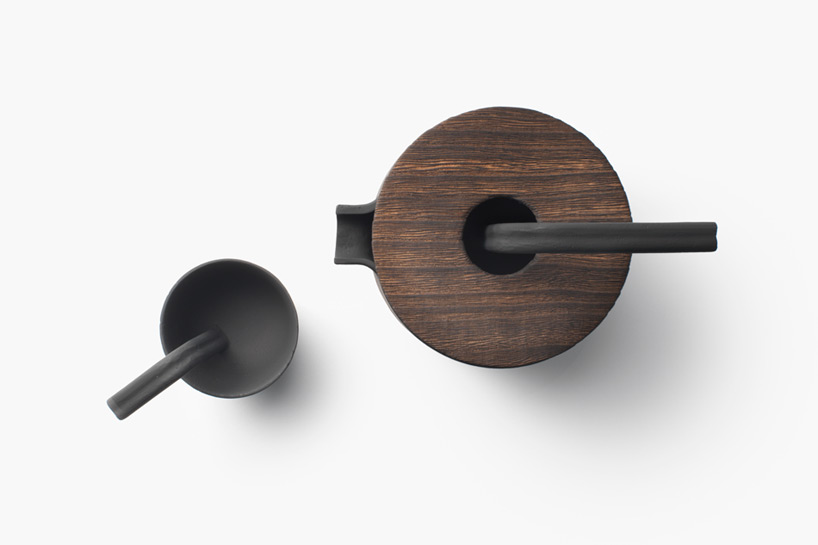 'yamagata-imono' for gasen
photo by hiroshi iwasaki
'yamagata-imono', the name given to cast-metal crafts from yamagata prefecture, has its roots stretching back to the mid heian period (794-1185 A.D.), and has been popular in japan since the edo period (1603-1868 a.d.) for its exquisite handicrafts. this particular piece, consisting of matching teapot and cup, has been made out of this traditional metal ware. metals are generally very good thermal conductors, and in the case of this tea set, the handles stretch out from inside the containers, resembling the way in which their material emits warmth from the liquid they contain to the hands of the owner. normally, one would use a material such as wood to try and prevent heat from being conducted to the hands, but this particular design has turned this idea on its head, viewing the unique properties of this material in a positive light.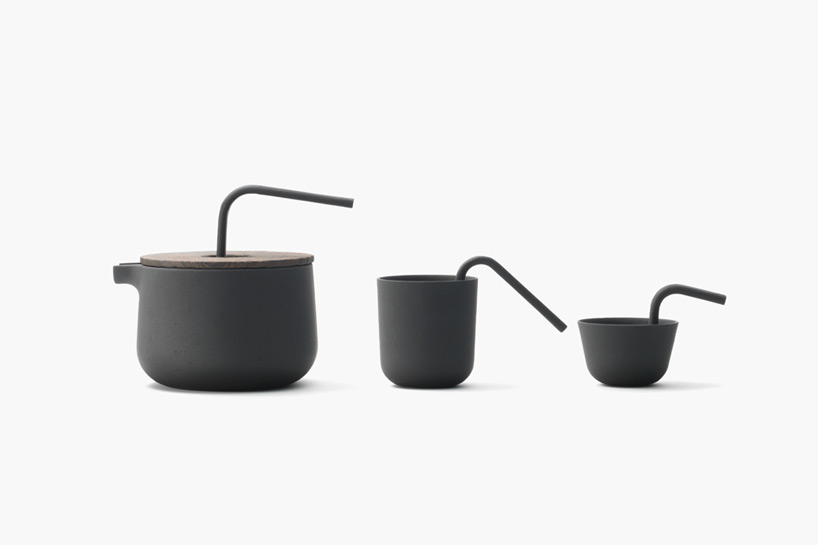 profile view of the cast metal vessels
photo by hiroshi iwasaki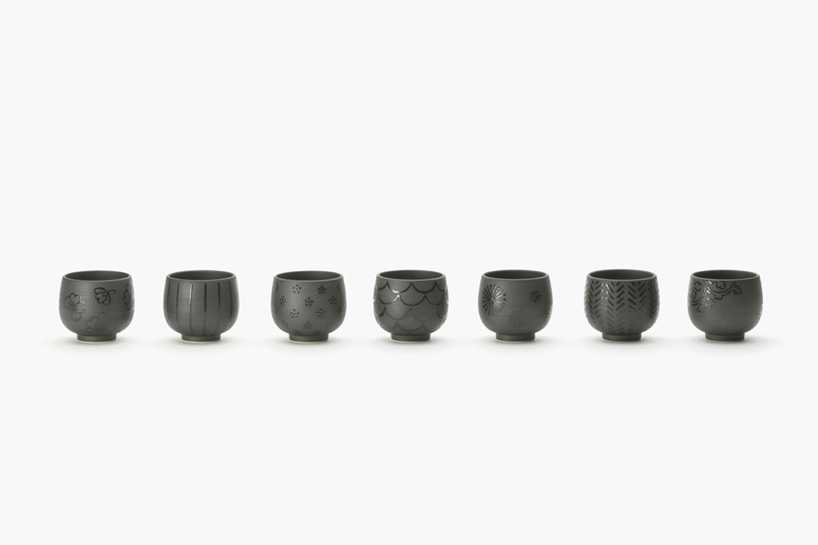 'imari arita-yaki' for gen-emon gama
photo by hiroshi iwasaki
arita, in saga prefecture, is said to be the first place in japan where white porcelain was manufactured, at the beginning of the 17th century, and well-known for its intricate and vivid hand-painting craftsmanship. the main idea behind these ochoko cups is to let the owner experience the precise and skillful designs by sense of touch rather than sight. the base material has a matted glaze finish, while a newly developed glaze with a cubic effect and glossier texture has been used to hand-draw various patterns on top. they include umekomon plum blossoms, stripes, checkers, and floral patterns, and have been specifically designed to be easily distinguishable by touch alone.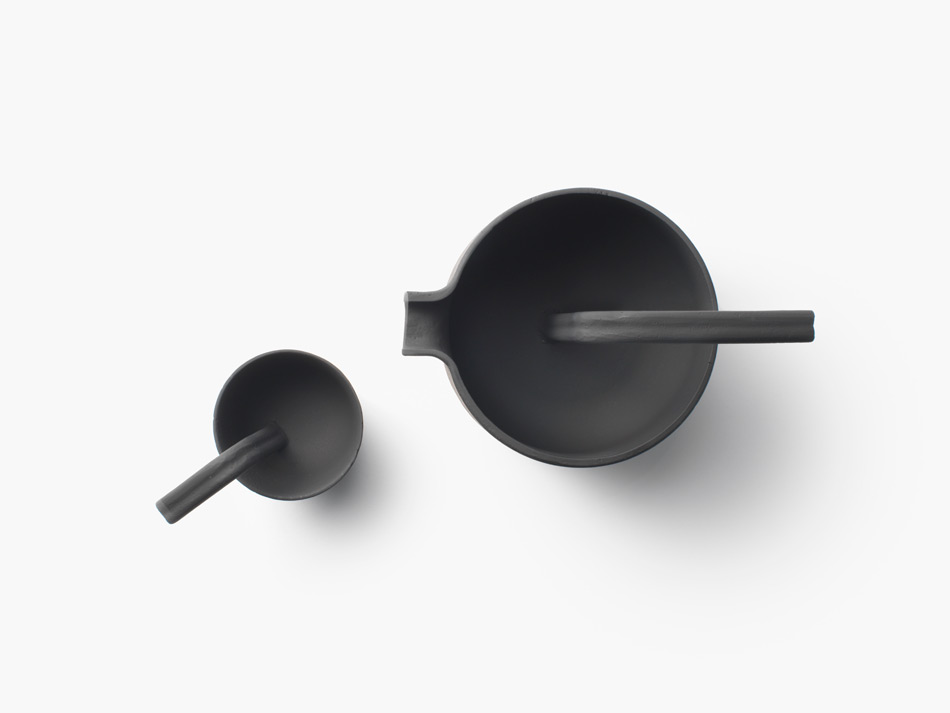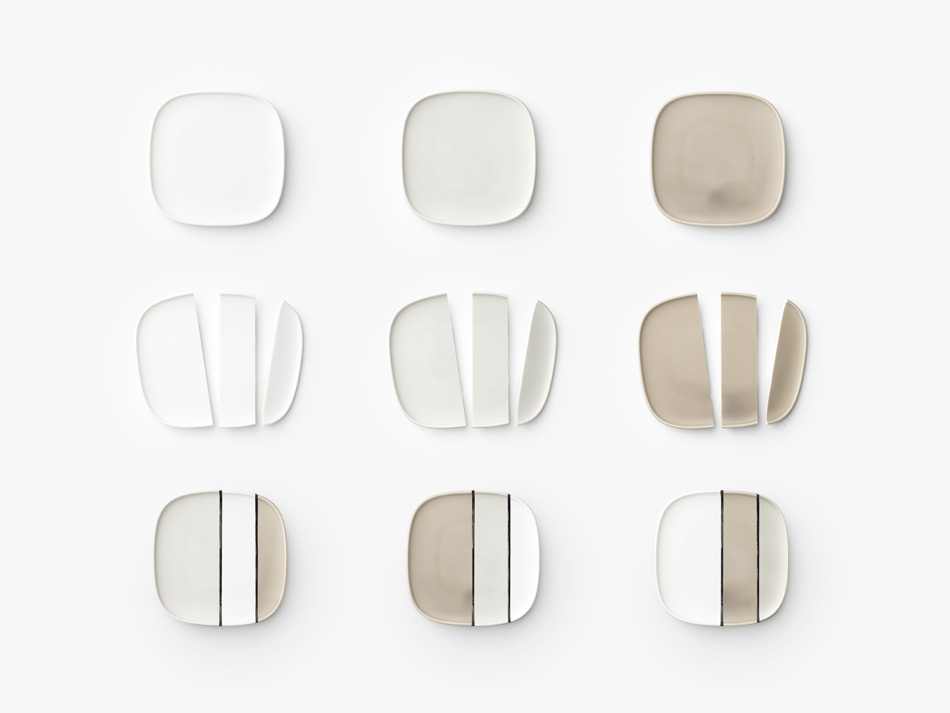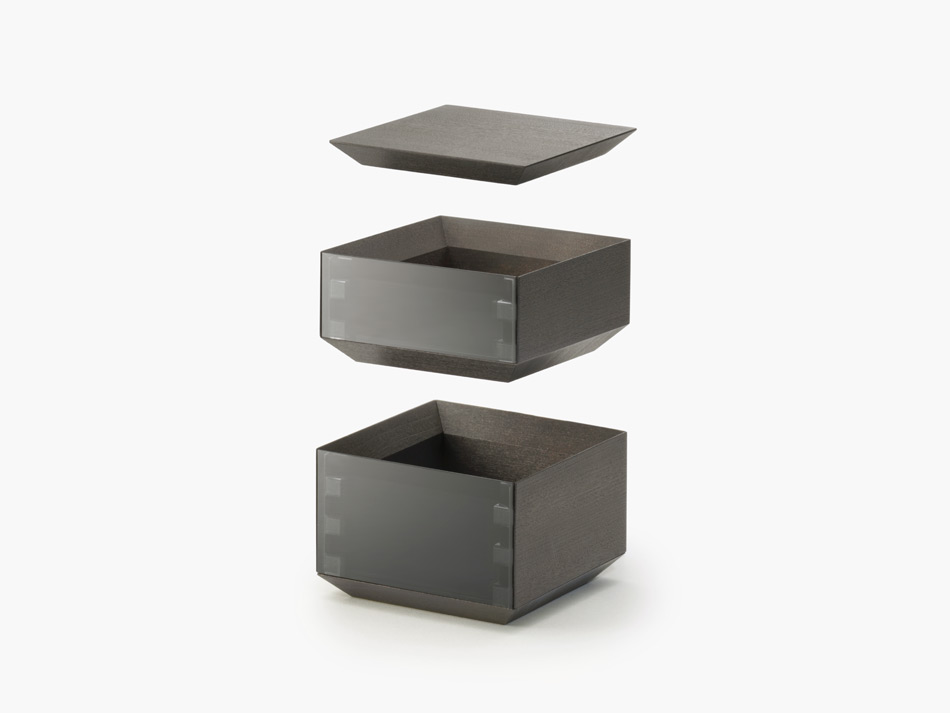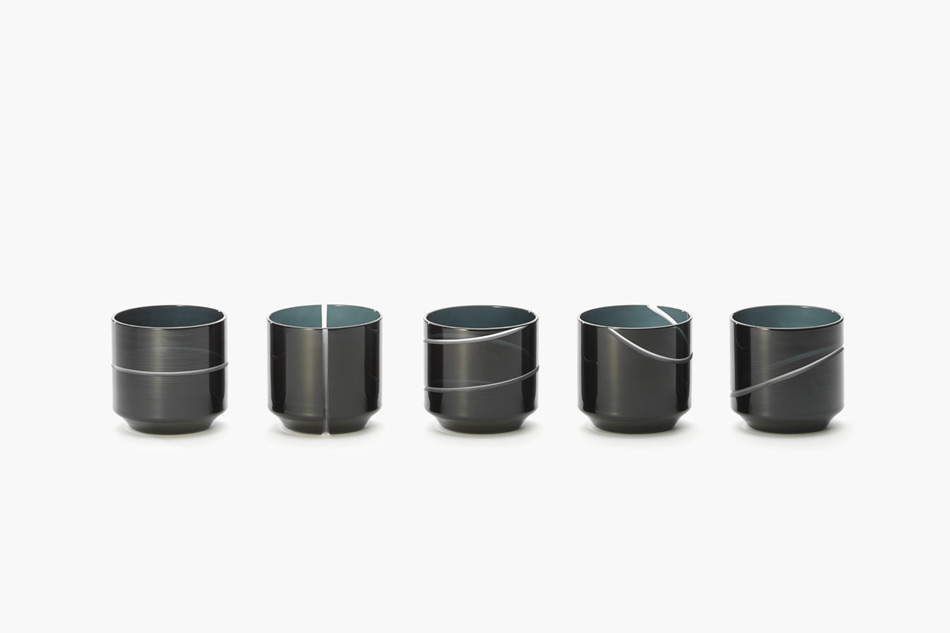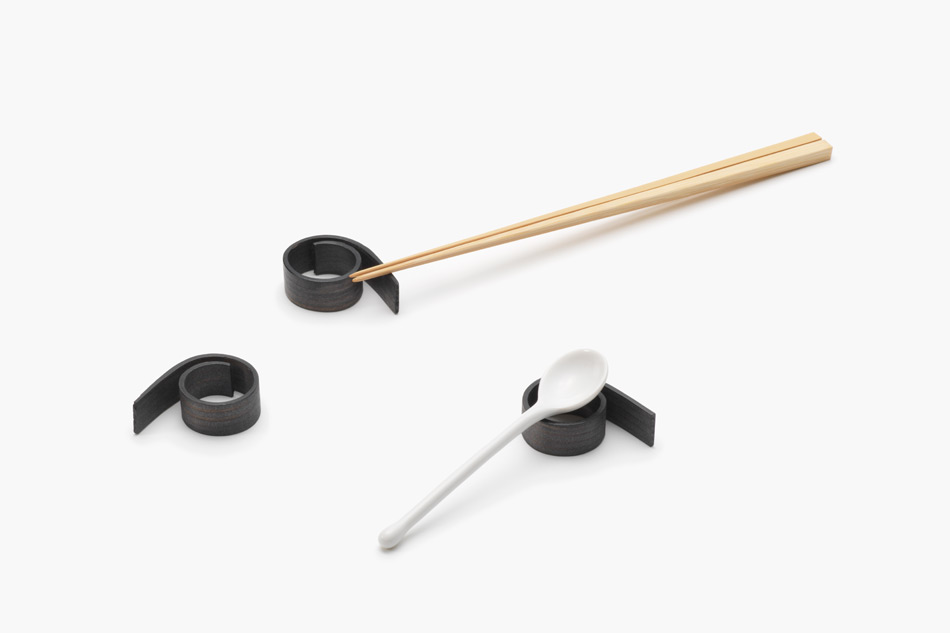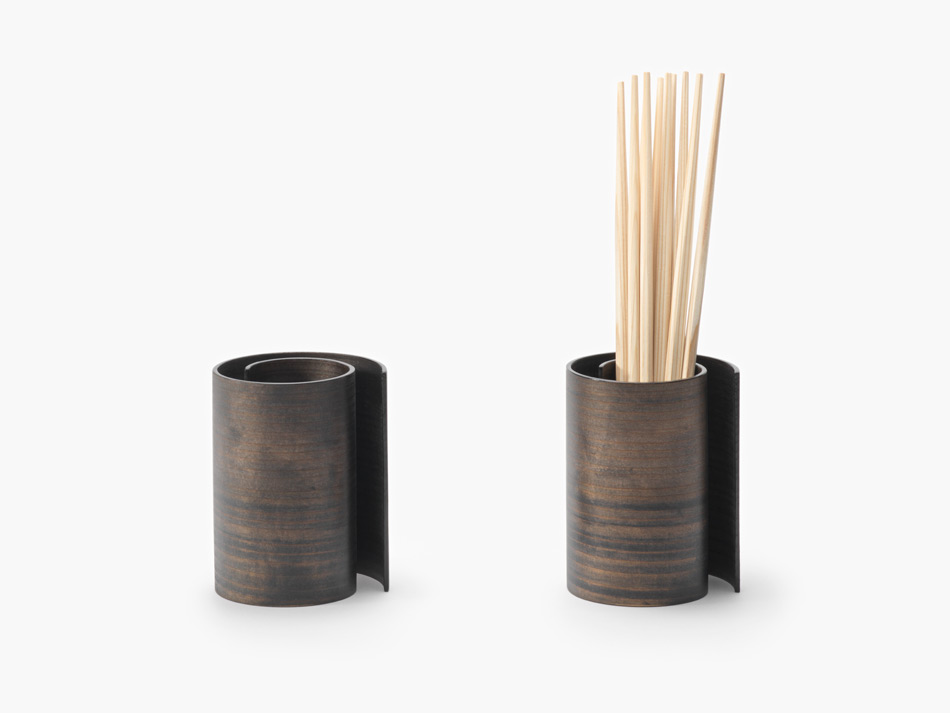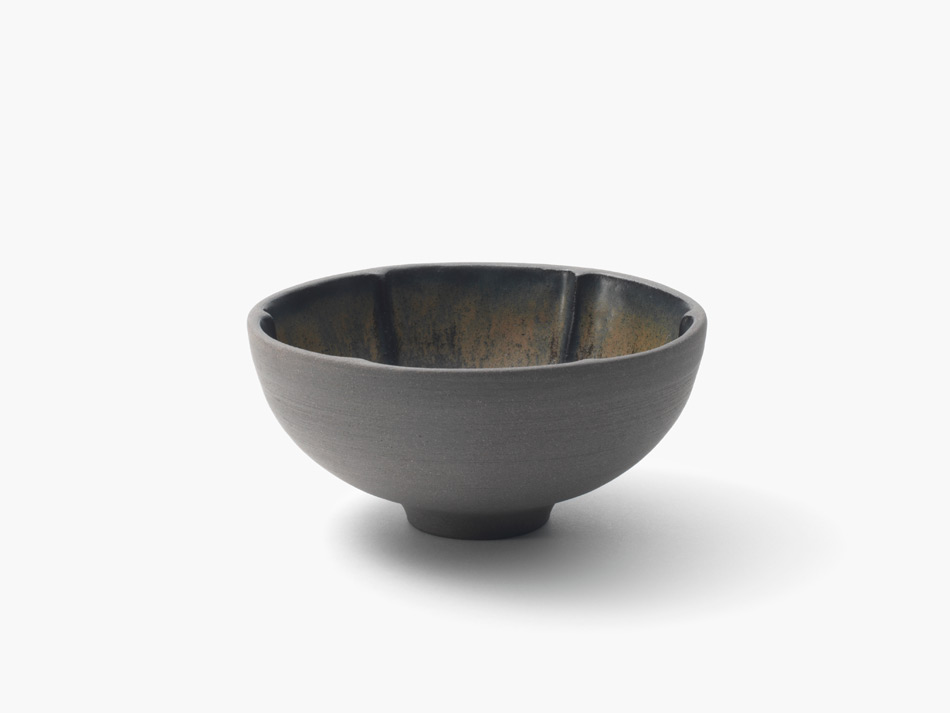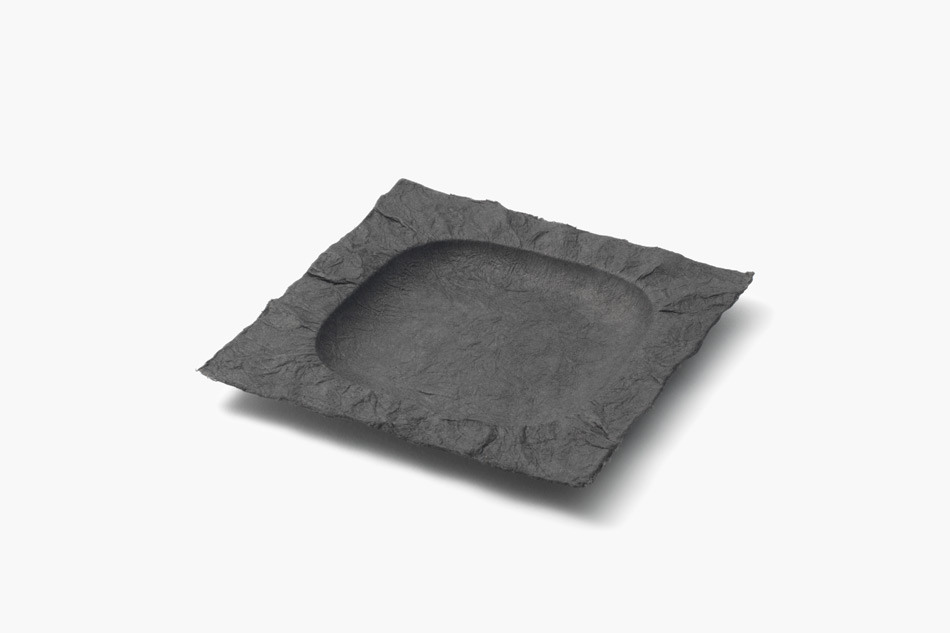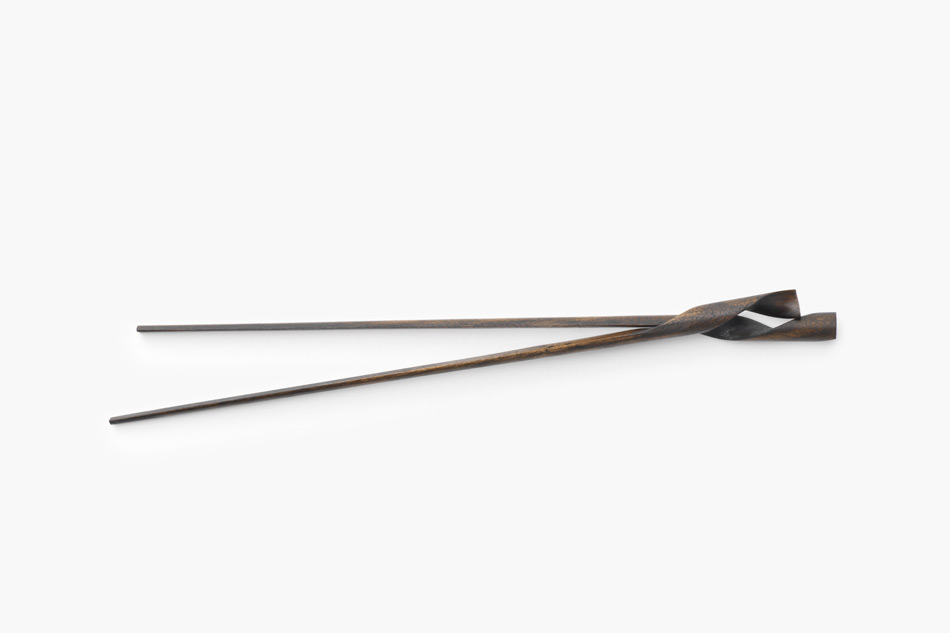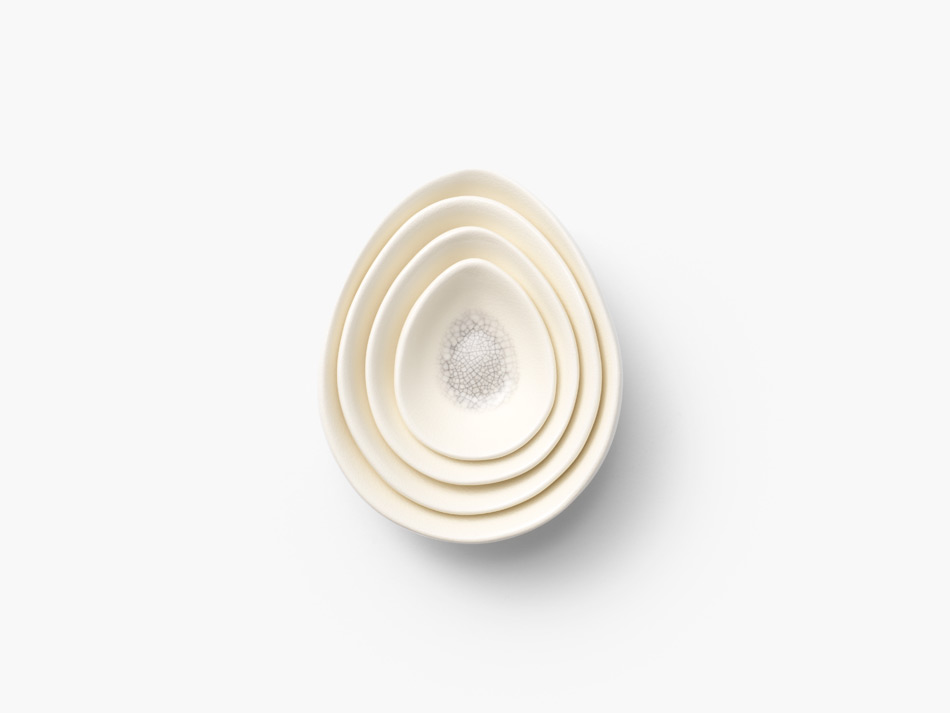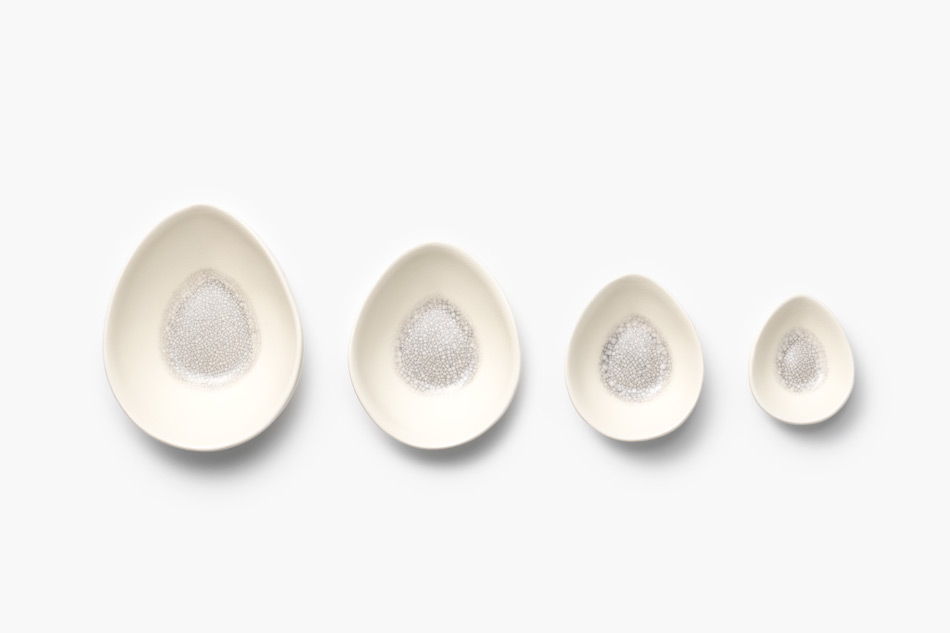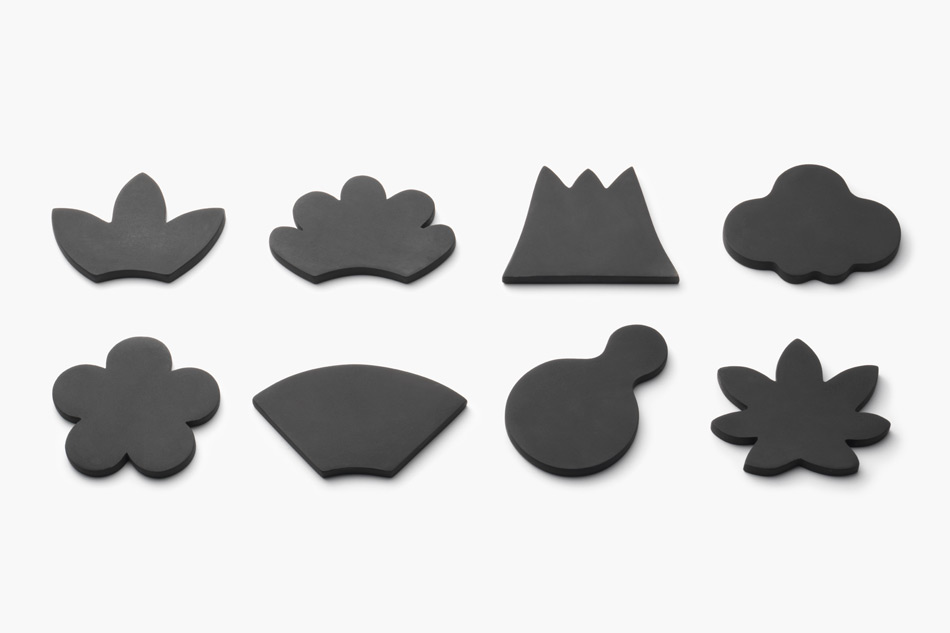 a diverse digital database that acts as a valuable guide in gaining insight and information about a product directly from the manufacturer, and serves as a rich reference point in developing a project or scheme.
designboom will always be there for you
milan, new york, beijing, tokyo

,
since 1999