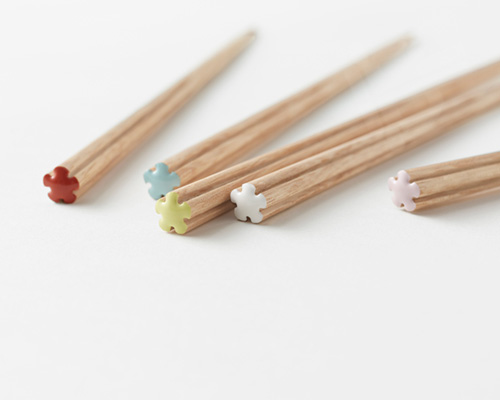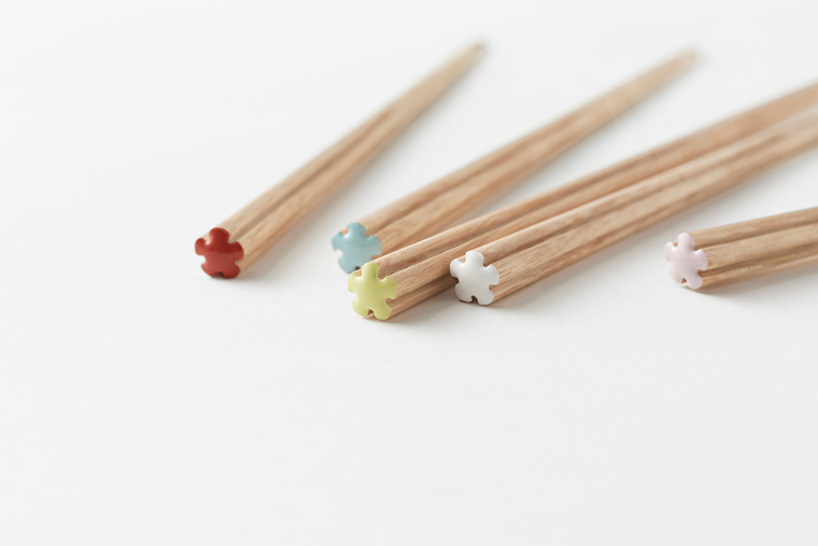 dec 18, 2013
nendo partners with hashikura matsukan on chopstick designs
nendo partners with hashikura matsukan on chopstick designs
all photos by akihiro yoshida
nendo's practice is embedded in exploring historical japanese craft techniques — partnering with workshops who continue to employ traditional manufacturing methods — and utilizing the processes in the realization of his contemporary designs. having already been involved in the creation of eating utensils, as seen with his 'sekki' cutlery which he collaborated on with metalwork firm kobayashi kogyo, nendo continues to delve into this area by collaborating with hashikura matsukan on a collection of chopsticks.
hashikura matsukan is situated in obama, a small town in japan's fukui prefecture recognized for its production of the hardest and most beautiful japanese lacquered chopsticks. since the seventeenth century, they have been applying the custom of wakasa-nuri to enamel their wares. the six designs: hanataba, rassen, kamiai, sukima, jikaoki and udukuri, that nendo has conceived with the workshop, each take on a unique form, finished with 'wakasa-nuri' to varying degrees.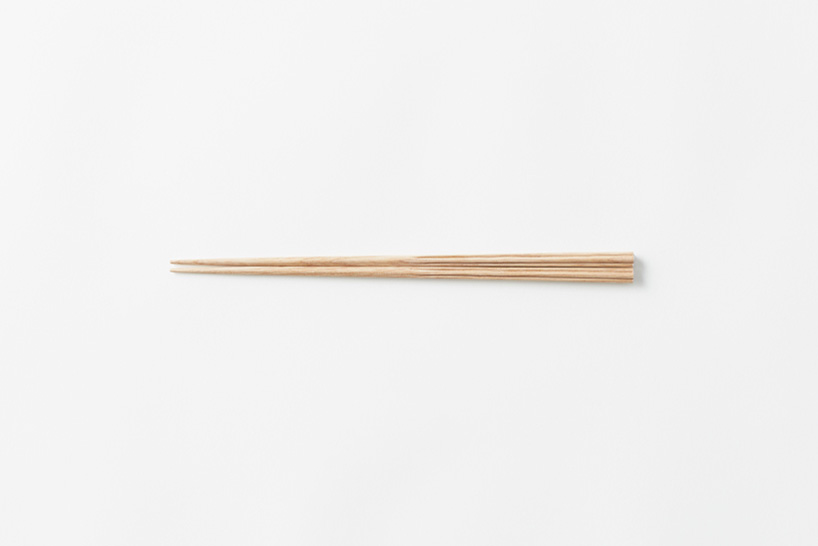 'hanataba'
often round chopsticks are a bit slippery to use, but then square ones are not comfortable to handle. taking these issues into account, nendo looked into ways of increasing the surface area of chopsticks in one's hand, and discovered that a pleated cross-section would obtain this. when viewed from their ends, the 'hanataba' chopsticks appear as flowers, so that a bunch of them kept together inside a vessel look like a 'bouquet'.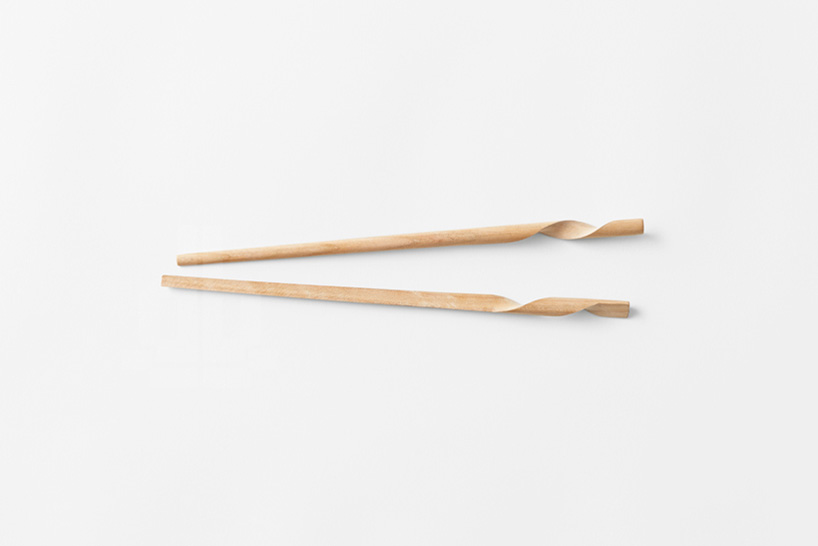 'rassen'
'rassen' imagines a pair of chopsticks as a single unit, which of course can be separated into two for eating. the utensils were created using a multi-axis CNC mill to achieve the twisting form.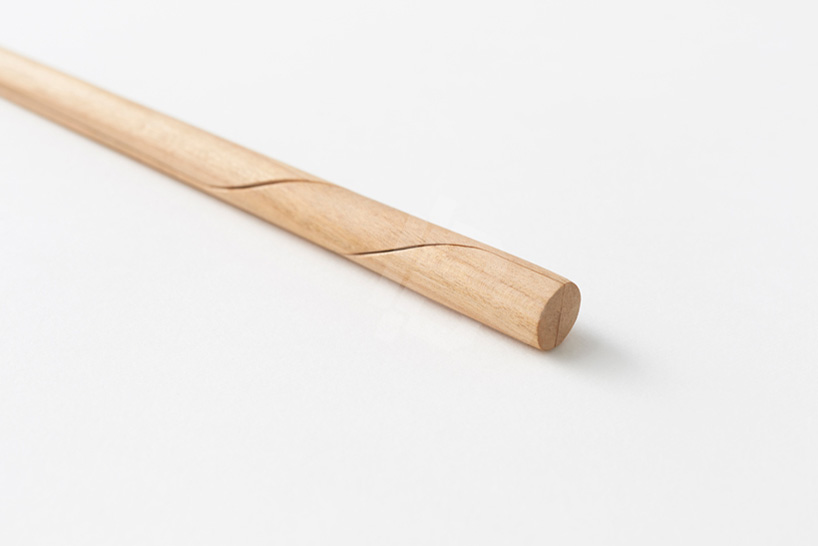 'rassen' imagines a pair of chopsticks as a single unit

'kamiai'
taking shape and practicality into account, 'kamiai' sees one of its four square sides recessed with a gap and embedded with a magnet, so the pair can snap jointly as one when they are flipped and fitted to each other. the magnets are placed on the outside of the chopsticks to ensure that they don't accidentally come together while someone is in the process of eating.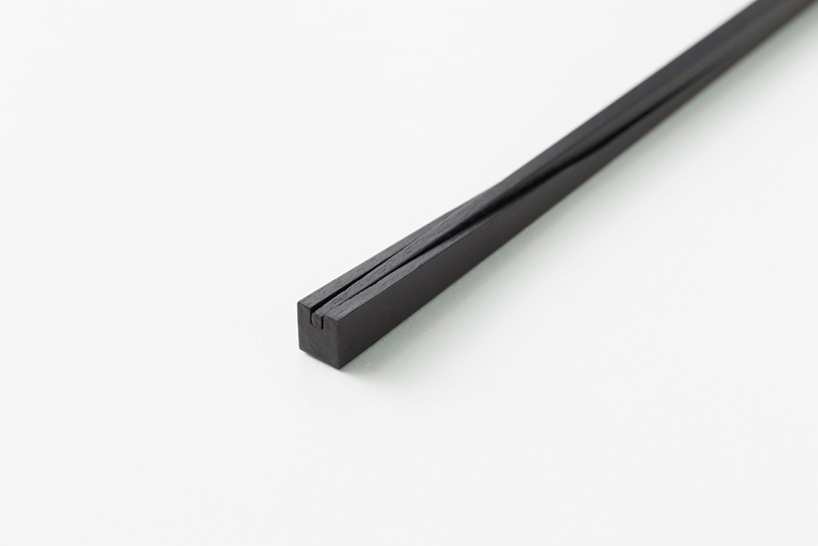 'kamiai' features a recessed area in one of its four sides so that the pair chopsticks fits into one another

'sukima'
surveying the world of patterned chopsticks, nendo decided to instead create pattern within the utensils rather than solely as an application to their surface. 'sukima' is comprised of four patterns: hearts, diamonds, clubs and spades, each are carved into the slender pieces of wood all at the same point, so that one may pair different motifs together. because the reduction of material from made the chopsticks so thin, an aluminum core was integrated to ensure strength and durability.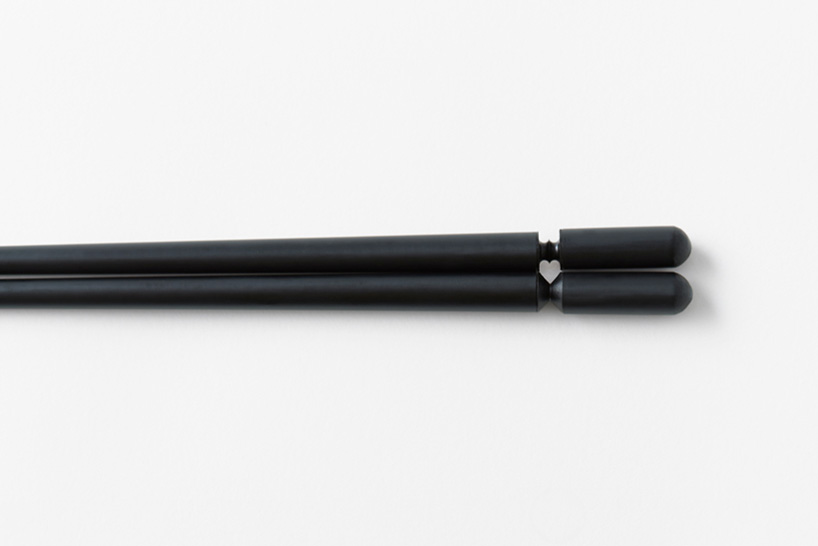 'sukima' heart motif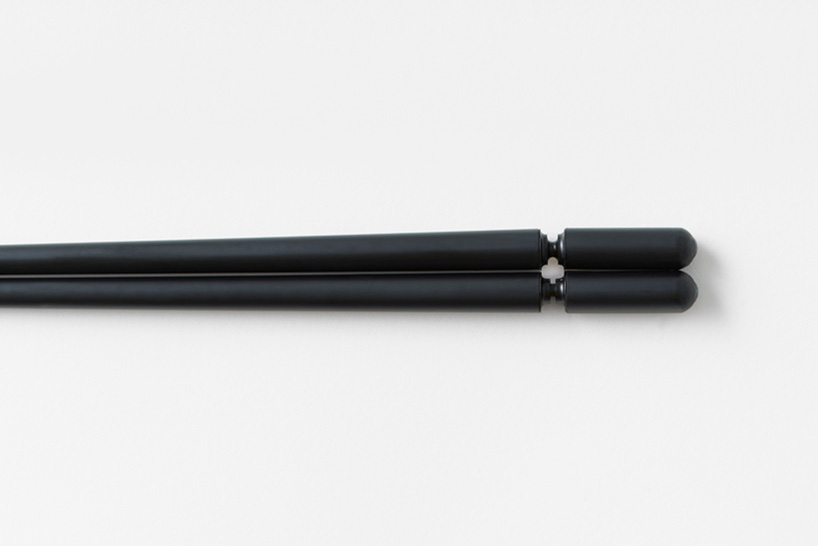 'sukima' club motif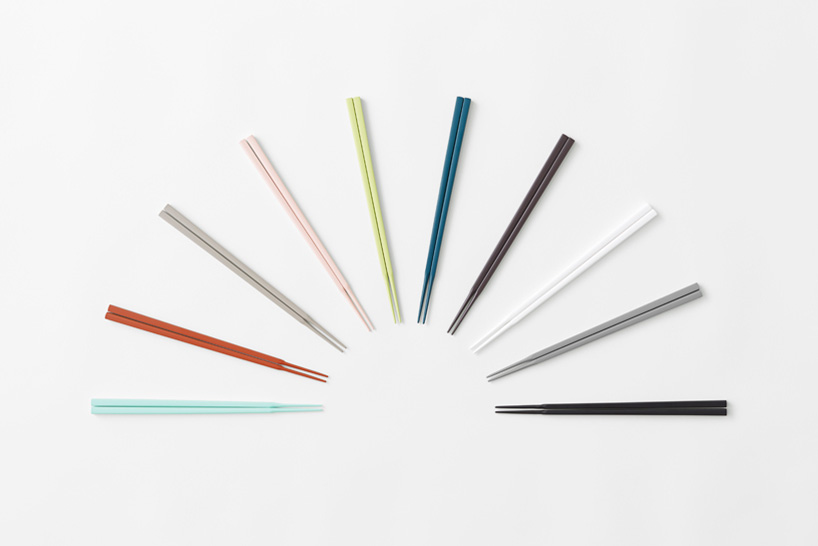 'jikaoki'
'jikaoki' is more an exercise in classic chopstick design. each of the tips are tapered into a fine point to make gripping food items easier. in addition, this formal quality allows them to float above the tabletop when laid down, which keeps one's eating surface clean without the need of chopstick rests.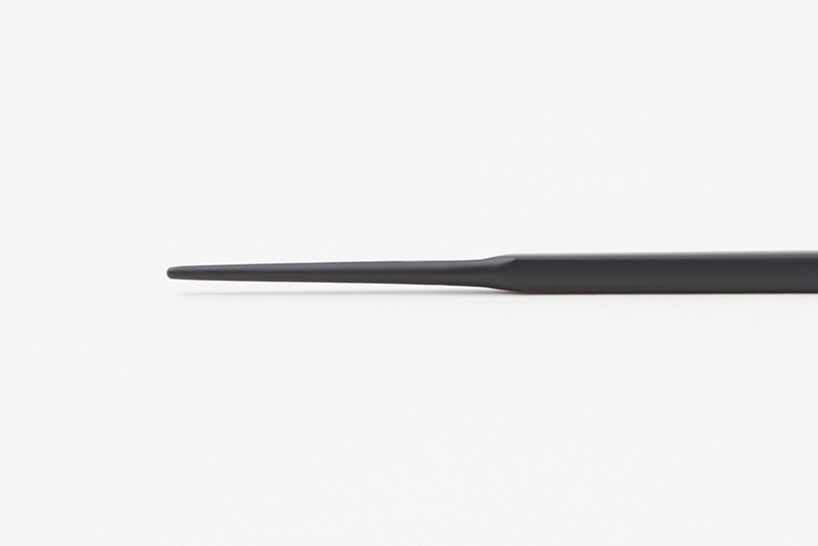 'jikaoki'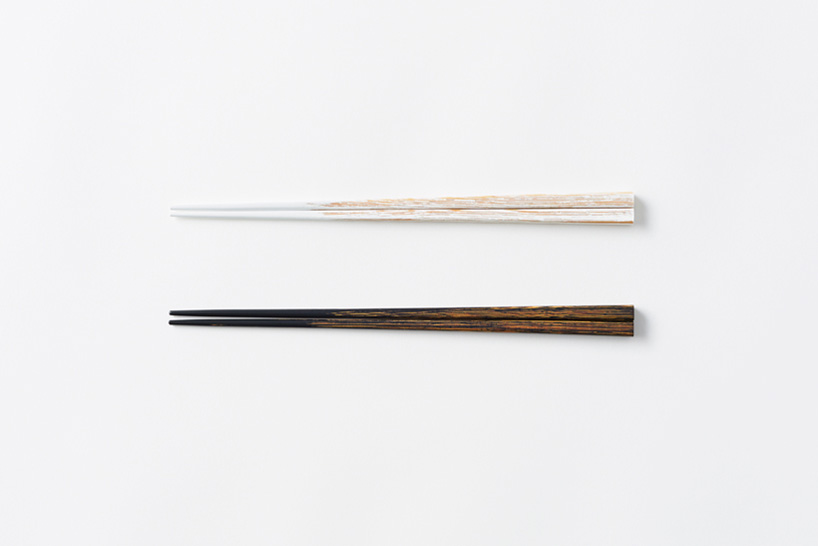 'udukuri'
the final motif is named after the udukuri process which it employs in its finish. the wood surface of the chopsticks is stripped away with a metal brush, revealing the hardwood grain. they are then lacquered in such a way that enhances the natural patterning of the material. the traditional technique of 'togidashi', in which clam shells, eggshells and gold leaf are applied to on object with lacquer and then polished away, is used to further bring out the textures of the wood.
nendo has sent designboom exclusive documentation of the 'making of' his chopstick designs for hashikura matsukan. please click through the gallery below to get an in depth look at the techniques that were used in the production of the eating utensils.
nendo
(243 articles)
nov 25, 2019
nov 25, 2019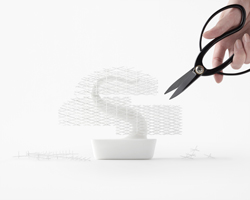 oct 03, 2019
oct 03, 2019
sep 21, 2019
sep 21, 2019
aug 28, 2019
aug 28, 2019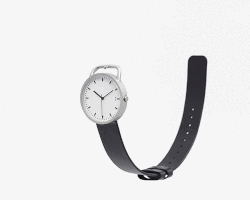 jun 11, 2019
jun 11, 2019
may 18, 2019
may 18, 2019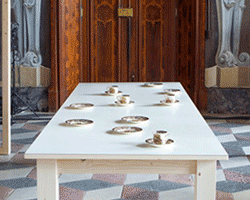 may 24, 2019
may 24, 2019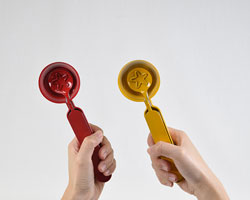 feb 21, 2019
feb 21, 2019
jan 30, 2019
jan 30, 2019
a diverse digital database that acts as a valuable guide in gaining insight and information about a product directly from the manufacturer, and serves as a rich reference point in developing a project or scheme.