under the orchestration of architect oki sato, nendo represents a cultured and refined point of reference in japanese design. founded in 2002 and meaning clay, nendo works in the field of interior architecture, furniture and graphic design. their latests creation is a collection of side tables which resemble triangular tents for italian furniture manufacturer cappellini. their quirky design feels as if taken from a cartoon movie, with an unexpected cone shape that reveals different uses.

the family of side tables resemble the shape of triangular tents
above and main image © akihiro yoshida
nendo's tent collection for cappellini can be placed by a sofa or bed while the round cover shape can be moved in order to face the opening to the required direction. available in different heights and sizes, the tables have an inner lighting system that highlights the items inside, revealing a possible use as a display case. the tent collection is no stranger to nendo's attention to detail, as it features an undulated border at the bottom.

each piece has been equipped with an inner lighting system
image © akihiro yoshida
comprised of a desk and four consoles, the series is a family of tents, some taller, some wider, but all with the round-shaped opening. made of plated metal, the desk is slightly different as its interior has been finished in fabric, resulting in a sound buffering effect that allows the user to focus on work in the enclosed space.

the top of the tables can be moved in order for the user to place the opening where needed
image © akihiro yoshida

the set is comprised of different sizes, some smaller, some wider
image © akihiro yoshida

the tables have been designed for italian manufacturer cappellini
image © akihiro yoshida

the tent collection is made of plated metal
image © akihiro yoshida

sketch © nendo
nendo
(212 articles)
jun 16, 2017
jun 16, 2017
jun 08, 2017
jun 08, 2017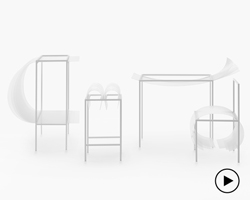 jun 03, 2017
jun 03, 2017