designboom interviews neri & hu on defining the future workspace
portrait © designboom

designboom partners with leading office furniture company HAWORTH on an editorial series that investigates the future of the contemporary office environment and new ways of working. our alliance brings forth insights into the workplace and how it has evolved from something more static, into an active and modular condition.
in this eighth feature, we interview shanghai and london-based firm neri & hu design and research office. the interdisciplinary studio works internationally on projects that encompass the disciplines of architecture, interior design, master planning and product development. through their work, lyndon neri and rossana hu challenge the traditional boundaries of architecture. they focus on the particular context and function of each space they realize, to develop a dynamic interaction between user and built environment, refraining from conforming to a particular style. having lead several office building projects, and developed a number of work-focused furniture pieces, designboom sat down with neri & hu to discuss what has influenced their creative practice, and their views on how they see the future of the office environment transforming.
neri & hu on how their approach to designing office spaces has changed over time
video © designboom
designboom: you have completed a number of office projects. how has the approach to designing these types of spaces changed over time as a result of technology, and the notion of the office no longer being a fixed space etc?
rossana hu: we ourselves too feel that the workspace is going to really take on a very different turn, and I would say that the key point is that people no longer want to work in a very formal space. of course it still very industry to industry — if you're a law firm, or if you're a more conservative banking industry, you might still need to have a stuffy and formalized space, interior decor. but, for most other people with the hi-tech element of working, I think most people just want a more casual space; and I think people also really like to work at home. not to say that physically they will be at home, but you can transform your workspace into a home space, and I think that's the trend that we've been seeing. especially in californian, even european companies — the young hi-tech companies, they are making their workspace more like home, and that just means flexibility, it means comfort, it means you can lounge back. it also means a certain kind of mobility that you didn't have before when you were just sitting at your workstation.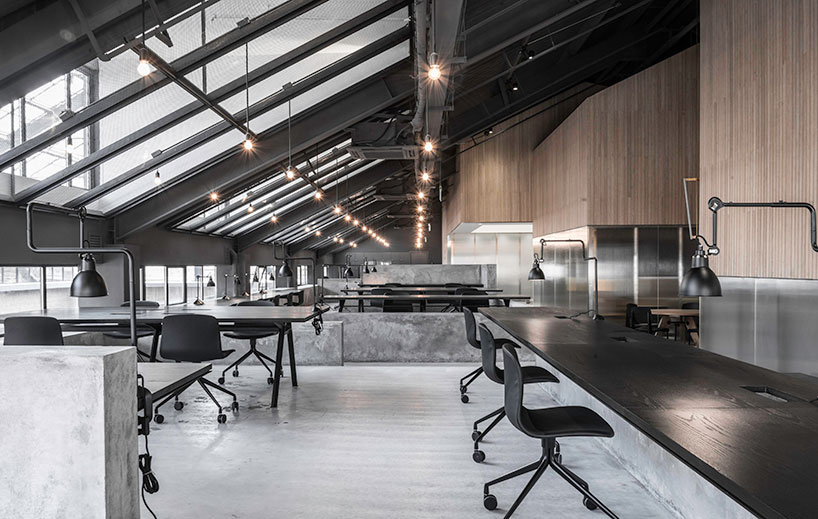 'flamingo shanghai offices' by neri & hu
image courtesy of neri & hu
see more about this project on designboom here

the 'flamingo shanghai offices' offer multi-level workspaces
image courtesy of neri & hu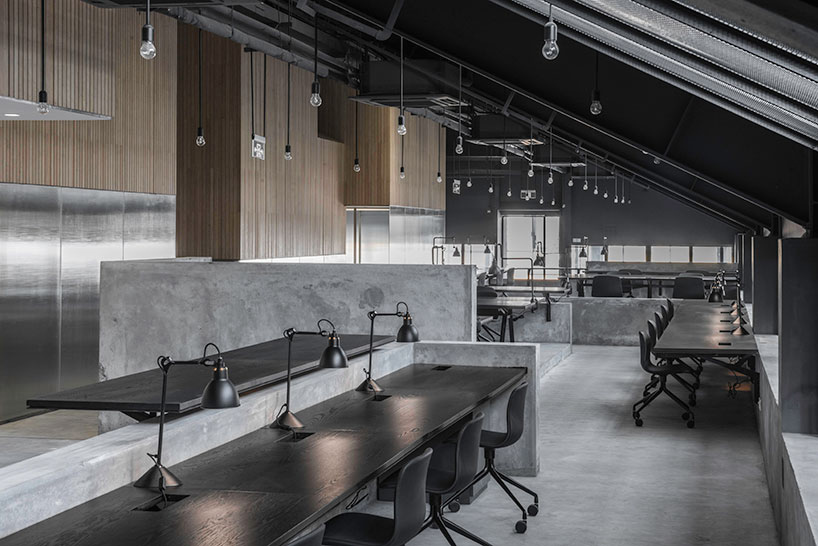 the design gives users the feeling of being tucked away, while also being looked upon
image courtesy of neri & hu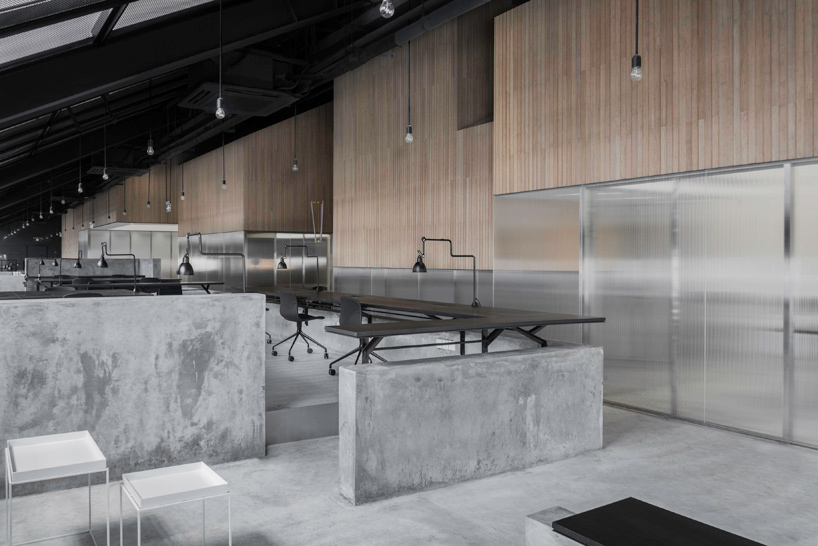 the workspace elaborates on notions of voyeurism and observation through the use of glass partitions
image courtesy of neri & hu
designboom: how have you seen the ergonomics of furniture shifting with this change as well?
lyndon neri: flexibility, is important, even within the typology of the furniture itself.
rossana hu: if you look at the evolution of where ergonomics came from… let's just say if you're looking at an architect's work: when I went to school, we were still drafting with parallel rulers and pencils and triangles, and that kind of gesture that you have — often when you're working on a deadline, you might be working day in and day out for two-three days non-stop — the kind of sitting position and the way you have to move on a drafting desk; that type of ergonomics is very different from now when you're drafting in front of a computer. maybe it will also change from where we are now, from drafting in front of the computer to something different later. in the very near future you may be able to sketch on a pad and somehow translate it into a draft or drawing. so, I think a lot of it with the change of technology. it is also going to change how we respond and how our body actually interacts with the technological needs of drafting. so I think that all those things will probably also take on a new turn depending on what happens.
lyndon neri: we did in cologne with 'das haus',was we questioned that in order to think about the future, we have to think about the past. people often think about the future without look back at the past. when you don't look back at the past, you also don't look at the failures of the past. but, there are other ambitious projects in the past that are actually quite relevant in researching, because there are some things that have been done in the past that are actually quite strong. so, the cologne installation we did, forces people to back through memory lane. it is through the past that we can think the future, because at the end of the day, no matter how technology moves along, the human condition stays the same. eyes to see, nose to smell, and the basic notion of humanity needs to be addressed; and if we don't, often times the new things we do such as just addressing technology, will always fail.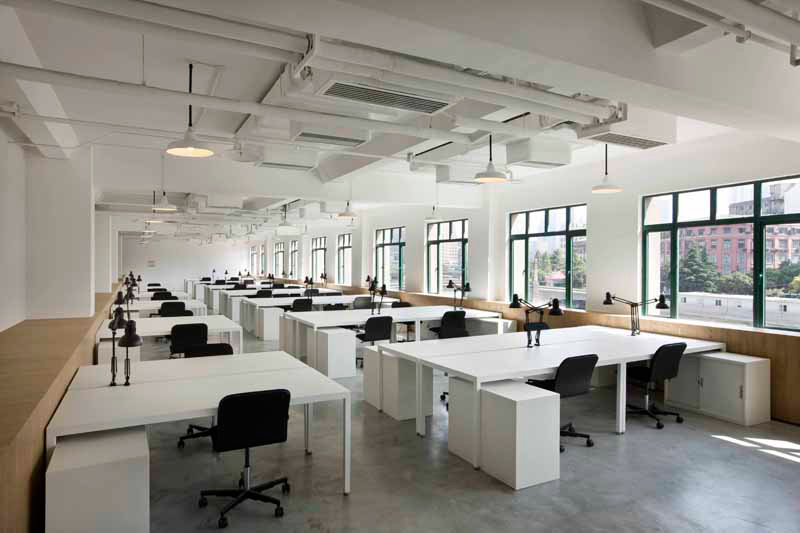 'shanghai study center of hong kong university' by neri & hu
image courtesy of neri & hu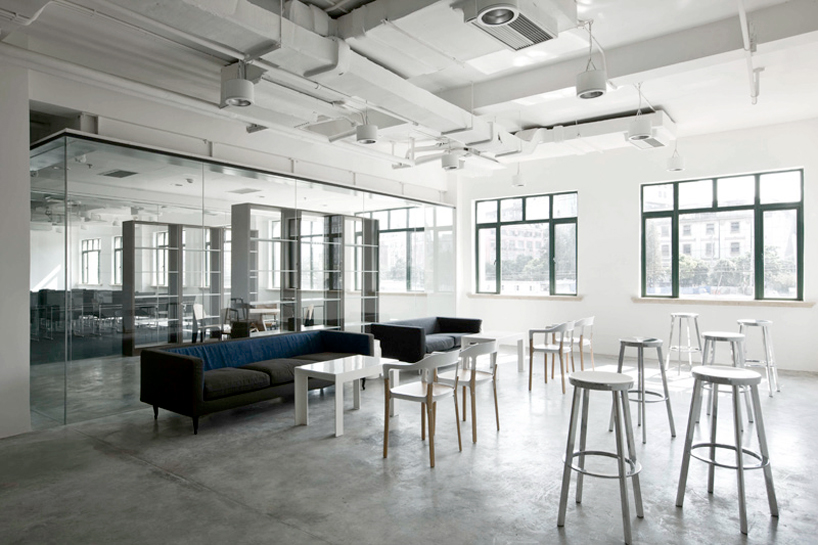 'shanghai study center of hong kong university' has been designed to accommodate a spectrum of functions
image courtesy of neri & hu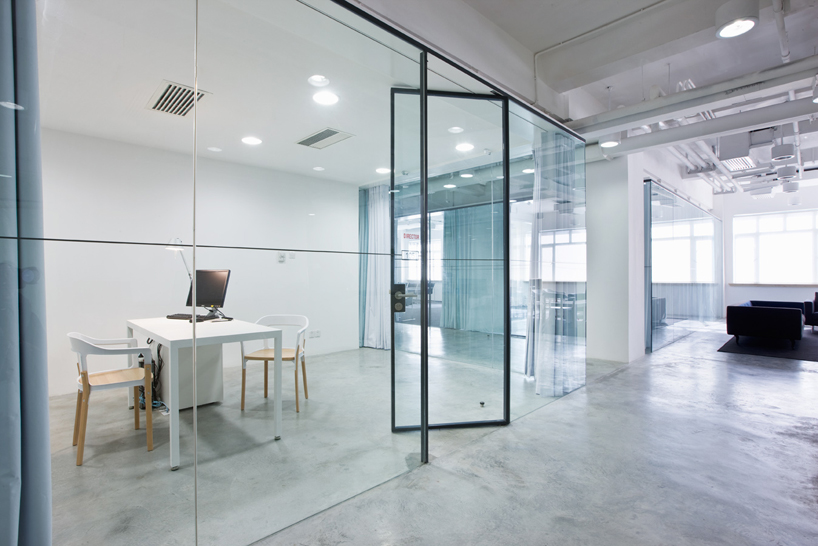 glass partitions keep the study centre visually open, while maintaining a sense of privacy
image courtesy of neri & hu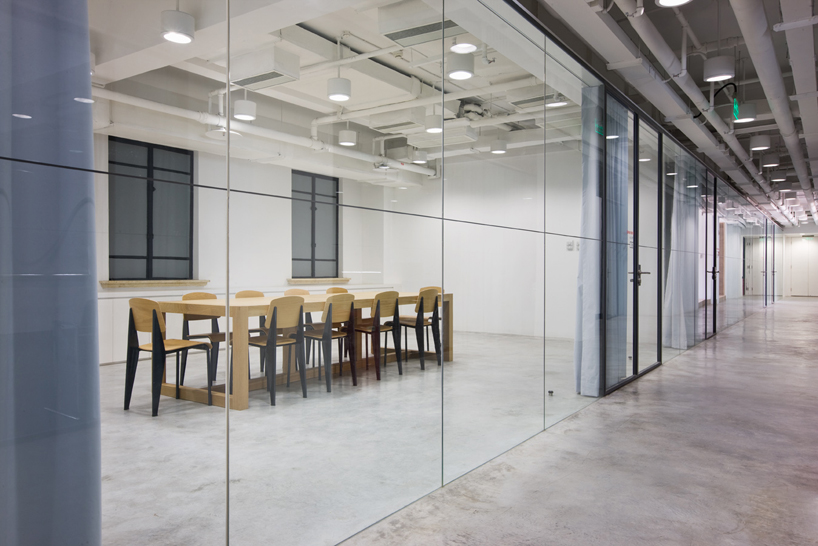 board room spaces offer a place in which to engage in collaborative work
image courtesy of neri & hu


neri & hu on how they envision the future of the workspace to be in five years
video © designboom

designboom: what is the workspace becoming? how would you maybe define it and envision it in five years time?

rossana hu: I personally think it is going to become more natural. and it's what lyndon just said — that maybe a prediction for the future is that we need to look to the past for what will happen in the future. I was just thinking as you were asking this question, the whole question of ergonomics as well… I think there's a problem when humans try to become machines. you know, through mass production, through having a much more higher level of expectation for productivity, we're all trying to produce like machines. but once we can create, and if we can create machines to take over the work of the machines, so that the machines are doing that work, then humans can go back to becoming humans, to be more creative, to work on more innovation as opposed to repetitive production. if that's the case then it's not so much about sitting in front of a computer or a drafting desk, drafting like machines, but it's more about taking a notebook, sit under a tree and daydream. I am hoping that my sort of vision of future and working is to go back and return to nature so that your workspace is more like a garden. your workspace is more like a home. it's like a kitchen, and bedroom, and living room, bathroom all-in-one kind of space.

lyndon neri: and not to be over nostalgic about what rossana is just saying, but I think the future is going to be about going back to the tribal mentality, going back to the cave where there is no clear definition of living and dining room. it's just about living. it's about going back, as rossana says, back to nature, back to the provincial things, to the more parochial things maybe, and yet still addressing global issues. so the source now you go see a product, you don't really know where it's from — india, china — whether its sustainable, whether they were made by children or by older folks that had nothing to do. but, now we can through technology, by technology serving us, we can actually relate one on one without things becoming too commercial, things too gentrified, things becoming too fast. it could still be equally as productive if we can have the sources or the capability of getting in touch with the real source of things.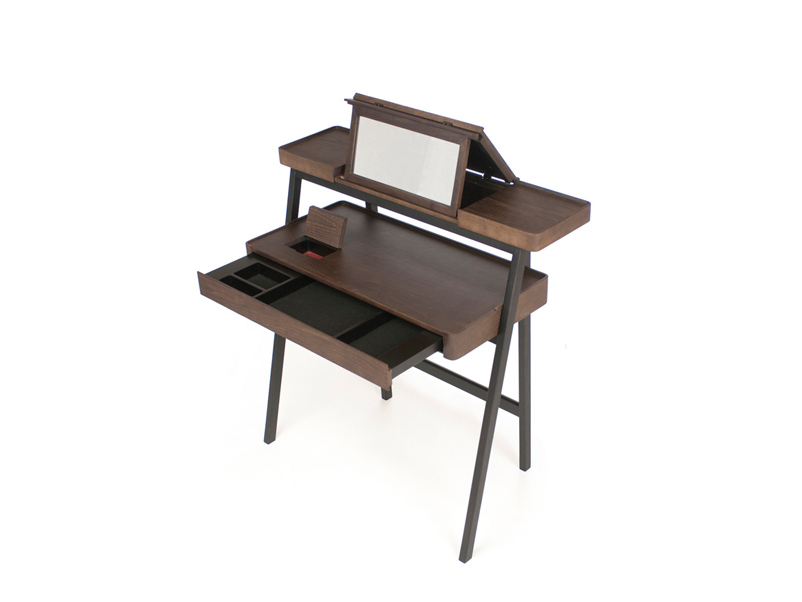 'tray desk' for de la espada designed by neri & hu
image courtesy of neri & hu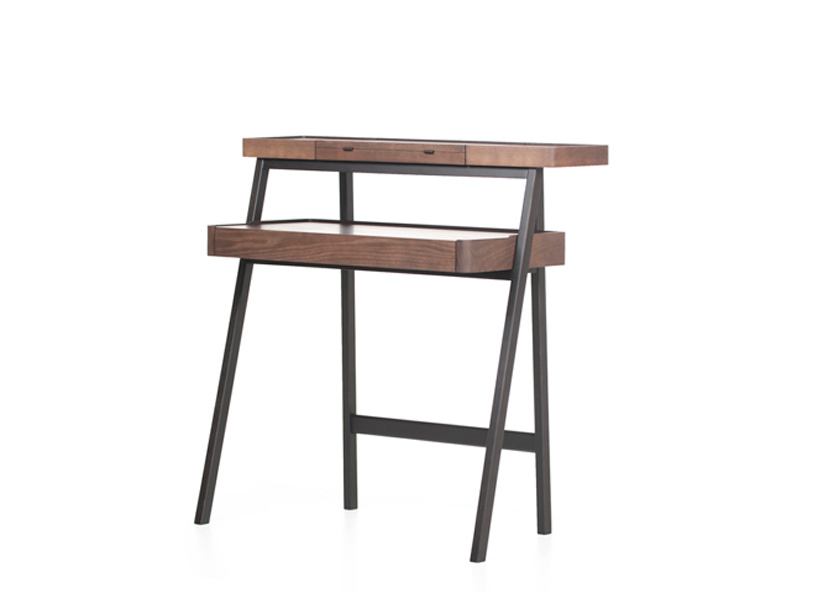 'tray desk' for de la espada designed by neri & hu
image courtesy of neri & hu
designboom: how does the approach is culturally in these two places when you have clients from different continents. how do you adapt to the diversity of their mentality and their approach to work?
lyndon neri: it's interesting because we do have projects globally. we have projects in brazil, projects in miami, lisbon, london singapore, kuala lampur, all over the world. different cities have different nuances. what's important is for us as architects is that we have to be authentic to ourselves. I think it's not so important for us to have a signature neri & hu design. people often say, lyndon and rossana, a lot of your projects are very different, and that to us is a compliment. we were just in a number of peter zumthor's projects and you can see distinctive differences in a lot of the projects that he's done, and to me that is really a strength. I believe that as architects, we need to be finding meaning in the authenticity in the context we are working in. now, that's difficult because often times trying to understand different clients and different requirements, let alone the cultural aspect of it, makes it more complicated. but I think, to spend time exploring those issues will make the project that much better.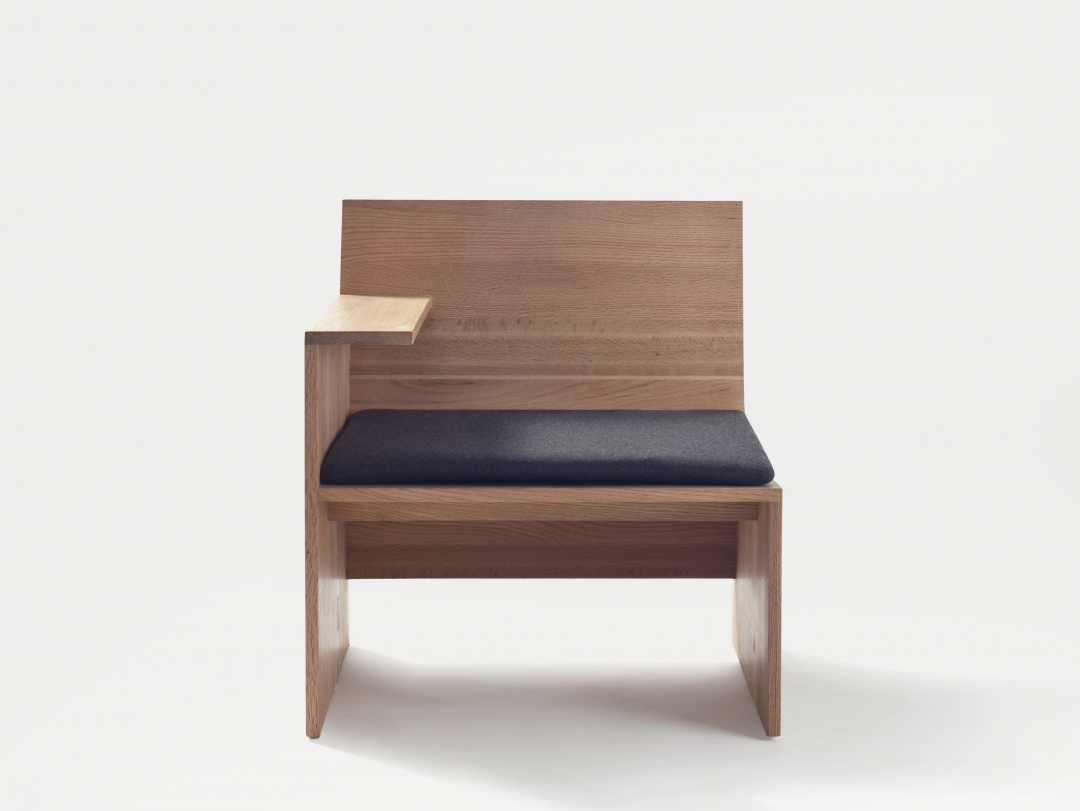 'mu chair' by neri & hu uses the proportions of traditional chinese wooden chairs expressed in a planar fashion
image courtesy of neri & hu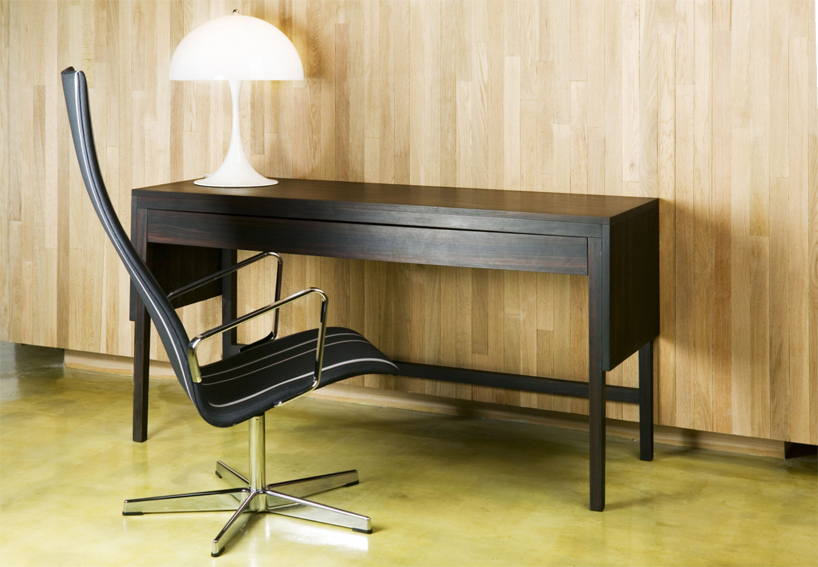 'drape secretary table' by neri & hu
image courtesy of neri & hu
Save
KEEP UP WITH OUR DAILY AND WEEKLY NEWSLETTERS
a diverse digital database that acts as a valuable guide in gaining insight and information about a product directly from the manufacturer, and serves as a rich reference point in developing a project or scheme.
designboom will always be there for you
milan, new york, beijing, tokyo

,
since 1999