the people of new york city will be receiving its first-ever unique mobile meditation studio this month. BE TIME, ceo and founder, carla hammond, an avid non- profit worker in the new york to many start up organizations for many years found her love for meditation and wellness at the age of 15 and now busy with twins, decided to build a distinctive meditation studio to bring mindfulness to busy new yorkers at their convenience — BE TIME will offer a launch event to the general public on monday, january 22nd at madison square park for free classes 8am-2pm.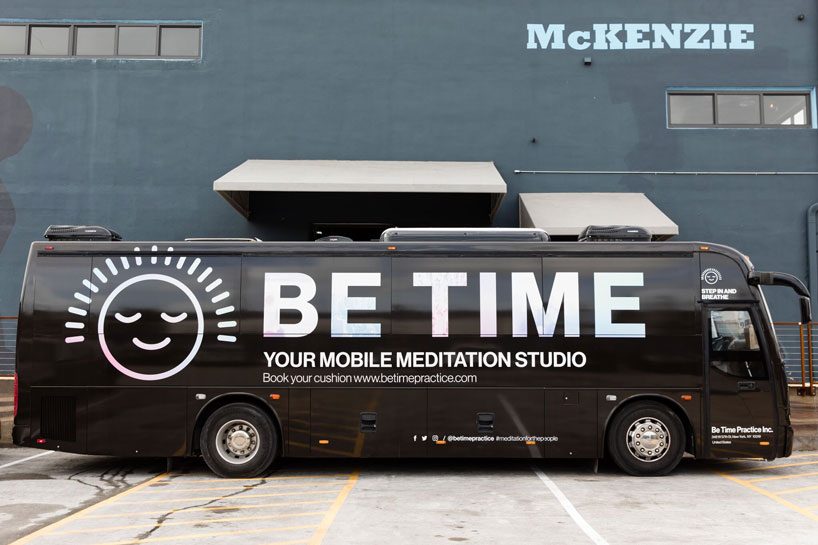 the launch even will take place on january 22nd at madison square park
BE TIME has been created to provide a space that is quiet, cozy, unexpected and can hold people in their meditation practice while taking a break from busy days. the moving studio will have experienced instructors guiding in person meditation classes at 30 minute intervals. because the BE TIME is mobile, its able to access more people and more places. 'you move, we move,' carla says. on top of the 30 minute guided practices, BE TIME will also offer 'open space' hours where meditators are welcome to hop in and perform their own practice. BE TIME invites people to come in, and take a breath from the urban hustle while in a serene space that incorporates self-care bonuses: aromatherapy, light + chromo therapy and weighted blankets to add to your meditation experience. BE TIME is a fully transformative 30 min 'mind break' with extra add-ons to help sooth you through the practice.
the BE TIME bus was designed by a power duo couple of architects (rolando rodriguez leal and natalia wrzask), founders of aidia studio. the duo has worked with zaha hadid, jean nouvel's louvre in abu dhabi and more. mckenzie, a miami-based boutique design, build and custom fabrication firm partnered with aidia studio to make the design vision come to life. mckenzie transformed the vehicle into a high-tech mobile studio through the custom fabrication of unique laser cut wall panels, and coordination of the design of all the audio and lighting components, ensuring all the complex design features came together harmoniously. additionally they built out all technicalities in the process: generators, sound insulation, extra-air conditionings, best systems to sustain paneling and led structure.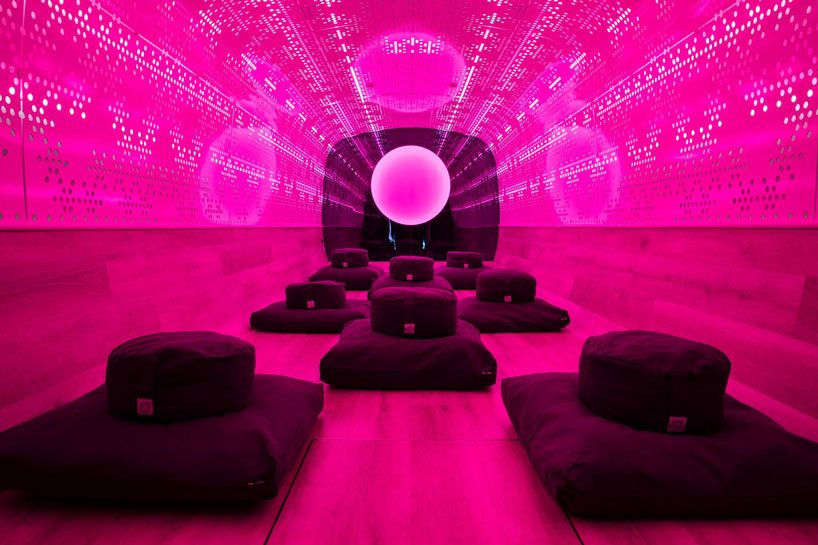 interior in pink
BE TIME believes in a 30 minute meditation session so that people can disconnect and reconnect, offering themselves a dose of self-care. BE TIMErs will come out of class feeling more relaxed and connected with themselves. 'it really helps to take a breather! it has been proven that just meditating 10-20 minutes a day increases your productivity and creativity, reduces stress, anxiety, and risk of cardiovascular disease, improves insomnia and relationships with yourself and others, amongst other amazing benefits', carla explains, 'depending on the thematic focus of the class they choose, clients can use BE TIME meditation to increase focus, relieve stress, work towards a goal, increase creativity, or get a boost of energy'.
'meditation for the people' is BE TIME's motto, which is why the studio is mobile and the schedule will be broad. BE TIME would like to accommodate new yorkers around the city and make itself accessible to as many people as possible with as many times & locations available. there will additionally be discounted rates for students with an aim to provide meditation free of charge once a week to a school or community. BE TIME weekly schedule will be available at the website so clients can have an idea of what neighborhood the mobile studio will be located in for each day and a detailed address will be provided once the studio has been parked each morning. daily addresses will also be provided on social media @betimepractice, where the locations will be posted throughout the week. the idea is to have set locations each week so that people can rely on BE TIME being there and start making it a part of their weekly routine. the instructors are a selected group of handpicked individuals who believe deeply in the positive impact of meditation.
BE TIME will slowly roll out its services with a half day schedule eventually turning into a full day schedule. BE TIME will offer first timer's a 30 minute session at $10. from then onwards, classes will regularly be available for $22 (30 min classes) and $11.00 (open space sessions). there are also class packs available, 5 for $99 and 10 for $190. classes can be scheduled through the zingfit app.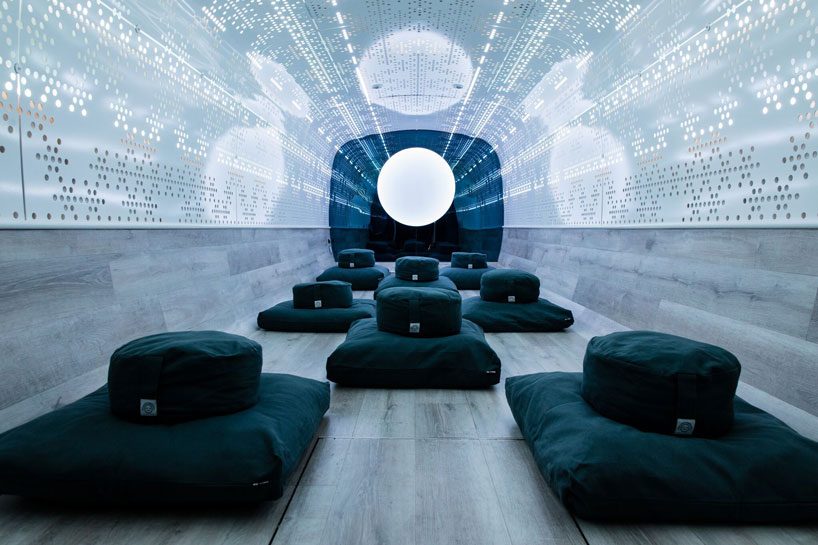 interior in blue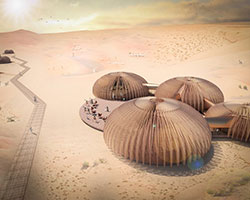 aug 06, 2020
aug 06, 2020
oct 18, 2012
oct 18, 2012
a diverse digital database that acts as a valuable guide in gaining insight and information about a product directly from the manufacturer, and serves as a rich reference point in developing a project or scheme.