apr 05, 2013
NICHETTO=NENDO exhibition at milan design week 2013
designers luca nichetto and oki satoimage © designboom
designboom met with luca nichetto and oki sato during the photo shoot of their first collaborative project 'NICHETTO=NENDO'. having just been introduced to each other in 2012 during tokyo design week, they took the creative process engaged in when writing  'tanka'–a genre of japanese poetry in which one person composes the first three lines (kami no ku) of the prose, and then sends them to a second individual who completes the final two lines (shimo no ku) of the composition–as their impetus, and thus began their back and forth dialogue–across time zones–on what they would make together.
designboom spoke with the prolific young designers and asked them what sparked the project, the pieces they ended up developing and what they like most about each others' work.  
NICHETTO = NENDO: an interview with luca nichetto and oki satovideo © designboom
the conception of the seven piece collection: 'N=N/01shelves in a comic'; 'N=N/02 wedge of matter' candleholder; 'N=N/03′ paper ice cream' lamps; 'N=N/04 trellis bandaged' room divider; 'N=N/05 bridges for islands' sofa; 'N=N/06 fish skin on the roof' carpet; and 'N=N/07 stool, is a result of their mutual respect for one another, an equal expression of their individual creative approaches resulting in a cohesive family of furniture products.

a comic tale of how 'NICHETTO=NENDO' came to be
video by designboom with images © nendo and luca nichetto
the self-initiated project was supported by a number of the manufacturers and suppliers which luca and oki have worked with previously, who willingly offered to produce the one-off pieces for presentation during milan design week 2013 at foro buonaparte, 48 from april 9th-14th, 2013.
'NICHETTO=NENDO' collectionphoto by hiroshi iwasaki
full article here
luca nichetto and oki sato with the NICHETTO=NENDO collection photo by hiroshi iwasaki

N=N/01 shelves in a comic (with glas italia)
circular sheets of satin-finished glass--varying in size--appear as an arrangement of thought bubbles floating in mid-air
photo by hiroshi iwasaki
nendo: place many small shelves together to making some of them into bookends, creating tiny spaces which are just waiting for something to be placed on them nichetto: large, flexible silhouettes turned into speech bubbles--the kind that appear by the head of a manga character as he imagines something image © designboom

oki sato with elena freddi of luca nichetto design studio
image © designboom

N=N/04 trellis bandaged room divider (with innofa and vertigo metals)
a highly stretchable fabric is attached diagonally to the metal frame, creating openings here and there, allowing the user to freely change its shape through an accordion-like movement
photo by hiroshi iwasaki
nichetto: partitions are good for dividing a space, but how about adding extra functional value? nendo: translating the electrical wire form into a three-dimensional metal frame connects the parts results in a free-standing structure, without a large, heavy base photo by hiroshi iwasaki

the room divider can be folded and expanded into different configurations depending on how much privacy one wants to achieve
image © designboom

N=N/03 paper ice cream lamps (with foscarini and taniguchi; aoya washi)
when lit, the soft light of the lamps emphasizes the composition of the paper fibres which make up the shade--each color brings a subtly different character
photo by hiroshi iwasaki
nendo: carving the ends of 12mm diameter japanese cypress posts flat like ice candy sticks give the pieces a slightly lighter impression. we needed material for a lampshade to suit the extremely light post, so we developed an original mediu by dyeing traditional japanese paper and forming it into a three-dimensional piece nichetto: ice candies come in different flavours, shapes and colours. what about a lighting fixture that combines the rich variety of these frozen treats with their subtle beauty when held up to light? photo by hiroshi iwasaki

N=N/05 bridges for islands sofa (with casamania and innofa)
the components of the chair may be arranged freely, making it useful for home and contract projects alike
photo by hiroshi iwasaki
nendo: a sofa like an archipelago divided into small parts rather than one great mass nichetto:looking at the geography of the many islands of venice--connected by narrow bridges--we designed thin legs that seem to float on the waters surface, and connect to the cushions accompanied by side tables available in two different shapes photo by hiroshi iwasaki

N=N/06 fish skin on the roof carpet (with ogeborg)
exploring thin, high quality materials, gives the resulting carpet many connecting points, allowing one to layer them into various arrangements
photo by hiroshi iwasaki
nendo: a carpet whose form, color and size can change flexibly thanks to its small parts: small overlapping pieces like fish scales or roof tiles nichetto: you cannot make the entire carpet out of individual parts or it will be cumbersome to assemble. we made units out of two, three and four overlapping circles so that they can be moved and rearranged, in a variety of color combinations.

N=N/07 portable pot stool (with discipline)
the seating object has been carved out of cork--relatively lightweight and strong--to a size that also functions well as a side table. a featured handle lies flush with the surface for comfortable sitting, but can can be pulled up for easy transportation


nichetto: a stool that's easy to pick-up and carry about, thanks t its round form and 'pot' handle nendo: fashioned off that of a pot lid, the featured handle at the centre of the seat functions on a mechanism that allows it to be pulled up and pushed down, like the grip on an old-fashioned valise photo by hiroshi iwasaki

N=N/02 wedge of matter candle holder (with ochiai-seisakusho + kadowaki coat for brass version; and testi fratelli for marble version)
a design that takes full advantage of its inherent material characteristics--brass and marble; for example its ability to be stabilized by its own weight

nendo: wedge a candle into the easily adjustable fissure seen in the block and use it as a holder to accommodate candles of all shapes and sizes nichetto: the candleholder looks like a lump of matter when not in use. there is such a contrast with the sharp edge of the break, its gentle form like a serving vessel photo by hiroshi iwasaki
nichetto: do you want to sit down? nendo: no, please be my guest! image © designboom

oki sato and luca nichetto at the photo shoot of the NICHETTO=NENDO collection
image © designboom

various shades of the paper ice cream lamps
image © designboom

the NICHETTO=NENDO collection waiting to be photographed
image © designboom

installing the shelves in a comic
image © designboom

models of shelves in a comic
image © designboom

model of trellis bandaged room divider
image © designboom

maquette depicting possible domestic scenario of the NICHETTO=NENDO collection
image © designboom

maquette which houses the collection
image © designboom
the realization of the seven designs has been possible thanks to:casamania, discipline, foscarini, glas italia, glip, innofa, kadowaki coating, ochiai-seisakusho, ogeborg, oikos, tangiguci aoya washi, testi fratelli and vertigo metals.
feb 02, 2017
feb 02, 2017
jul 22, 2016
jul 22, 2016
may 28, 2016
may 28, 2016
dec 01, 2013
dec 01, 2013
aug 02, 2013
aug 02, 2013
jul 11, 2013
jul 11, 2013
nendo
(212 articles)
jun 16, 2017
jun 16, 2017
jun 08, 2017
jun 08, 2017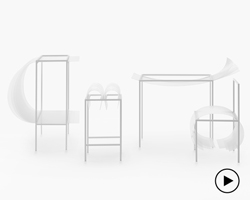 jun 03, 2017
jun 03, 2017