jun 08, 2011
nicolas le moigne: podium collection
'podium' low table, 2011 oak, gloss varnished; wood lacquered in white L100 x W100 x H40 cm limited edition of 8 + 2AP all photos by tonatiuh ambrosetti & daniela droz
swiss designer nicolas le moigne presents his 'podium' collection at design miami / basel 2011. the solo exhibition of new works, which makes its public debut at the fair, is showcased by helmrinderknecht contemporary design gallery from berlin.
the series of furniture objects consists of six parts, each based on the customary forms of presenting art or design in galleries and museums.
each of the pieces – be it a shelf, low table, lamp, vase, bowl etc. – is exhibited on a pedestal or plinth, serving to enhance the object presented through its simple form and deliberate choice of dimensions. this iconic form or presentation is the starting point of le moigne's collection, characterizing all of his pieces in which the object and plinth become interconnected – one. it is the plinth or pedestal which completes the aesthetics and function of each piece. without it, the collection could not really exist in its true form.
each of the individual furniture pieces are produced through different techniques of rotary motion like wood turning, metal spinning, stone turning, glass blowing and ceramic wheeling. these craft processes respectively define the individual final form of the podium objects.
in total 'podium' includes: three ceramic vases, a glass lamp, a stone bowl, a wood shelf, a copper occasional table and a wood coffee table.
'podium' low table, 2011 (details)
the 'podium' low table is a delicately turned wood-plate that hovers over a plinth lacquered in white. inviting normal functional use, the plinth in this case in the classical role of a foot-piece, simultaneously carries and completes, demonstrating its inherent complementary functionality. crafted by enrique illanez, vernayaz, switzerland.
'podium' shelf, 2011 oak, gloss varnished; wood lacquered in white L136 x W36 x H185 cm can be dismantled completely (13 parts) limited edition of 3 + 2 AP
practically weightless and defying the laws of gravity, the shelf seemingly floats. the individual parts of the shelf are crafted on a lathe, and utilizes a joint system that permits the assemble and disassemble of the parts of the object into its 13 individual components. the pedestal as a foot-piece, enables the object to fulfill its function. crafted by enrique illanez, vernayaz, switerland.
'podium' shelf, 2011 (details)
'podium' occasional table, 2011 copper, hand-polished; wood lacquered in white L48 x W48 x H81 cm limited edition of 8 + 2 AP
the copper occasional table is first spun into its shape and then brought to its shining lustre by intensive polishing by hand. with this occasional table, le moigned celebrates the connection between two completely different kinds of languages, namely material and form. an infinitely turning spinning top which will never topple, positioned on a plinth, which acts both as a carrier or fulcrum of balance and as a creative element, thus turning the object into a complete whole. crafted by emil meier, metaldrückerei, adliswil, switzerland.
'podium' lamp, 2011 glass, hand-blown; wood lacquered in white L22 x W22 x H118 cm limited edition of 8 + 2 AP
the light from the hand-blown glass sculpture reflects in the protective glass of the display cabinet. the plinth becomes the belly and accommodates the technical equipment for the light. at the same time the display cabinet signifies preciousness and fragility, and enables a fascinating interplay of light between the glasses. a radiating light on a fixed plinth which defies a classical characterization and yet can establish its place everywhere. the absorption of the plinth linked to the classical form of presentations in museums. crafted by matteo gonet, münchenstein, switzerland.
'podium' vases black, 2010 ceramic, enamelled L12 x W12 x H60 cm / L18 x W18 x H45 cm / L25 x W25 x H30 cm limited edition of 8 + 2 AP
the three different forms of the ceramic 'podium' vases all follow a clear mathematical principle and share the same origin. in changing the plinth size, the size and format of the enamelled black vase shift proportionally. in doing so, the white plinth simultaneously serves as a container for flower-water. thus the element of the plinth eneables a double of function. crafted by peter fink, ependes, switzerland.
see designboom's previous article on nicolas le moigne's 'podium vases'.
'podium' bowl, 2011 absolute granite, black, hand-polished L35 x W35 x H16 cm limited edition of 3 + 2 AP
the 'podium' bowl is cut in detailed craftsmanship from black granite. the outward form of the bowl is plain – however, the functional space submerges into the innermost of the plinth, creating space and turns the object into a container. hour-long polishing with refined tools, brings the granite to a lustre that makes it appear as if it has been treated with polish. the object is solid cast, whose plinth serves as a wrapping for its inner shape. crafted by lachat & fils, crissier, switzerland.
'podium' bowl, 2011
'podium' collection by nicolas le moigne, 2011
jul 19, 2011
jul 19, 2011
jul 16, 2011
jul 16, 2011
jun 23, 2011
jun 23, 2011
jun 20, 2011
jun 20, 2011
jun 16, 2011
jun 16, 2011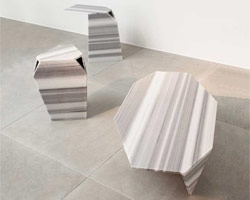 jun 14, 2011
jun 14, 2011
mar 15, 2012
mar 15, 2012
feb 08, 2012
feb 08, 2012
may 14, 2011
may 14, 2011
a diverse digital database that acts as a valuable guide in gaining insight and information about a product directly from the manufacturer, and serves as a rich reference point in developing a project or scheme.