nov 25, 2016
nigel coates' potentino II chair furnishes frontline club in london
located in paddington, london, the 'frontline club' has just received a complete renovation by skene catling de la peña. set within an existing 19th-century building originally for hackney carriages, the restaurant and club space has high ceilings and an exposed brick wall that generates a warm atmosphere. the design has been tailored to complement the old building and to merge its furniture with the architecture. a monolithic bar — carved out of a solid block of stone with natural seams of crystal —  acts as a sculptural centerpiece. a mezzanine level has been added to the ground-floor restaurant and to reach it, a curved polished chrome staircase has been constructed.

the 'potentino II' chair designed by nigel coates has a graphic silhouette
in order to delineate the generous scale of the main room, the 'potentino II' chair by nigel coates has been used to furnish the restaurant, adding a graphic silhouette to the overall design. following the 'potentino I' chair, 'potentino II' is a simpler version of the distinctive former one. intended to be comfortable, practical and identifiable, the chair design captures an anthropomorphic spirit with an intriguing structure topped with a sculpted coat support. its lower back and smooth details make it the perfect addition to the 'frontline club' by adding a sense of classic and contemporary. like the original chair, the 'potentino II' can be realized in chestnut and can be ordered in light or dark finishes, and either a timber or an upholstered seat. 

RIBA award-winning architects skene catling de la peña were in charge of the renovation

the 19th-century building was originally built for hackney carriages

the monolithic bar has been carved out of a solid block of stone with natural seams of crystal

the back wall's library and cabinets add a homey feeling to the restaurant

the 'potentino II' chair delineates the generous scale of the main room

curved polished chrome staircase allows visitors to reach the mezzanine floor

the mezzanine floor is the latest addition to the frontline club

view of the mezzanine to the ground floor and exposed brick wall

profile of the 'potentino II' chair by nigel coates

the 'frontline club' is located in paddington, london
aug 14, 2017
aug 14, 2017
aug 08, 2017
aug 08, 2017
jul 31, 2017
jul 31, 2017
dec 23, 2016
dec 23, 2016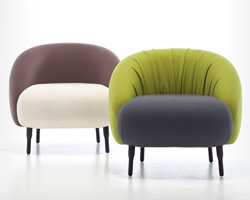 jun 13, 2015
jun 13, 2015
may 18, 2015
may 18, 2015
aug 14, 2017
aug 14, 2017
aug 13, 2017
aug 13, 2017
aug 10, 2017
aug 10, 2017