feb 07, 2012
NIKE prosthetic running sole
the 'nike sole', designed for use in conjunction with össur's 'flex-run' prosthetic, offers among the first commercial outsoles for amputee athletes
the 'NIKE sole' is developed to fit on össur's 'flex-run' prosthetic running blade, designed for use competitive amputee athletes by NIKE in collaboration with world-record-holding amputee triathlete sarah reinersten and össur orthopedic innovators. recycled materials and nike technology combine in the system that can easily be placed on and removed from a prosthetic blade.
full view of the sole with össur's 'flex-run' prosthetic
cutaway view of the layers of 'nike sole'
the stacked sole design of the 'NIKE' technology features a stretch rubber leash over a rubber waffle outsole, made using nike 'regrind' materials from reused shoes. a polyurethane foam midsole is topped by a moderator composed of a thermal plastic urethane called 'aeroply', made of recycled nike air bags. nine nylon plastic tabs serve to lock the sole against the össur flex-run blade.
formerly relying on homemade, makeshift devices for running, sarah reinersten can now use the 'nike sole'
back view of the sole and 'flex-run' prosthetic in use
'nike sole' was designed in close collaboration with reinertsen, who tested a series of prototypes and worked with the design team to engineer a secure, high-performing solution. in the past, reinertsen– like other competitive amputee atheletes– relied on simply attaching the outsole of a conventional running shoe to create her own footwear.
the design team was a collaboration among nike, amputee triathlete sarah reinerstee, and össur orthopedics
prototype sole
nike presents the 'nike sole'
oct 02, 2017
oct 02, 2017
sep 07, 2017
sep 07, 2017
aug 19, 2017
aug 19, 2017
aug 16, 2017
aug 16, 2017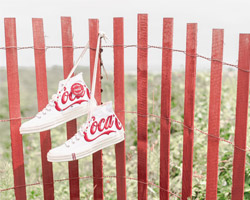 aug 13, 2017
aug 13, 2017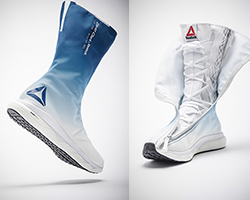 jul 19, 2017
jul 19, 2017
jul 28, 2017
jul 28, 2017
dec 12, 2016
dec 12, 2016
oct 24, 2016
oct 24, 2016