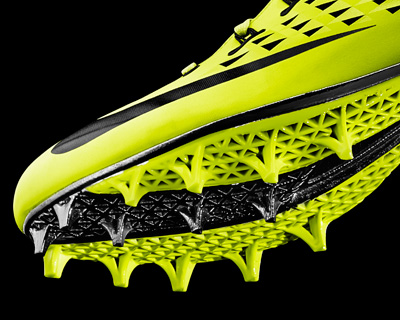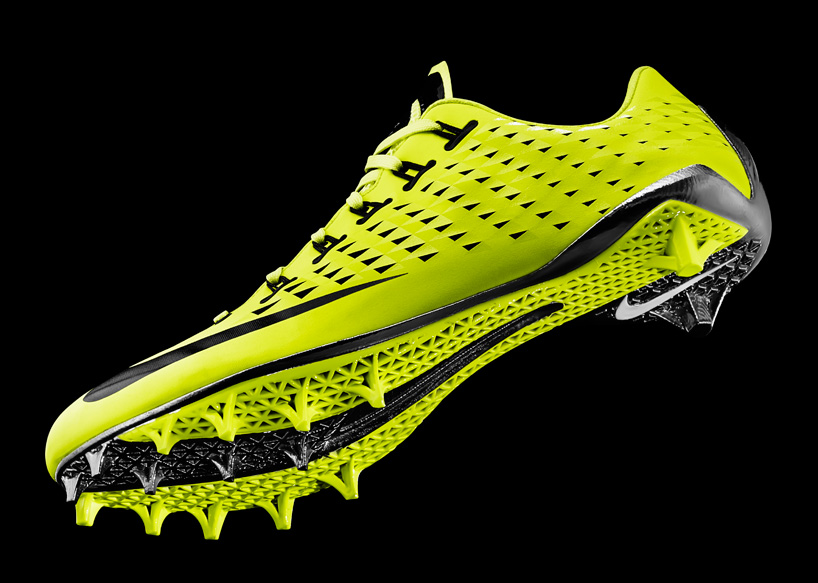 feb 26, 2013
NIKE vapor laser talon boot
the sole plate of the NIKE vapor laser talon is made with 3D printing technology
the new 'NIKE vapor laser talon' football boot incorporates a lightweight 3D printed plate that helps players significantly improve their 40-yard dash time.
—following text from NIKE
'the quest for acceleration and speed has long been the north star for athletes across sport, and in order to excel in the game of football, the mastery of these skills is seen in the 40-yard dash. played out on a national stage in indianapolis, pro scouts clock 40-yard dash times in order to assess and translate these measurements to a football athlete's game-time ability.'
'in a version built to master the 40, the NIKE vapor laser talon weighs a mere 5.6 oz. and is specifically designed for optimal traction on football turf and helping athletes maintain their 'drive stance' longer.'
'with over 40 years of athlete insights and innovation across sport, NIKE designers worked with elite trainers within NIKE sparq as well as long time partner and gold medal sprinter michael johnson to understand how he and his team at michael johnson performance train football athletes for the 40. according to MJP performance director, lance walker, an athlete's 'zero step' is a pivotal point that can make or break an athlete's 40 time. in the moments before that first step hits the turf, his propulsion and acceleration speed are determined. at that point, it's all about geometry.'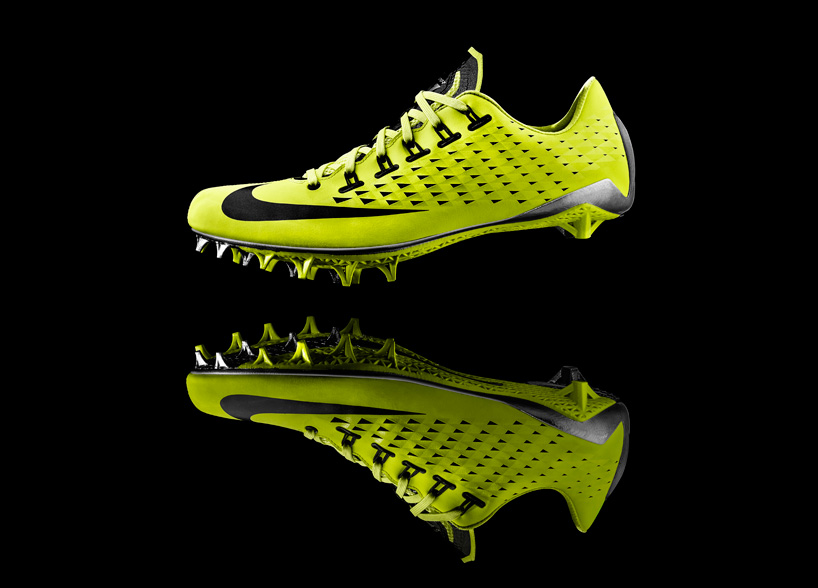 'NIKE's new 3D printed plate is contoured to allow football athletes to maintain their drive position longer and more efficiently, helping them accelerate faster through the critical first 10 yards of the 40" said johnson. 'translated to the game of football, mastering the zero step can mean the difference between a defensive lineman sacking the quarterback or getting blocked.'
'the plate of the cleat is crafted using selective laser sintering technology (SLS) and is the sport's first 3D printed plate. SLS is a manufacturing technique using high-powered lasers to fuse small particles of materials into a 3-dimensional shape. through proprietary material selection, NIKE was able to prototype a fully functional plate and traction system within a fraction of the traditional timeframe and at a fraction of the weight. the SLS process allows for the engineering and creation of shapes not possible with traditional manufacturing processes, as well as the ability to make design updates within hours instead of months to truly accelerate the innovation process to never seen speeds.'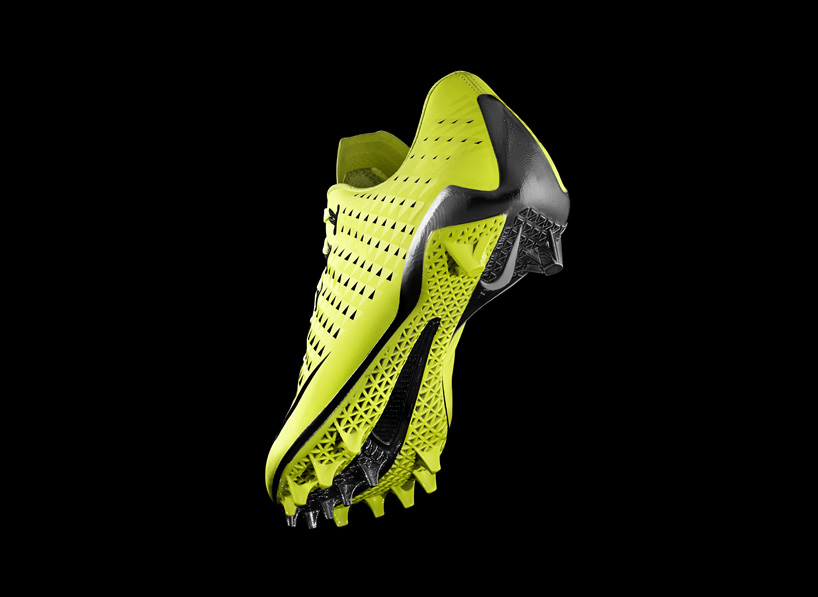 'SLS technology has revolutionized the way we design cleat plates – even beyond football – and gives NIKE the ability to create solutions that were not possible within the constraints of traditional manufacturing processes' said shane kohatsu, director of NIKE footwear innovation.'
'the way athletes train continues to evolve, and NIKE continues to push the boundaries of innovation even further. by listening to the voice of the athlete, NIKE is able to evolve footwear, apparel and equipment to help athletes achieve their highest potential.'
NIKE
(158 articles)
jan 09, 2018
jan 09, 2018
dec 01, 2017
dec 01, 2017
nov 05, 2017
nov 05, 2017
sep 18, 2017
sep 18, 2017
aug 20, 2017
aug 20, 2017
aug 16, 2017
aug 16, 2017
jul 28, 2017
jul 28, 2017
dec 12, 2016
dec 12, 2016
oct 24, 2016
oct 24, 2016
a diverse digital database that acts as a valuable guide in gaining insight and information about a product directly from the manufacturer, and serves as a rich reference point in developing a project or scheme.