'a year ago when NIKE released our move to zero initiative, it was really the culmination of decades of effort on sustainability. we really pride ourselves on improving the environmental footprint of our products and our supply chain. move to zero was really about making the statement of future commitment and recognizing that our brand can act as a catalyst for change,' outlines noel kinder, chief sustainability officer at NIKE, on the sport giant's mission to sustainability. assessing the innovations that have been made in a year, designboom joined a round table discussion with noel alongside michelle warvel, VP, NIKE direct service and experience; golnaz armin, senior material design director; and virginia rustique-petteni, senior director, global sustainability engagement. with tackling climate change at the fore, the green-tip topics covered the ways they are moving to zero carbon and zero waste as well as how the focus on form, function and footprint is driving their design.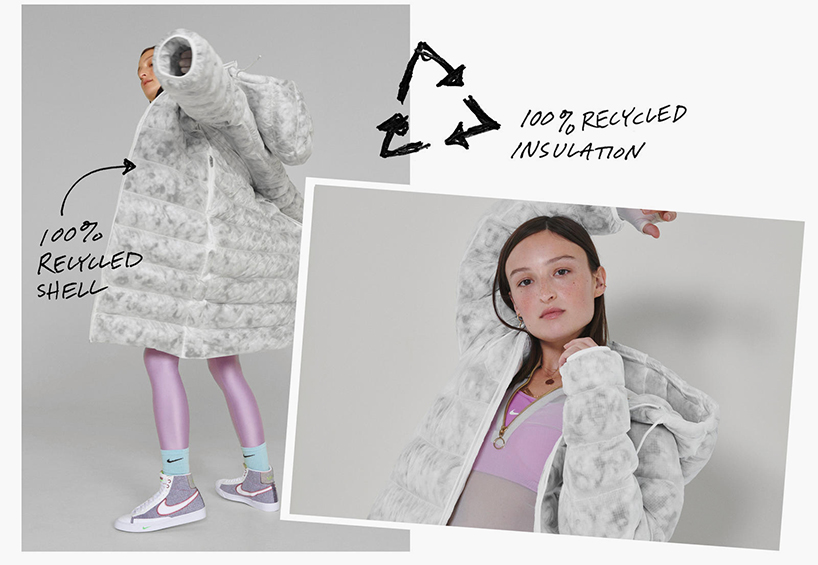 the marble ecodown jacket's transparent shell and lining are made from 100% recycled polyester
(main image: NIKE's move to zero message)
all images courtesy of NIKE
innovation – to design better products for sports – has also been the driving force behind the brand. now though, NIKE's move to zero initiative embodies their dual mission that questions why can't their offerings be better for the world as well as for sports in general. the initiative is pushing more emphasis on scaling sustainable materials into their products. 'we use a lot of recycled polyester. recycled polyester at its core is basically recycled water bottles or recycled plastic bottles in general. so, since 2010, we've actually diverted seven and a half billion water bottles or plastic bottles from landfill, and that becomes recycled polyester which ultimately winds up in garments that are NBA jerseys or soccer jerseys,' explains noel. 'then you have things like flyleather and flyknit, which are big platforms for us.'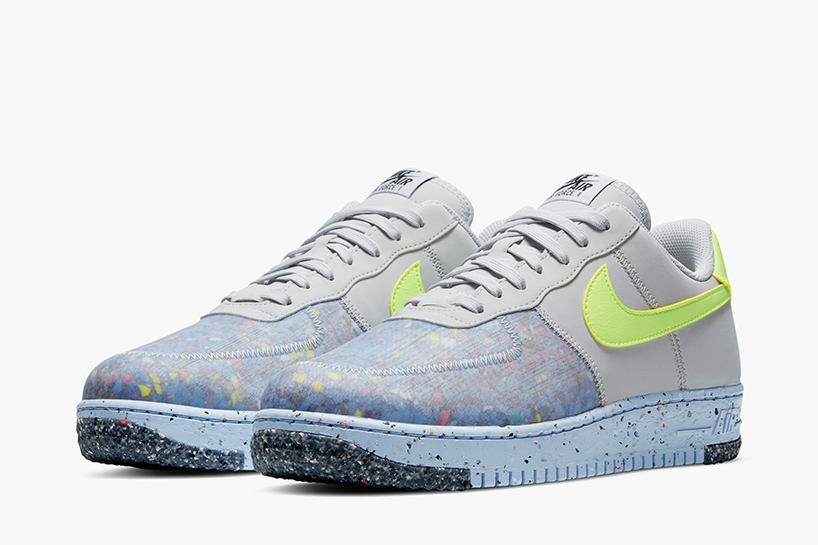 AF-1's upper is swapped for a faux leather made from 24% recycled synthetic leather
the way NIKE makes products is key, as 70% of their environmental impact is down to their materials. 'that's an end-to-end impact,' clarifies golnaz armin. 'it's about the water that goes into all the cottons that we grow, that goes into our t-shirts. it's about the energy that it takes to dye fabrics or print on them. every detail, every aspect of the cycle of the materials from the raw materials to the finished product matters, and it has a huge impact when you add them up. it is really important to start fundamentally thinking about materials if we really want to kind of make our product better.'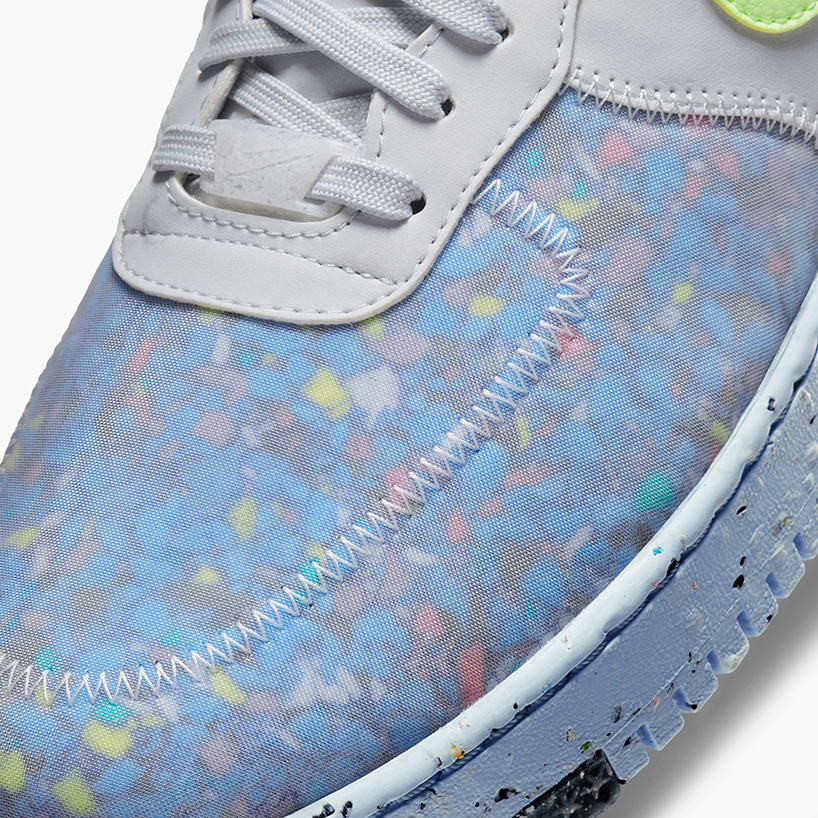 the air force-one crater has a transparent toe-vamp that displays a pocketed material filled with rubber scraps from the footwear manufacturing process
this sustainable focus – the analysis of every detail and every aspect of the cycle of the materials – has already impacted designs like the AF-1 crater, waffle racer crater, and the marble ecodown jacket. the AF-1 crater shoe, for example, is built from faux leather made from 24% recycled synthetic leather; the upper of the waffle racer crater has been replaced by 100% recycled polyester and even has 100% recyclable shoelaces; and the transparent shell of the water-resistant wind-runner marble jacket intriguingly displays the marble insulation underneath made from 100% recycled thermore ecodown.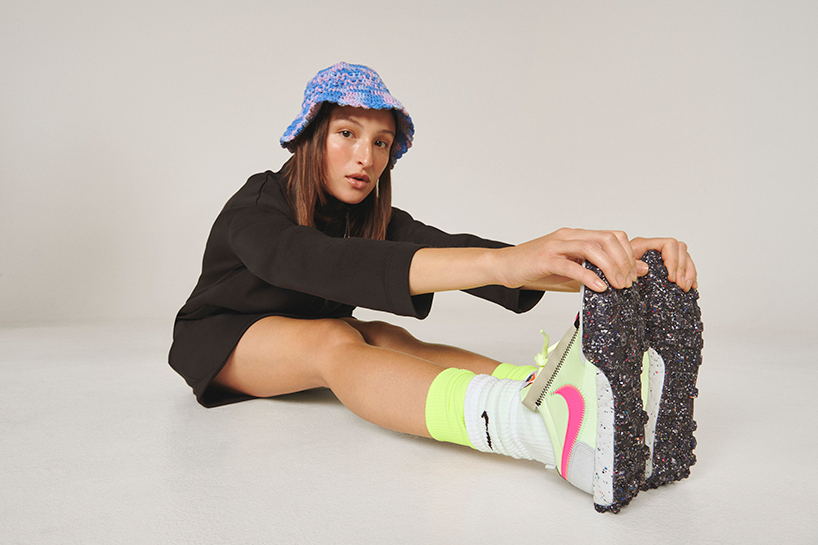 the waffle racer crater maximizes recycle content to showcase sustainable future
'the waffle is a classic kind of a DNA product that we have. originally, it was designed with nylon. but we know that recycled polyester is a better choice right now, so we re-imagined this. every bit that goes into these shoes from the webbing, from the laces, all the lining, everything is leveraging maximum recycled content, which is bringing us to that scale and the true impact that we could have for the environment,' adds golnaz.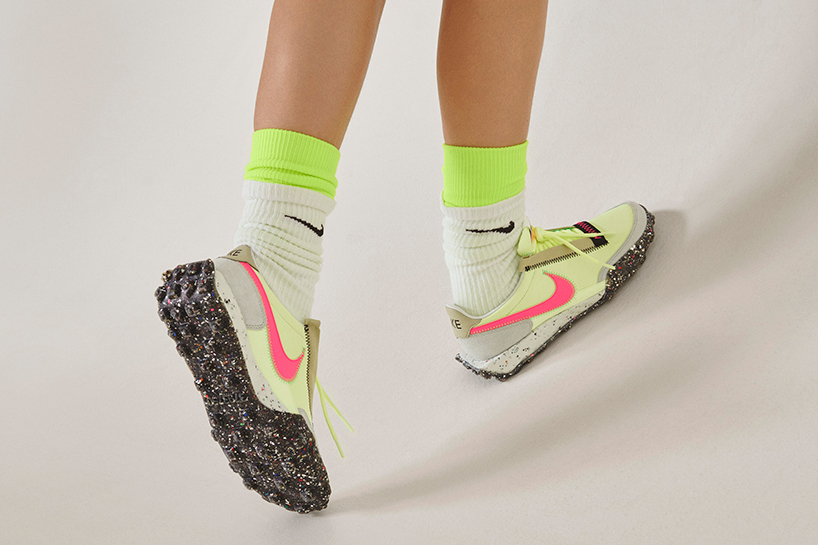 the waffle racer crater has an exaggerated shape and proportion on the outsole, which utlizies 15% grind rubber
all three of these new product offerings include NIKE grind, either as a more sustainable, lightweight and responsive crater foam for the shoes or for the construction of the jacket's zippers and toggles. NIKE grind is made from recycled athletic footwear and surplus manufacturing scraps, and it exemplifies their vision for a circular future where everything they make can be reclaimed and transformed into something new. they are also experimenting to integrate this material as well as other recycled components into the physical store designs as seen in paris' house of innovation, from the fixtures through to the flooring.
'our house of innovation is a really good example, and we used 85,000 kilos of recyclable material when lifting that store and creating it, which is incredible. the design team was very intentional about creating fixtures that are multipurpose and really using as minimal materials as possible,' remarks michelle warvel.

the paris house of innovation renovation saw 85,000 kilos of recyclable material integrated into the design
conceptualized in 1993, NIKE have been developing ways for them to retrieve old products and intercept them before they become waste – and harmful to the planet in some cases. their 'reuse-a-shoe' program is now available in 150+ stores in north america. consumers can mail back their old shoes in a pre-paid bag or drop them off instore. 'one big area for 2021 is how do we expand [reuse-a-shoe] to not just shoes, but also take back other products such as apparel,' points out michelle.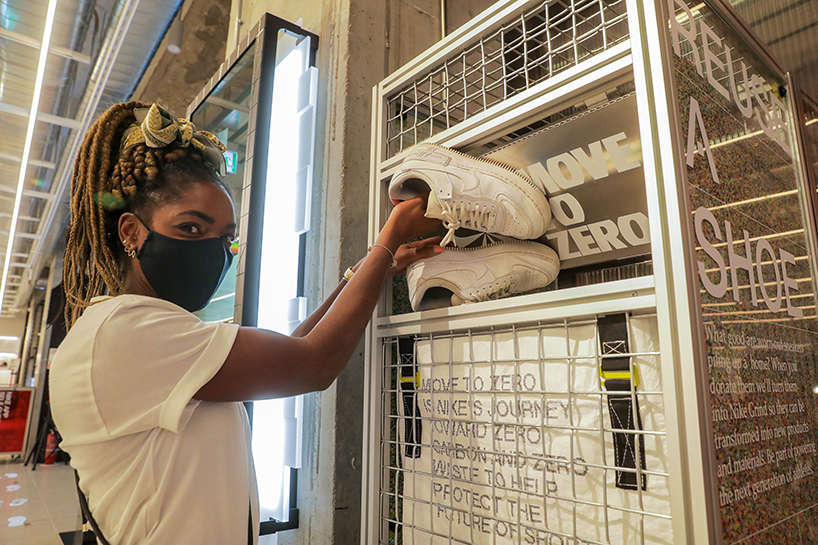 'reuse-a-shoe' drop-offs instore in the paris house of innovation
NIKE are engaging, informing and teaching consumers about their sustainability missions through connected digital journeys as well as through the physical in their retail environments as seen in paris. they have launched a move to zero sunburst badging so people can easily navigate sustainable product elements and have a transparent look into the creation process. this is being displayed instore, online and on their app, and with over 2,000 products using 50% or more sustainable materials, there is lots of choice. 'you'll see these new, beautiful move to zero tags on some of our footwear that calls out materials and also just what kind of impact we're making by the process of creating that product. even in the NIKE app, we can scan the products in-store and see that same information,' confirms michelle.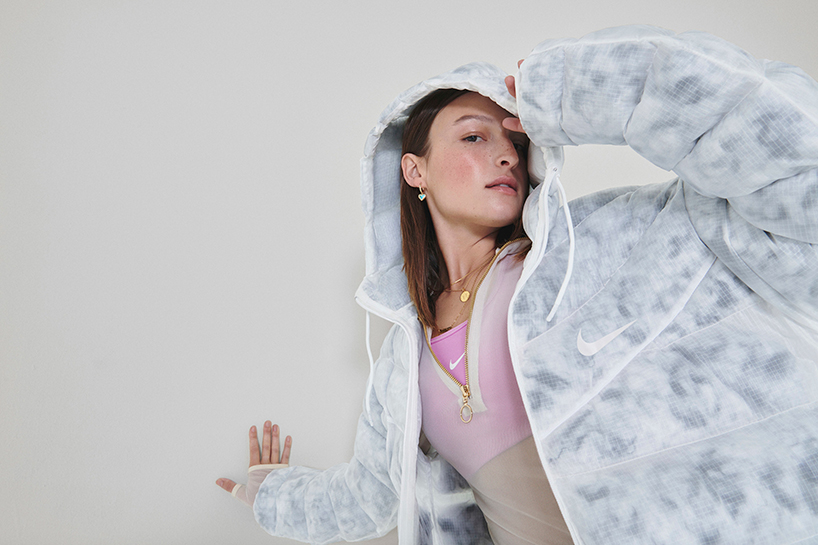 the marble ecodown jacket deliver both functional performance and sustainable innovation
from new products through to the retail experience, these all showcase NIKE's acceleration towards their sustainability statements, such as their commitment to phase out single use plastics by 2030. 'operational progress is what moves the needle and lowers our carbon footprint or waste footprint. packaging is not the most sexy thing that we would talk about, but it's really important from just minimizing the amount of weight that goes into a shipment i.e. less carbon embedded when products are shipped. we completely re-engineered the cardboard box to minimize the amount of material that was included in it, and actually be able to be shipped in a single box rather than have yet another box wrapped around it,' said noel.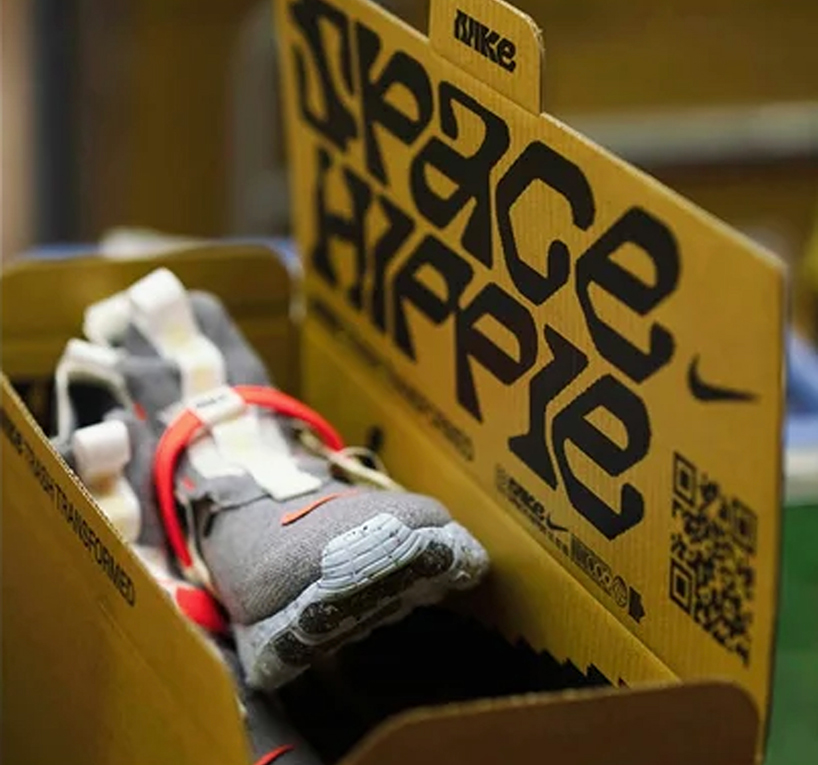 the space hippie was packaged in the re-engineered 'one box'
this is all because sustainability is considered at every step, from design and make to move and sell. their bold commitments aim for massively reducing carbon footprint by 2030 across all operations. one such move is to power 100% of their owned-and-operated facilities with renewable energy by 2025 – their recently opened cavar wind farm in navarra, spain takes them above 70% of the way to this mission. secondly, with a global supply chain in more than 40 countries, they are trying to reduce environmental impact of shipping by exploring alternative fuels with providers such as UPS, maersh and CMA CGM.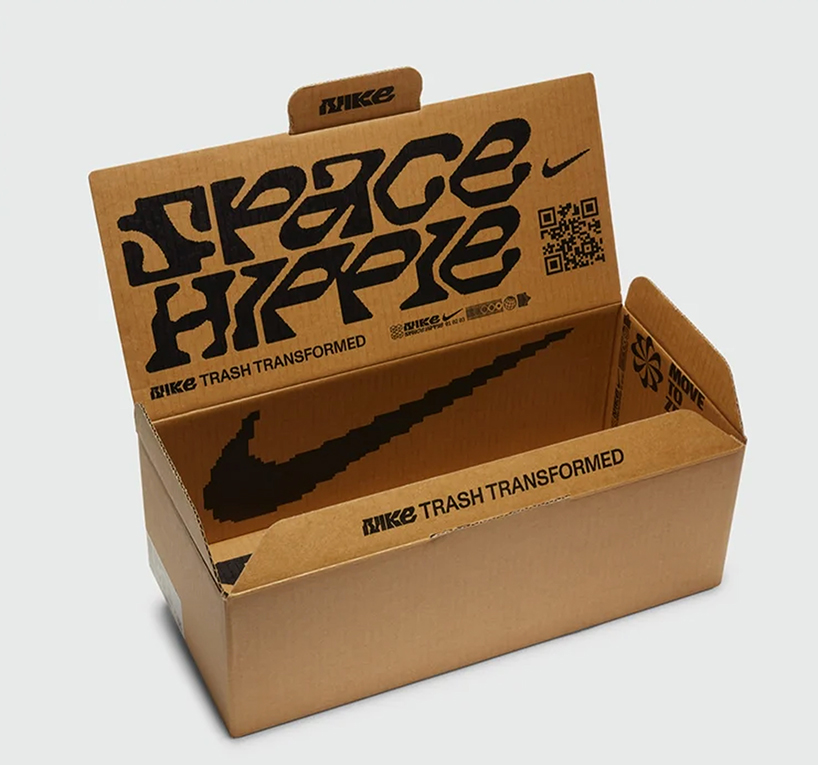 the packaging design reduced materials to its most minimal and thus its shipping weight
whether form follows function or function leads form, footprint is the integral component in every design at NIKE. but it is not just for creatives, it is a consideration for all aspects of brand as, at their huge scale, even a small response can have a really beneficial impact climate change. 'the younger generation of the design team I see at NIKE, they're super passionate and so focused around really solving for sustainability. that gives me hope to be honest, and that excites me.' golnaz continues to conclude, 'it is not only the younger generation within NIKE. I think this is the case all over the world, and that just really excites me.'
initiative info:
brand: NIKE
initiative: move to zero
round table participants: noel kinder, chief sustainability officer; michelle warvel, VP, NIKE direct service and experience; golnaz armin, senior material design director; and virginia rustique-petteni, senior director, global sustainability engagement
a diverse digital database that acts as a valuable guide in gaining insight and information about a product directly from the manufacturer, and serves as a rich reference point in developing a project or scheme.
designboom will always be there for you
milan, new york, beijing, tokyo

,
since 1999