NOMAD st moritz returns to the heart of the swiss alps, inviting collectors, interior designers, architects and the art world's glitterati to experience its nomadic concept. conceived by giorgio pace and nicolas bellavance – lecompte, the showcase mixes high-end modern and contemporary art and design, redefining the classic idea of events and fair exhibitions by placing works in incredible architectural locations.
exhibited over two floors of 'chesa planta', a 16th-century stately patrician house, until the 11 february visitors to NOMAD st moritz can experience rooms in line with their classical settings: beautiful tapestries and painted wood panels contrast more minimal spaces with white walls, stone flooring or parquet.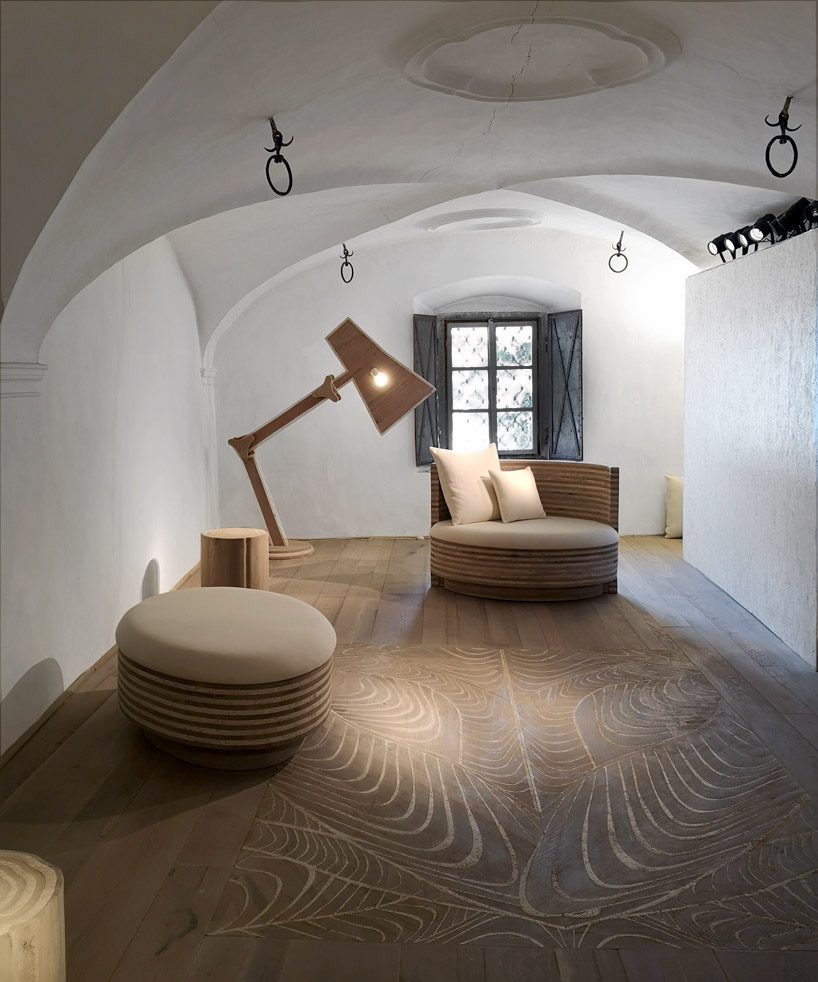 gallery fumi presents 'incontro', a solo exhibition of newly commissioned works by francesco perini 
all images © designboom, if not otherwise stated.
NOMAD st moritz has collaborated with 25 of the world's leading galleries to create immersive installations, inviting each one to curate pieces in the context of the 'chesa planta' space. in a very personal context, the event establishes a unique dialogue between gallery works and a community of individuals looking for an unusual experience.
NOMAD founders giorgio pace, an art and luxury brand specialist, has worked with fashion companies and museums, such as garage museum in moscow, and architect and curator nicolas bellavance-lecompte is the co-founder and art director of beirut's carwan gallery.
'we are proposing intimate showcases in special architectural locations, places that aren't usually open to the public', explains giorgio pace. 'we both understood that there is a need for an alternative to the traditional model of fairs and the benefits of NOMAD are that the objects are not presented in a big tent, instead you see them in a beautiful house in daylight, which is ultimately where they will end up. the travelling nature of the event allows galleries to meet collectors in places where they might live or are on holiday.'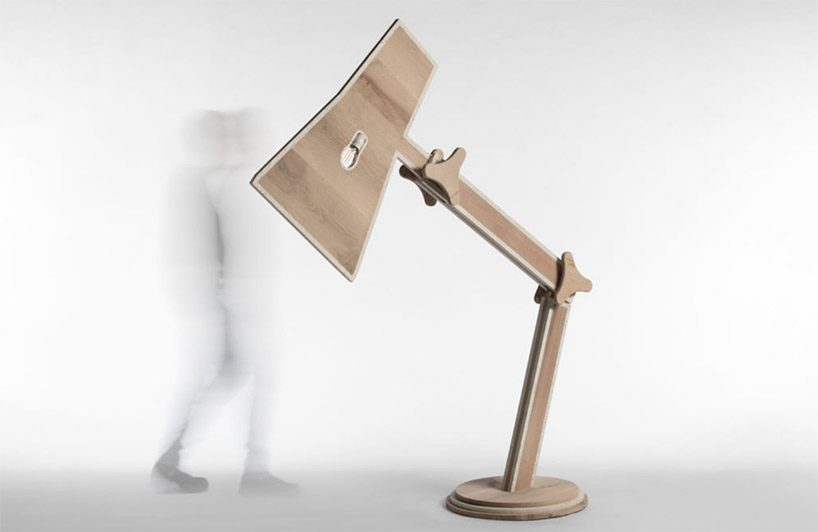 'incontro' lamp by francesco perini
image courtesy gallery fumi
among the highlights, gallery fumi presents 'incontro', a solo exhibition of newly commissioned works by francesco perini. known for his masterful handling of sophisticated materials and ingenious craftsmanship, the italian designer blends his own unmistakably contemporary aesthetic within the traditional craft of marquetry. each piece in fine oak wood and travertine is meticulously cut by hand and fused to another into one complete work.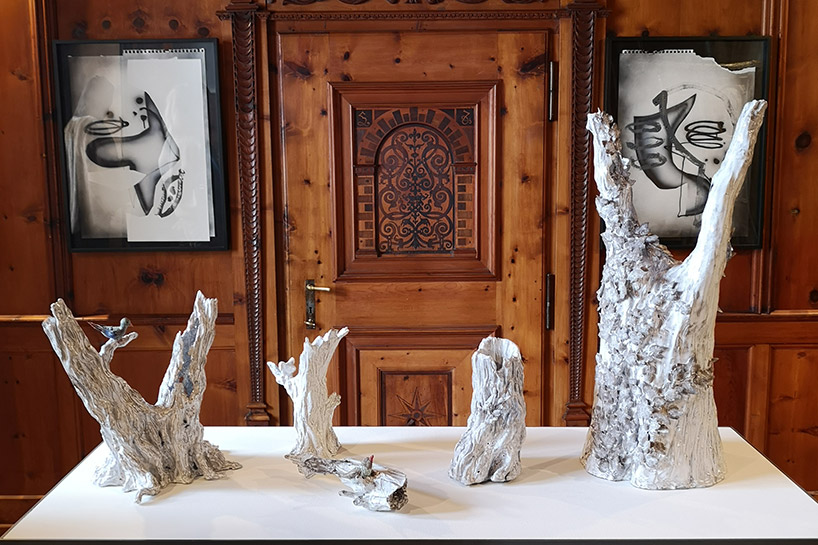 ceramic works by setsuko klossowska de rola displayed in the room curated by gallery almine rech
gallery almine rech presents a curated selection of ceramic and bronze works, created especially by setsuko klossowska de rola for this occasion. the japanese artist, who resides at the grand chalet de rossiniere in switzerland, which she shared up to 2001 with her late husband the painter balthus, has created a series of sculptural objects which, in their snow-like whiteness, elaborate on natural forms, translating elements such as tree trunks, leaves and birds into refined creations.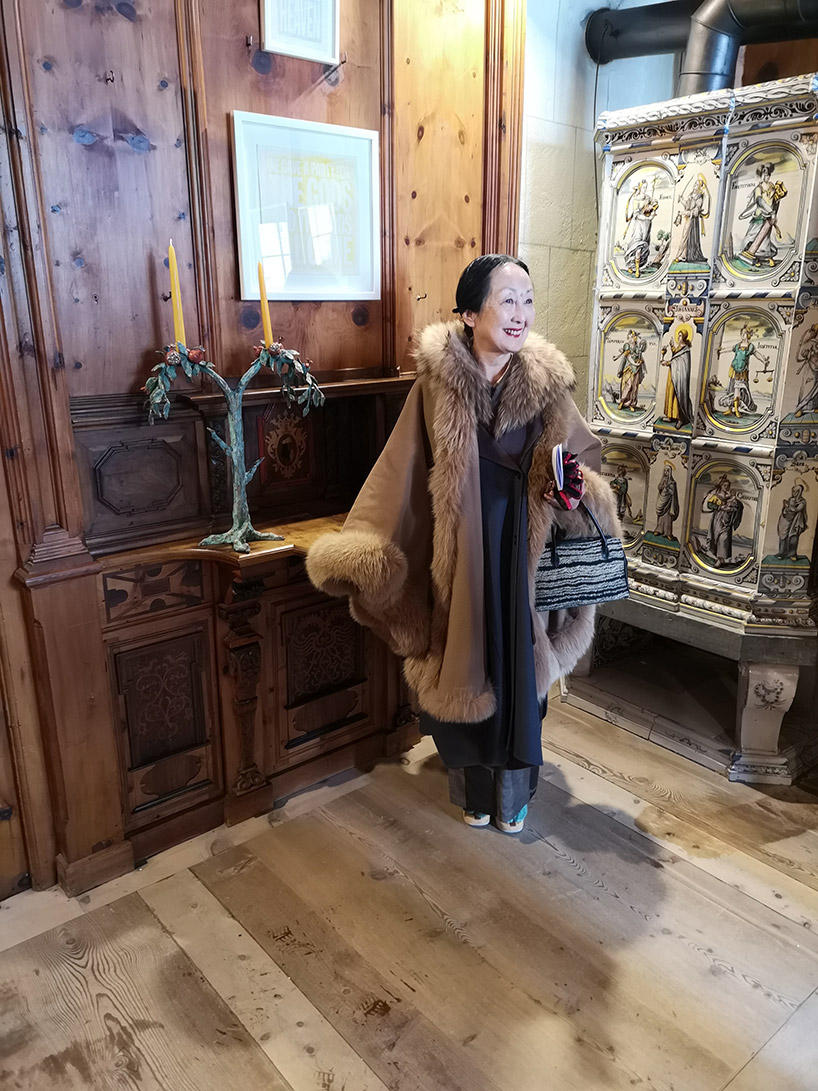 setsuko klossowska de rola at gallery almine rech's exhibition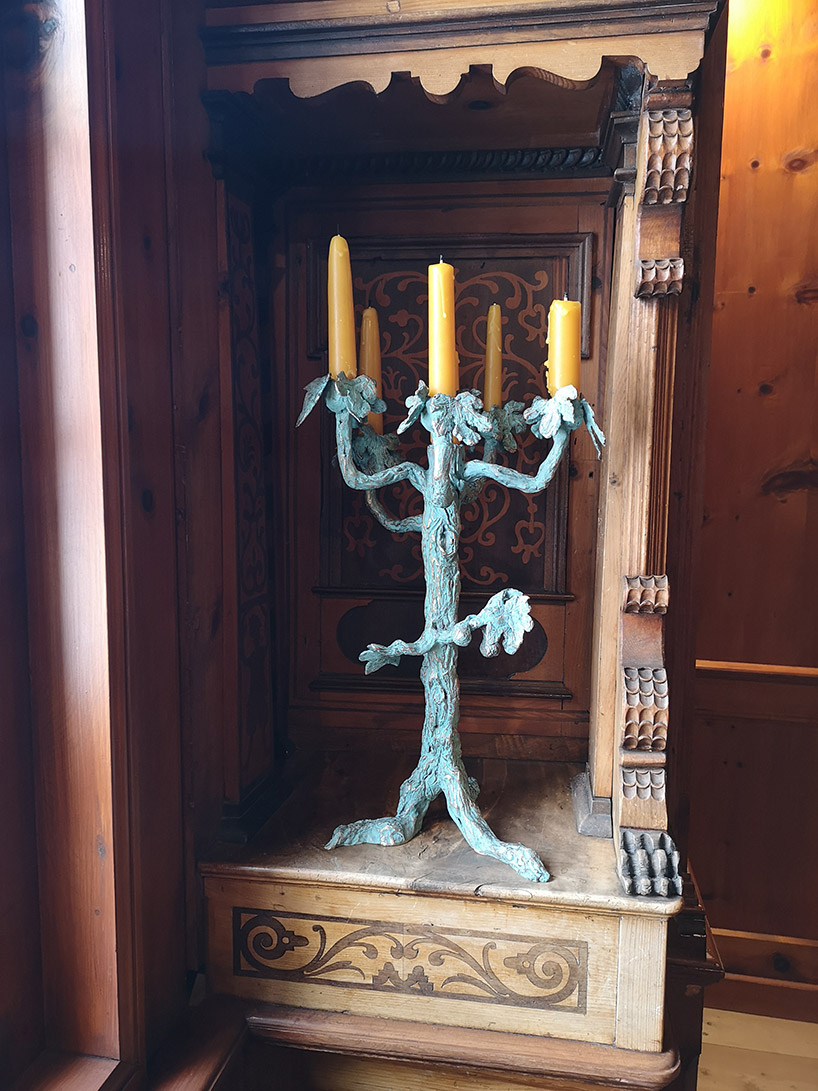 bronze candle holder byby setsuko klossowska de rola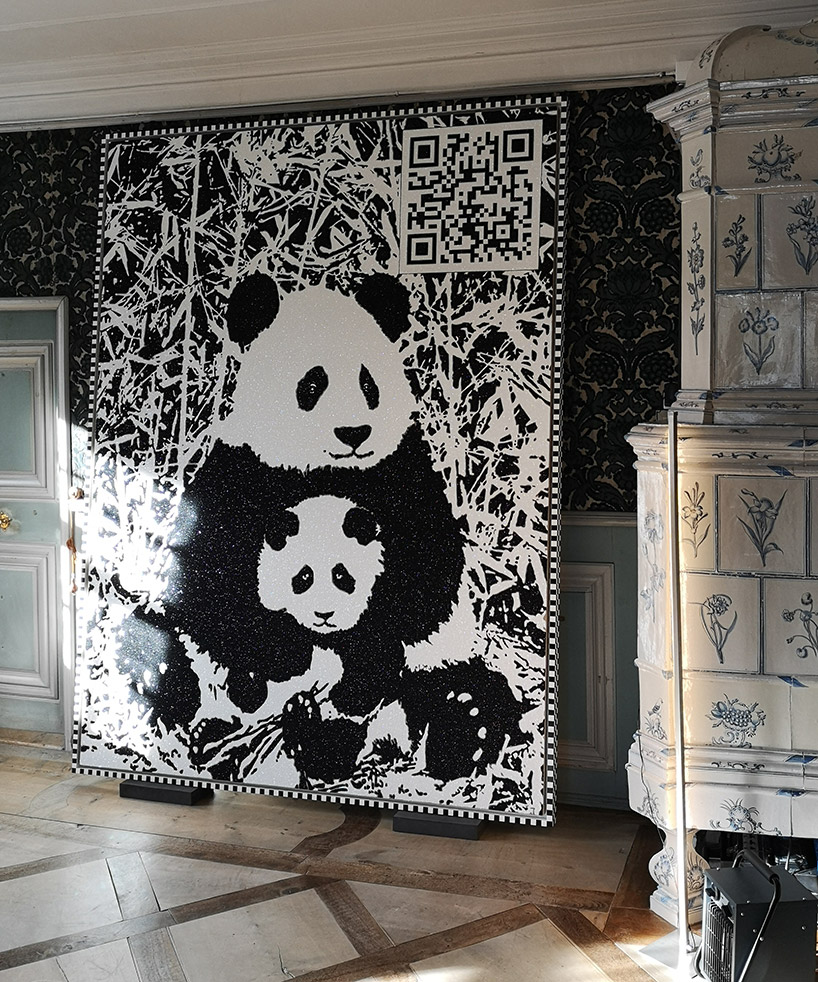 gallery massimo de carlo, panda by rob pruitt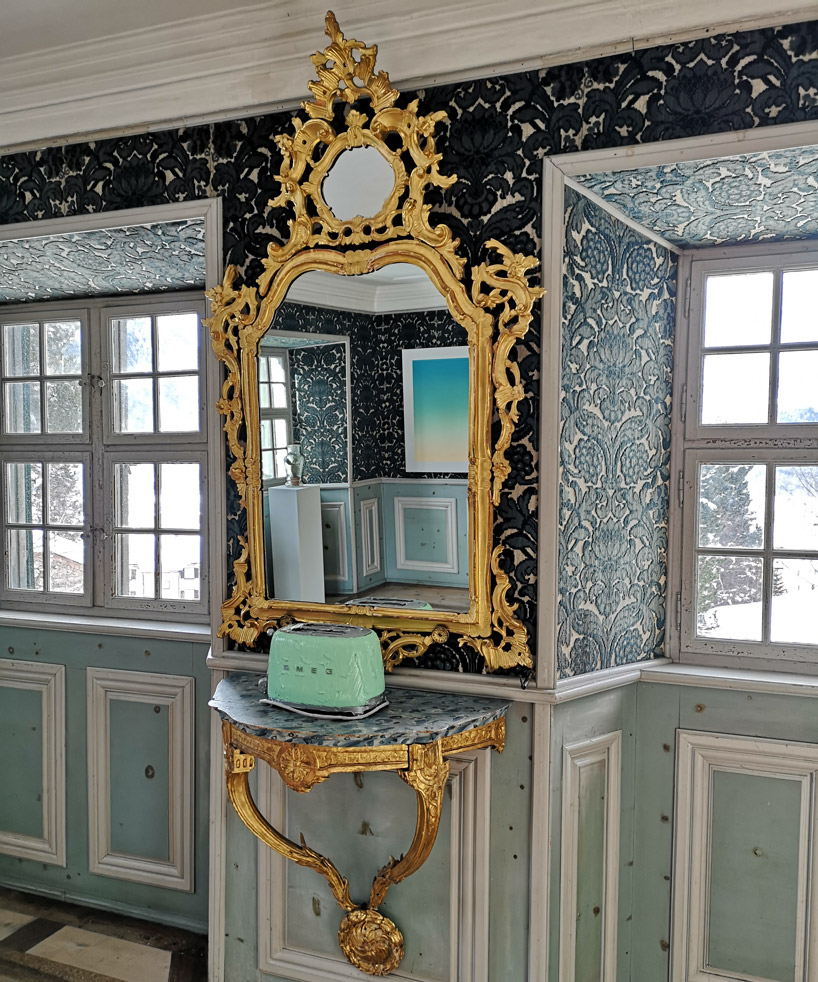 gallery massimo de carlo, smeg toaster by rob pruitt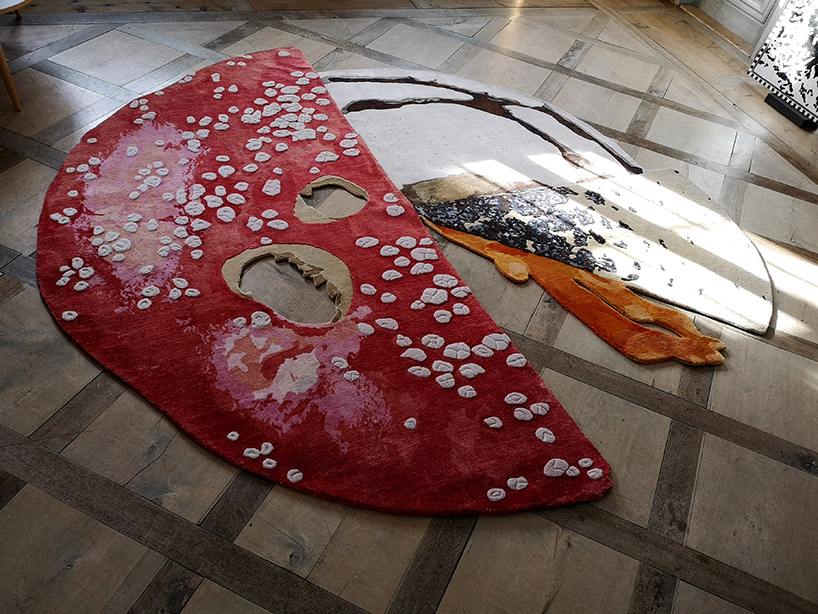 gallery massimo de carlo, mushroom carpet by carsten höller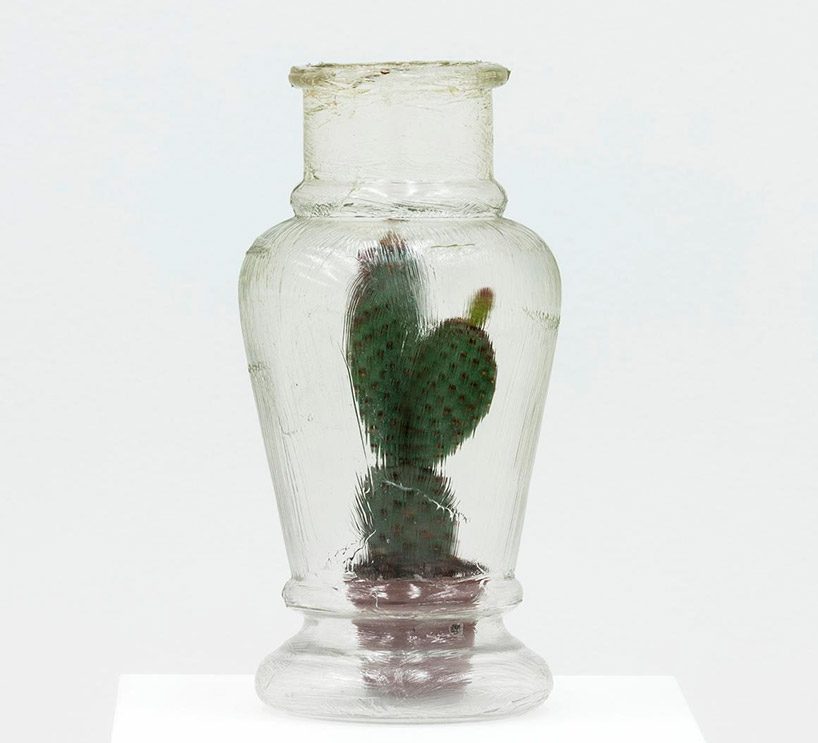 gallery massimo de carlo, nature morte by bertrand lavier
image courtesy gallery massimo de carlo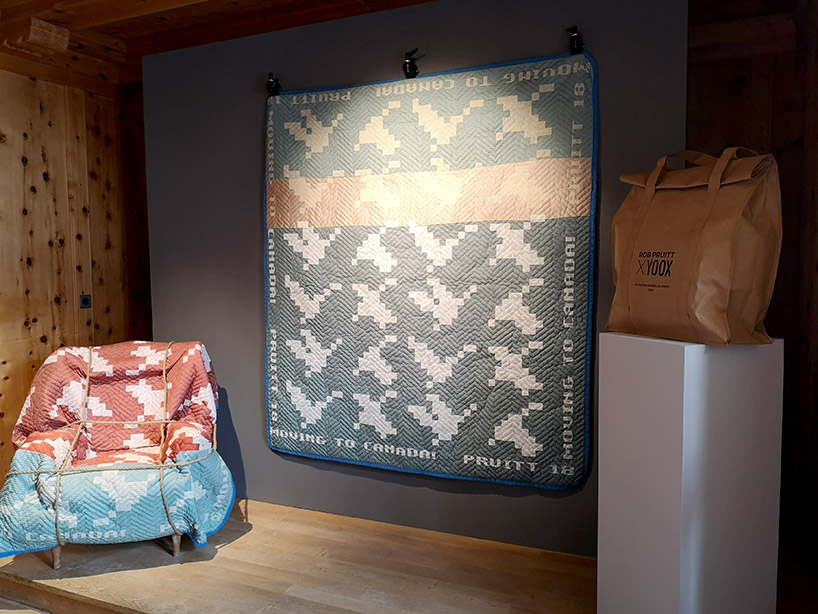 migration moving blanket by rob pruitt
the american artist rob pruitt collaborated with YOOX for their very first artistic project to produce 'migration moving blanket', a series of forty unique pieces, each accompanied by a certificate of authenticity that has been numbered and signed by the artist. the series is available exclusively online on YOOX, simultaneously with the opening of nomad st. moritz, where the work is shown in preview.
'the artist responded with enthusiasm and generosity to the invitation to create a special project for our gallery' comments beatrice trussardi, curator of the YOOX design+art section. 'we chose him because he is an artist who is not afraid to confront the reality that surrounds him, even when it is uncomfortable or difficult, and because he is able to undermine what is common place and taboo with ironic gestures that hide depth of analysis and thought.'
video by YOOX
rob pruitt x YOOX. migration moving blanket, 2018 comments on the phenomenon of migration, on an anthropological and natural perspective. in the natural world, species of all types migrate seasonally to find safety and comfort, whilst, similarly, humans migrate to escape from tyranny and autocracy, or more simply relocate with the hope of finding a better life. following pruitt's recent presentation of his american quilts series, this new artwork was conceived as a repurposing of 'moving blankets' which are sewn together from scraps of industrial textiles.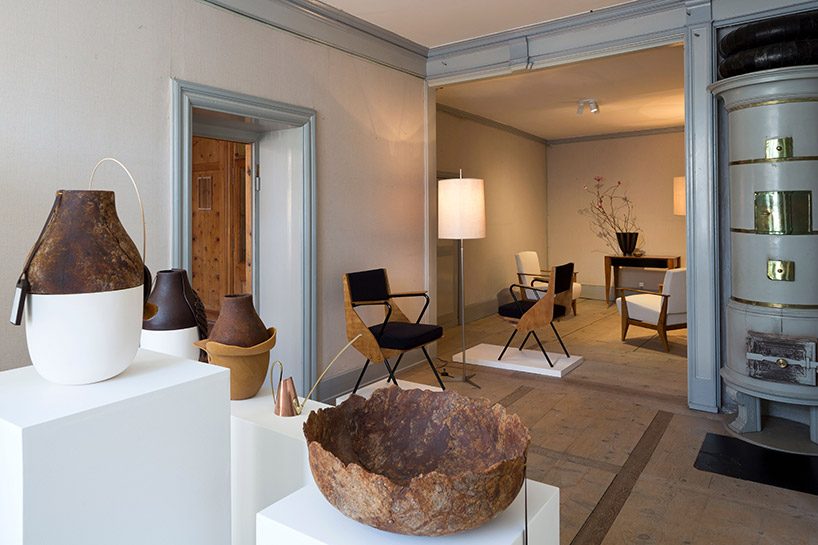 'botanica' by formafantasma
image courtesy NOMAD
gallery giustini / stagetti shows the series 'botanica', a collection of vases designed by the research-based duo studio formafantasma and part of their own handcrafted production. the pieces are all made with modern bioplastics while investigating the techniques and aesthetics of the past.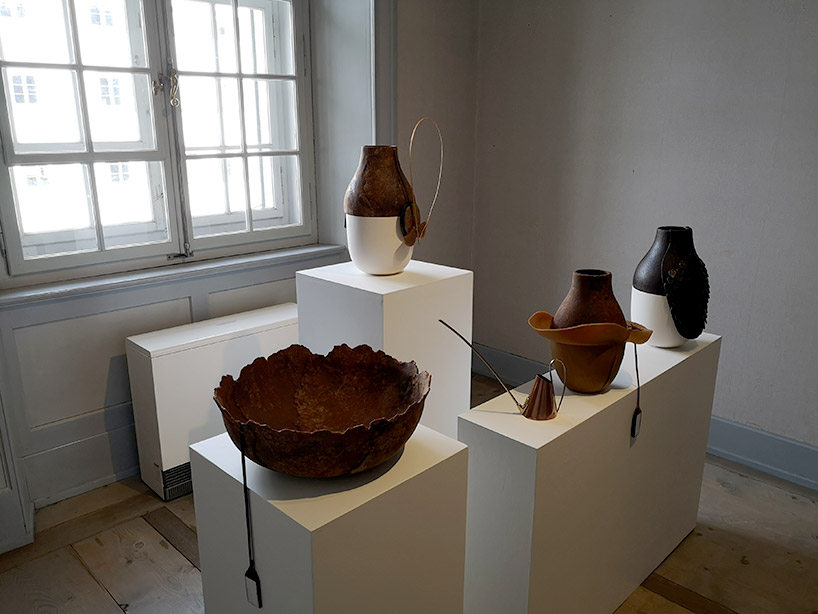 gallery giustini / stagetti shows 'botanica' by formafantasma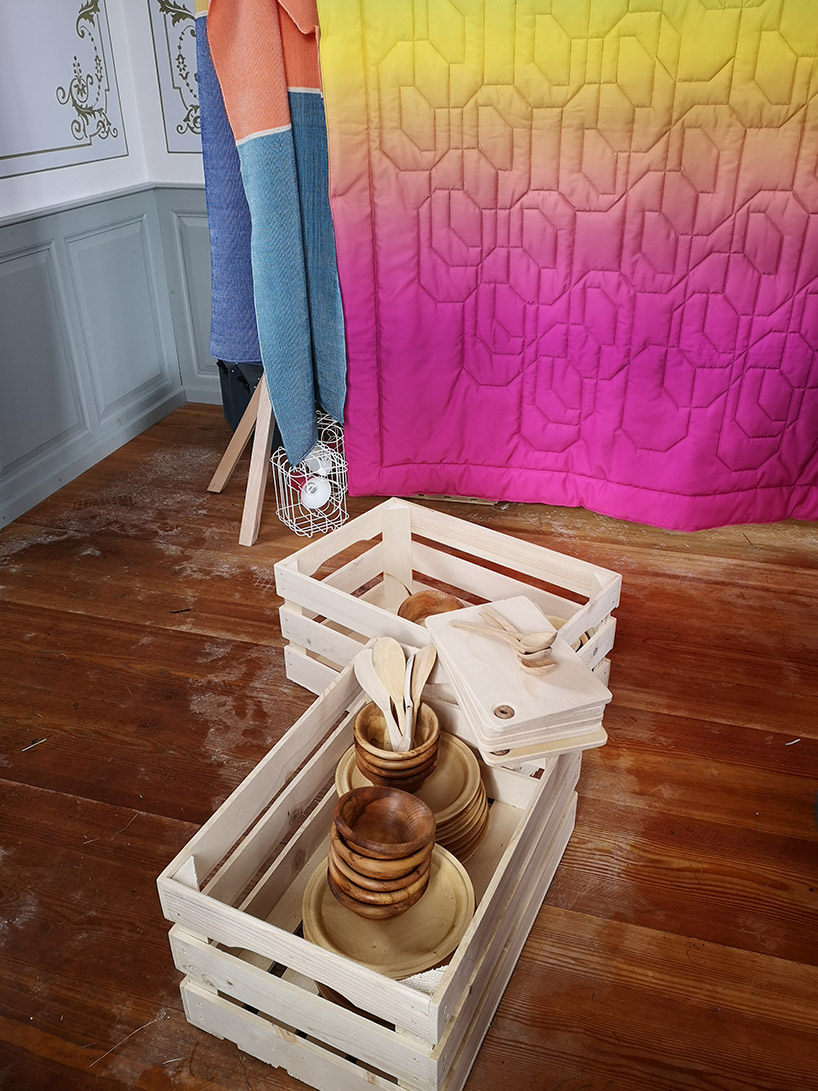 the cultural gallery, 'wood' by matali crasset
back in 2011, designer matali crasset began work on 'le vent des forêts', an experimental project in which she conceived four cabin typologies–or living works of art in the woods–to be built in the forests of lorraine, france, in order to bring one closer to nature. continuing her longterm project 'wood' together with the cultural gallery, matali crasset proposes novel iterations in the physical form of stools, chairs and tableware inspired by the versatility of the material itself.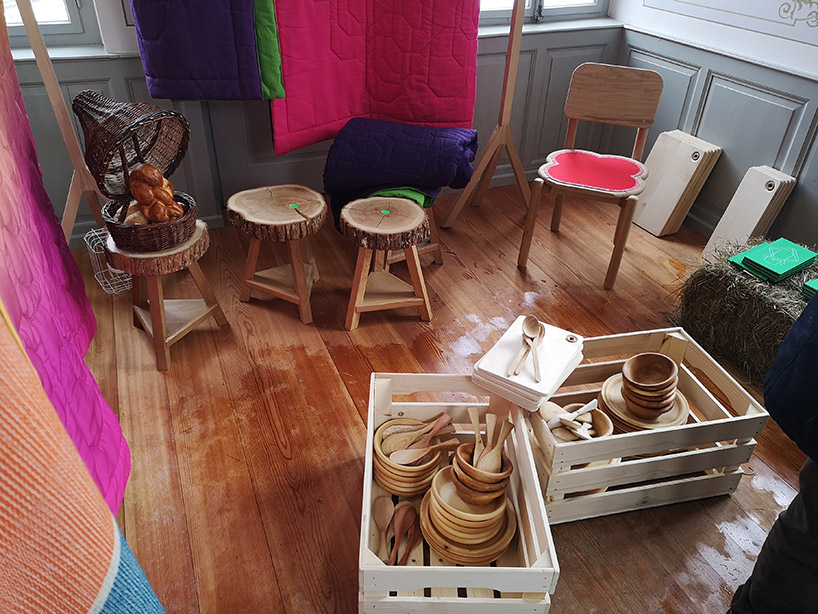 the cultural gallery, 'wood' by matali crasset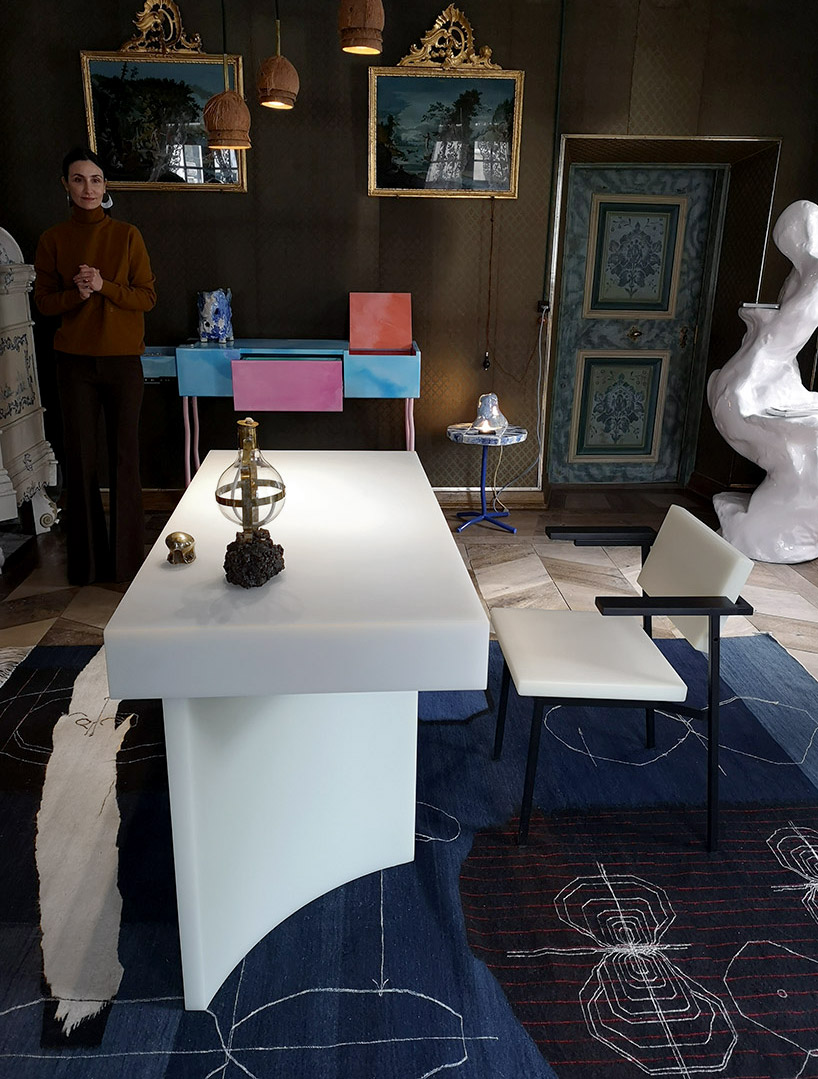 gallery etage projects, icy mint SOAP desk and redesign of martin visser's SE69 chair by sabine marcelis
gallery etage projects shows sabine marcelis' icy mint SOAP desk, first unveiled at NOMAD st moritz 2019, featuring her signature resin with a soapy matte surface. the unique translucent and highly polished properties of the material give a magical effect to the piece, complemented into a study setting with sabine's signed and numbered limited edition redesign of martin visser's SE69 chair from 1959.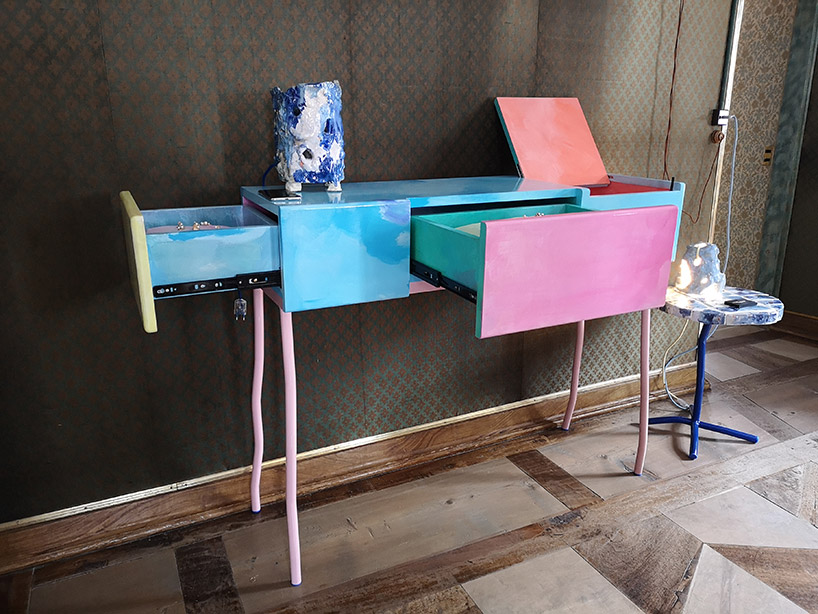 gallery etage projects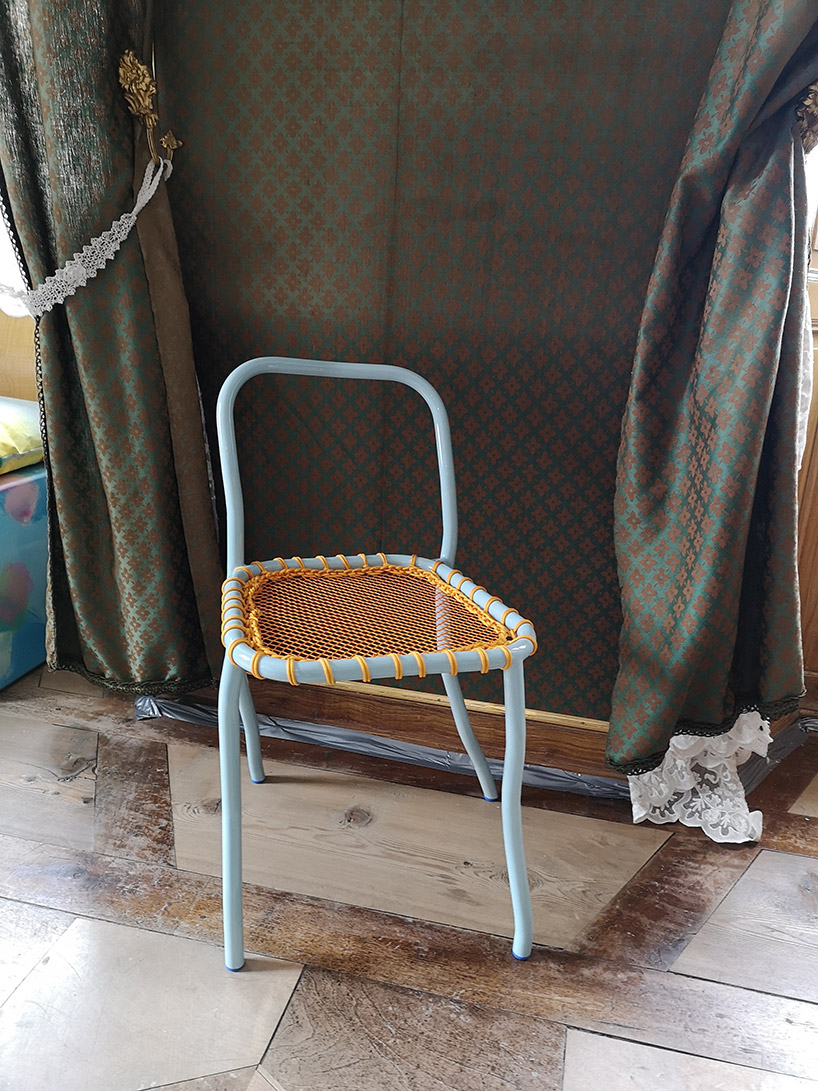 gallery etage projects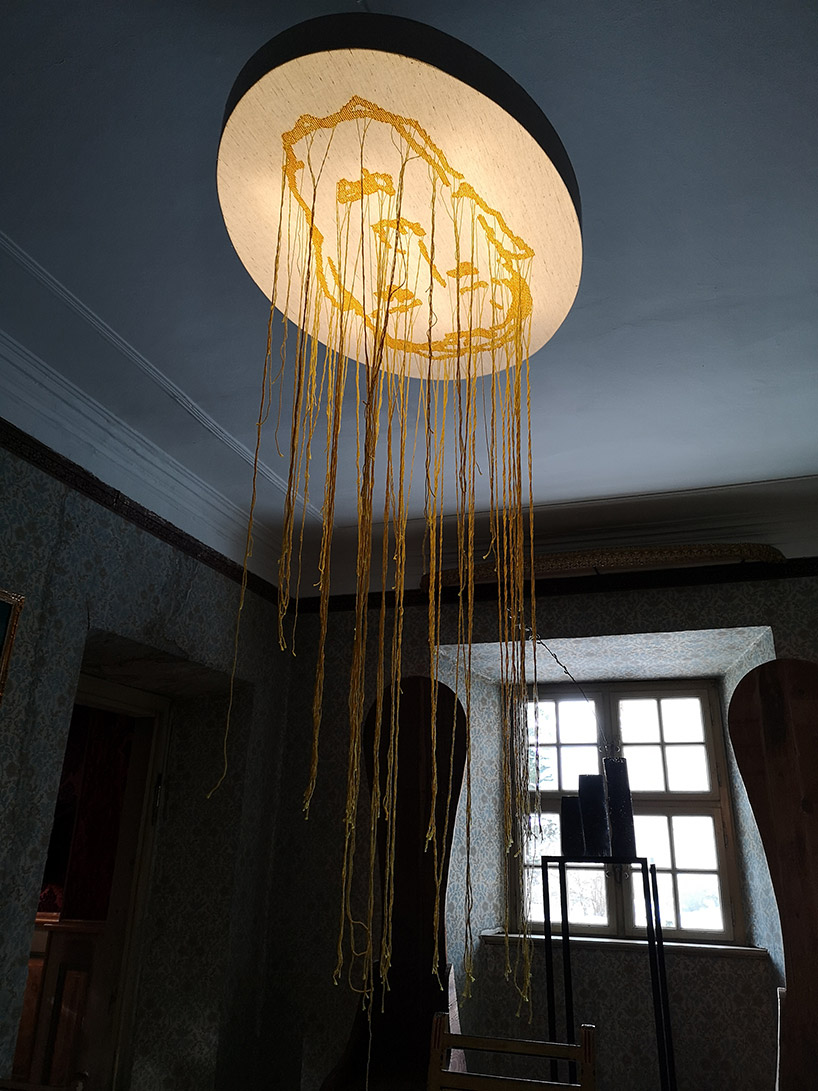 galleria luisa delle piane, lamp with hanging threads by instituto campana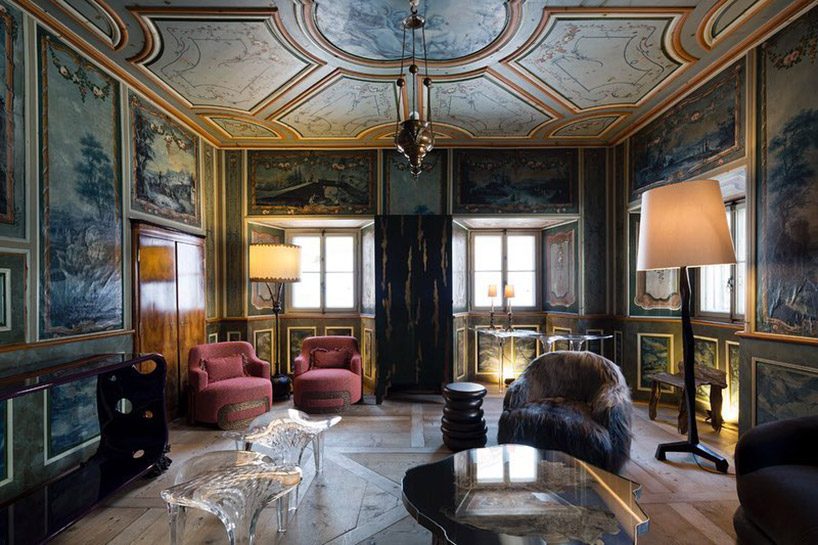 furniture by mattia bonetti, maria pergay, zaha hadid and michele oka doner at gallery david gill
image courtesy gallery david gill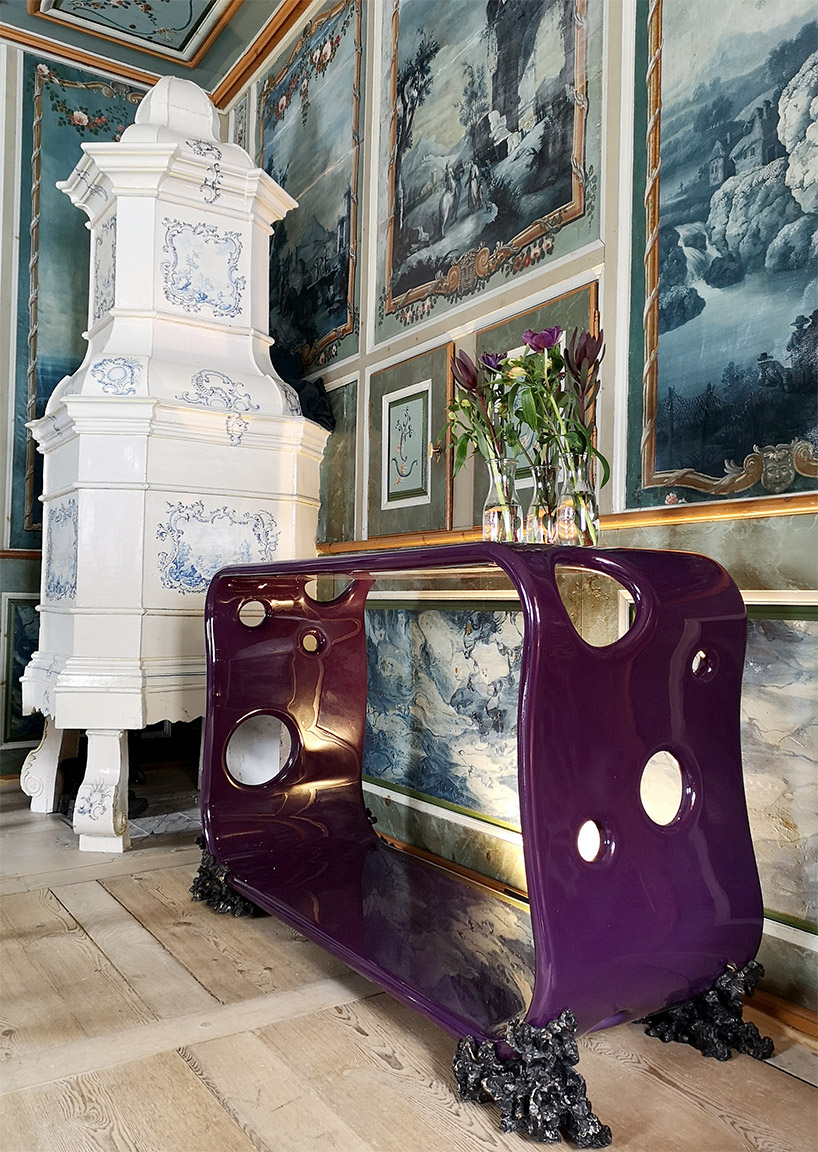 console 'palazzo' by mattia bonetti in the room curated by gallery david gill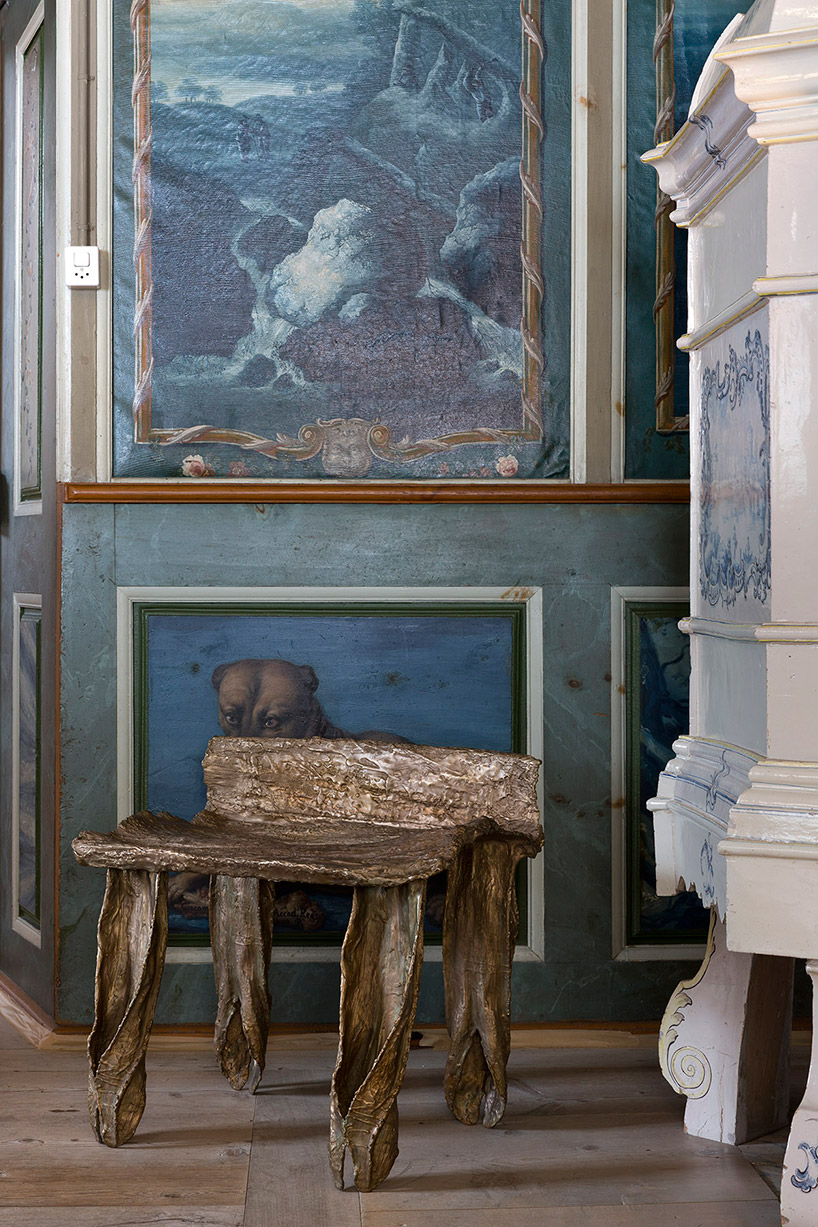 'edenic throne' chair by michele oka doner at gallery david gill
image courtesy gallery david gill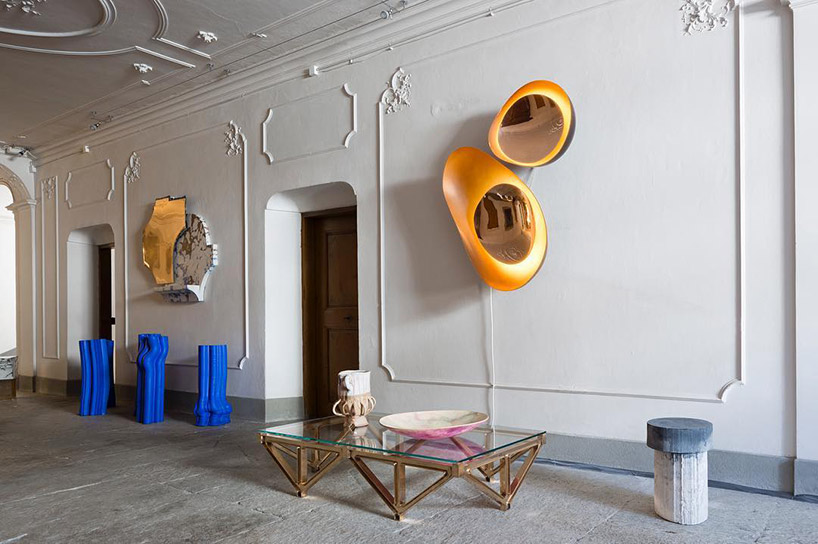 beirut's carwan gallery presented projects by roberto sironi, niamh barry, jeonghwa seo, mary-lynn massoud & rasha nawam, anton alvarez, studio ilio, kueng caputo and taher asad-bakhtiari
image by filippo bamberghi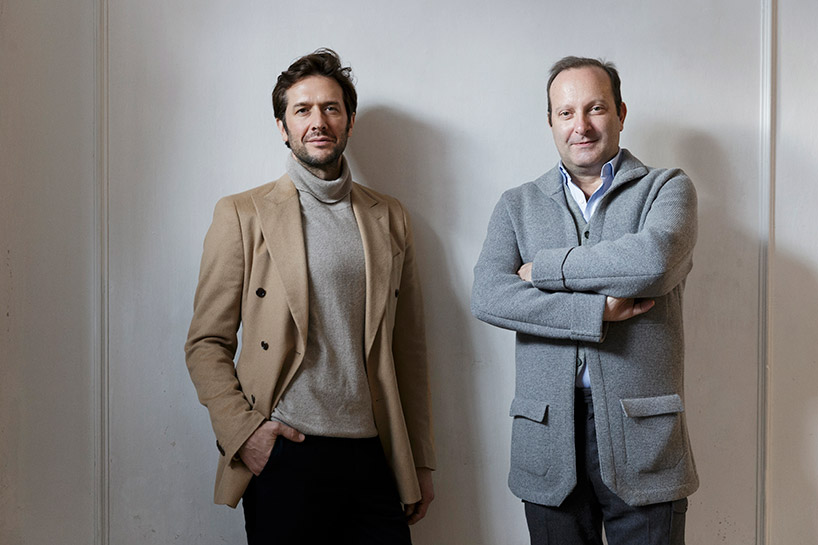 nomad curators giorgio pace and nicolas bellavance – lecompte
villa entrance
'most fairs talk about visitor numbers, but very few people consider – how many of those visitors are actually buying', nicolas bellavance – lecompte tells us. 'NOMAD is smaller, by invitation, and targets the 'right' people. visitors are coming from all over europe, the middle east, asia, and the US.'
NOMAD's first edition took place in monaco at villa la vigie in april 2017 and the second—the first winter edition—opened in february the year after. followed by two editions in st. moritz. as it stands there are plans for the next edition to take place in venice this september (details coming soon). a special treat this year – NOMAD is collaborating with some wonderful chefs to present NOMAD STÜVA, the warm meeting point and cosy place offers an elegant small plate, a glass of wine and coffee.
REGISTER AT NOMAD-CIRCLE.COM TO CONFIRM ATTENDANCE
NOMAD show hours:
thursday, february 7–11, open daily 11am–7pm
participating galleries:
ALMINE RECH GALLERY, PARIS, LONDON, NEW YORK, BRUSSELS
CARWAN GALLERY, BEIRUT
DAVID GILL GALLERY, LONDON
ERASTUDIO, MILAN
ETAGE PROJECTS, COPENHAGEN
GALERIE ANDREA CARATSCH, ST.MORITZ
GALLERI FORMAT, OSLO
FUNCTIONAL ART GALLERY, BERLIN
GALLERIA PAOLA COLOMBARI, MILAN
GALLERIA ROSSELLA COLOMBARI, MILAN
GALLERY FUMI, LONDON
HUNTER HARRISON, LONDON
GIUSTINI/STAGETTI, ROME
LUISA DELLE PIANE, MILAN
MANIERA, BRUSSELS
MASSIMO DE CARLO, MILAN, LONDON, HONG KONG
M.F. TONINELLI ART MODERNE, MONACO
NILUFAR, MILAN
special projects:
CARLO MOLLINO AND CHARLOTTE PERRIAND: DESIGN FROM THE ALPS
OSCAR HUMPHRIES & RÉMI GERBEAU
SWEDEN VS ITALY
ANGELA WEBER MÖBEL
VISIONS OF MURANO, 
GALLERIA BLANCHAERT-MILANO
a diverse digital database that acts as a valuable guide in gaining insight and information about a product directly from the manufacturer, and serves as a rich reference point in developing a project or scheme.