jul 31, 2009
nosigner: 'touch the invisibles' installation at siggraph 09
'touch the invisibles' installation by nosigner in collaboration with hiroyuki ando, junji watanabe and eisuke kusachi
japanese designer nosigner in collaboration with hiroyuki ando, junji watanabe and eisuke kusachi have designed 'touch the invisibles', an art installation that will be on display at siggraph 09 (international conference and exhibition on computer graphics and interactive techniques).
they have developed a novel interface that can superimpose tactile information onto surface or images displayed on a computer monitor. based on this interface technology, they produced artworks on how we perceive the real and digital world through the sense of touch.
'touch the invisibles' installation
'touch the invisibles' installation
the information from the finger pad is used for surface recognition
the vibrator (voice coil) is attached to the nail with the double sticky tape
the vibrator is easy to attach and remove. a microcomputer controls the timing and magnitude of the vibration. the finger position is measured with the touch sensor of LCD panel. the position information is send to the microcomputer for activating the vibrator, and to the pc for updating the visual images. when the users rubs the visual images, the tactile information are presented by the interface.
'touch the invisibles' in action
nosigner was a participant in our designboom marts in sydney and tokyo in 2008.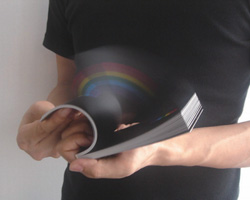 mar 14, 2014
mar 14, 2014
jul 07, 2013
jul 07, 2013
jul 04, 2011
jul 04, 2011