sourcing its silhouette from that of the shard, UK designer lee broom and design brand nude unveil 'the tree of glass' within the restaurant aqua shard, located on the skyscraper's 31st floor. the collaboration shapes a unique interpretation of the traditional christmas tree, turning the festive feature into an illuminated sculpture of 245 hand-blown glass LED pendant lights. floating in a formation that stands just under 10 meters tall, the pendant shade designs combine to create a single shard-shaped tree of light and glass. however, each piece is independently recognizable and is available for purchase, with proceeds donated to the british red cross.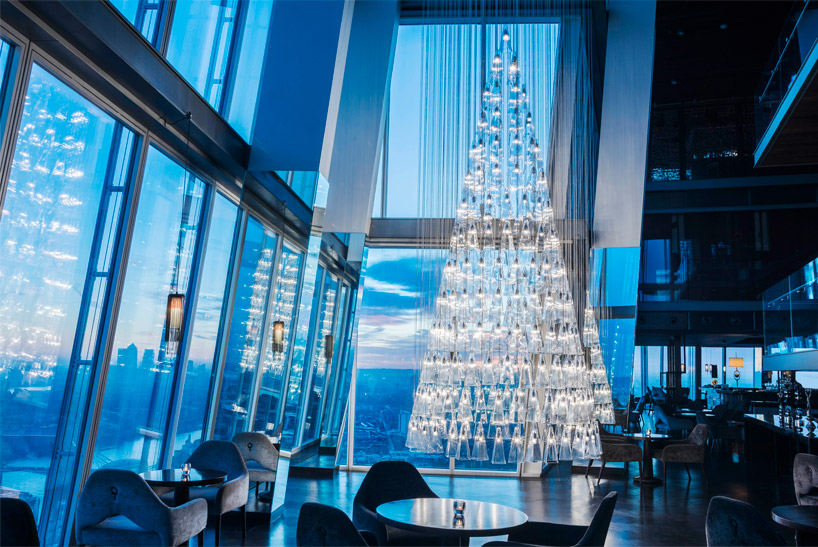 all images courtesy of nude
this is the first collaboration between lee broom and contemporary glassware brand nude, who have meticulously handcrafted the shade for each pendant light. for the unveiling of 'the tree of glass', emre bozbeyli, design director of nude, and lee broom give further insight into the festive sculpture.
designboom (DB) can you describe the process of selecting the designer to collaborate with and why lee broom was chosen?
emre bozbeyli (EB): as the shard is such an iconic london building we wanted to choose someone london based who fitted with our brand ethos of 'simple is beautiful', lee is already an accomplished lighting designer so was a perfect fit. he's also adept at modernising traditional objects, so we thought this would work well with creating a contemporary christmas tree.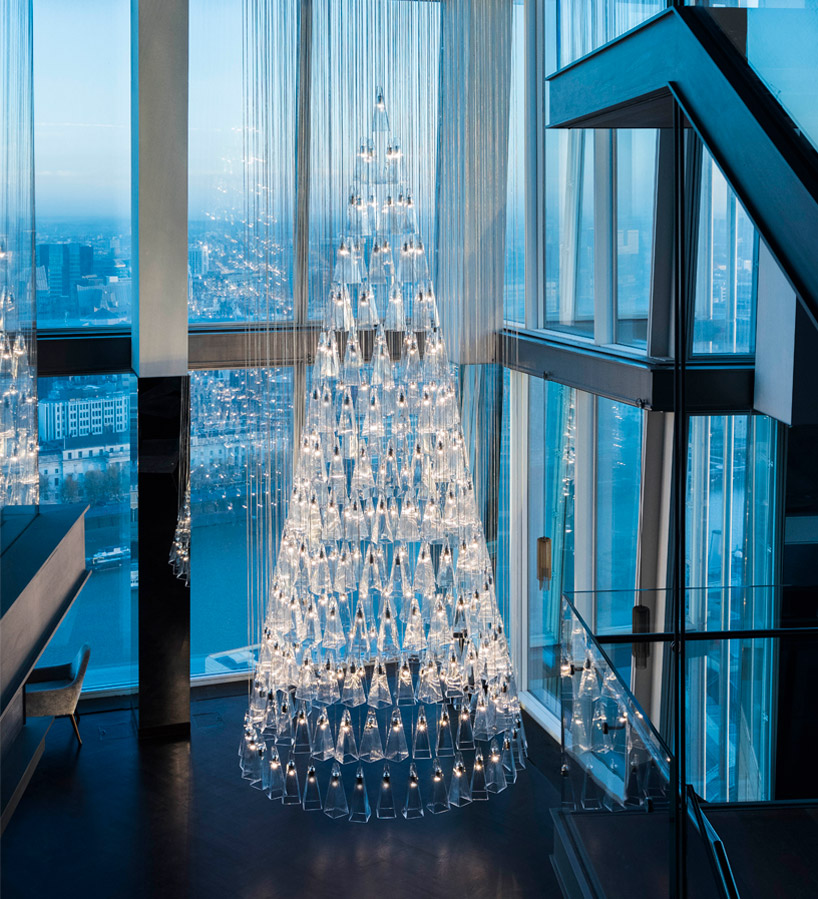 DB: by just looking at the previous aqua shard collaborations and the numerous other reinterpretations of the christmas tree, how did you explore around the challenges of redesigning the festive icon?
lee broom (LB): previous creators of the aqua shard christmas tree have included vivienne westwood and david attenborough and many designers across the world have reimagined the classic christmas tree in many varying ways so I certainly had large shoes to fill. with this particular reinterpretation, I wanted to create something contemporary which had an almost architectural quality to it given the building we were presenting in. I also wanted to incorporate lighting into the design as this is something I am well known for. finally, I wanted to ensure the installation as a whole felt recognisably festive, without being fussy.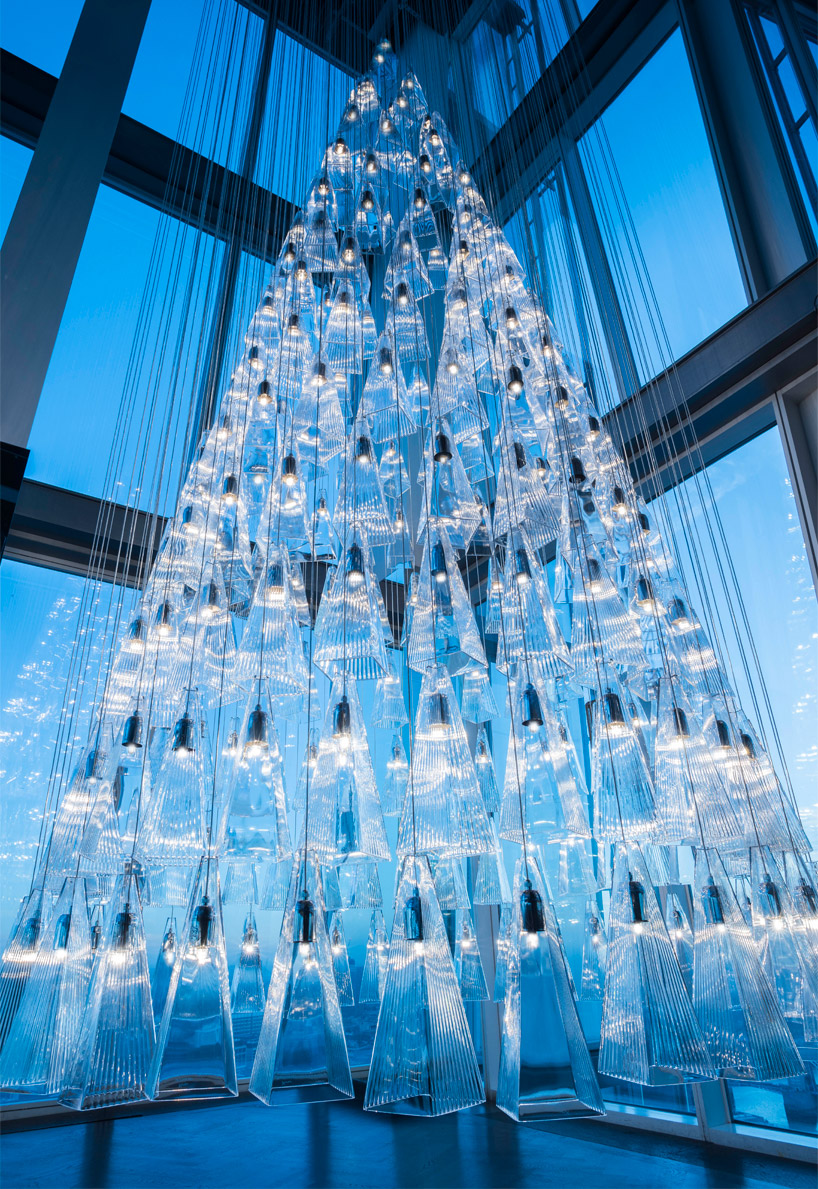 DB: through what elements did the shard's iconic silhouette influence your reinterpretation?
LB: the shard is actually one of my favourite buildings in london, I live very close by to it so I see it almost every day on my travels into my design studio. the installation has a lot of presence being just under six meters high, so I felt it was important not to ignore the composition of the building and make sure it felt like it belonged in the space. visitors to aqua shard are naturally keen to take in the amazing views of london, so although I wanted an installation with impact, I also did not want it to distract from or obscure the view too much. as such, the structure of the tree is complementary in shape to the angles of the interior as well as the complete silhouette of the shard itself. the tree is made up of 245 glass LED pendant lights which make up the overall shape, and each individual pendant mirrors the contours of the shard. we decided two of the four facets of the glass pendant should be reeded to give maximum refraction with the light, and the remaining two facets are left plain, so you are still able to see through parts of the installation to capture the view as you walk around the tree.
DB: how involved were nude's designers and engineers in the creative process?
EB: we were very much involved in the process, as we had to try to find a solution regarding the weights of the pendants – ensuring they were thin, shiny and smooth whilst maintaining a certain weight. we also had to keep the thickness consistent to allow the shade to be held at a certain level.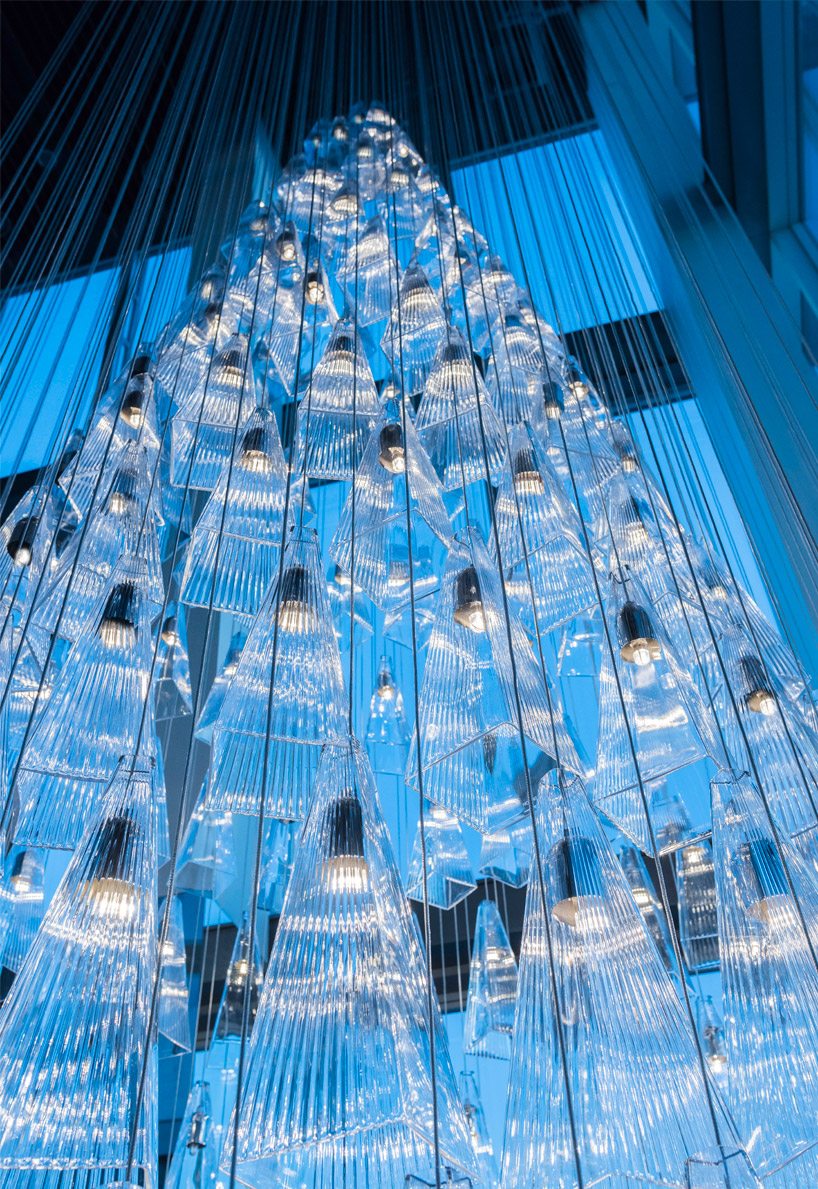 DB: what were the challenges of configuring 245 hand-blown glass lights into a seemingly single formation?
LB: there were a number of challenges all of which were thought out in detail from initial design to final installation. we obviously had to consider overall weight restrictions so each glass shade needed to be as slim as possible in terms of material thickness. each light had to be pre-cut and wired to the exacting height and then installed in sections. there was a lot of tweaking, cleaning and adjusting once all of the lights had been installed – bearing in mind that all of this was achieved on large scissor lifts in a space with 10-meter-high ceilings and in the second tallest building in europe – not an easy feat, but well worth it in the end.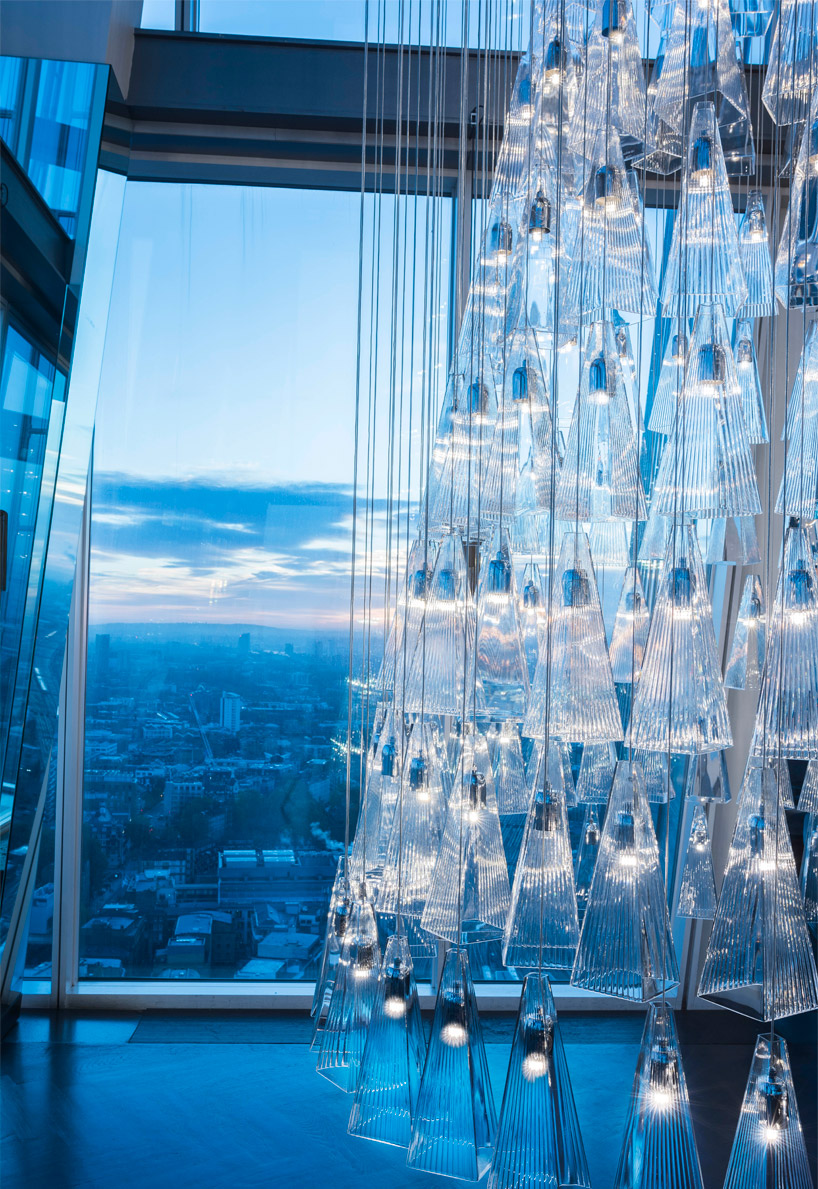 DB: as each piece is available to purchase, with all proceeds donated to the red cross, how does the concept of the tree adapt when as standalone pendants?
LB: once the installation has been disassembled, each of the 245 lights will be boxed up individually and sent to whomever has purchased one. the lights will retail at £150 GBP each and £100 of each sale will be donated to the british red cross. as there are only 245 lights in the installation, as well as giving to a very good cause, you are also getting a unique and limited edition lee broom and nude design object. during the design process it was important to me that each light fixture worked independently in the domestic home as well as in the overall installation. as well as visualising the installation as a whole, we would produce scale models of the singular pendants and suspend them on their own, side by side or in clusters. it was important to anticipate how people would use the lights in their homes once they had been bought. the final design had to tick all of these boxes. we worked very closely with nude on making sure that the lights were of a high standard, which nude are incredibly good at given their experience of producing high quality glassware.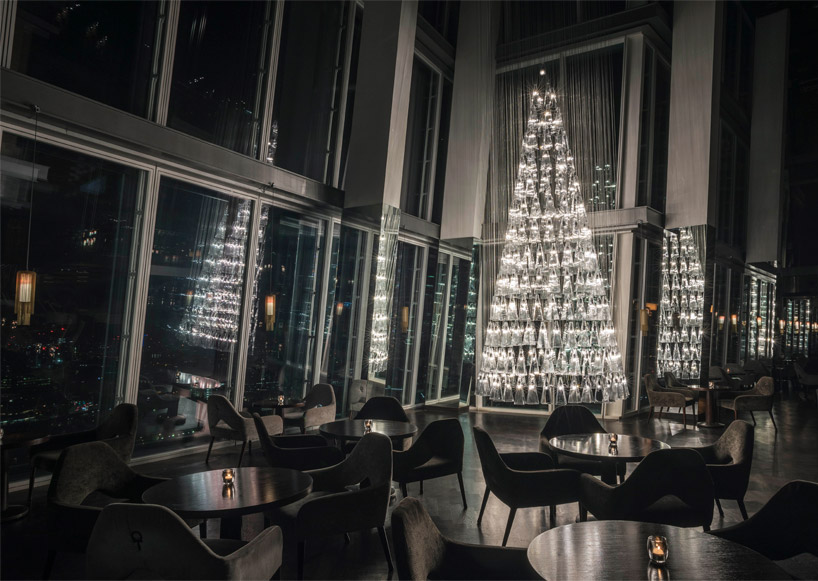 DB: is this the most unusual form any of your glass or lighting designs have ever taken?
LB: it is most certainly the largest and one of the most challenging, so in that respect, yes it has been unusual. what I love about this project is that as well as creating an engaging and memorable experience for people during the festive season, we are also creating something that will be used and cherished afterwards whilst also raising a lot of money for an incredibly worthwhile charity.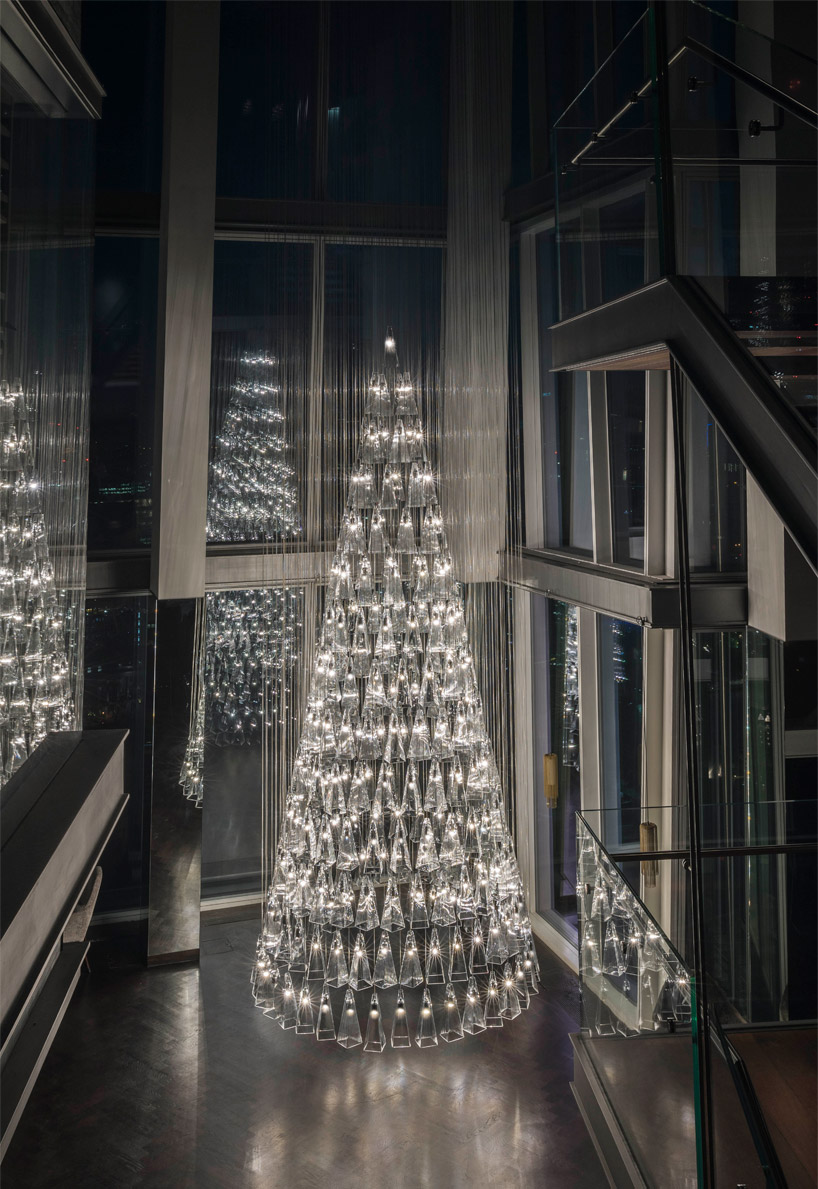 DB: although touched upon slightly in previous collections, will this installation lead to more lighting projects from nude in the near future?
EB: definitely yes. the lighting projects are rather new for us as we're so well known for our glassware and living products, we are still learning about the lighting sector and production specification. we've previously worked with tomas kral to create the 'blow light', which was a huge success; now having the opportunity to work lee broom has really pushed our brand even further.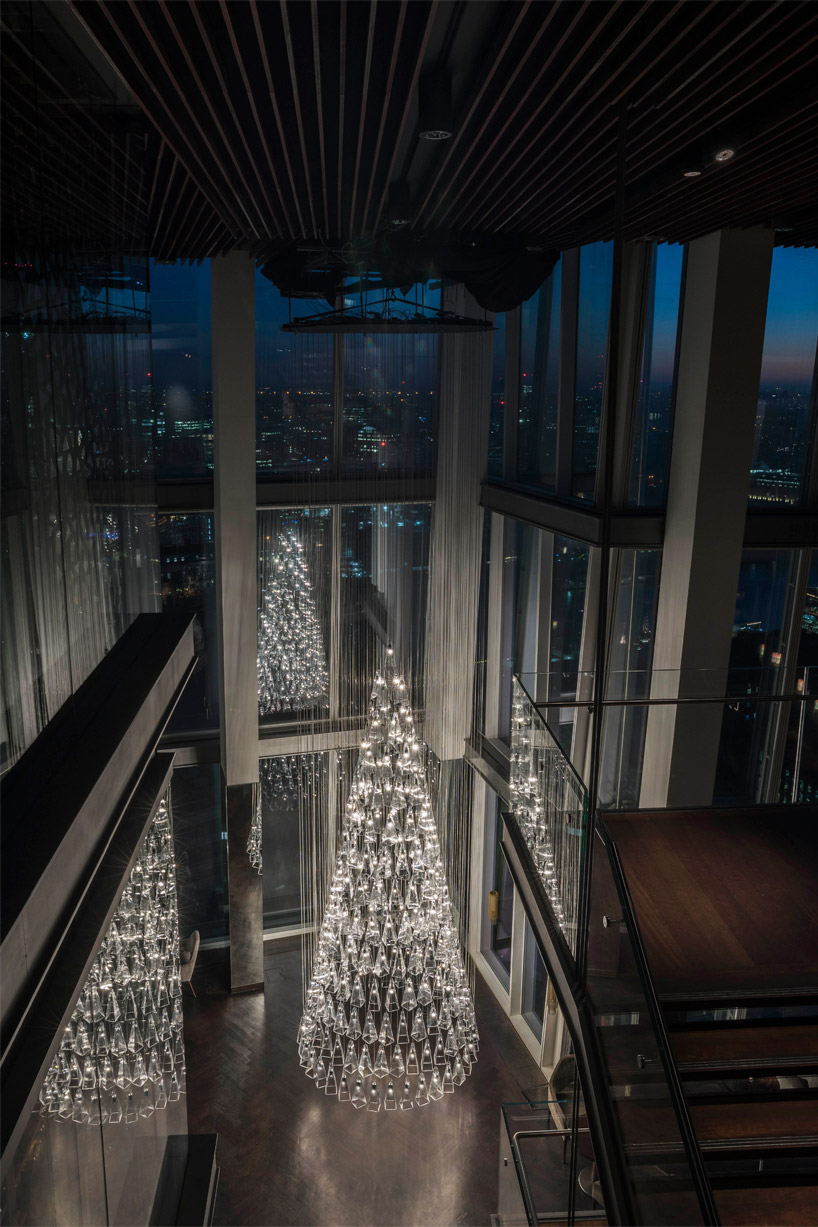 dec 24, 2017
dec 24, 2017
dec 24, 2016
dec 24, 2016
nov 21, 2016
nov 21, 2016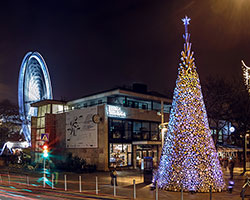 dec 20, 2014
dec 20, 2014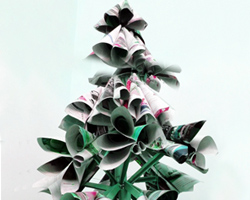 dec 23, 2012
dec 23, 2012
dec 22, 2012
dec 22, 2012
jun 17, 2020
jun 17, 2020
jun 15, 2020
jun 15, 2020
jun 03, 2020
jun 03, 2020
apr 20, 2012
apr 20, 2012
jun 27, 2010
jun 27, 2010
sep 30, 2009
sep 30, 2009
jul 03, 2020
jul 03, 2020
jul 01, 2020
jul 01, 2020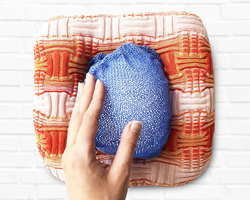 jun 22, 2020
jun 22, 2020
a diverse digital database that acts as a valuable guide in gaining insight and information about a product directly from the manufacturer, and serves as a rich reference point in developing a project or scheme.