assimilation with outerwear
parisian designers charles and harry of the outerwear brand 'oblique' have a multicultural and transdisciplinary spirit. through its work, the young team has celebrated the diversity of vernaculars found across the world. the duo's previous collection honored that of the ainu — an ancient culture indigenous to japan and known for its material expertise — and took inspiration from its traditional garments.
with its latest spring/summer 2022 outerwear collection, dubbed 'apsara,' oblique looks to the northern indian state of rajasthan, this time honoring its intricate architecture. spanning centuries, these works are characterized by their rich ornamentation and textural repetition. the oblique designers succeed in developing a line that is influenced by rajasthani culture without appropriating it. instead, its architectural details, most notably the sculpturally curving overhangs, are translated into the outerwear pieces as graphic cuts and panels.
designboom speaks with charles and harry of oblique as the outerwear brand receives the responsible fashion award of talents de mode 2021, to learn about their process of hybridizing architecture and fashion design.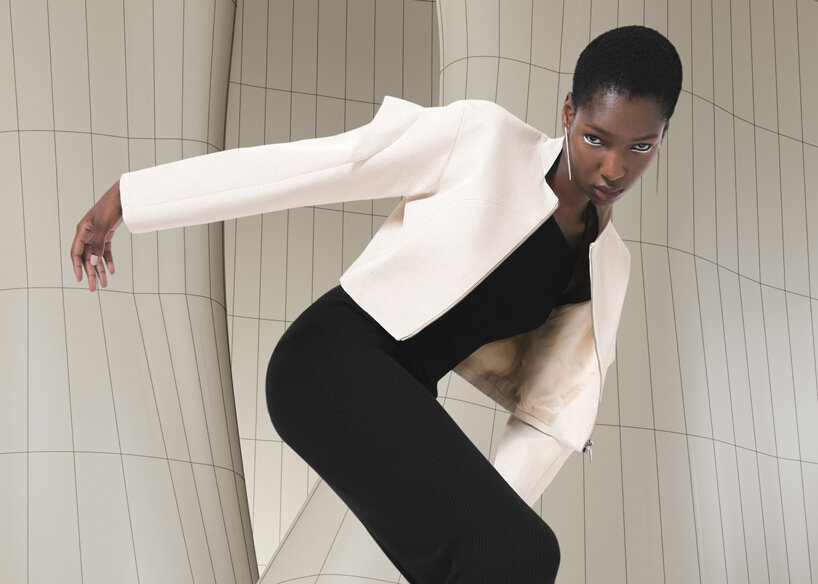 urvashi crop jacket
images by oblique outerwear | @weaeroblique
dialogue with the founders of oblique
designboom DB: how have your backgrounds shaped your design philosophies and principles?
charles: since childhood, I have been fascinated by technologies and the potential they offer for the future. two interests shaped my thinking and contributed to my universe over time. first, video games projected me into extraordinary universes with infinite freedom. then, with sci-fi cinema which is also my introduction to costumes, clothes gave credibility to a story. create an imaginary world in step with reality and its constraints. they accustomed my mind to be constantly in search of differentiating elements to transcribe on our outerwear.
harry: I am a passionate person, always driven by my curiosity. I did my studies in the culture field and worked in art galleries, for a few years. during those experiences I developed a very personal vision of beauty. to me, beauty is about spreading a vision, embodying an ideal. this aspect is as important as the discourse, and both must be coherent. when I discovered charles' aesthetics as a fashion designer, I knew he was talented. as we are friends sharing mutual interests, it has been easy for me to appreciate his vision and discourse, even to appropriate it.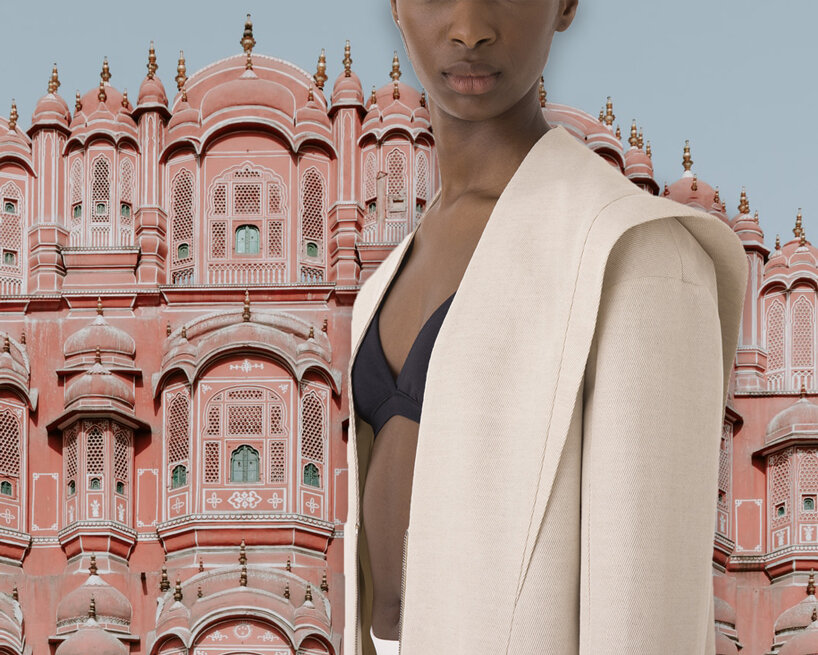 tilottama asymmetrical jacket, detail
background image by annie spratt | hawa mahal, circa 1799
DB: what is your relationship with rajasthan and ainu culture? how did you come to choose these precedents?
harry: each of our outerwear collection themes starts from a building, a garment, an ornament, a tool, and even a plant or an animal we love to contemplate. we feel the atmosphere, the aura coming with it, and then give interest to the context behind it.
concerning the ainu, I had a deep interest in this culture. I discovered it through a video game, okami. I explored it further during some research I did for academic work about the cultural assimilation process. the shape of the traditional garments of this population seduced charles. they're known for their textile know-how. rajasthan is more about charles.
charles: rajasthan is a region attracting me for many years. I was supposed to go there, but the pandemic state aborted the project. the buildings of this region inspired me, the military and religious ones, so as palaces. their shapes and localization were unique. harry gets into the history of rajput identity and how deep it was related to their architecture.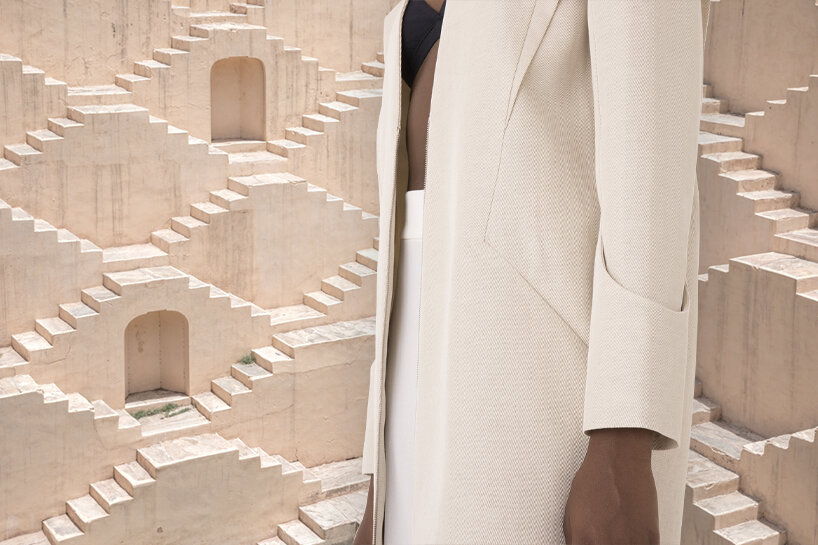 tilottama asymmetrical jacket, detail
background image by nina luong | chand baori step wall, circa 8th century
DB: what was the process of studying their heritage? is there anything that you read or watched that stands out?
harry: charles is bulimic of images. so we first identify what is precisely attracting us, based on each coat or jacket inspiration, and start quick research to understand the context. it gives us a framework for the theme of the collection.
then, we don't have a specific process. we do researches about history, culture but also contemporary social and environmental issues. I would say charles will watch a lot of documentaries and read articles when I will give interest to more specific details. I read academic works and care about mythology or arts. I finally do a synthesis of our researches. we love fashion, but is it only about clothes? it's a pleasure for both to learn and appropriate the theme our way before sharing. well, it's not only about stimulating charles and me.
we aim to understand, value our sources of inspiration, and give them visibility. we want our community to discover a new universe, a new culture to feed reflections on fashion, creation, and more broadly, our societies. it gives meaning to our work, to our brand, and our outerwear.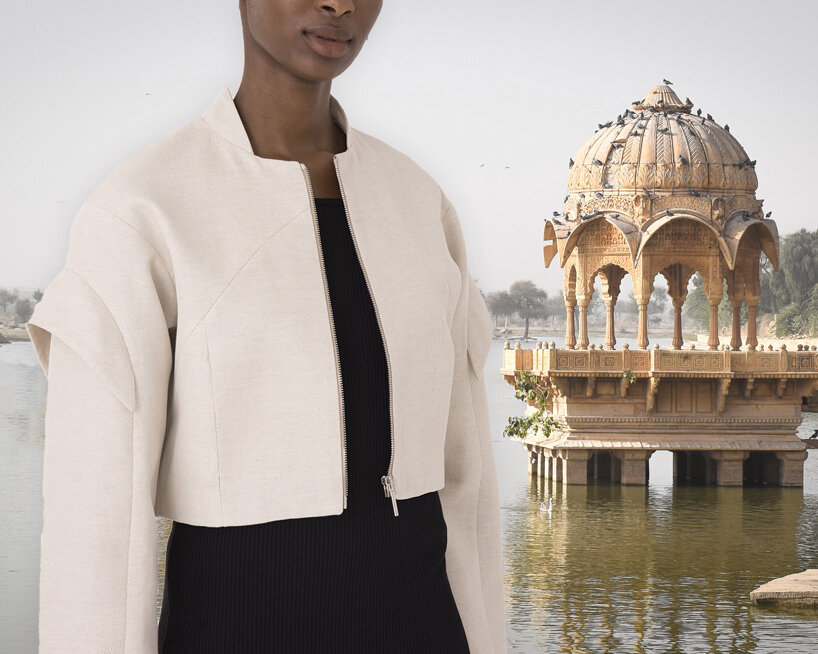 background image by sergio capuzzimati | chhatri at gadsisar lake, circa 14th century
DB: you mention influences from neofuturism — this is a reference to the architecture style of the early 21st century? how does that relate to the rajasthan precedent and how does it drive your work?
harry: I did some research based on charles's fashion designs and discovered neo-futurism. this movement is turned towards the future, bringing an ideal, a vision of a society based on aesthetics research, innovative quest, and high moral values. we felt deeply connected to it.
today, we define neo-futurism as our outerwear brand artistic line. besides considering our interest in architecture, it matches our style and philosophy. charles' coats and jackets are very graphic, silhouettes are sculptural, and cuts are sophisticated — shapes are fundamentals. oblique is also about our vision for the future. we wanted our brand to embody all our values, including innovation and sustainability.
rajasthan vernacular architecture is the theme of our SS22 collection, apsara. as charles said, I was passionate about how the architecture of this region was able to transcribe the complexity of rajput identity. the edifice is a cultural vector, so is a garment. we work for our outerwear to also transcribe oblique DNA and the ideal we aim to concretize.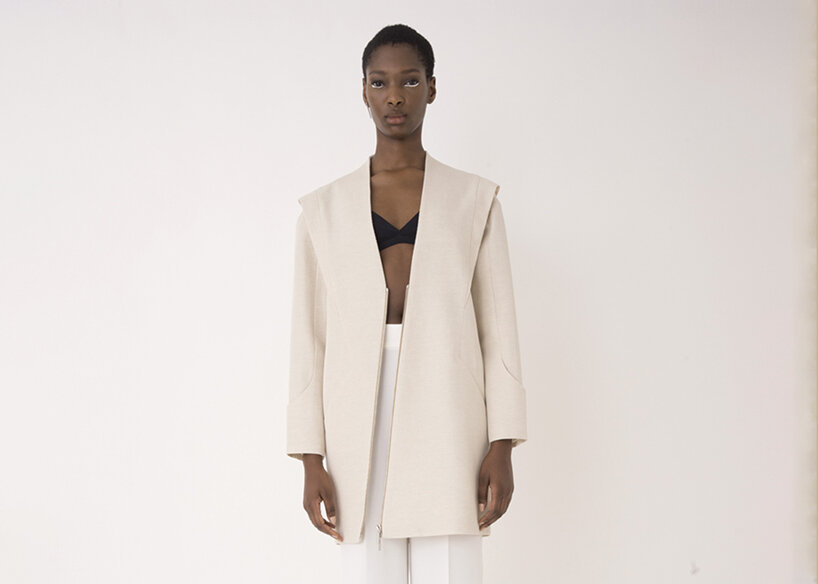 tilottama asymmetrical jacket
DB: can you describe the process of translating elements of architecture into outerwear? how do you begin?
charles: the first step when creating the apsara collection has been to ingest a large number of images. I choose iconic buildings of the region and the rest of india, working to understand what makes rajasthan architecture unique.
for urvashi, our crop-jacket, I was interested in the pointed pavilions shrines, the chhatris, which fly over the lake gadisar. they have a typical form of rajput architecture, with a very futuristic shape to me.
this almost indigestible process also allows me unconsciously to absorb colors, shapes, faces and other graphic elements that enrich my imagination. in parallel comes the researches we do to nourish my reflections. when I have done this work, I let my imagination go on.
I then imagine the development of rajasthan in a distant or parallel future. I imagine characters evolving in those futures. what elements of their past have the rulers of those palaces kept? how would they have evolved? how to transcribe this in their clothes? I put myself in the shoes of the character I created, and I make these fictive decisions.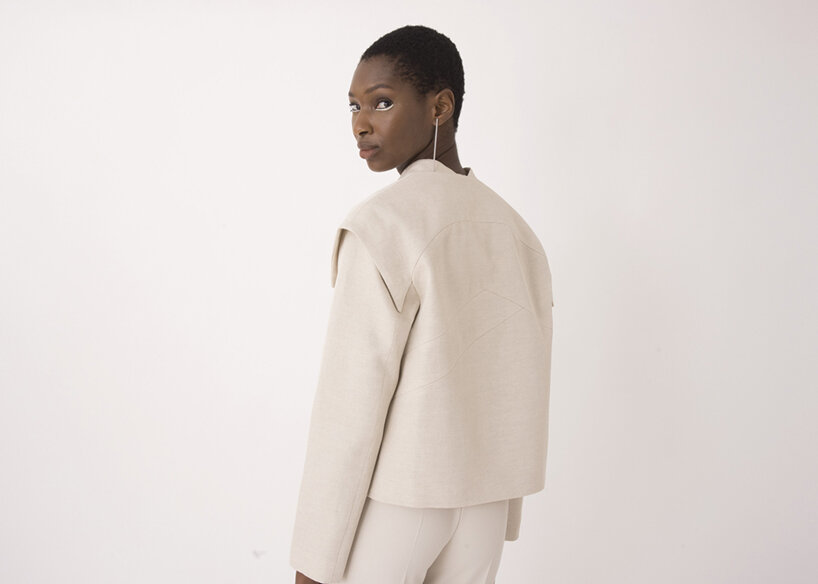 anjana jacket | image by oblique
DB: how has your work evolved since you first began creating?
charles: I had the chance to define my universe, futurism, quite early on. my studies allowed me to explore its different branches.
during my master's degree in fashion design in paris, I was first drawn to the dark post-apocalyptic universes, very codified and rich in detail. despite my fascination with this movement, I realized that brighter environments looked more like me. I discovered the architect zaha hadid on whom I inspired my graduation collection. without knowing it yet, I laid the foundations of oblique neo-futurism with this collection: the constant search for the perfect curve boldly mixed with sharp angles. a utopian vision of a society where humans and technology are in harmony with their environment.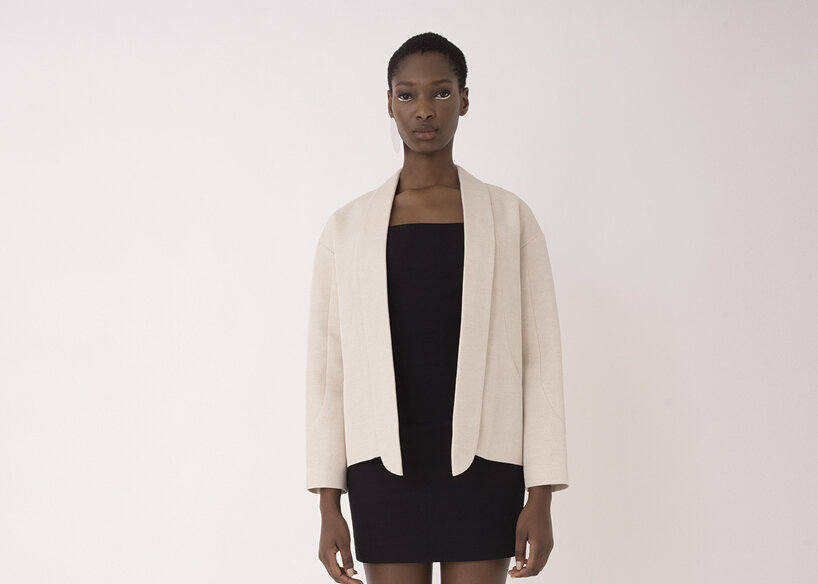 menaka open jacket
DB: in your lookbook you ask: 'how could architecture respond to contemporary issues in rajasthan while preserving the regional cultural heritage? what could be the vernacular architecture of rajasthan of tomorrow?' what would your answer be?
harry: our answer is fiction. a utopia highlighting our research and the cultural background of our theme. it's the narrative to which we aspire, related to our quest for an ideal. charles and I both fantasize about the possibilities the future offers or the possibilities that could have been. charles questions himself during his creative process, while I do more during the research process.
for our first coat collection, ASSIM/LATION, I instinctively asked the question afterward: how to reinvent a contemporaneity to a population grasped as an essence immutable and fixed, identical to itself since time immemorial? the answer was charles' creations, our collection. despite the interest in our researches and of the question I was asking, charles found my approach a little bit too academic and too constraining for his creative process. he felt that something was missing.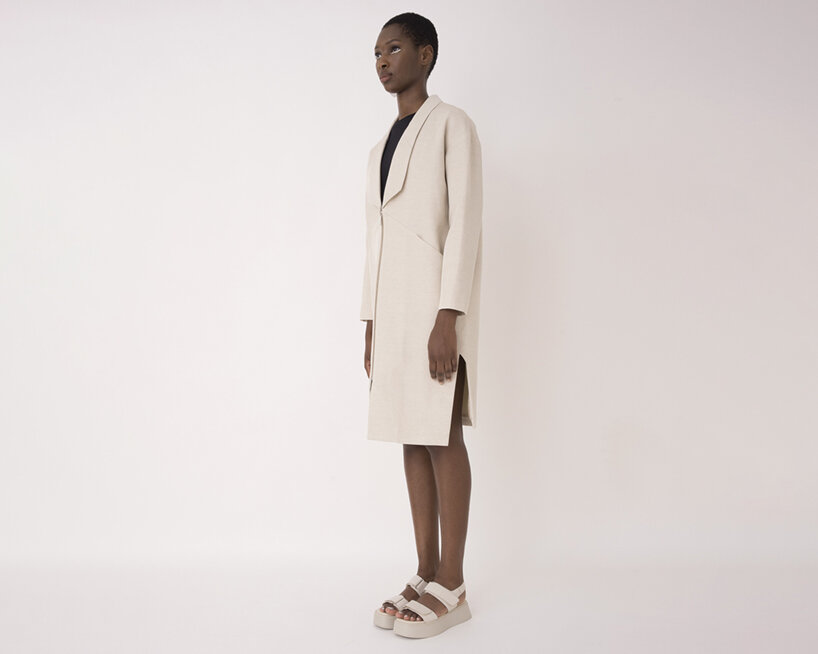 rambha long jacket
after a talk about our fantasies when we began to work on the collection apsara, charles asked me to write a story, fiction answering our question. a smart proposal integrating all the elements of our brand, of our vision. we now develop with each fashion collection a utopia. we write the ode of our collection, our designer's apologue, a page in the oblique story.
for now, it's episodes we will share during the season. we hope we will be able to give those utopias other forms in the future…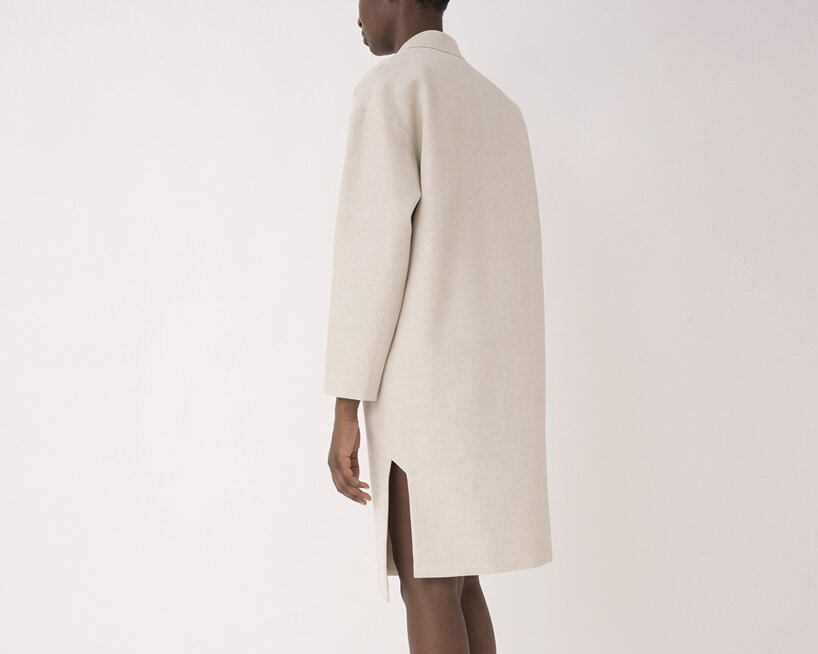 rambha long jacket
DB: do you have an idea yet which cultural precedent you'll look to for your next collection?
harry: we know what our future outerwear collection will be about, and it's not about human culture. it will be about nature. the shapes will be more organic, and we will question this usual opposition between nature and culture. our FW22 collection of coats will be called 'céto.'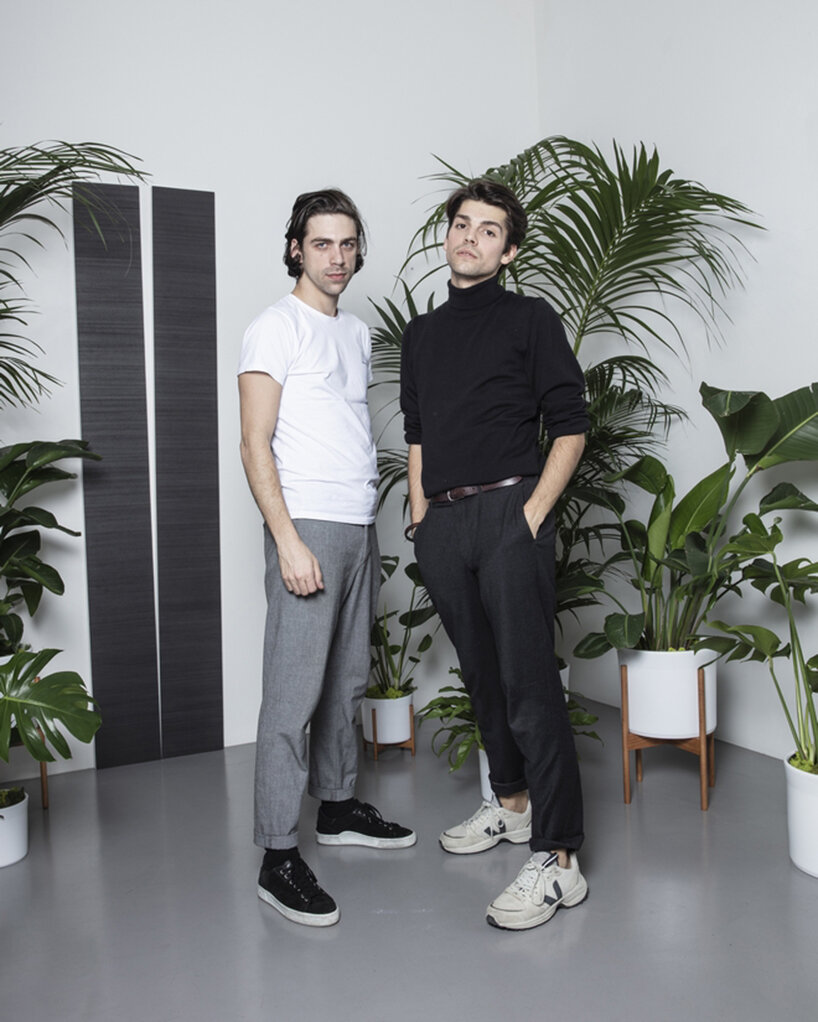 project info:
collection: apsara, SS/21
brand: oblique | @weareoblique
a diverse digital database that acts as a valuable guide in gaining insight and information about a product directly from the manufacturer, and serves as a rich reference point in developing a project or scheme.
designboom will always be there for you
milan, new york, beijing, tokyo

,
since 1999