nov 02, 2014
office kersten geers david van severen design furniture for maniera
office kersten geers david van severen design furniture for maniera
maniera commissions artists and architects to collaborate on limited edition series of furniture as a means of expressing their creative directions. the brussels-based company has invited artist bas princen to curate the 2014 collection, of which he approached local firm office kersten geers david van severen, asking them in an architectural way, to develop a group of functional objects that play with the capacity of furniture to act as sculptural works that define space. in response, the duo has conceived a set of three tables and a seating object which articulates their architectural approach on a smaller scale — ordered and offering the essentials.

'solo chair'
'solo chair' stands as an open interpretation of the walking-stick chair 'no. 6822', designed by thonet in about 1866 and which has long been out of production. as a composition of geometric elements, the piece is visually imbalanced as a small square table extends diagonally upwards from its round seat. this arrangement creates a triangular structure that is countered by an additional weight at the opposite end of the leg, delivering a persuasive play of motionless equilibrium.

office kersten geers david van severen's furniture for maniera
the set of three tables were realized in collaboration with engineer arthur de roover, each one formulated as an investigation into the structural spans and strength of materials. built from standard commercial components, the frames of the designs are made from industrial L-profiles in either polyester, aluminium and steel, crested by an ultra-thin table top of the same medium. the dimensions of the tables have been determined by the structural resistance of the elements from which they have been made: 100 cm (polyester), 185 cm (aluminium) and 260 cm (steel). the work surfaces are sealed with a thick epoxy coating to create a uniformed tabletop for all three prototypes, as well as to contrast the coldness of the extruded profiles with a soft, smooth finish.

'prototype 1' polyester table
the supporting legs are detachable, making it easy to ship flat-packed. the vertical elements are attached to the horizontal plane through a smart metal connection pin, or 'cufflink' which fits snugly within the metal L-profiles, acting as a functional and subtle design detail that adds character to the overall designs. the office kersten geers david van severen-designed furniture for maniera was exhibited at biennale interieur 2014 in kortrijk, belgium.

a smart metal connection pin, or 'cufflink' precisely fits between the metal L-profiles

'prototype 2' aluminium table

the dimensions of each table have been determined by the structural capacity of the material from which they are made

'prototype 3' steel table
nov 07, 2014
nov 07, 2014
oct 26, 2014
oct 26, 2014
oct 25, 2014
oct 25, 2014
may 10, 2017
may 10, 2017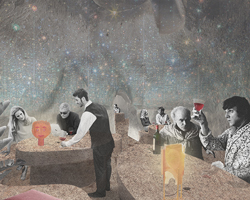 dec 20, 2016
dec 20, 2016
oct 24, 2016
oct 24, 2016