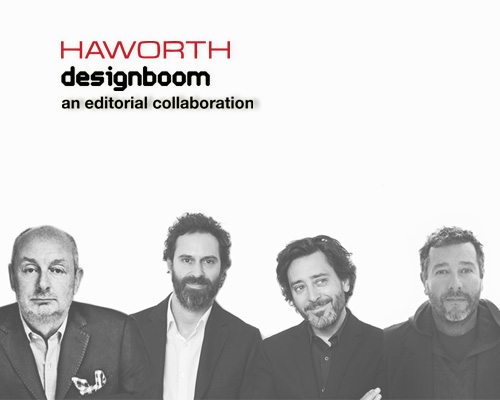 sep 19, 2014
the office is no longer defined by a particular space or furniture

the office is no longer defined by a particular space or furniture
designboom partners with leading office furniture company HAWORTH on an editorial series that investigates the future of the contemporary office environment and new ways of working. our alliance brings forth insights into the workplace and how it has evolved from something more static, into an active and modular condition.
our notions of the traditional office are no longer defined by specific furniture, or a particular space. this is a result of product advancements such as laptops, smart phones and tablets, which have made it easy to virtually work from anywhere – whether it is from your beach lounger with views of the sea, at the kitchen table during a meal, or up high in the sky while traveling from one city to the next.
in this fifth feature, we interview designers piero lissoni, jay osgerby (barberosgerby) and philippe starck who each share their views on the way global developments in technology have largely played a role on how and where we work today.

philippe starck on technology making books and the office space obsolete
video © designboom
'you know, when my partners asked me to design a sofa, I said, 'no way. it's old. it's obsolete. it's useless.' for me it is historically something for bourgeois people. it was not really my world, but times have changed. now, there are a lot of new technologies that are so light that you can work, play, have entertainment anywhere, everywhere. the sofa is probably the biggest and most costly piece of the apartment, and it is making a comeback, standing as an island in the house where children can play in the morning, the wife can work during the lunch, the husband can come home at the end of the day, and continue to do what he started at the office.
I just finished designing a big boat for a very famous person, and when we were working on the furniture, the person asked me, 'but, what is this?'
'it's a desk.'
he said, 'to do what?'.
I said, 'but, uh you, your children can open a book on this desk.'
he said, 'a book? to do what?'
I said, 'sorry, to do what? it's a book.'
'but, we have iPads.'
and I said, 'yes, you are right, you have an iPad, but the library?'
he said, 'who needs it?'
that means this person said, 'I don't want a library, I don't want a desk, I don't want a book because we don't need it.' it was a shock for me. I love books, but he was right. for years now, I have had my iPad, and I too no longer need more shelves or a library. times are changing.
it's always the idea of understanding and identifying our fake needs, created by marketing, advertising, and our real needs created just by us. today, I prefer to read on my ebook – 72 grams of plastic – that keeps the trees where they are. I love books, but they are something of the last century. an ebook is lighter, more ecological, and also solves my old problem of constantly travelling and working everyday, and needing to bring all my books with me. now I have permanently, probably 40-50 books in my iPad. it's done. no question.' – philippe starck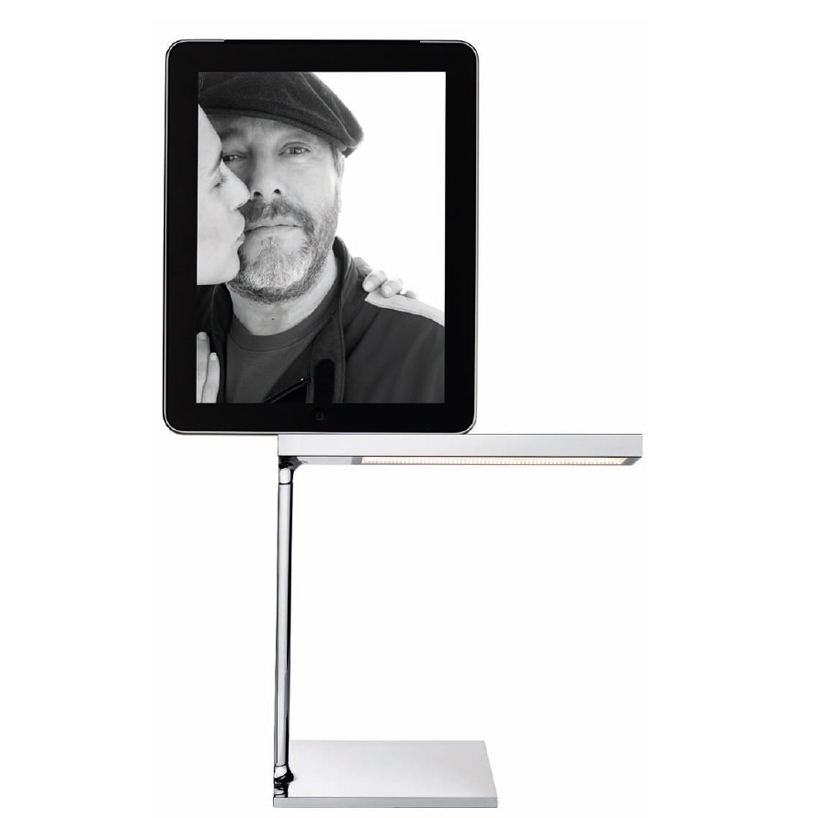 'D'E-light' by philippe starck for flos
image courtesy of flos
philippe starck has already responded to the prevalence of mobile devices in our lives. for example, his 'D'E-light' for flos is a task luminaire that double-functions as a place in which to charge one's iPad and iPhone. the design seamlessly integrates our daily habits of making phone calls, networking or just browsing leisurely on our 'portable machinery', into our built environment in a beautiful way.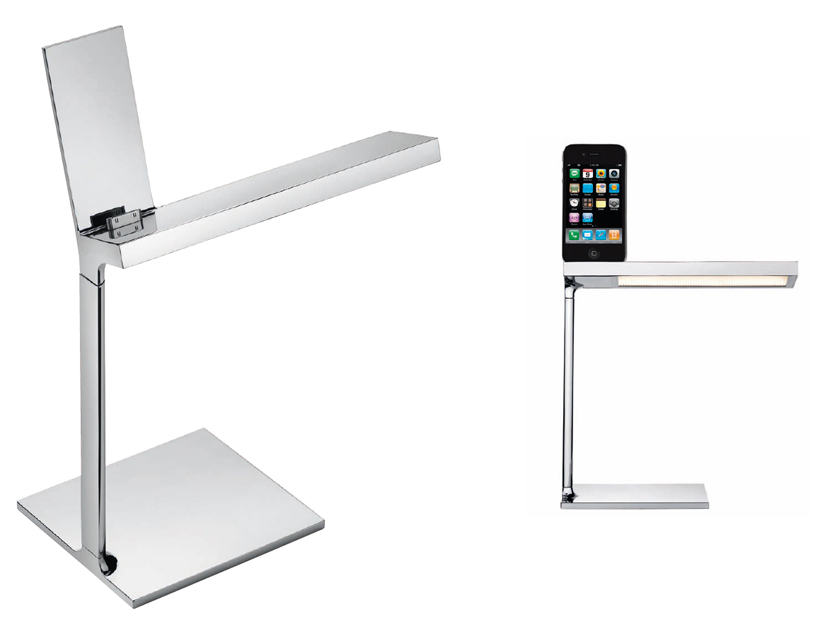 'D'E-light' by philippe starck for flos
image courtesy of flos

jay osgerby on the limitless boundaries of the office space
video © designboom
jay osgerby elaborates on this idea, noting that our notion of the traditional office is on the way out: 'technology means we can be at work in bed, or in the bath, or at the kitchen table, or you know, on the street bench. most of us no longer need an array of tools to do our job. we more or less need a screen and a way of communicating by calling or by writing, and now we can do that anywhere. and so, the proposition is completely diversified. a sofa can look like a home sofa, but sit in the office. and in fact, the office no longer really looks like an office, but more like a lobby of a hotel. the archetype of the office is really disappearing, with some exceptions of course. there's still the need for corporate rooms (an cellular spaces) for private and more open group meetings, but really I think we're probably seeing the end of communal working in one fixed work station, and more of a crossing over of private cellular spaces, and just generally open spaces – café and traditional office.'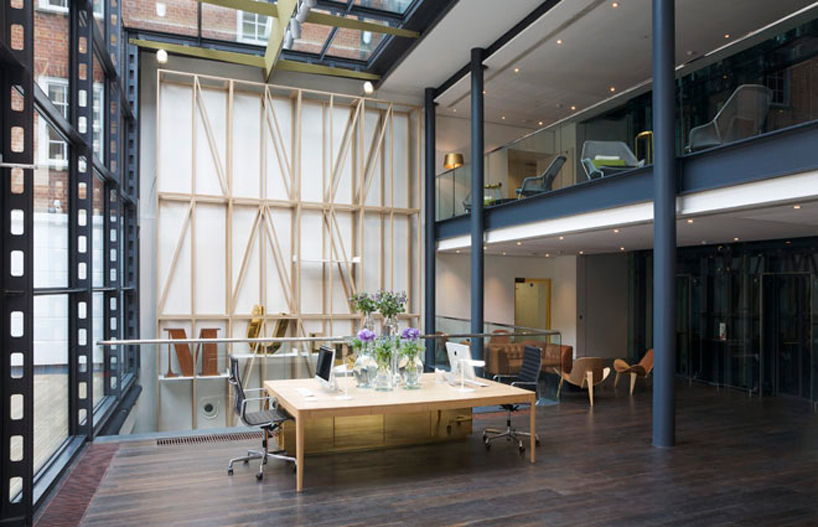 'mulberry's london headquarters' by universal design studio / barber osgerby
photo by paul greenleaf
the british creative who together with edward barber founded barberosgerby and universal design studio, is well-versed in spatial and product development related to the workplace. responsible for completing projects such as the virgin atlantic lounge at london's gatwick airport, and the 'mulberry headquarters' in london, his consultancies have conceived a range of objects and interior spaces that have been realized to address our changing office environments – from less confined, cubicle schemes to open, unrestricted zones that serve multiple functions.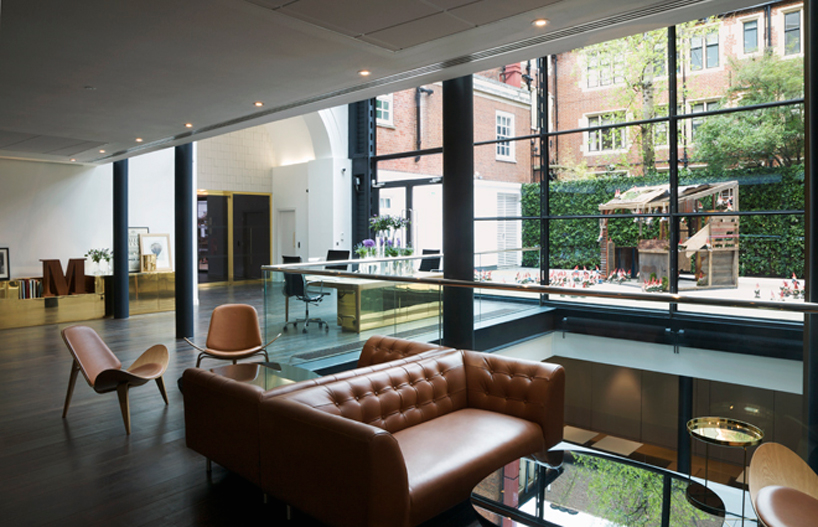 'mulberry's london headquarters' by universal design studio / barber osgerby
photo by paul greenleaf

piero lissoni on the ergonomics of furniture
video © designboom
concluding, we sat down with piero lissoni, who has designed a number of headquarters for brands such as glasitalia and living divani; in addition to several furniture pieces specifically for the office environment. though praising the advancements we've made in technology and admitting his own dependencies on mobile devices, the italian creative reflects on the evolution of this sector in relationship to our physical behaviour as a result, and the endless possibilities of working it promotes, but whether or not this is a good thing is to be discussed:
'you remember when some years ago we started to use these small computers and they were super thin at the time, with a super thin screen. they were portable machines, and somebody talked about the possibility of moving from the office to work in a beautiful forest; or in front of the seaside; or sitting on your sofa. of course it was a good idea to do something different, but in the end you know, luckily now, now the change comes from this (holds up iPhone). this small object is not a telephone. it's a computer. we are using some sophisticated surfaces without any keyboards, and it's possible to swipe, it's possible to write, it's possible to read in this way. it's possible to sit on one chair, on your knees. it's possible to work on a normal table. we have to think about that you know.
in the past we were talking about incredible machines – to stay sitting in front of these huge television screens, or working at tables with adjustable heights. everything has just disappeared now. everything has disappeared because the new machines, the new computers, have become like non-existent machines. sometimes you type on their surface with a special laser light, and that's it. sometimes you move your hand in the middle of nowhere, and you're talking with a computer somewhere else. you have to be ready, and not to be rigid. I like the idea, but I've never been a fan of the machine where offices were working. I only thinking now we have another possibility – to be smart and to be elastic.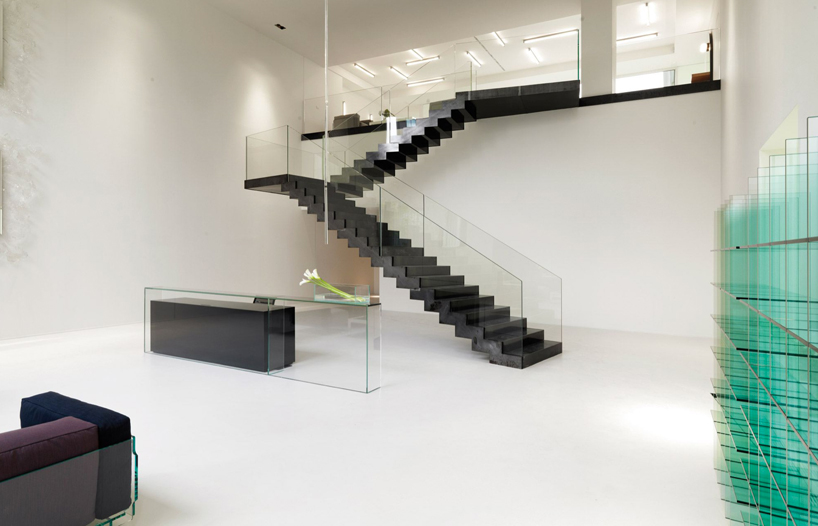 'glasitalia headquarters' by piero lissoni
for sure I will design another super uncomfortable chair. I designed a few uncomfortable chairs. for sure, I have designed something comfortable for somebody. but, for a lot of people I have designed something absolutely uncomfortable. that's okay. I will continue in that way. I never think to do it [intentionally], and even I have to design something for the future, but never on the way to design something ergonomic.

it's again a big mistake. in the 60's they start to redesign our life with anthropometric measurements, but can you imagine, if your weight is 100 kilograms, and another's weight is 65 kilograms, which ergonomic idea are we talking about? same if I am 1.87 meters tall, and somebody else is 1.56 meters tall, in which way is it possible to adjust and to work around this ergonomica idea? I think it's a big mistake you know. in the end it's not possible to fix the human measurements, and it's not possible to follow this idea; to be elastic enough and adjustable enough to be good for everybody, everywhere, for everything.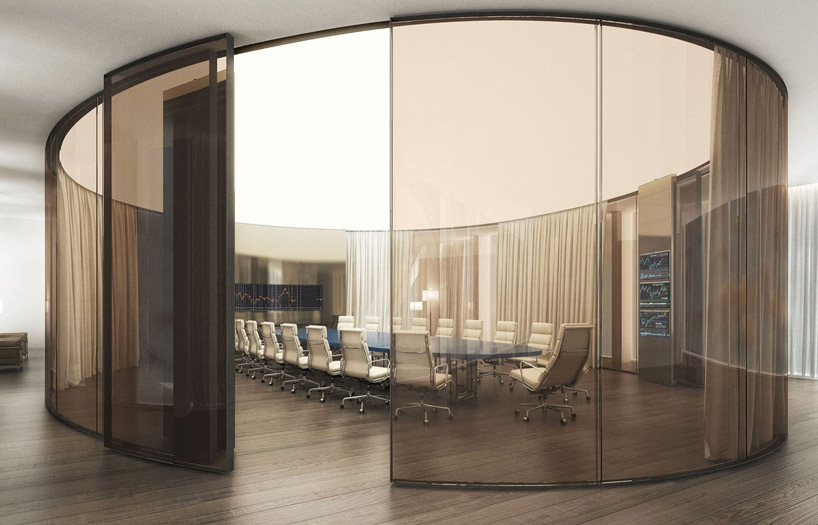 'BBVA – madrid' interior design of financial offices concept by piero lissoni
there are these strange hybrids, or if you like I prefer one latin name 'chimera'. you know the strange animals that are half percent lion, half percent dragon, and one small percentage, normally snake, or some other animal? well, I don't like these chimeras. it's again one aesthetic solution. I don't think it's possible to combine many different functions. I am not a fan of that. I like to sit on a beautiful chair, or I like to sit on a beautiful sofa. I like to work on a fantastic surface. I don't talk about well-designed or ugly design… whether it's a fantastic table, desk or what you want, but this kind of strange animals you know… you're sitting, you drink a coffee, you type on your computer, or you laugh. come on, come on, what is that? what is that? it's such an ugly future.'
oct 26, 2015
oct 26, 2015
oct 01, 2015
oct 01, 2015
aug 06, 2015
aug 06, 2015
jun 30, 2015
jun 30, 2015
may 29, 2015
may 29, 2015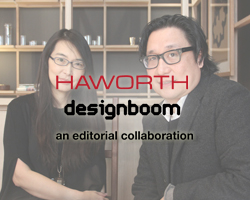 apr 21, 2015
apr 21, 2015
jul 30, 2020
jul 30, 2020
jul 16, 2020
jul 16, 2020
jul 14, 2020
jul 14, 2020
a diverse digital database that acts as a valuable guide in gaining insight and information about a product directly from the manufacturer, and serves as a rich reference point in developing a project or scheme.