a new book is welcoming audiences into the heart of olafur eliasson's berlin studio, peering into the creative's multifaceted working processes. the publication offers insight into the journey from initial idea to final artwork, highlights how eliasson's art is made, and demonstrates the ways production plays out across a team of diverse creative figures. photographs inside the workspaces, thoughts from eliasson and members of the studio team, as well as texts from collaborators — including neuroscientists, economists, curators, playwrights, and philosophers — reveal the studio as a site of making, intellectual exchange, and creative engagement.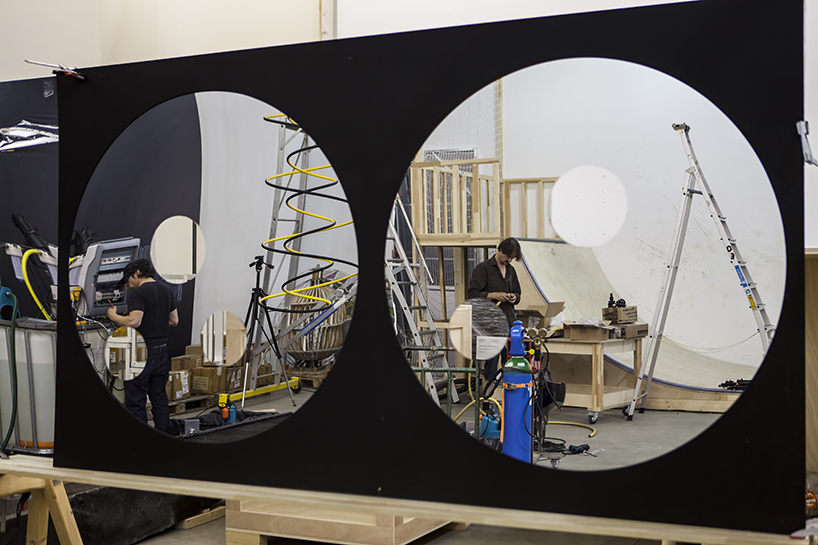 erik huber and christian uchtmann working on solar empowerment spiral (2016)
photo by runa maya mørk huber / studio olafur eliasson © olafur eliasson
through both written texts, interview features and numerous photographs, studio olafur eliasson – open house offers a candid snapshot of studio life in berlin. in the spirit of the scandinavian tradition of welcoming visitors into a home, readers can explore the kitchen's hands-on take on food, step inside the metal and wood workshops, and head outdoors to team tours of various public installations. the publication sheds light on how some of eliasson's recent interventions and projects came about, including 'ice watch' and 'green light' — the artistic workshop currently presented at the venice art biennale.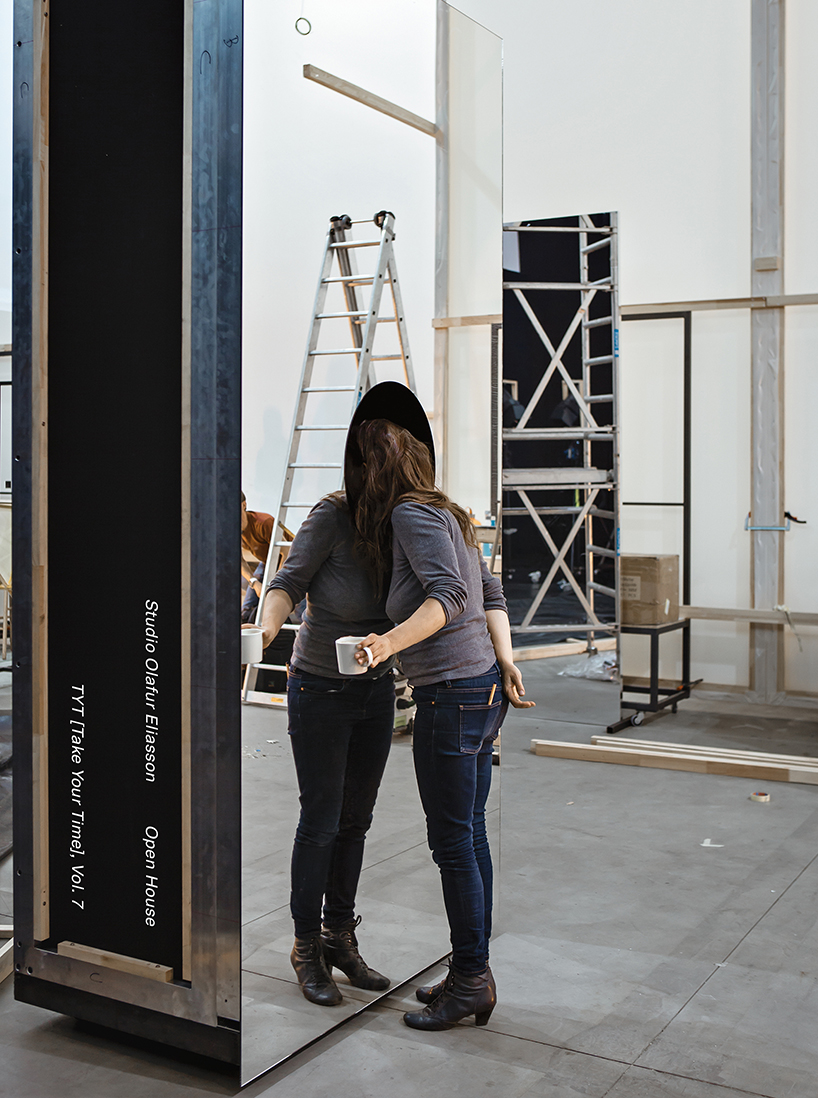 cover of studio olafur eliasson – open house | camilla kragelund with a mock-up of deep mirror (black) (2016)
photo by runa maya mørk huber / studio olafur eliasson © olafur eliasson
conceived and edited in collaboration with independent curator joanna warsza, the book documents the research, dialogue, and ideas with which eliasson and his studio are increasingly engaged. 'open house examines and, hopefully, makes intelligible the artistic processes that take place in my studio and its exchanges with the world,' eliasson says of the project. 'the book focuses on making these processes felt from within the everyday studio work, rather than on presenting finished artworks.'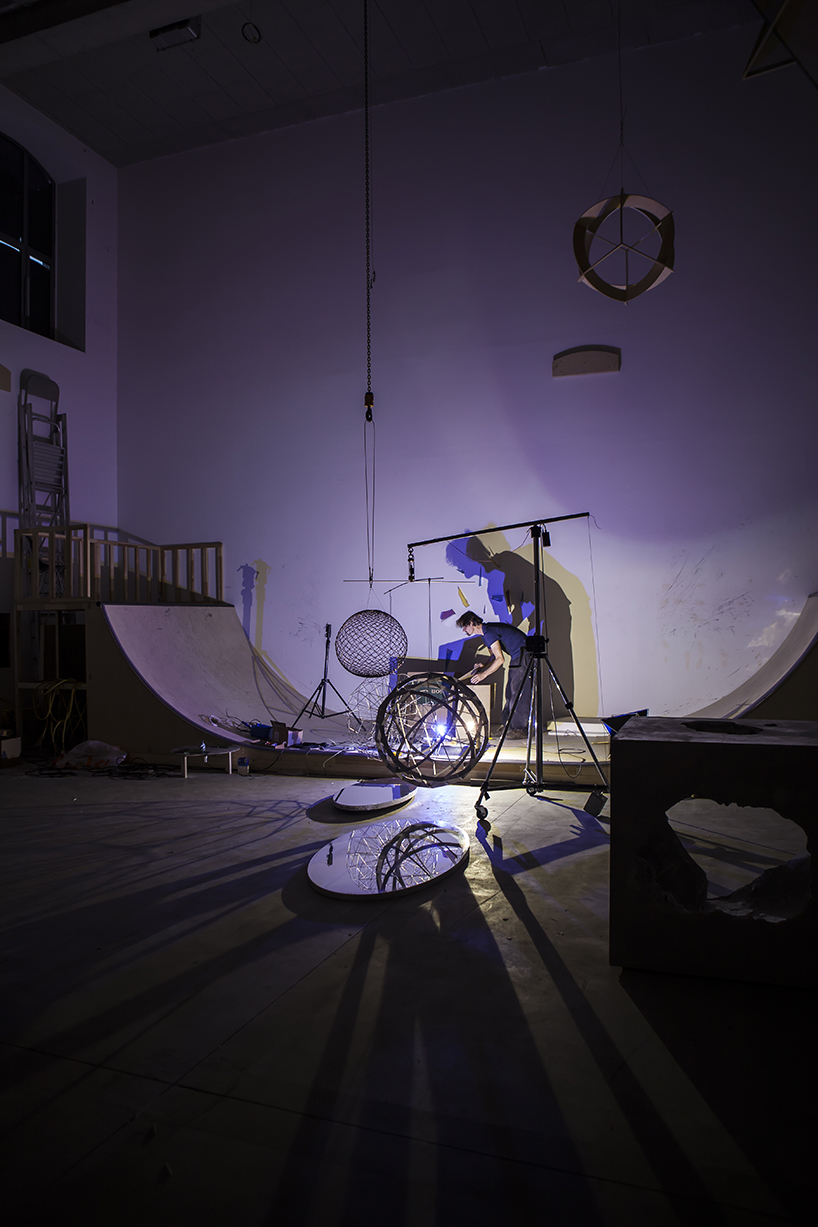 christian uchtmann testing light and shadow effects
photo by runa maya mørk huber / studio olafur eliasson © olafur eliasson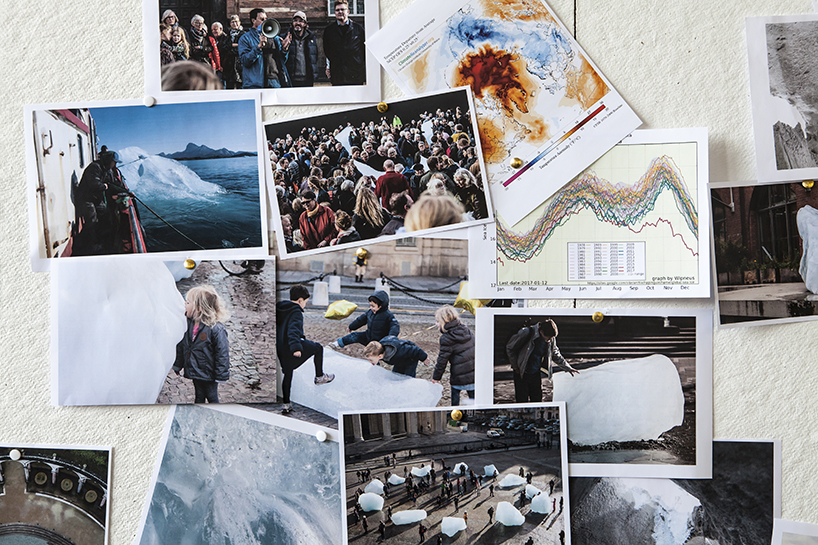 harvesting ice from the sea off the coast of greenland, 2014; ice watch (2014) in copenhagen, 2014, and paris, 2015
photo by maría del pilar garcía ayensa / studio olafur eliasson © olafur eliasson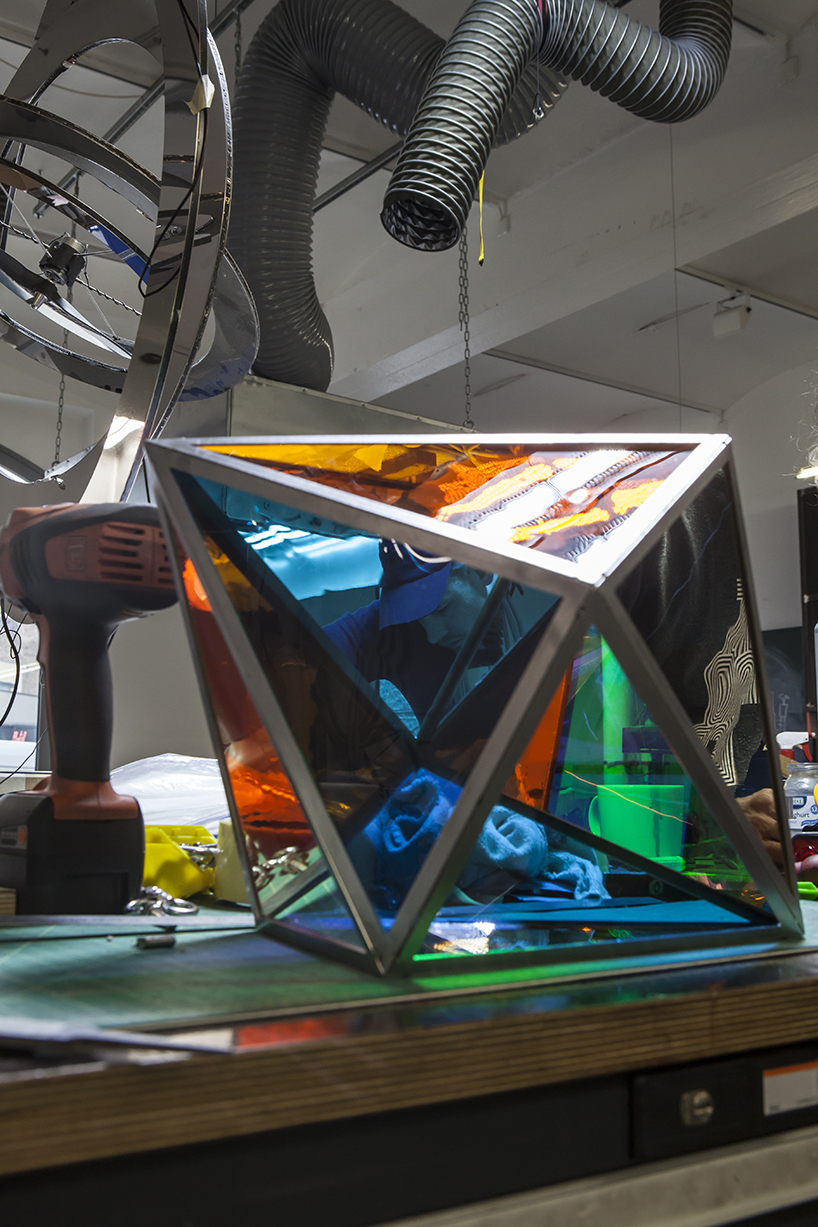 testing materials and design in the metal workshop
photo by runa maya mørk huber / studio olafur eliasson © olafur eliasson

ruben bygvraa, lars lubnau, jan plater-zyberk, matt willard, christian uchtmann, and jöran imholze moving the shape of disappearing time (2016), with a little help from gia
photo by runa maya mørk huber / studio olafur eliasson © olafur eliasson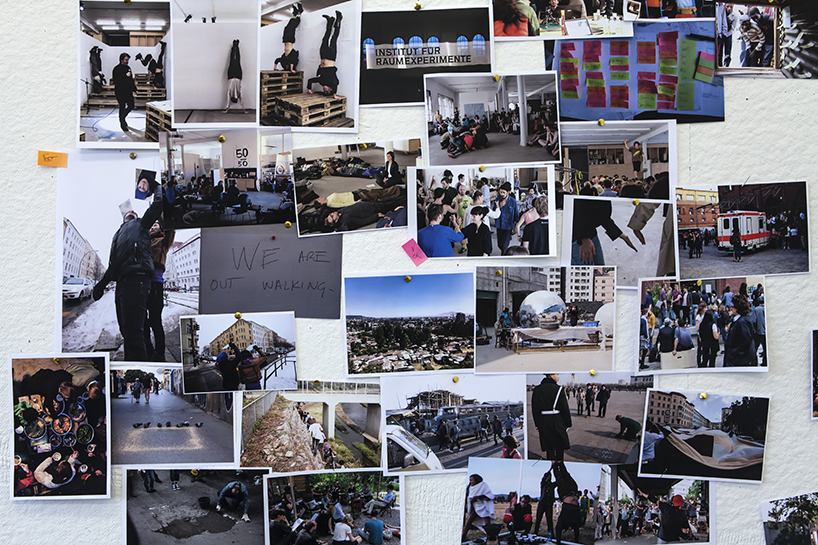 institut für raumenexperimente – documentation of marathons, exhibitions, walks, and road trips
photo by maría del pilar garcía ayensa / studio olafur eliasson © olafur eliasson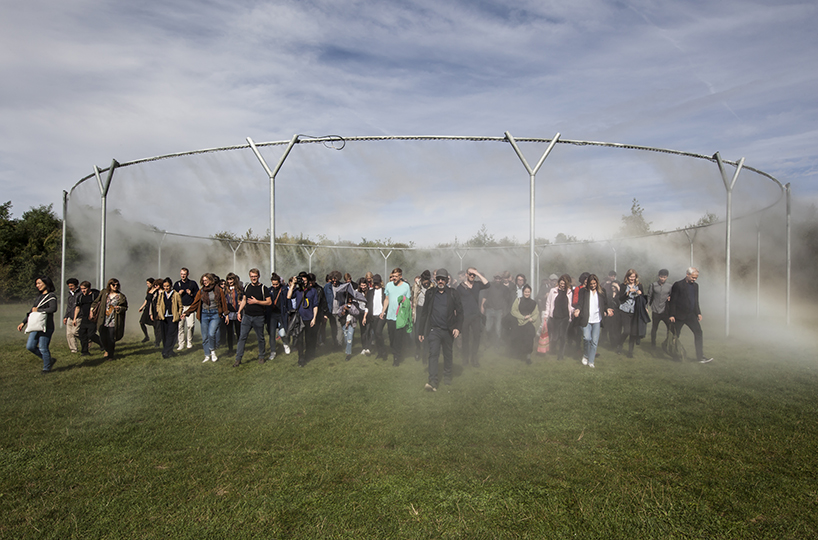 studio team in fog assembly (2016) at olafur eliasson versailles, 2016
photo by maría del pilar garcía ayensa / studio olafur eliasson © olafur eliasson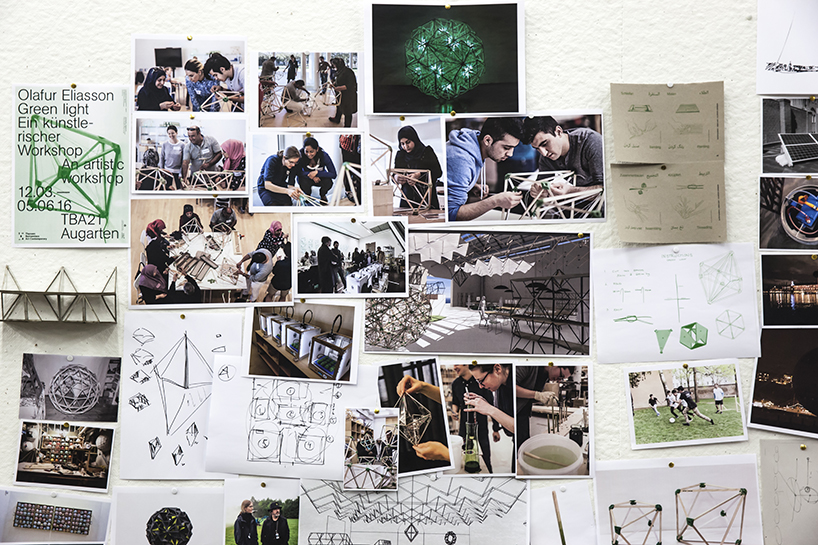 green light – an artistic workshop at the moody center for the arts, houston, texas, 2017
photo by maría del pilar garcía ayensa / studio olafur eliasson © olafur eliasson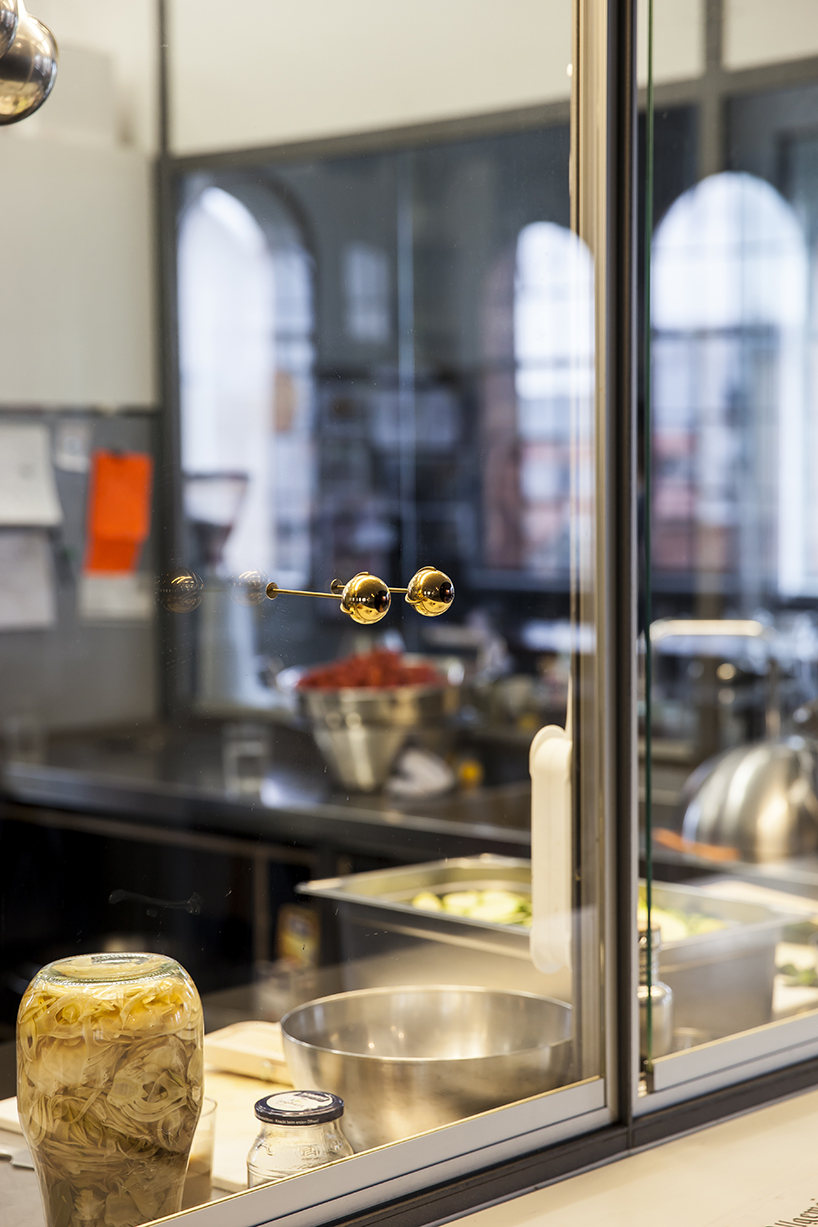 the gaze of versailles (2016) peering out of the studio kitchen
photo by runa maya mørk huber / studio olafur eliasson © olafur eliasson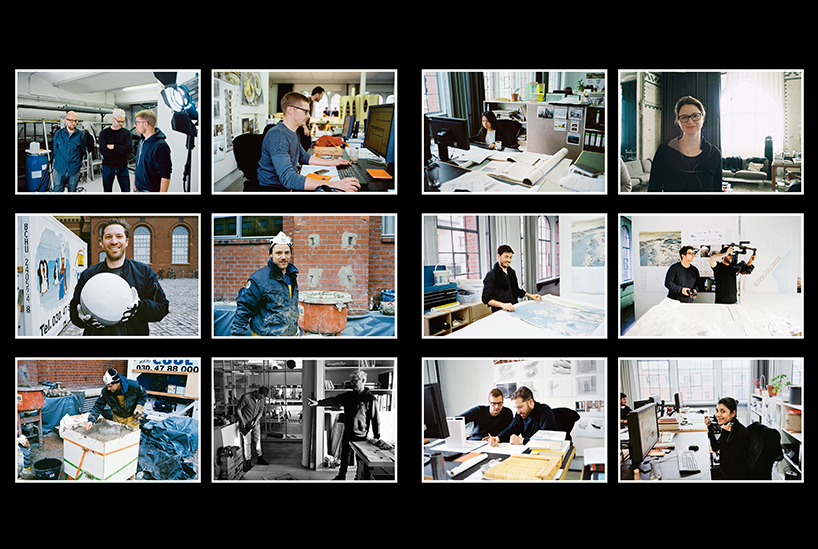 some of the studio team, 2017
image © olafur eliasson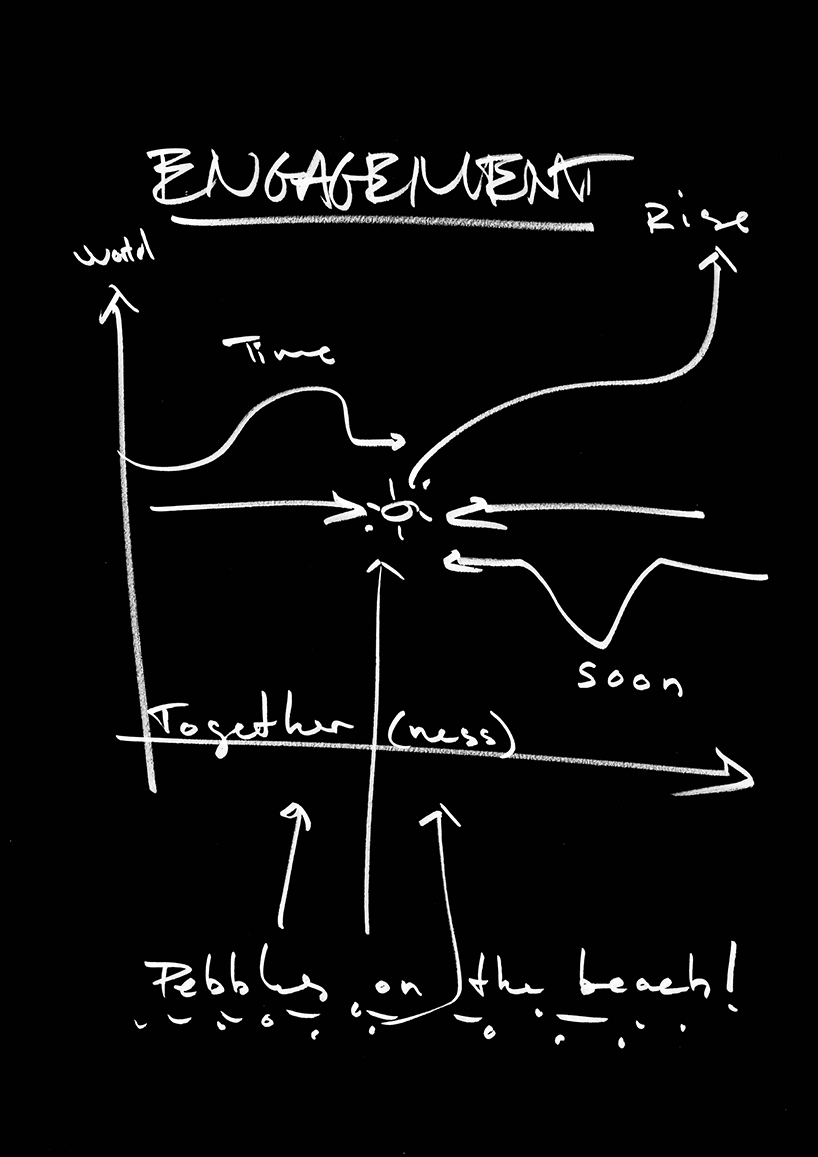 drawing by olafur eliasson
image © olafur eliasson
Save
Save
Save
jun 09, 2017
jun 09, 2017
may 11, 2017
may 11, 2017
apr 17, 2017
apr 17, 2017